Nazis in America are holding torch rallies, killing protesters, and hanging out with other losers of U.S. wars this week, begging the question: What is the appropriate way for a patriotic American to display the unmistakable, swastika-bearing flag of Adolf Hitler's Third Reich?
Fortunately, the United States armed forces — safeguards of so many American customs, traditions, and courtesies — have a longstanding tradition on how to display the Nazi flag, too. Here are 14 examples to guide you. Why 14? Because that's as high as American Nazis can count.
1.
U.S. Army
Have huge goddamn machete, will travel.
2.
U.S. Army
Look how happy killing fascists makes these Americans!
3.
"This'll look good in our museum of kicking fascist asses!"
4.
"Careful, don't get any anti-Semitism on the firing assembly."
5.
Yep, that's an Austrian-born, Jewish private who took your flag. Schade!
6.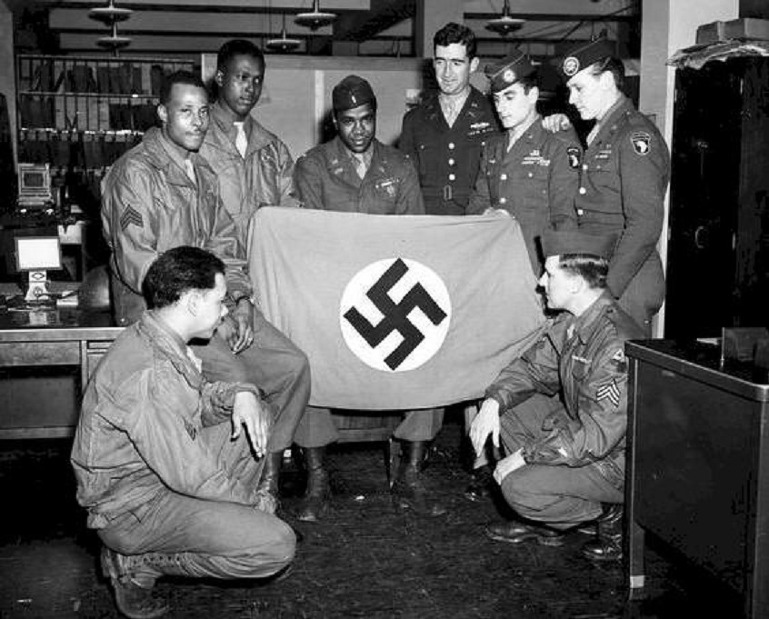 Nothing brings Americans together like hating Nazis. Those guys suck hard.
7.
Here comes Mr. Steal Yo Girl, Yo Flag, And This Photo Of Yo Busted-Ass Führer.
8.
I mean. Have you ever felt this sense of accomplishment?
9.
Yeah, we'll take 'em at sea, too.
10.
Your master race got owned by a bunch of Rangers from Wisconsin, bruh.
11.
What's badass? Taking a victory photo in weather that's as cold as your feelings for Hitlerism.
12.
Courtesy Ted Rensink/Minnesota Historical Society
Donald S. Frederick, of the First Army Ranger Battalion in North Africa, will steal your dumb DIY Sicilian Nazi flag and take pictures with it after you are dead, dead, dead.
13.
This is an acceptable manner of display, too.
14. This, too!
---
WATCH MORE: