The US wants to arm fighters with these new long-range missiles to hunt down China and Russia's best jets
June 24, 2019 at 11:09 AM
Military Tech
(U.S. Navy/Andy Wolfe)
The U.S. military is developing a new, longer-range air-to-air missile amid growing concerns that China's advanced missiles outrange those carried by U.S. fighters.

---
The AIM-260 air-to-air missile, also known as the Joint Air Tactical Missile (JATM), is intended to replace the AIM-120 Advanced Medium Range Air-to-Air Missiles (AMRAAM) currently carried by U.S. fighters, which has been a go-to weapon for aerial engagements. It "is meant to be the next air-to-air air dominance weapon for our air-to-air fighters," Brig. Gen. Anthony Genatempo, Air Force Weapons Program Executive Officer, told Air Force Magazine.
"It has a range greater than AMRAAM," he further explained, adding that the missile has "different capabilities onboard to go after that specific [next-generation air-dominance] threat set."
Russia and China are developing their own fifth-generation fighters, the Su-57 and J-20 respectively, to compete against the US F-35 Lightning II Joint Strike Fighter, and these two powerful rivals are also developing new, long-range air-to-air missiles.
In particular, the US military is deeply concerned about the Chinese PL-15, an active radar-guided very long range air-to-air missile (VLRAAM) with a suspected range of about 200 km. The Chinese military is also developing another weapon known as the PL-21, which is believed to have a range in excess of 300 km, or about 125 miles.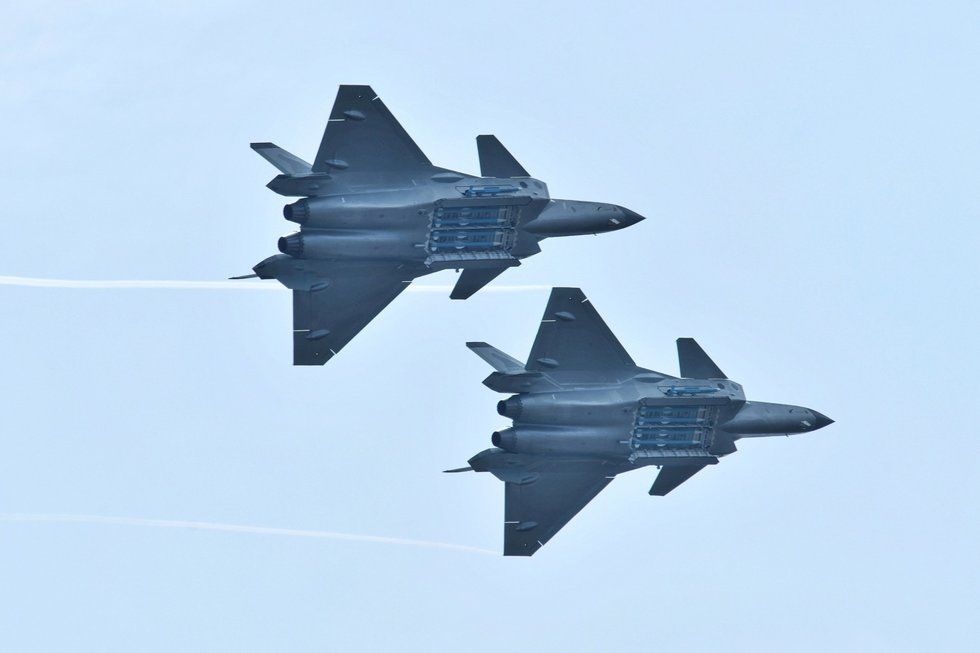 J-20 stealth fighters of PLA Air Force perform with open weapon bays during the Zhuhai Airshow(Reuters photo)
The PL-15, which has a greater range than the AIM-120D AMRAAM, entered service in 2016, and last year, Chinese J-20 stealth fighters did a air show flyover, during which they showed off their weapons bays loaded with suspected PL-15 missiles.
Genatempo told reporters that the PL-15 was the motivation for the development of the JATM.
The AIM-260, a US Air Force project being carried out in coordination with the Army, the Navy, and Lockheed Martin, will initially be fielded on F-22 Raptors and F/A-18 Hornets and will later arm the F-35. Flight tests will begin in 2021, and the weapon is expected to achieve operational capability the following year.
The U.S. military will stop buying AMRAAMs in 2026, phasing out the weapon that first entered service in the early 1990s for firepower with "longer legs," the general explained.
Read more from Business Insider:

August 24, 2019 at 12:28 PM
news
U.S. Air Force/Staff Sgt. Sandra Welch
This article originally appeared on Military.com.
Inside Forward Operating Base Oqab in Kabul, Afghanistan stands a wall painted with a mural of an airman kneeling before a battlefield cross. Beneath it, a black gravestone bookended with flowers and dangling dog tags displays the names of eight U.S. airmen and an American contractor killed in a horrific insider attack at Kabul International Airport in 2011.
It's one of a number of such memorials ranging from plaques, murals and concrete T-walls scattered across Afghanistan. For the last eight years, those tributes have been proof to the families of the fallen that their loved ones have not been forgotten. But with a final U.S. pullout from Afghanistan possibly imminent, those families fear the combat-zone memorials may be lost for good.
August 24, 2019 at 09:44 AM
news
DOD photo
After a string of high profile incidents, the commander overseeing the Navy SEALs released an all hands memo stating that the elite Naval Special Warfare community has a discipline problem, and pinned the blame on those who place loyalty to their teammates over the Navy and the nation they serve.
August 23, 2019 at 03:20 PM
news
Ed Mahoney/Kickstarter
In June 2011 Iraq's defense minister announced that U.S. troops who had deployed to the country would receive the Iraq Commitment Medal in recognition of their service. Eight years later, millions of qualified veterans have yet to receive it.
The reason: The Iraqi government has so far failed to provide the medals to the Department of Defense for approval and distribution.
A small group of veterans hopes to change that.
August 23, 2019 at 02:09 PM
news
F-16 Fighting Falcon (Photo: US Air Force)
For a cool $8.5 million, you could be the proud owner of a "fully functioning" F-16 A/B Fighting Falcon fighter jet that a South Florida company acquired from Jordan.
The combat aircraft, which can hit a top speed of 1,357 mph at 40,000 feet, isn't showroom new — it was built in 1980. But it still has a max range of 2,400 miles and an initial climb rate of 62,000 feet per minute and remains militarized, according to The Drive, an automotive website that also covers defense topics, WBDO News 96.5 reported Wednesday.
August 23, 2019 at 01:56 PM
Humor
Sir, I mustache you a question! Haha no, but seriously I lost the crypto fill.