The US wants to arm fighters with these new long-range missiles to hunt down China and Russia's best jets
June 24, 2019 at 11:09 AM
Military Tech
(U.S. Navy/Andy Wolfe)
The U.S. military is developing a new, longer-range air-to-air missile amid growing concerns that China's advanced missiles outrange those carried by U.S. fighters.

---
The AIM-260 air-to-air missile, also known as the Joint Air Tactical Missile (JATM), is intended to replace the AIM-120 Advanced Medium Range Air-to-Air Missiles (AMRAAM) currently carried by U.S. fighters, which has been a go-to weapon for aerial engagements. It "is meant to be the next air-to-air air dominance weapon for our air-to-air fighters," Brig. Gen. Anthony Genatempo, Air Force Weapons Program Executive Officer, told Air Force Magazine.
"It has a range greater than AMRAAM," he further explained, adding that the missile has "different capabilities onboard to go after that specific [next-generation air-dominance] threat set."
Russia and China are developing their own fifth-generation fighters, the Su-57 and J-20 respectively, to compete against the US F-35 Lightning II Joint Strike Fighter, and these two powerful rivals are also developing new, long-range air-to-air missiles.
In particular, the US military is deeply concerned about the Chinese PL-15, an active radar-guided very long range air-to-air missile (VLRAAM) with a suspected range of about 200 km. The Chinese military is also developing another weapon known as the PL-21, which is believed to have a range in excess of 300 km, or about 125 miles.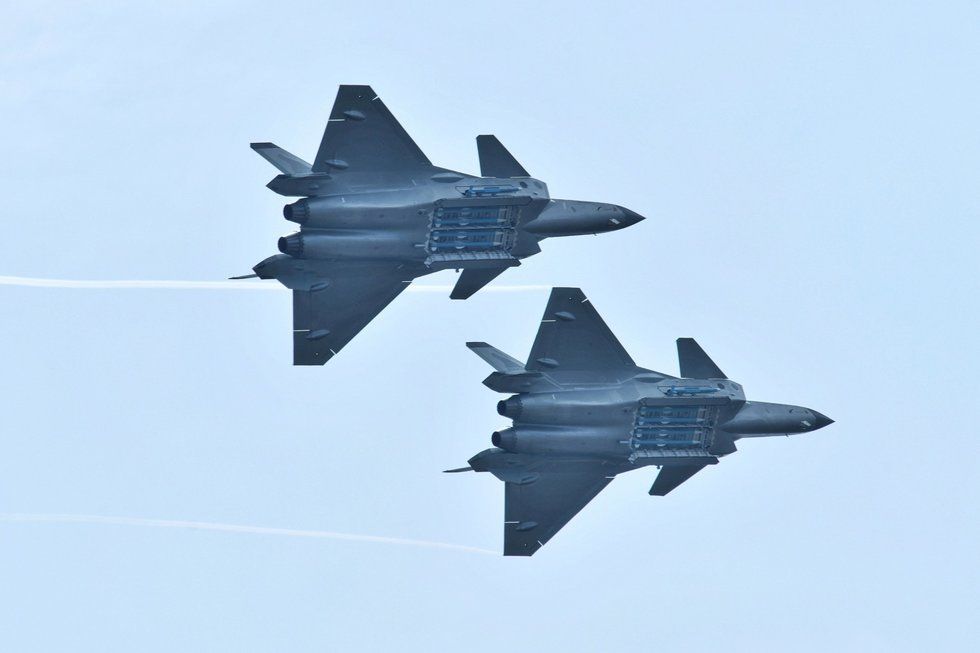 J-20 stealth fighters of PLA Air Force perform with open weapon bays during the Zhuhai Airshow(Reuters photo)
The PL-15, which has a greater range than the AIM-120D AMRAAM, entered service in 2016, and last year, Chinese J-20 stealth fighters did a air show flyover, during which they showed off their weapons bays loaded with suspected PL-15 missiles.
Genatempo told reporters that the PL-15 was the motivation for the development of the JATM.
The AIM-260, a US Air Force project being carried out in coordination with the Army, the Navy, and Lockheed Martin, will initially be fielded on F-22 Raptors and F/A-18 Hornets and will later arm the F-35. Flight tests will begin in 2021, and the weapon is expected to achieve operational capability the following year.
The U.S. military will stop buying AMRAAMs in 2026, phasing out the weapon that first entered service in the early 1990s for firepower with "longer legs," the general explained.
Read more from Business Insider:

October 21, 2019 at 06:10 PM
news
Editor's Note: This article by Hope Hodge Seck originally appeared on Military.com, a leading source of news for the military and veteran community.

In the wake of a heartwarming viral video that was featured everywhere from Good Morning America to the Daily Mail comes a disheartening revelation: The 84-year-old self-described Army nurse cranking out push-ups in her crisp Vietnam-era uniform might not be who she said she was.
Maggie DeSanti, allegedly a retired Army lieutenant colonel who rappeled out of helicopters in Vietnam, was captured in a video challenging a TSA agent to a push-up competition ahead of a flight to Washington, D.C., with the Arizona chapter of the organization Honor Flight on Oct. 16. The video soon was everywhere, and many who shared it, including Honor Flight, hailed DeSanti's toughness and spirit.
October 21, 2019 at 05:13 PM
news
The summer before sixth grade, Cindy Dawson went to an air show with her father and was enamored by the flight maneuvers the pilots performed.
"I just thought that would be the coolest thing that anybody could ever do," she said, especially having already heard stories about her grandfather flying bombers during World War II with the Army Air Corps.
So by the first day of school, she had already decided what she wanted to be when she grew up.
(ABC News)
Peach schnapps, sex on the beach, piña colada may be familiar cocktails to anyone who's spent an afternoon (or a whole day) getting plastered on an ocean-side boardwalk, but they're also specialty desserts at Ray's Boozy Cupcakes, Etc, a bakery in Voorhees, New Jersey run by a 93-year-old World War II veteran named Ray Boutwell.
October 21, 2019 at 03:28 PM
news
Instagram/US Coast Guard
A former senior Coast Guard official has been accused of shoplifting from a Philadelphia sex shop.
Rear Adm. Francis "Stash" Pelkowski (Ret.) was accused of stealing a tester item from Kink Shoppe on Oct. 8, according to an Instagram post by the store that appeared online two days later. In the post, which included apparent security camera footage of the incident, a man can be seen looking at products on a counter before picking up an item and placing it in his pocket before turning and walking away.
The Instagram post identified the man as Pelkowski, and said it wished him "all the best in his retirement, a sincere thank you for your service, and extreme and utter disappointment in his personal morals."
October 21, 2019 at 02:24 PM
news
SAN DIEGO —The Marines say changes in the way they train recruits and their notoriously hard-nosed drill instructors have led to fewer incidents of drill instructor misconduct, officials told the Union-Tribune.
Their statement about training followed an Oct. 5 Washington Post report revealing that more than 20 Marines at the San Diego boot camp have been disciplined for misconduct since 2017, including cases of physical attacks and racist and homophobic slurs. The story also was published in the Union-Tribune.