The US wants to arm fighters with these new long-range missiles to hunt down China and Russia's best jets
June 24, 2019 at 11:09 AM
Military Tech
(U.S. Navy/Andy Wolfe)
The U.S. military is developing a new, longer-range air-to-air missile amid growing concerns that China's advanced missiles outrange those carried by U.S. fighters.

---
The AIM-260 air-to-air missile, also known as the Joint Air Tactical Missile (JATM), is intended to replace the AIM-120 Advanced Medium Range Air-to-Air Missiles (AMRAAM) currently carried by U.S. fighters, which has been a go-to weapon for aerial engagements. It "is meant to be the next air-to-air air dominance weapon for our air-to-air fighters," Brig. Gen. Anthony Genatempo, Air Force Weapons Program Executive Officer, told Air Force Magazine.
"It has a range greater than AMRAAM," he further explained, adding that the missile has "different capabilities onboard to go after that specific [next-generation air-dominance] threat set."
Russia and China are developing their own fifth-generation fighters, the Su-57 and J-20 respectively, to compete against the US F-35 Lightning II Joint Strike Fighter, and these two powerful rivals are also developing new, long-range air-to-air missiles.
In particular, the US military is deeply concerned about the Chinese PL-15, an active radar-guided very long range air-to-air missile (VLRAAM) with a suspected range of about 200 km. The Chinese military is also developing another weapon known as the PL-21, which is believed to have a range in excess of 300 km, or about 125 miles.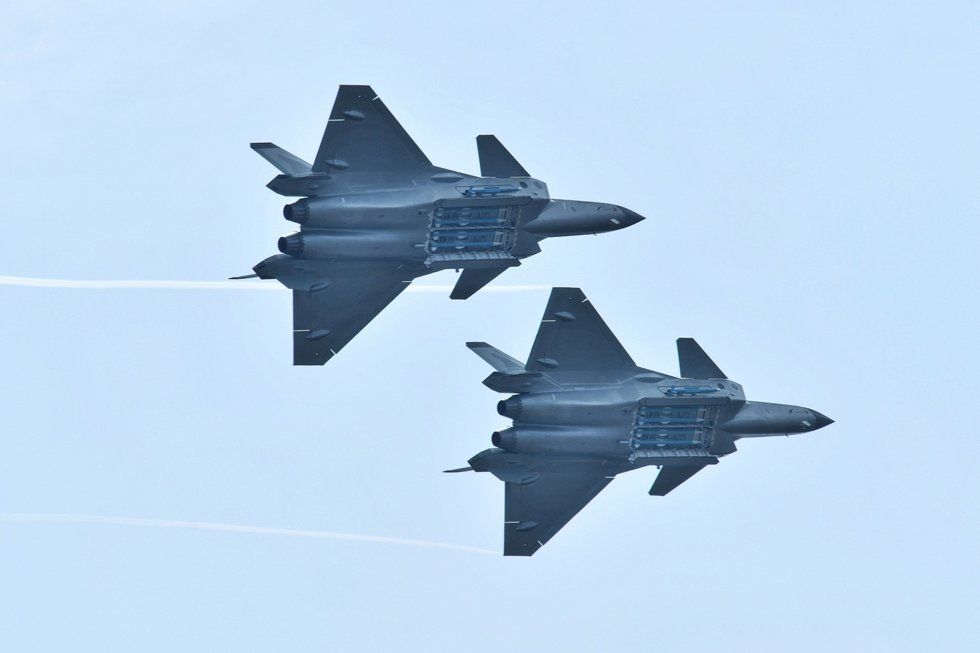 J-20 stealth fighters of PLA Air Force perform with open weapon bays during the Zhuhai Airshow(Reuters photo)
The PL-15, which has a greater range than the AIM-120D AMRAAM, entered service in 2016, and last year, Chinese J-20 stealth fighters did a air show flyover, during which they showed off their weapons bays loaded with suspected PL-15 missiles.
Genatempo told reporters that the PL-15 was the motivation for the development of the JATM.
The AIM-260, a US Air Force project being carried out in coordination with the Army, the Navy, and Lockheed Martin, will initially be fielded on F-22 Raptors and F/A-18 Hornets and will later arm the F-35. Flight tests will begin in 2021, and the weapon is expected to achieve operational capability the following year.
The U.S. military will stop buying AMRAAMs in 2026, phasing out the weapon that first entered service in the early 1990s for firepower with "longer legs," the general explained.
Read more from Business Insider:

December 08, 2019 at 01:37 PM
news
December 08, 2019 at 12:08 PM
news
WASHINGTON/SEOUL (Reuters) - U.S. President Donald Trump said on Sunday that North Korean leader Kim Jong Un risks losing "everything" if he resumes hostility and his country must denuclearize, after the North said it had carried out a "successful test of great significance."

"Kim Jong Un is too smart and has far too much to lose, everything actually, if he acts in a hostile way. He signed a strong Denuclearization Agreement with me in Singapore," Trump said on Twitter, referring to his first summit with Kim in Singapore in 2018.
"He does not want to void his special relationship with the President of the United States or interfere with the U.S. Presidential Election in November," he said.
December 08, 2019 at 10:35 AM
news
(U.S. Navy photo by Mass Communication Specialist 2nd Class Vaughan Dill/Released)
December 08, 2019 at 11:43 AM
news
This article originally appeared on Business Insider.
SIMI VALLEY, Calif. – Gen. David Berger, the US Marine Corps commandant, suggested the concerns surrounding a service members' use of questionable Chinese-owned apps like TikTok should be directed against the military's leadership, rather than the individual troops.
Speaking at the Reagan National Defense Forum in Simi Valley, California, on Saturday morning, Berger said the younger generation of troops had a "clearer view" of the technology "than most people give them credit for."
"That said, I'd give us a 'C-minus' or a 'D' in educating the force on the threat of even technology," Berger said. "Because they view it as two pieces of gear, 'I don't see what the big deal is.'"