Air Force F-15 fighter jets are patrolling the Persian Gulf with cluster bombs to counter Iran's gunboat swarms
August 01, 2019 at 03:51 PM
news
( U.S. Air Force/Staff Sgt. Erin Piazza)
U.S. Air Force fighter jets are patrolling the Persian Gulf, and they appear to be carrying guided cluster munitions capable of tearing apart Iranian swarm boats.
"F-15E Strike Eagles from the 336th Expeditionary Fighter Squadron are flying air operations in support of maritime surface warfare," the 380th Air Expeditionary Wing revealed this week, explaining that "their role is to conduct combat air patrol missions over the Arabian Gulf and provide aerial escorts of naval vessels as they traverse the Strait of Hormuz."
---
The F-15E, which can reportedly carry almost any air-to-surface weapon in the Air Force arsenal, is a dual-role fighter able to carry out both air-to-air and air-to-ground missions.
Looking at the accompanying photos, Joseph Trevithick, a writer for The War Zone, noticed that the F-15s were carrying cluster munitions. It is unclear what type of munitions the aircraft are flying with, but given their mission is focused on maritime security, it would make sense that the submunitions contained within are one of two suited to a strike on Iran's swarm boats.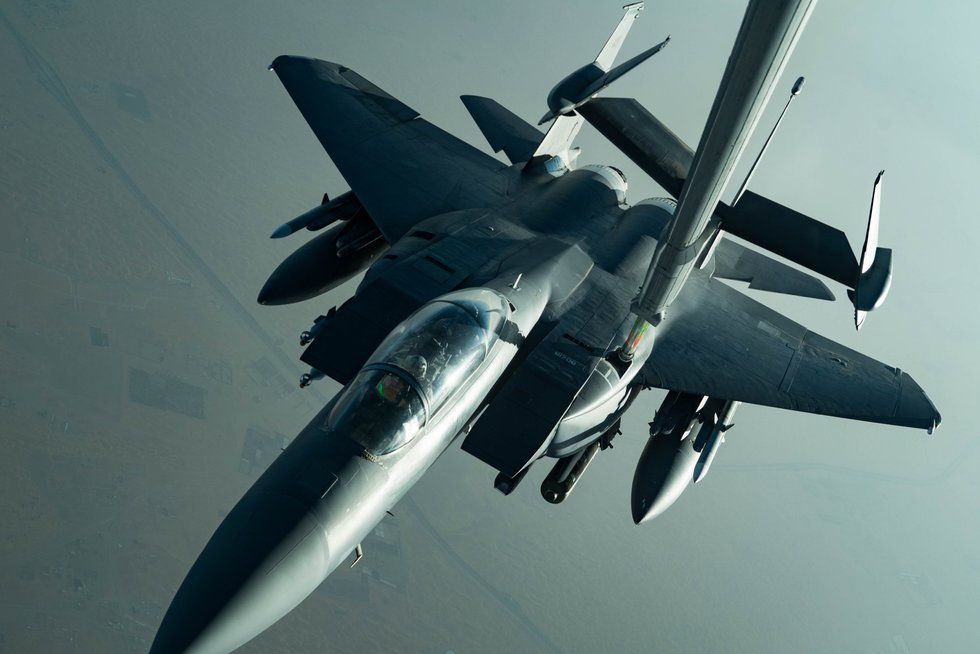 An F-15E Strike Eagle assigned to the 336th Expeditionary Fighter Squadron refuels from a KC-10 Extender June 27, 2019( U.S. Air Force/Staff Sgt. Erin Piazza)
The F-15s in the photos appear to be carrying Wind Corrected Munitions Dispensers, a GPS-guided canister that can be loaded with different submunitions depending on the mission type, The War Zone reports, noting that the aircraft are likely carrying either the CBU-103/B loaded with 202 BLU-97/B Combined Effect Bomblets or the CBU-105/B filled with ten BLU-108/B Sensor Fuzed Munitions.

The submunitions contain four separate warheads with their own independent sensors to detect and eliminate targets, and would be well suited to targeting the small Iranian gunboats that have been harassing commercial vessels.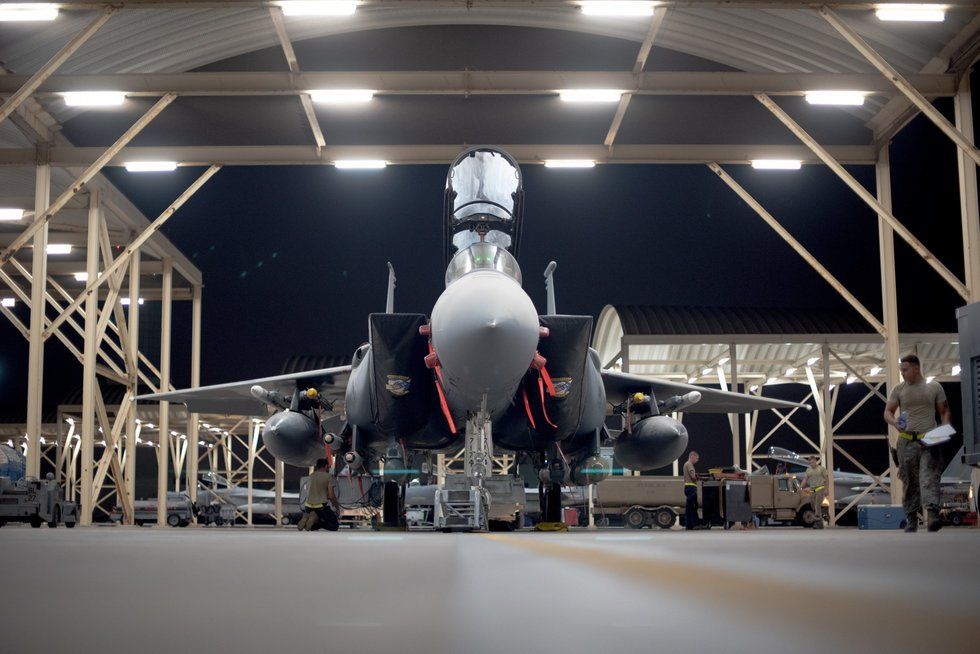 An F-15E Strike Eagle sits while waiting for an upcoming mission July 15, 2019, at Al Dhafra Air Base, United Arab Emirates(U.S. Air Force/Staff Sgt. Chris Thornbury)
Cluster munitions, while controversial, allow the user to eliminate multiple targets with one bomb. A single CBU-105, for instance, could theoretically achieve 40 individual kills against an incoming small boat force. The US military had initially planned to stop using cluster munitions, but these plans were put on hold until suitable alternatives could be developed.
The F-15E Strike Eagles with the 336th EFS currently assigned to Al Dhafra Air Base in the United Arab Emirates carry a "robust assortment of air-to-ground munitions" and fly "with various configurations to ensure an ability to respond effectively to dynamic situations," the 380th Air Expeditionary Wing explained.

These fighters are "currently conducting Surface Combat Air Patrol (SuCAP) operations to ensure free and open maritime commerce in the region."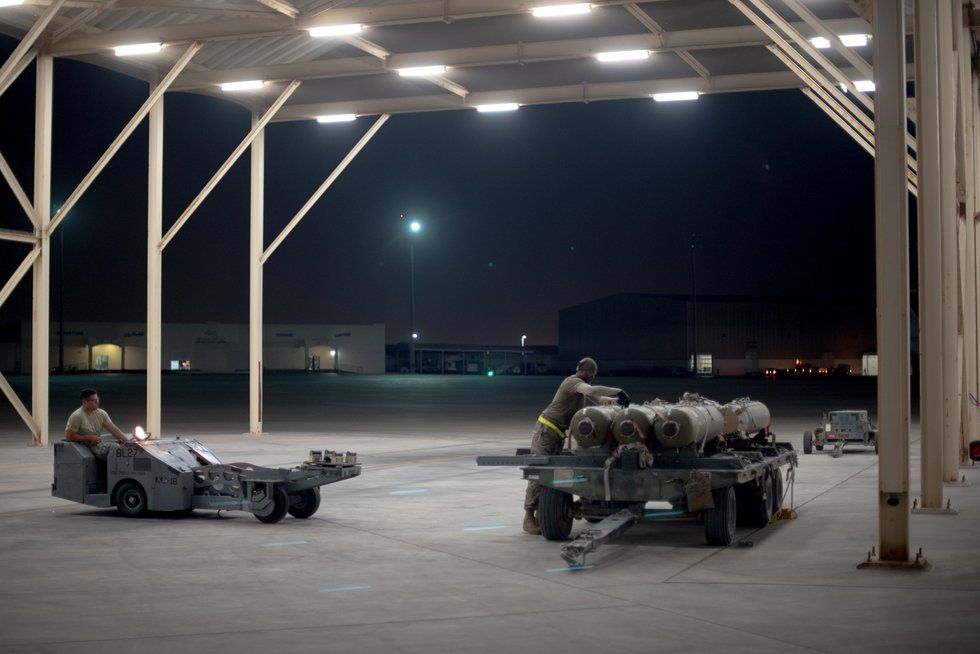 An F-15E Strike Eagle weapons load crew team prepares munitions July 15, 2019, at Al Dhafra Air Base, United Arab Emirates(U.S. Air Force/Staff Sgt. Chris Thornbury)
Last month, Iranian gunboats attempted to seize the British tanker "British Heritage," but the Royal Navy frigate HMS Montrose intervened, turning its guns on the Iranian vessels. One week later, the Islamic Revolutionary Guard Corps seized the UK-flagged tanker Stena Impero, an unguarded vessel which Iran has not yet released.

The U.S. has also accused Iran of attacking commercial vessels in the region with limpet mines, as well as targeting and, in one case, shooting down U.S. unmanned air assets.
Western countries have not yet come to a consensus about how they should deal with the serious threat posed by Iranian forces in the region.
Read more from Business Insider:
(U.S. Navy/Mass Communication Specialist 2nd Class Stephane Belcher)
The 2020 National Defense Authorization Act would allow service members to seek compensation when military doctors make mistakes that harm them, but they would still be unable to file medical malpractice lawsuits against the federal government.
On Monday night, Congress announced that it had finalized the NDAA, which must be passed by the House and Senate before going to President Donald Trump. If the president signs the NDAA into law, it would mark the first time in nearly seven decades that U.S. military personnel have had legal recourse to seek payment from the military in cases of medical malpractice.
December 09, 2019 at 05:53 PM
news
Maj. Jason Michael Musgrove (Lincoln County Sheriff's Office)
A major serving at U.S. Army Cyber Command has been charged with distributing child pornography, according to the Justice Department.
Maj. Jason Michael Musgrove, who is based at Fort Gordon, Georgia, has been remanded to the U.S. Marshals service, a news release from the U.S. Attorney's Office for the Southern District of Georgia says.
December 09, 2019 at 03:10 PM
Gear
Sailors from USS George Washington (CVN 73) wear-test the I-Boot 5 at Naval Station Norfolk. (U.S. Navy photo by Courtney Williams)
Navy senior leaders could decide whether or not to approve the new I-Boot 5 early in 2020, said Rob Carroll, director of the uniform matters office at the Chief of Naval Personnel's office.
"The I-Boot 5 is currently wrapping up its actual wear test, its evaluation," Carroll told Task & Purpose on Monday. "We're hoping that within the first quarter of calendar year 2020 that we'll be able to present leadership with the information that they need to make an informed decision."
December 09, 2019 at 11:51 AM
popular
Senator Jim Inhofe speaks with local reporters at a press conference held at the 138th Fighter Wing August 2, 2018. (U.S. National Guard/Staff Sgt. Rebecca R. Imwalle)
U.S. Sen. Jim Inhofe and U.S. Rep. Kendra Horn leveled harsh criticism last week at the contractor accused of negligence and fraudulent activity while operating private housing at Tinker Air Force Base and other military installations.
Inhofe, chairman of the Senate Armed Services Committee, referred to Balfour Beatty Communities as "notorious." Horn, a member of the House Armed Services Committee, told a company executive she was "incredibly disappointed you have failed to live up to your responsibility for taking care of the people that are living in these houses."
December 09, 2019 at 11:09 AM
news
U.S. Senator Rick Scott speaks during a press conference at Tyndall Air Force Base, Florida, April 29, 2019. (U.S. Air Force/Airman 1st Class Monica Roybal)
The Saudi national who killed three students on a U.S. Naval Air station in Pensacola was in the United States on a training exchange program.
On Sunday, Sen. Rick Scott said the United States should suspend that program, which brings foreign nationals to America for military training, pending a "full review."