Air Force F-35 pilot on flying the legendary A-10: 'like Chewbacca with chainsaw arms'
February 13, 2019 at 06:33 AM
Military Tech
The A-10 is a flying death machine, a plane built around a cannon that is capable of firing 4,200 rounds per minute and eliminating anything in its path, but this fearsome gunship's days are numbered.
Some U.S. Air Force pilots are currently transitioning to flying other aircraft, like the new F-35A Lightning II Joint Strike Fighters that are supposed to replace many of the A-10s for ground attack missions.
Here's what one pilot had to say about the shift during the Air Force's Red Flag air combat exercises.
---
Captain James Rosenau, a former A-10 Thunderbolt II pilot, described the transition from the Warthog to the stealth fighters in an interview with the Air Force.
"I loved the A-10 and its mission," he told the Air Force, "It's like a flying tank. Like Chewbacca with chainsaw arms. A very raw flying experience. Obviously, the F-35 is completely different. It's more like a precision tool."
Chewbacca, Han Solo's beloved co-pilot from the "Star Wars" movies, was a creature known as a wookie that was a physical beast. Nobody wanted to mess with Chewie.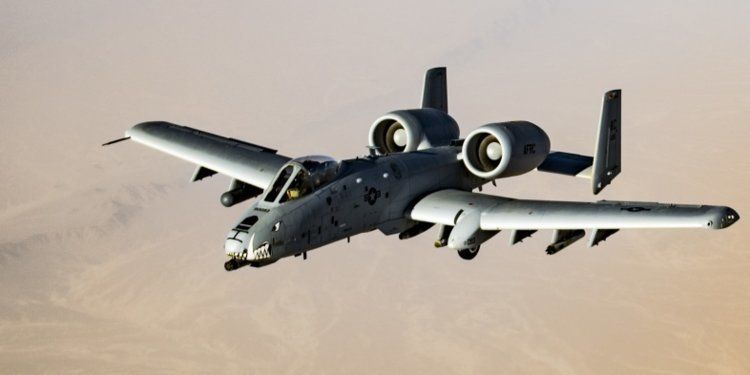 A US Air Force A-10 Thunderbolt II. (U.S. Air Force Photo by Tech. Sgt. Gregory Brook)
The A-10, a gunship famous for the "BRRRT" of its 30 mm GAU-8/A seven-barrel Gatling gun, was the first Air Force aircraft built specifically to provide close air support to ground forces.

The F-35As are expected to eventually replace the older F-16 Fighting Falcons and A-10s.
"In the A-10, I liked being the guy who was called upon to directly support troops on the ground. To bring that fight to the enemy," Rosenau said. "Now I like being the guy who can support legacy fighters when they may be struggling to get into a target area because of the threat level."
The F-35 is designed to provide advanced capabilities to defeat emerging threats from near-peer competitors like China and Russia, but some observers and lawmakers are skeptical that the F-35A is a suitable replacement for the A-10's formidable ground-attack capabilities.
Rosenau spoke highly of the embattled fifth-generation fighters, saying, "After seeing the F-35 go up against the near-peer threats replicated here at Nellis [Air Force Base in Nevada], I'm a big believer."
Red Flag is the Air Force's top air combat exercise. Over a three-week period, pilots from the U.S. and allied nations square off to strengthen interoperability and improve combat readiness.
Read more from Business Insider:
WATCH NEXT: A-10 Warthogs Practice Rough Landings In Estonia
October 18, 2019 at 03:53 PM
popular
WASHINGTON (Reuters) - U.S. Defense Secretary Mark Esper said on Friday that no U.S. troops will take part in enforcing the so-called safe zone in northern Syria and the United States "is continuing our deliberate withdrawal from northeastern Syria."
Turkish President Tayyip Erdogan earlier on Friday said Turkey will set up a dozen observation posts across northeast Syria, insisting that a planned "safe zone" will extend much further than U.S. officials said was covered under a fragile ceasefire deal.
October 18, 2019 at 03:26 PM
popular
On Tuesday at the Association of the U.S. Army's annual conference, Army families had the opportunity to tell senior leaders exactly what was going on in their worlds — an opportunity that is, unfortunately, all too rare.

The fog of war, just kills, and war crimes are the focus of a new documentary series coming to STARZ. Titled Leavenworth, the five-part series profiles 1st Lt. Clint Lorance, the Army infantry officer who was convicted on murder charges for ordering his soldiers to fire on three unarmed Afghan men on a motorcycle, killing two and wounding the third, while deployed to the Zhari district in Kandahar province, on July 2, 2012.
A big stereotype surrounding U.S. service members and veterans is that they are defined only by their military service, from buying "Dysfunctional Veteran" t-shirts to playing hard-boiled, high-octane first-person shooters like Battlefield and Call of Duty (we honestly have no idea where anyone could get that impression).
But the folks at OSD (formerly called Operation Supply Drop), a non-profit veteran service organization that aims to help troops and vets connect with each other through free video games, service programs and other activities, recently found that most of the gamers they've served actually prefer less military-centric fare like sports games and fantasy RPGs.
October 18, 2019 at 11:16 AM
news
CEYLANPINAR, Turkey (Reuters) - Shelling could be heard at the Syrian-Turkish border on Friday morning despite a five-day ceasefire agreed between Turkey and the United States, and Washington said the deal covered only a small part of the territory Ankara aims to seize.
Reuters journalists at the border heard machine-gun fire and shelling and saw smoke rising from the Syrian border battlefield city of Ras al Ain, although the sounds of fighting had subsided by mid-morning.
The truce, announced on Thursday by U.S. Vice President Mike Pence after talks in Ankara with Turkish President Tayyip Erdogan, sets out a five-day pause to let the Kurdish-led SDF militia withdraw from an area controlled by Turkish forces.
The SDF said air and artillery attacks continued to target its positions and civilian targets in Ral al Ain.
"Turkey is violating the ceasefire agreement by continuing to attack the town since last night," SDF spokesman Mustafa Bali tweeted.
The Kurdish-led administration in the area said Turkish truce violations in Ras al Ain had caused casualties, without giving details.