Air Force F-35 pilot on flying the legendary A-10: 'like Chewbacca with chainsaw arms'
February 13, 2019 at 06:33 AM
Military Tech
The A-10 is a flying death machine, a plane built around a cannon that is capable of firing 4,200 rounds per minute and eliminating anything in its path, but this fearsome gunship's days are numbered.
Some U.S. Air Force pilots are currently transitioning to flying other aircraft, like the new F-35A Lightning II Joint Strike Fighters that are supposed to replace many of the A-10s for ground attack missions.
Here's what one pilot had to say about the shift during the Air Force's Red Flag air combat exercises.
---
Captain James Rosenau, a former A-10 Thunderbolt II pilot, described the transition from the Warthog to the stealth fighters in an interview with the Air Force.
"I loved the A-10 and its mission," he told the Air Force, "It's like a flying tank. Like Chewbacca with chainsaw arms. A very raw flying experience. Obviously, the F-35 is completely different. It's more like a precision tool."
Chewbacca, Han Solo's beloved co-pilot from the "Star Wars" movies, was a creature known as a wookie that was a physical beast. Nobody wanted to mess with Chewie.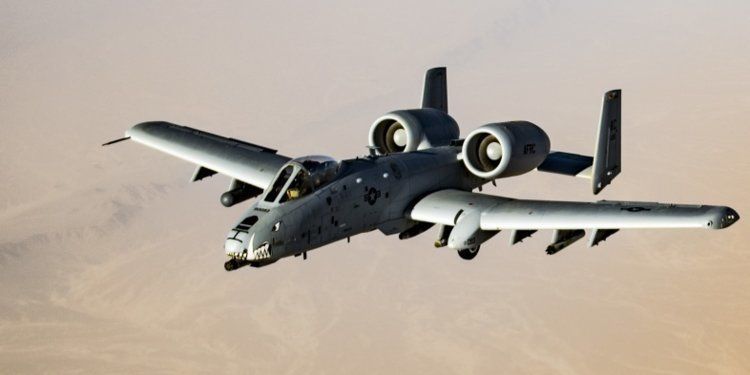 A US Air Force A-10 Thunderbolt II. (U.S. Air Force Photo by Tech. Sgt. Gregory Brook)
The A-10, a gunship famous for the "BRRRT" of its 30 mm GAU-8/A seven-barrel Gatling gun, was the first Air Force aircraft built specifically to provide close air support to ground forces.

The F-35As are expected to eventually replace the older F-16 Fighting Falcons and A-10s.
"In the A-10, I liked being the guy who was called upon to directly support troops on the ground. To bring that fight to the enemy," Rosenau said. "Now I like being the guy who can support legacy fighters when they may be struggling to get into a target area because of the threat level."
The F-35 is designed to provide advanced capabilities to defeat emerging threats from near-peer competitors like China and Russia, but some observers and lawmakers are skeptical that the F-35A is a suitable replacement for the A-10's formidable ground-attack capabilities.
Rosenau spoke highly of the embattled fifth-generation fighters, saying, "After seeing the F-35 go up against the near-peer threats replicated here at Nellis [Air Force Base in Nevada], I'm a big believer."
Red Flag is the Air Force's top air combat exercise. Over a three-week period, pilots from the U.S. and allied nations square off to strengthen interoperability and improve combat readiness.
Read more from Business Insider:
WATCH NEXT: A-10 Warthogs Practice Rough Landings In Estonia
Barrett's bolt-action Multi-Role Adaptive Design (MRAD) system (Courtesy photo)
The Army is almost doubling its purchase of new bolt-action Precision Sniper Rifles as its primary anti-personnel sniper system of choice, according to budget documents.
February 18, 2020 at 10:33 AM
news
(U.S. Air Force photo)
Air Force officials are investigating the death of a man near the north gate of the U.S. Air Force Academy on Saturday night after the NHL Stadium Series hockey game between the Avalanche and the Los Angeles Kings, military officials said Sunday.
February 18, 2020 at 10:22 AM
news
(Navy photo / Chief Mass Communication Specialist Paul Seeber)
The Citizens of Ebey's Reserve (COER) is asking a federal judge to require the Navy to roll back the number of EA-18G Growler practice flights at Outlying Field Coupeville to pre-2019 levels until a lawsuit over the number of Growler flights is settled.
COER and private citizen Paula Spina filed a motion for a preliminary injunction Thursday.
According to the motion, since March 2019 the Navy has increased the number of Growlers at Naval Air Station Whidbey Island and shifted most of its Growler operations to Outlying Field Coupeville, which is near the Reserve and the town of Coupeville.
"The result is a nearly fourfold increase in Growler flights in that area. Now the overflights subject residents in and near Coupeville to extreme noise for several hours of the day, day and night, many days of the week," said the court document.
February 18, 2020 at 09:46 AM
news
An F-16 Fighting Falcon assigned to the 18th Aggressor Squadron taxis down the runway during Sentry Aloha 20-1 at Joint Base Pearl Harbor-Hickam, Hawaii, Jan. 15, 2020. (U.S. Air Force/Senior Airman Beaux Hebert)
A 26-year-old man died after he failed to surface from waters off Molokai while participating in a scuba diving tour over the weekend.
He has been identified as Duane Harold Parsley II and was stationed at Hickam Air Force Base, according to the Maui Police Department.
February 18, 2020 at 09:01 AM
news
Manzanar, the first of ten such concentration camps established by Executive Order No. 9066 on February 19, 1942. (Dorothea Lange for the War Relocation Authority)
LOS ANGELES — For decades, Japanese American activists have marked Feb. 19 as a day to reflect on one of the darkest chapters in this nation's history.
On that date in 1942, during World War II, President Franklin Delano Roosevelt authorized the forced removal of over 120,000 Americans of Japanese descent from their homes and businesses.
On Thursday, the California Assembly will do more than just remember.