Air Force F-35 pilot on flying the legendary A-10: 'like Chewbacca with chainsaw arms'
February 13, 2019 at 06:33 AM
Military Tech
The A-10 is a flying death machine, a plane built around a cannon that is capable of firing 4,200 rounds per minute and eliminating anything in its path, but this fearsome gunship's days are numbered.
Some U.S. Air Force pilots are currently transitioning to flying other aircraft, like the new F-35A Lightning II Joint Strike Fighters that are supposed to replace many of the A-10s for ground attack missions.
Here's what one pilot had to say about the shift during the Air Force's Red Flag air combat exercises.
---
Captain James Rosenau, a former A-10 Thunderbolt II pilot, described the transition from the Warthog to the stealth fighters in an interview with the Air Force.
"I loved the A-10 and its mission," he told the Air Force, "It's like a flying tank. Like Chewbacca with chainsaw arms. A very raw flying experience. Obviously, the F-35 is completely different. It's more like a precision tool."
Chewbacca, Han Solo's beloved co-pilot from the "Star Wars" movies, was a creature known as a wookie that was a physical beast. Nobody wanted to mess with Chewie.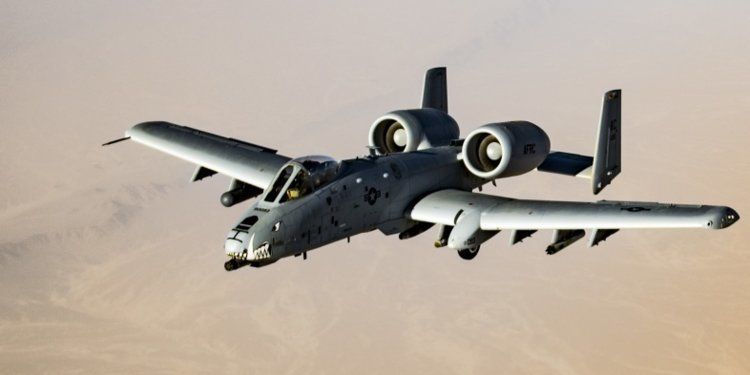 A US Air Force A-10 Thunderbolt II. (U.S. Air Force Photo by Tech. Sgt. Gregory Brook)
The A-10, a gunship famous for the "BRRRT" of its 30 mm GAU-8/A seven-barrel Gatling gun, was the first Air Force aircraft built specifically to provide close air support to ground forces.

The F-35As are expected to eventually replace the older F-16 Fighting Falcons and A-10s.
"In the A-10, I liked being the guy who was called upon to directly support troops on the ground. To bring that fight to the enemy," Rosenau said. "Now I like being the guy who can support legacy fighters when they may be struggling to get into a target area because of the threat level."
The F-35 is designed to provide advanced capabilities to defeat emerging threats from near-peer competitors like China and Russia, but some observers and lawmakers are skeptical that the F-35A is a suitable replacement for the A-10's formidable ground-attack capabilities.
Rosenau spoke highly of the embattled fifth-generation fighters, saying, "After seeing the F-35 go up against the near-peer threats replicated here at Nellis [Air Force Base in Nevada], I'm a big believer."
Red Flag is the Air Force's top air combat exercise. Over a three-week period, pilots from the U.S. and allied nations square off to strengthen interoperability and improve combat readiness.
Read more from Business Insider:
WATCH NEXT: A-10 Warthogs Practice Rough Landings In Estonia
December 12, 2019 at 05:08 PM
news
U.S. Air Force airmen from the 405th Expeditionary Support Squadron work together to clear debris inside the passenger terminal the day after a Taliban-led attack at Bagram Airfield, Afghanistan, Dec. 12, 2019. (U.S. Air Force/Airman 1st Class Brandon Cribelar)
December 13, 2019 at 10:37 AM
Opinion
The U.S. Navy Arleigh Burke-class guided-missile destroyer USS Fitzgerald (DDG 62) returns to Fleet Activities Yokosuka following a collision with a merchant vessel while operating southwest of Yokosuka, Japan, June 17, 2017 (U.S. Navy photo)
Editor's Note: The following is an op-ed. The opinions expressed are those of the author, and do not necessarily reflect the views of Task & Purpose.
Shortly after seven sailors died aboard USS Fitzgerald when she collided with a merchant ship off Japan in 2017, I wrote that the Fitzgerald's watch team could have been mine. My ship had once had a close call with me on watch, and I had attempted to explain how such a thing could happen. "Operating ships at sea is hard, and dangerous. Stand enough watches, and you'll have close calls," I wrote at the time. "When the Fitzgerald's investigation comes out, I, for one, will likely be forgiving."
The investigations, both public and private, are out, and the Government Accountability Office (GAO) recently released a report assessing the changes to training implemented since the collisions.
So, am I forgiving? Yes — for some.
Belgian nurse Augusta Chiwy, left, talks with author and military historian Martin King moments before receiving an award for valor from the U.S. Army, in Brussels, Dec. 12, 2011. (Associated Press/Yves Logghe)
Editor's note: a version of this story first appeared in 2015.
Most people haven't heard of an elderly Belgian-Congolese nurse named Augusta Chiwy. But students of history know that adversity and dread can turn on a dime into freedom and change, and it's often the most humble and little-known individuals who are the drivers of it.
During the very darkest days of the Battle of the Bulge in World War II, Chiwy was such a catalyst, and hundreds of Americans lived because of her. She died quietly on Aug. 23, 2015, at the age of 94 at her home in Brussels, Belgium, and had it not been for the efforts of my friend — British military historian Martin King — the world may never have heard her astonishing story.
December 13, 2019 at 10:33 AM
news
A Ukrainian serviceman watches from his position at the new line of contact in Zolote, Luhansk region, eastern Ukraine Nov. 2, 2019 (AP Photo/Evgeniy Maloletka)
More than $20 million of the Pentagon aid at the center of the impeachment fight still hasn't reached Ukraine.
The continued delay undermines a key argument against impeachment from President Trump's Republican allies and a new legal memo from the White House Office of Management and Budget.
December 13, 2019 at 09:23 AM
popular
(Glow Images via Associated Press_
Average pay, housing and subsistence allowances will increase for members of the military in 2020, the Pentagon announced Thursday.