The Army wants to outfit dogs with tiny cameras and other advanced gear to make them even more effective in combat
December 19, 2019 at 11:41 AM
Military Tech
A military working dog. (U.S. Army/Zeteo Tech)
Editor's Note: This article originally appeared on Business Insider.
Man's best friend has been fighting on battlefields for centuries, but the modern four-legged battle buddy is much more sophisticated than his predecessor with more advanced gear.
The modern U.S. military has multi-purpose tactical dogs, search and rescue dogs, explosive detection dogs, and tracking dogs, among other types of canines, and the dogs have their own special equipment.
The Army, which is currently undergoing its largest modernization in decades, has been working hard to modernize the force, equipping soldiers with state-of-the-art gear, such as lightweight helmets that can withstand sniper fire and night-vision goggles that let them shoot around corners.
And military working dogs aren't being left out of the modernization push.
---
Insider recently asked a senior scientist at the Army Research Office what's next for military dogs, and he explained that there are a lot of interesting things on the horizon, despite the challenges of developing gear for canines.
"We are going to be able to help augment the animal with better cameras, better hearing protection, and better vision protection, and put those things all together so that we can get a smarter system out there," Stephen Lee told Insider.
U.S. Army 1st Sgt. Brian Zamiska, 3rd Battalion, 187th Infantry Regiment, 3rd Brigade Combat Team, 101st Airborne Division (Air Assault), pulls security with a U.S. Air Force working dog, Jan. 6, 2013, during a patrol with the Afghan Border Police in Tera Zeyi district, Afghanistan. (U.S. Army/Spc. Alex Kirk Amen)
All military dogs use a collar and a leash, but just as there are different types of dogs for different missions, such as pointy-eared dogs like German Shepherds and Belgian Malinois for tactical operations and floppy-eared dogs like Labrador Retrievers for screening activities, the various types of military dogs tend to have varied gear kits.

"Like the multipurpose dogs might have a harness, a vest that contains stab proofing or some sort of insert armor," Lee explained, adding that they might also have goggles, hearing protection equipment, and special booties for snow, sandy or rocky environments.
There are also cooling vests and specialized kennels that cool to help the canines better operate in hot areas.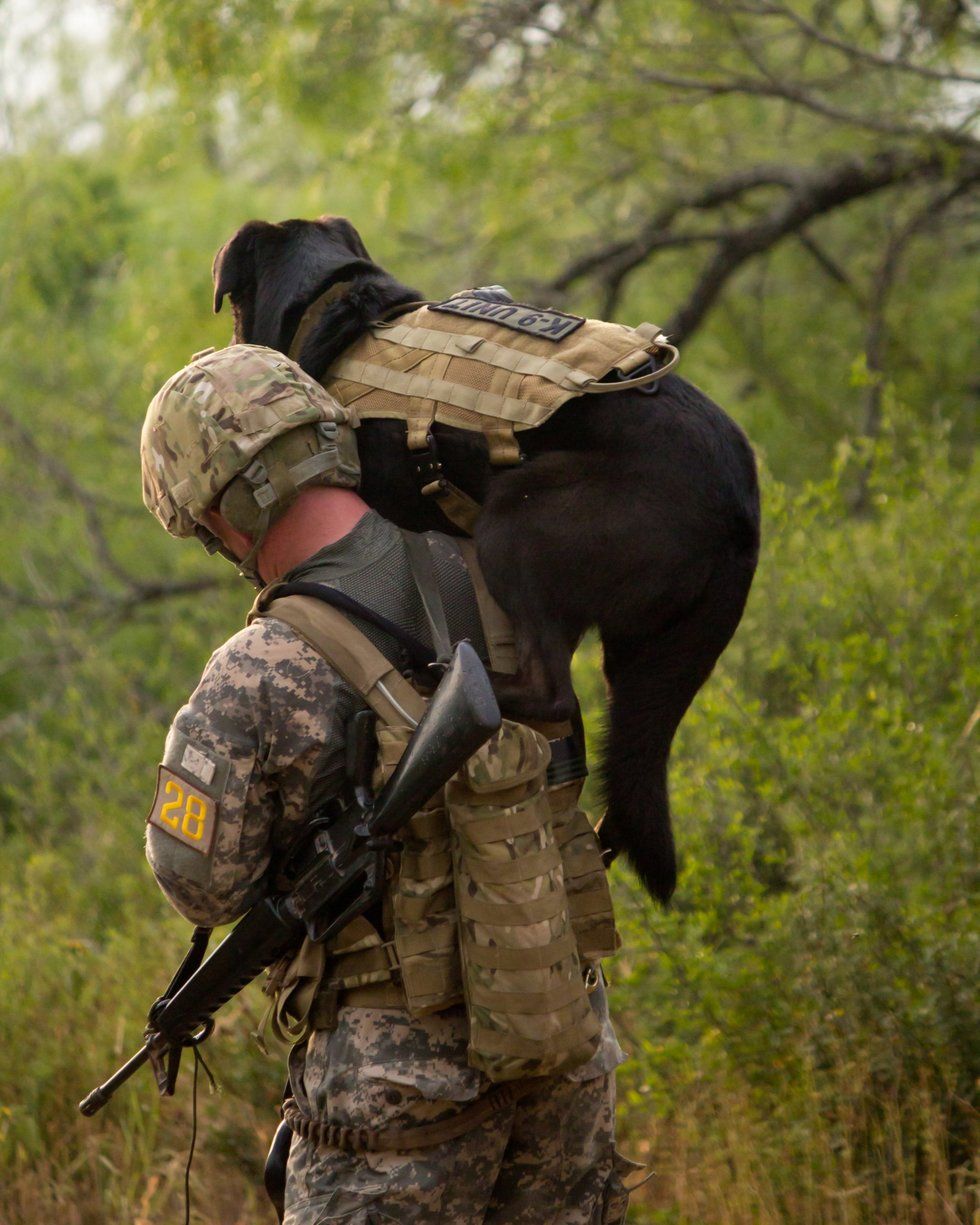 A U.S. soldier carrying a military working dog.(U.S. Army photo)
And canine gear is continuously evolving.
"We are learning a lot from the robotics community because they need lightweight electronics. So we're able to put small cameras on the dogs now and guide them at distances," Lee said. "I'm excited about putting those new microelectronics on the canine."
The U.S. military has already made some strides in this area, equipping dogs with cameras, GPS trackers, and radios for better off-leash communication, but there is always the potential for more innovation.
The challenge, Lee told Insider, is that there is technically no military working dog research funding line in the military.
Lee has a PhD in physical organic chemistry and played an important role in the development of an artificial dog nose that is used for screening activities, but while it is an incredible tool, it lacks the ability to provide the full range of capabilities a working dog can.
"We spend billions of dollars making robots that can emulate dogs but don't even come close," he explained, adding that the military doesn't really have any core research and development programs for dogs.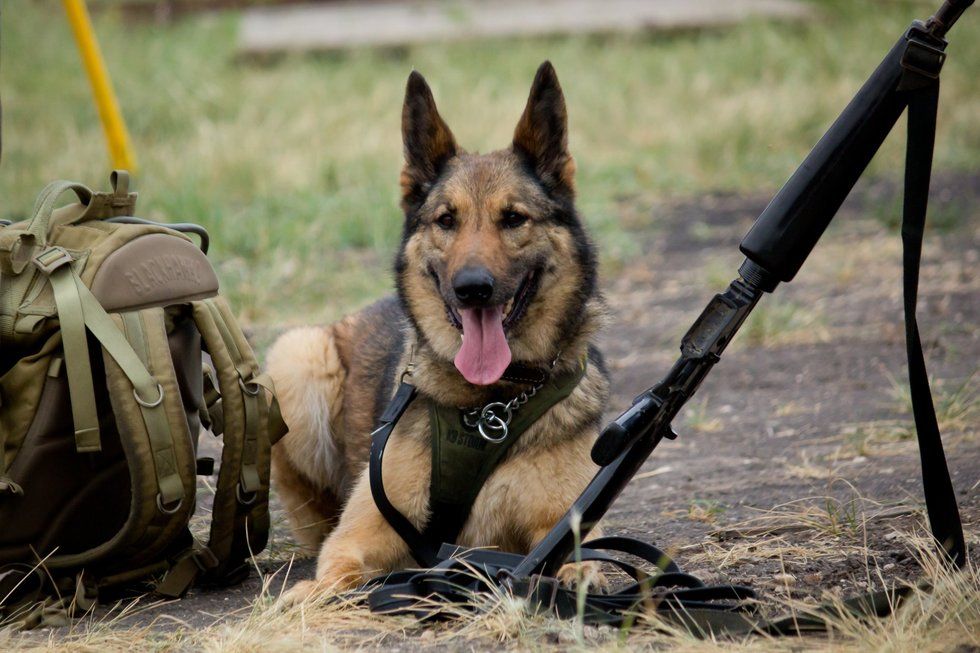 A military working dog surrounded by a soldier's gear.(U.S. Army photo)
Much of the canine-related research is carried out by industry and academia with input from the military and law enforcement and funding pulled from various pools.
For instance, Zeteo Tech, Inc., a Maryland-based outfit, has developed an innovative solution to help prevent hearing loss in dogs with the help of the Small Business Innovation Research grant provided by the Army Research Office.
But, while military working dogs may not receive the same level of attention that human soldiers do, those who work closely with them understand well their value in the fight.
Conan, a military working dog that was recently honored at the White House, helped special forces take down Abu Bakr al-Baghdadi, the murderous leader of ISIS in October. Time and time again, canines have made important contributions to US military missions.
Lee told Insider that "we take for granted all that our dogs can do" on the battlefield.
Read more from Business Insider:
January 21, 2020 at 06:42 PM
news
Roughly a dozen U.S. troops showing concussion-related symptoms are being medically evacuated from Al-Asad Air Base in Iraq to Landstuhl Regional Medical Center in Germany, a defense official told Task & Purpose on Tuesday.
In a Galaxy — err, I mean, on a military base far, far away, soldiers are standing in solidarity with galactic freedom fighters.
Sitting at the top of an Army press release from March 2019, regarding the East Africa Response Force's deployment to Gabon, the photo seems, at first glance, just like any other: Soldiers on the move.
But if you look closer at the top right, you'll find something spectacular: A Rebel Alliance flag.
The maiden flight of the first CMV-22B Osprey took place in Amarillo, Texas (Courtesy photo)
The first of the CMV-22B Osprey tiltrotor aircraft the Navy plans on adopting as its carrier onboard delivery (COD) aircraft of choice has successfully completed its first flight operations, manufacturer Boeing announced on Tuesday.
January 21, 2020 at 06:54 PM
news
A soldier plugs his ears during a live fire mission at Yakima Training Center. Photo: Capt. Leslie Reed/U.S. Army
Another 300 lawsuits against 3M flooded federal courts this month as more military veterans accuse the behemoth manufacturer of knowingly making defective earplugs that caused vets to lose hearing during combat in Iraq or Afghanistan or while training on U.S. military bases.
On another front, 3M also is fighting lawsuits related to a class of chemicals known as PFAS, with the state of Michigan filing a lawsuit last week against the Maplewood-based company.
To date, nearly 2,000 U.S. veterans from Minnesota to California and Texas have filed more than 1,000 lawsuits.
January 21, 2020 at 05:20 PM
news
GENEVA (Reuters) - North Korea said on Tuesday it was no longer bound by commitments to halt nuclear and missile testing, blaming the United States' failure to meet a year-end deadline for nuclear talks and "brutal and inhumane" U.S. sanctions.
North Korean leader Kim Jong Un set an end-December deadline for denuclearization talks with the United States and White House national security adviser Robert O'Brien said at the time the United States had opened channels of communication.
O'Brien said then he hoped Kim would follow through on denuclearization commitments he made at summits with U.S. President Donald Trump.