The Air Force's B-52 bombers are getting the ability to drop smart bombs like never before
March 03, 2019 at 02:00 PM
Military Tech
U.S. Air Force B-52 Stratofortress bombers — America's longest-serving bomber aircraft — are expected to get an upgrade that will allow them to drop bombs like never before.
---
The service is currently testing a major upgrade for the decades-old bombers, as well as the revolutionary Conventional Rotary Launchers (CFLs). The upgrade will increase the number of munitions a single B-52 bomber can drop at one time, the Air Force revealed in a recent statement.
CFLs are rotating munition systems located inside the bomb bay that allow the heavy, long-range bombers to carry a larger and more varied payload of conventional smart bombs and other guided munitions.
"Before these launchers, the B-52 was not capable of carrying smart weapons internally," Air Forces Strategic (AFSTRAT) Armament Systems manager Master Sgt. Adam Levandowski said when the first CFLs were delivered to the service in November 2017. "Now each CRL allows for internal carriage, which adds an additional eight smart bombs per aircraft," he further explained.
The addition of the new CFLs increased the B-52's smart weapon carrying capacity by 67 percent.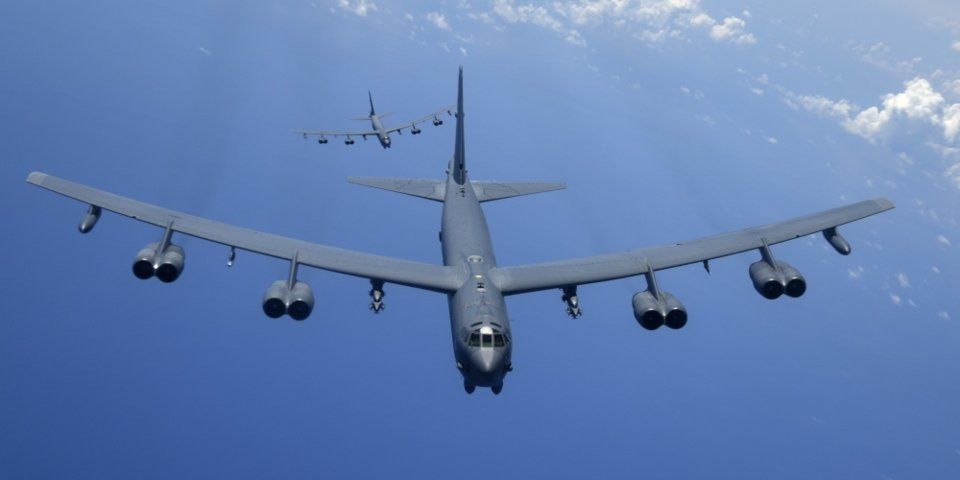 Two U.S. Air Force B-52H Stratofortress bombers fly over the Pacific Ocean during a routine training mission Aug. 2, 2018.(U.S. Air Force/Airman 1st Class Gerald R. Willis)
B-52 bombers flew into battle with the new launchers for the first time in December 2017, setting a new record for largest number of bombs ever dropped from the airframe, Military.com reported at the time.

A long-standing issue with the CFLs has been that power could only be supplied to four munitions at a time. The planned upgrade will provide full power to all internal munitions at once. In the past, aircrews could only power four munitions on one pass, as anything more might risk blowing the circuit breakers mid-flight.
"Now, a B-52 going into a war zone has the ability to put 20 munitions on a target area very quickly," Senior Master Sgt. Michael Pierce, 307th Maintenance Squadron aircraft armament superintendent, said, referring to the eight internal weapons and the 12 additional munitions stored under the wings.
These figures refer to the AGM-158 Joint Air-to-Surface Standoff Missiles (JASSMs) used in testing. The bombers can carry potentially larger quantities of other munitions.
"The entire effort to modify the CRL moved pretty quickly," Pierce said. "The bottom line is yesterday we had the capability to deliver 16 weapons at one time and today we can deliver 20 of them."
The Air Force is expected to upgrade all B-52s once testing is complete.
Read more from Business Insider:
WATCH NEXT: The B-52 Strikes A Taliban Training Camp
Soldiers from the 1-118th Field Artillery Regiment of the 48th Infantry Brigade Combat Team fire an M777 Howitzer during a fire mission in Southern Afghanistan, June 10th, 2019. (U.S. Army photo by Sgt. Jordan Trent)
January 25, 2020 at 10:22 PM
History
Audie Murphy (U.S. Army photo)
Editor's note: a version of this post first appeared in 2018
On January 26, 1945, the most decorated U.S. service member of World War II earned his legacy in a fiery fashion.
January 26, 2020 at 10:04 AM
news
A Purple Heart (DoD photo)
Florida's two senators are pushing the Defense Department to award Purple Hearts to the U.S. service members wounded in the December shooting at Naval Air Station Pensacola.
January 26, 2020 at 11:30 AM
news
Ships from Destroyer Squadron (DESRON) 23 transit the Pacific Ocean Jan. 22, 2020. DESRON 23, part of the Theodore Roosevelt Carrier Strike Group, is on a scheduled deployment to the Indo-Pacific. (U.S. Navy/Mass Communication Specialist 3rd Class Erick A. Parsons)
Editor's Note: This article by Gina Harkins originally appeared on Military.com, a leading source of news for the military and veteran community.
The Navy and Marine Corps need to be a bit more short-sighted when assessing how many ships they need, the acting Navy secretary said this week.
The Navy Department is in the middle of a new force-structure review, which could change the number and types of ships the sea services say they'll need to fight future conflicts. But instead of trying to project what they will need three decades out, which has been the case in past assessments, acting Navy Secretary Thomas Modly said the services will take a shorter view.
"I don't know what the threat's going to be 30 years from now, but if we're building a force structure for 30 years from now, I would suggest we're probably not building the right one," he said Friday at a National Defense Industrial Association event.
The Navy completed its last force-structure assessment in 2016. That 30-year plan called for a 355-ship fleet.
Master-at-Arms 3rd Class Oscar Temores and his family. (GoFundMe)
When Oscar Jesus Temores showed up to work at Joint Expeditionary Base Little Creek-Fort Story each day, his colleagues in base security knew they were in for a treat.
Temores was a master-at-arms who loved his job and cracking corny jokes.
"He just he just had that personality that you can go up to him and talk to him about anything. It was goofy and weird, and he always had jokes," said Petty Officer 3rd Class Derek Lopez, a fellow base patrolman. "Sometimes he'd make you cry from laughter and other times you'd just want to cringe because of how dumb his joke was. But that's what made him more approachable and easy to be around."
That ability to make others laugh and put people at ease is just one of the ways Temores is remembered by his colleagues. It has been seven weeks since the 23-year-old married father of one was killed when a civilian intruder crashed his pickup truck into Temores' vehicle at Fort Story.