The Air Force's B-52 bombers are getting the ability to drop smart bombs like never before
March 03, 2019 at 02:00 PM
Military Tech
U.S. Air Force B-52 Stratofortress bombers — America's longest-serving bomber aircraft — are expected to get an upgrade that will allow them to drop bombs like never before.
---
The service is currently testing a major upgrade for the decades-old bombers, as well as the revolutionary Conventional Rotary Launchers (CFLs). The upgrade will increase the number of munitions a single B-52 bomber can drop at one time, the Air Force revealed in a recent statement.
CFLs are rotating munition systems located inside the bomb bay that allow the heavy, long-range bombers to carry a larger and more varied payload of conventional smart bombs and other guided munitions.
"Before these launchers, the B-52 was not capable of carrying smart weapons internally," Air Forces Strategic (AFSTRAT) Armament Systems manager Master Sgt. Adam Levandowski said when the first CFLs were delivered to the service in November 2017. "Now each CRL allows for internal carriage, which adds an additional eight smart bombs per aircraft," he further explained.
The addition of the new CFLs increased the B-52's smart weapon carrying capacity by 67 percent.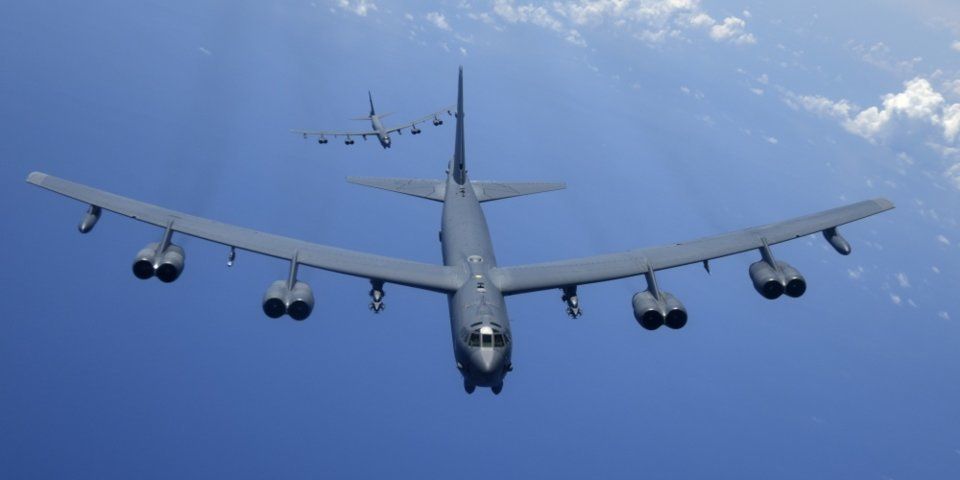 Two U.S. Air Force B-52H Stratofortress bombers fly over the Pacific Ocean during a routine training mission Aug. 2, 2018.(U.S. Air Force/Airman 1st Class Gerald R. Willis)
B-52 bombers flew into battle with the new launchers for the first time in December 2017, setting a new record for largest number of bombs ever dropped from the airframe, Military.com reported at the time.

A long-standing issue with the CFLs has been that power could only be supplied to four munitions at a time. The planned upgrade will provide full power to all internal munitions at once. In the past, aircrews could only power four munitions on one pass, as anything more might risk blowing the circuit breakers mid-flight.
"Now, a B-52 going into a war zone has the ability to put 20 munitions on a target area very quickly," Senior Master Sgt. Michael Pierce, 307th Maintenance Squadron aircraft armament superintendent, said, referring to the eight internal weapons and the 12 additional munitions stored under the wings.
These figures refer to the AGM-158 Joint Air-to-Surface Standoff Missiles (JASSMs) used in testing. The bombers can carry potentially larger quantities of other munitions.
"The entire effort to modify the CRL moved pretty quickly," Pierce said. "The bottom line is yesterday we had the capability to deliver 16 weapons at one time and today we can deliver 20 of them."
The Air Force is expected to upgrade all B-52s once testing is complete.
Read more from Business Insider:
WATCH NEXT: The B-52 Strikes A Taliban Training Camp
October 14, 2019 at 06:23 PM
popular
Photo: Twitter
For an organization that is constantly shining a light on things that would rather be kept out of the public eye, the moderators of U.S. Army WTF! Moments have done a remarkably impressive job at staying anonymous.
That is, until Monday.
For U.S. service members who have fought alongside the Kurds, President Donald Trump's decision to approve repositioning U.S. forces in Syria ahead of Turkey's invasion is a naked betrayal of valued allies.
"I am ashamed for the first time in my career," one unnamed special operator told Fox News Jennifer Griffin.
In a Twitter thread that went viral, Griffin wrote the soldier told her the Kurds were continuing to support the United States by guarding tens of thousands of ISIS prisoners even though Turkey had nullified an arrangement under which U.S. and Turkish troops were conducting joint patrols in northeastern Syria to allow the Kurdish People's Protection Units, or YPG, to withdraw.
"The Kurds are sticking by us," the soldier told Griffin. "No other partner I have ever dealt with would stand by us."
October 14, 2019 at 05:47 PM
news
Defense Secretary Mark Esper has confirmed that a nightmare scenario has come to pass: Captured ISIS fighters are escaping as a result of Turkey's invasion of Kurdish-held northeast Syria.
Turkey's incursion has led to "the release of many dangerous ISIS detainees," Esper said in a statement on Monday.
October 14, 2019 at 03:06 PM
news
ABC News anchor Tom Llamas just before his network airs grossly inaccurate footage
Video footage of a purported "bombing of Kurd civilians" by Turkish military forces shown on ABC News appeared to be a nighttime firing of tracer rounds at a Kentucky gun range.
October 14, 2019 at 02:58 PM
news
The U.S. military's seemingly never-ending mission supporting civil authorities along the southwestern border will last at least another year.
On Sept. 3, Defense Secretary Mark Esper approved a request from the Department of Homeland Security to provide a total of up to 5,500 troops along the border until Sept. 30, 2020, Lt. Gen. Laura Richardson, commander of U.S. Army North, said on Monday.