The Air Force's B-52 bombers are getting the ability to drop smart bombs like never before
March 03, 2019 at 02:00 PM
Military Tech
U.S. Air Force B-52 Stratofortress bombers — America's longest-serving bomber aircraft — are expected to get an upgrade that will allow them to drop bombs like never before.
---
The service is currently testing a major upgrade for the decades-old bombers, as well as the revolutionary Conventional Rotary Launchers (CFLs). The upgrade will increase the number of munitions a single B-52 bomber can drop at one time, the Air Force revealed in a recent statement.
CFLs are rotating munition systems located inside the bomb bay that allow the heavy, long-range bombers to carry a larger and more varied payload of conventional smart bombs and other guided munitions.
"Before these launchers, the B-52 was not capable of carrying smart weapons internally," Air Forces Strategic (AFSTRAT) Armament Systems manager Master Sgt. Adam Levandowski said when the first CFLs were delivered to the service in November 2017. "Now each CRL allows for internal carriage, which adds an additional eight smart bombs per aircraft," he further explained.
The addition of the new CFLs increased the B-52's smart weapon carrying capacity by 67 percent.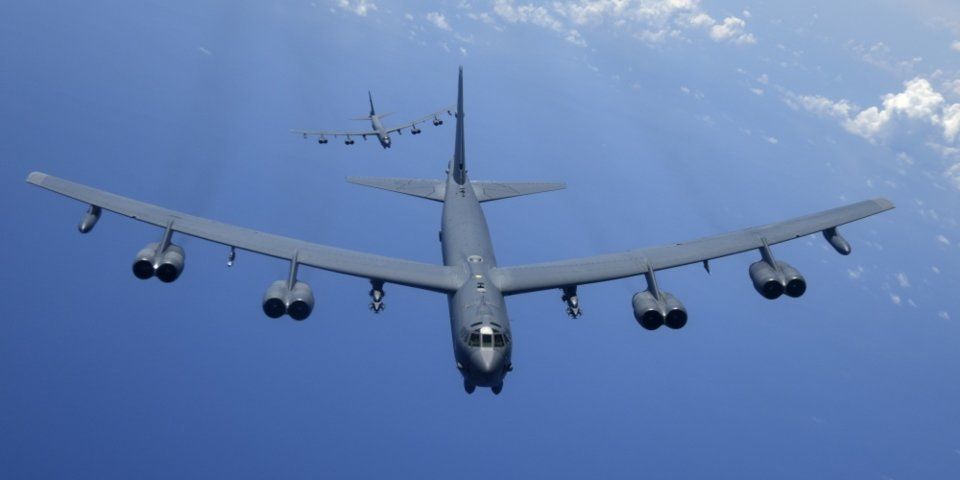 Two U.S. Air Force B-52H Stratofortress bombers fly over the Pacific Ocean during a routine training mission Aug. 2, 2018.(U.S. Air Force/Airman 1st Class Gerald R. Willis)
B-52 bombers flew into battle with the new launchers for the first time in December 2017, setting a new record for largest number of bombs ever dropped from the airframe, Military.com reported at the time.

A long-standing issue with the CFLs has been that power could only be supplied to four munitions at a time. The planned upgrade will provide full power to all internal munitions at once. In the past, aircrews could only power four munitions on one pass, as anything more might risk blowing the circuit breakers mid-flight.
"Now, a B-52 going into a war zone has the ability to put 20 munitions on a target area very quickly," Senior Master Sgt. Michael Pierce, 307th Maintenance Squadron aircraft armament superintendent, said, referring to the eight internal weapons and the 12 additional munitions stored under the wings.
These figures refer to the AGM-158 Joint Air-to-Surface Standoff Missiles (JASSMs) used in testing. The bombers can carry potentially larger quantities of other munitions.
"The entire effort to modify the CRL moved pretty quickly," Pierce said. "The bottom line is yesterday we had the capability to deliver 16 weapons at one time and today we can deliver 20 of them."
The Air Force is expected to upgrade all B-52s once testing is complete.
Read more from Business Insider:
WATCH NEXT: The B-52 Strikes A Taliban Training Camp
August 24, 2019 at 12:28 PM
news
U.S. Air Force/Staff Sgt. Sandra Welch
This article originally appeared on Military.com.
Inside Forward Operating Base Oqab in Kabul, Afghanistan stands a wall painted with a mural of an airman kneeling before a battlefield cross. Beneath it, a black gravestone bookended with flowers and dangling dog tags displays the names of eight U.S. airmen and an American contractor killed in a horrific insider attack at Kabul International Airport in 2011.
It's one of a number of such memorials ranging from plaques, murals and concrete T-walls scattered across Afghanistan. For the last eight years, those tributes have been proof to the families of the fallen that their loved ones have not been forgotten. But with a final U.S. pullout from Afghanistan possibly imminent, those families fear the combat-zone memorials may be lost for good.
August 24, 2019 at 09:44 AM
news
DOD photo
After a string of high profile incidents, the commander overseeing the Navy SEALs released an all hands memo stating that the elite Naval Special Warfare community has a discipline problem, and pinned the blame on those who place loyalty to their teammates over the Navy and the nation they serve.
August 23, 2019 at 03:20 PM
news
Ed Mahoney/Kickstarter
In June 2011 Iraq's defense minister announced that U.S. troops who had deployed to the country would receive the Iraq Commitment Medal in recognition of their service. Eight years later, millions of qualified veterans have yet to receive it.
The reason: The Iraqi government has so far failed to provide the medals to the Department of Defense for approval and distribution.
A small group of veterans hopes to change that.
August 23, 2019 at 02:09 PM
news
F-16 Fighting Falcon (Photo: US Air Force)
For a cool $8.5 million, you could be the proud owner of a "fully functioning" F-16 A/B Fighting Falcon fighter jet that a South Florida company acquired from Jordan.
The combat aircraft, which can hit a top speed of 1,357 mph at 40,000 feet, isn't showroom new — it was built in 1980. But it still has a max range of 2,400 miles and an initial climb rate of 62,000 feet per minute and remains militarized, according to The Drive, an automotive website that also covers defense topics, WBDO News 96.5 reported Wednesday.
August 23, 2019 at 01:56 PM
Humor
Sir, I mustache you a question! Haha no, but seriously I lost the crypto fill.