5 Medal Of Honor Recipients Who Helped Turn The Tide Of Vietnam's Brutal Battle Of Hue City
January 31, 2019 at 08:24 AM
History
Marines drag casualty from street fighting for control of southern bridge, head across street to an ambulance in Hue, Vietnam, Feb. 4, 1968. (Associated Press)
At the end of January in 1968, the Viet Cong launched an offensive that turned the tide of the Vietnam War.
The Tet Offensive began on January 30 as the North Vietnamese occupied the city of Hue. U.S. Marines spent nearly a month fighting a brutal urban battle to retake the city — which was 80% destroyed by the battle's end, according to H.D.S. Greenway, a photographer embedded with the Marines during the war.
An estimated 1,800 Americans lost their lives during the battle.
But in the midst of the chaos, five men who faced harrowing circumstances risked their lives to save those of their comrades — and earned the nation's highest award for courage in combat, the Medal of Honor.
---
During one of the ceremonies honoring these heroes, President Richard Nixon remarked on the incredible risks they took.
"They are men who faced death, and instead of losing courage they gave courage to the men around them," he said.
Gunnery Sergeant John L. Canley received his award over 50 years after carrying wounded Marines to safety
Gunnery Sgt. John Canley, suffering from shrapnel wounds, led his men in the destruction of enemy-occupied buildings in Hue City.

When his men were injured, he leapt over a wall in plain sight — twice — to carry them to safe positions.
He was awarded the Medal of Honor in October 2018, over 50 years after he risked his life for his men.
Chief Warrant Officer Frederick Ferguson flew his helicopter through a barrage of anti-aircraft fire to rescue wounded comrades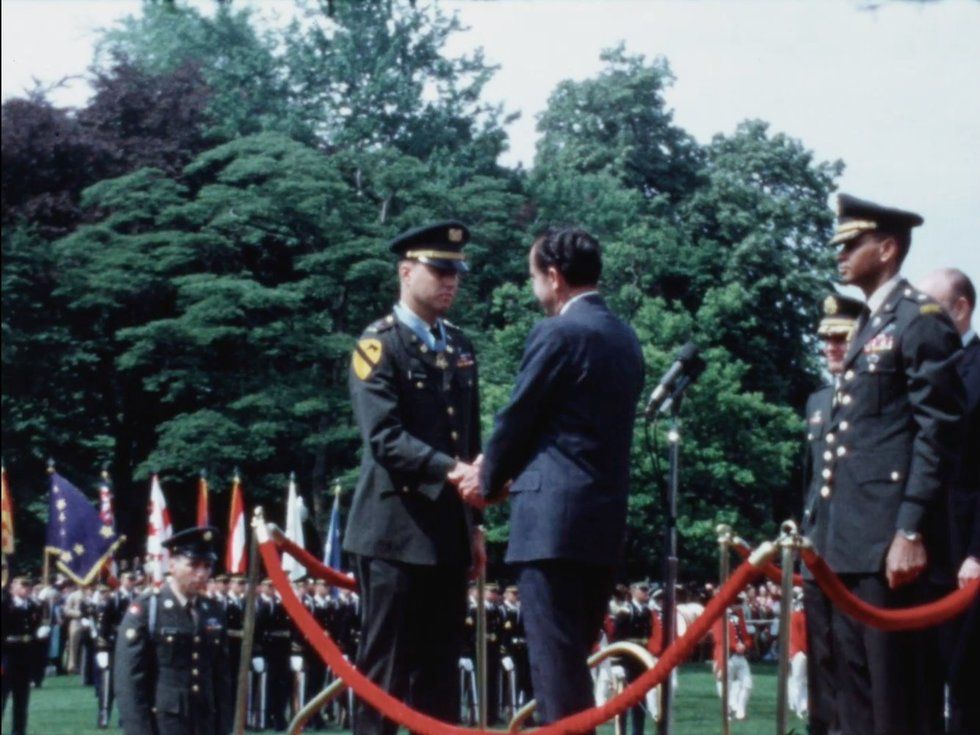 Medal of Honor recipient Chief Warrant Officer Frederick Ferguson shakes hands with President Richard Nixon after receiving his award in May 1969. (Richard Nixon Library/YouTube)
Chief Warrant Officer Frederick Ferguson ignored numerous calls to avoid the airspace surrounding Hue City during the early days of the battle.

He flew his helicopter through enemy fire, guiding the damaged aircraft so he could rescue wounded comrades and fly them back to safety.
His bravery saved the lives of five wounded soldiers.
Sergeant Alfredo Gonzalez exposed himself to enemy fire to save his comrades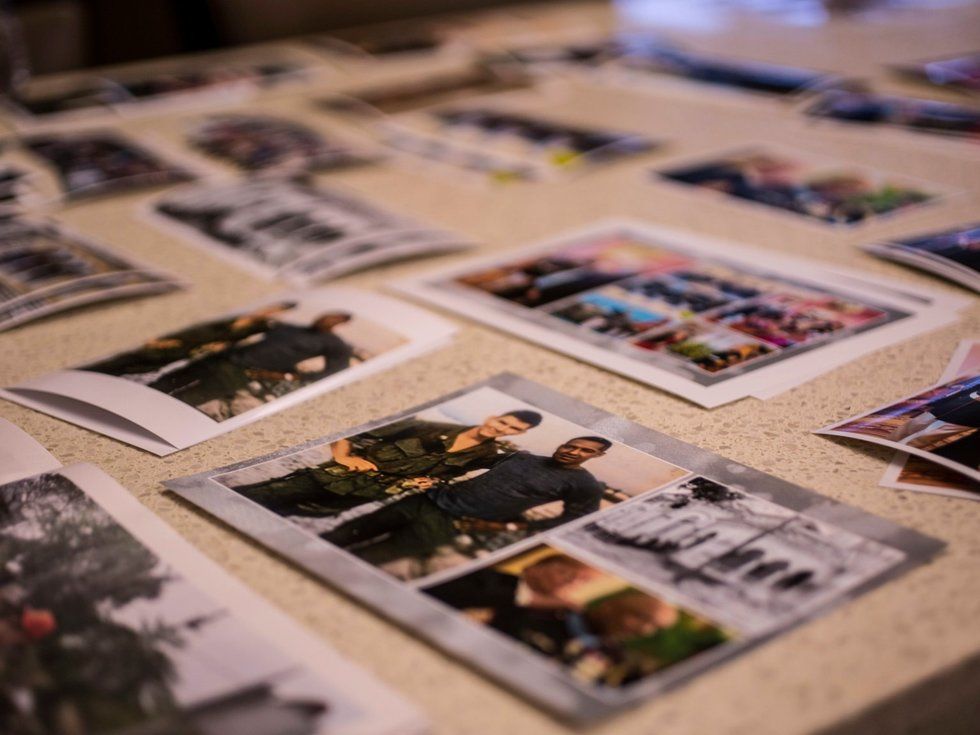 A photo shows Sgt. Alfredo Gonzalez with Gunnery Sgt. John Canley during the Vietnam War. Both have earned the Medal of Honor for actions taken during the brutal Battle of Hue City. (U.S. Marine Corps/Cpl. Tessa Watts0
Sgt. Gonzalez and his unit were among the first to deploy into the Viet Cong-occupied Hue City.

Through five days of fighting, Gonzalez repeatedly exposed himself to direct enemy fire, leading his men despite his personal wounds.
Although he died during the battle, his actions ensured his comrades' survival.
Sergeant Joe Hooper is described as the most decorated soldier of the Vietnam War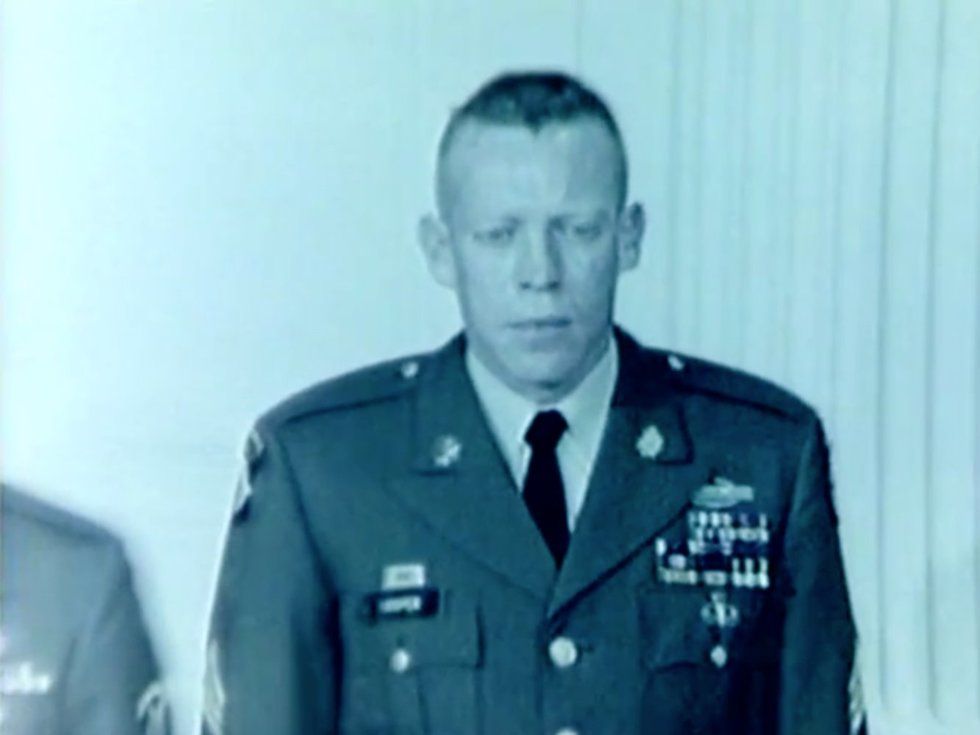 Medal of Honor recipient Joe Hooper listens as his citation is read during the award ceremony in March 1969. (National Archives/YouTube)
Sgt. Hooper earned the Medal of Honor on the same day as company mate Staff Sgt. Sims.

Hooper suffered extraordinary wounds as he fought during the Battle of Hue City, during which he destroyed numerous enemy bunkers and raced across open fields under intense fire to save a wounded comrade.
Read his full award citation here.
Staff Sergeant Clifford Sims, once an orphan, flung himself on top of an explosive device to save his platoon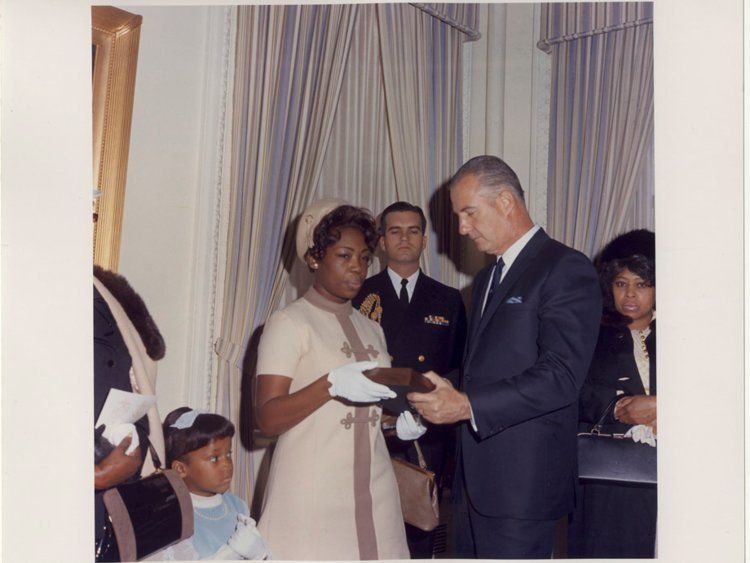 Mary Sims accepts the Medal of Honor on behalf of her husband, Staff Sergeant Clifford Sims, who died during the Battle of Hue City. (National Archives)
During an intense search-and-rescue mission, Staff Sgt. Sims heard the click of a booby trap as his platoon approached a bunker.

Shouting for his team to stay back, Sims jumped on top of the device to absorb the explosion.
Read the full award citation here.
Read more at Business Insider
:51 years ago, Vietnamese forces launched the Tet Offensive and changed how America saw the Vietnam War
WATCH NEXT: Medal Of Honor Recipient Flo Groberg On The Civil-Military Divide
December 05, 2019 at 05:23 PM
news
A UH-60 Black Hawk departs from The Rock while conducting Medevac 101 training with members of the 386th Expeditionary Medical Group, Feb. 16, 2019. (U.S. Air Force Photo/Tech. Sgt. Robert Cloys)
A Minnesota Army National Guard UH-60 Black Hawk helicopter with three Guardsmen aboard crashed south of St. Cloud on Thursday, said National Guard spokeswoman Army Master Sgt. Blair Heusdens.
At this time, the National Guard is not releasing any information about the status of the three people aboard the helicopter, Heusdens told Task & Purpose on Thursday.
The Pentagon's latest attempt to twist itself in knots to deny that it is considering sending up to 14,000 troops to the Middle East has a big caveat.
Pentagon spokeswoman Alyssa Farah said there are no plans to send that many troops to the region "at this time."
Farah's statement does not rule out the possibility that the Defense Department could initially announce a smaller deployment to the region and subsequently announce that more troops are headed downrange.
December 05, 2019 at 12:36 PM
news
I didn't think a movie about World War I would, or even could, remind me of Afghanistan.

Somehow 1917 did, and that's probably the highest praise I can give Sam Mendes' newest war drama: It took a century-old conflict and made it relatable.
"I will still have to work harder to get the perception away from peers and seniors that women can't do the job."
December 04, 2019 at 04:27 PM
news
(U.S. Marine Corps photo)
Some years ago, a 20-year-old female Marine, a military police officer, was working at a guard shack screening service members and civilians before they entered the base. As a lance corporal, she was new to the job and the duty station, her first in the Marine Corps.
At some point during her shift, a male sergeant on duty drove up. Get in the car, he said, the platoon sergeant needs to see you. She opened the door and got in, believing she was headed to see the enlisted supervisor of her platoon.
Instead, the sergeant drove her to a dark, wooded area on base. It was deserted, no other Marines were around. "Hey, I want a blowjob," the sergeant told her.
"What am I supposed, what do you do as a lance corporal?" she would later recall. "I'm 20 years old ... I'm new at this. You're the only leadership I've ever known, and this is what happens."
She looked at him, then got out of the car and walked away. The sergeant drove up next to her and tried to play it off as a prank. "I'm just fucking with you," he said. "It's not a big deal."
It was one story among hundreds of others shared by Marines for a study initiated in July 2017 by the Marine Corps Center for Advanced Operational Culture Learning (CAOCL). Finalized in March 2018, the center's report was quietly published to its website in September 2019 with little fanfare.
The culture of the Marine Corps is ripe for analysis. A 2015 Rand Corporation study found that women felt far more isolated among men in the Corps, while the Pentagon's Office of People Analytics noted in 2018 that female Marines rated hostility toward them as "significantly higher" than their male counterparts.
But the center's report, Marines' Perspectives on Various Aspects of Marine Corps Organizational Culture, offers a proverbial wakeup call to leaders, particularly when paired alongside previous studies, since it was commissioned by the Marine Corps itself in the wake of a nude photo sharing scandal that rocked the service in 2017.
The scandal, researchers found, was merely a symptom of a much larger problem.