5 Medal Of Honor Recipients Who Helped Turn The Tide Of Vietnam's Brutal Battle Of Hue City
January 31, 2019 at 08:24 AM
History
At the end of January in 1968, the Viet Cong launched an offensive that turned the tide of the Vietnam War.
The Tet Offensive began on January 30 as the North Vietnamese occupied the city of Hue. U.S. Marines spent nearly a month fighting a brutal urban battle to retake the city — which was 80% destroyed by the battle's end, according to H.D.S. Greenway, a photographer embedded with the Marines during the war.
An estimated 1,800 Americans lost their lives during the battle.
But in the midst of the chaos, five men who faced harrowing circumstances risked their lives to save those of their comrades — and earned the nation's highest award for courage in combat, the Medal of Honor.
---
During one of the ceremonies honoring these heroes, President Richard Nixon remarked on the incredible risks they took.
"They are men who faced death, and instead of losing courage they gave courage to the men around them," he said.
Gunnery Sergeant John L. Canley received his award over 50 years after carrying wounded Marines to safety
Gunnery Sgt. John Canley, suffering from shrapnel wounds, led his men in the destruction of enemy-occupied buildings in Hue City.

When his men were injured, he leapt over a wall in plain sight — twice — to carry them to safe positions.
He was awarded the Medal of Honor in October 2018, over 50 years after he risked his life for his men.
Chief Warrant Officer Frederick Ferguson flew his helicopter through a barrage of anti-aircraft fire to rescue wounded comrades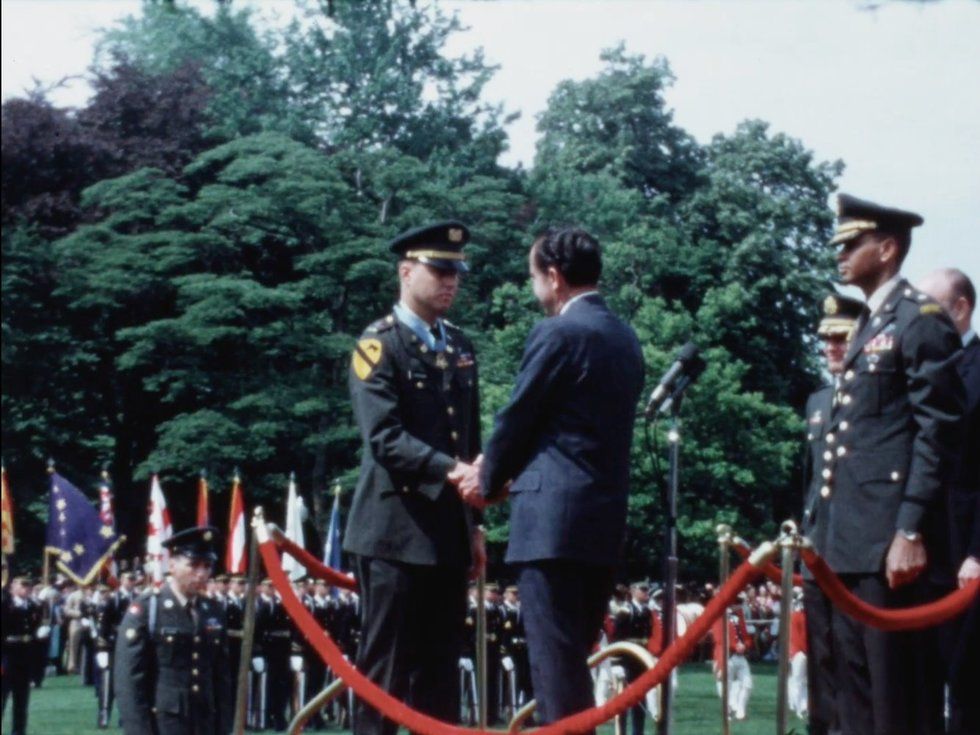 Medal of Honor recipient Chief Warrant Officer Frederick Ferguson shakes hands with President Richard Nixon after receiving his award in May 1969. (Richard Nixon Library/YouTube)
Chief Warrant Officer Frederick Ferguson ignored numerous calls to avoid the airspace surrounding Hue City during the early days of the battle.

He flew his helicopter through enemy fire, guiding the damaged aircraft so he could rescue wounded comrades and fly them back to safety.
His bravery saved the lives of five wounded soldiers.
Sergeant Alfredo Gonzalez exposed himself to enemy fire to save his comrades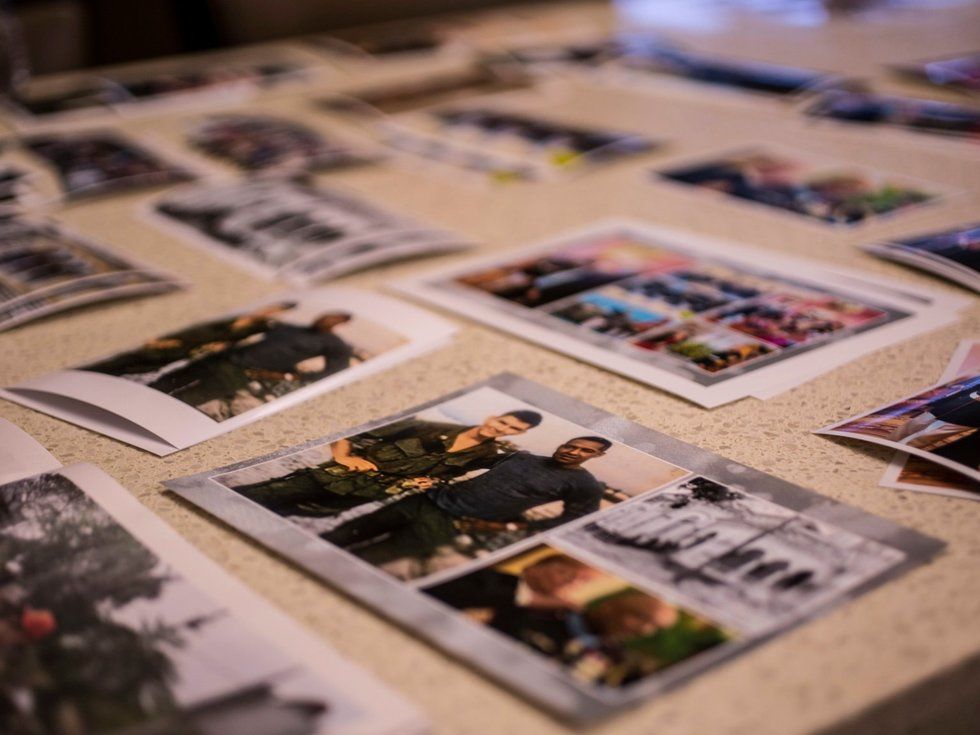 A photo shows Sgt. Alfredo Gonzalez with Gunnery Sgt. John Canley during the Vietnam War. Both have earned the Medal of Honor for actions taken during the brutal Battle of Hue City. (U.S. Marine Corps/Cpl. Tessa Watts0
Sgt. Gonzalez and his unit were among the first to deploy into the Viet Cong-occupied Hue City.

Through five days of fighting, Gonzalez repeatedly exposed himself to direct enemy fire, leading his men despite his personal wounds.
Although he died during the battle, his actions ensured his comrades' survival.
Sergeant Joe Hooper is described as the most decorated soldier of the Vietnam War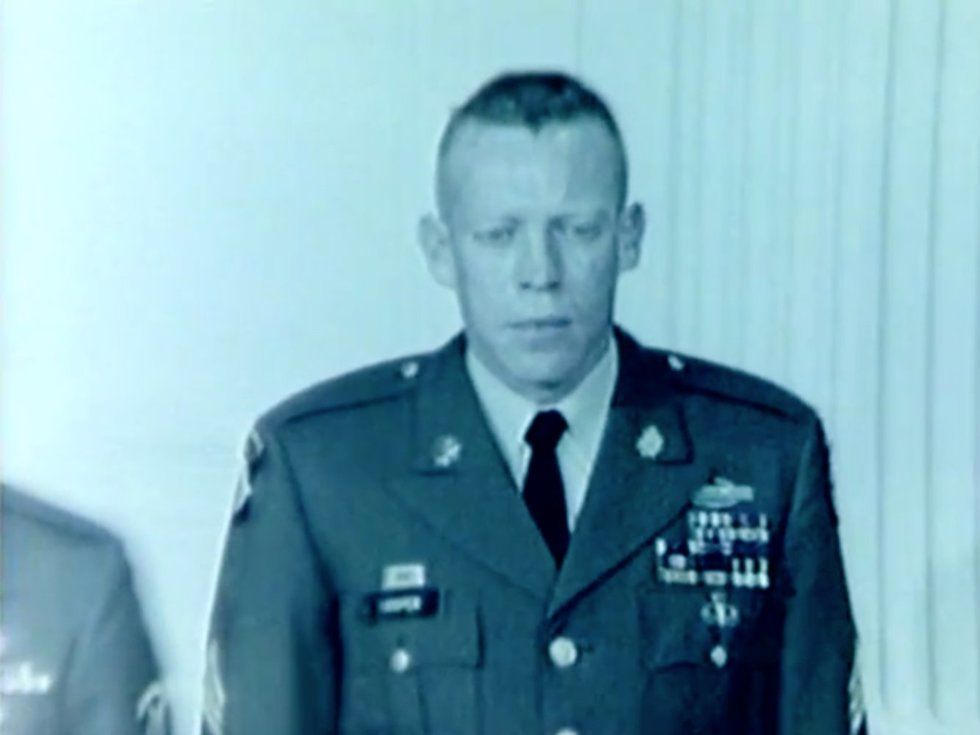 Medal of Honor recipient Joe Hooper listens as his citation is read during the award ceremony in March 1969. (National Archives/YouTube)
Sgt. Hooper earned the Medal of Honor on the same day as company mate Staff Sgt. Sims.

Hooper suffered extraordinary wounds as he fought during the Battle of Hue City, during which he destroyed numerous enemy bunkers and raced across open fields under intense fire to save a wounded comrade.
Read his full award citation here.
Staff Sergeant Clifford Sims, once an orphan, flung himself on top of an explosive device to save his platoon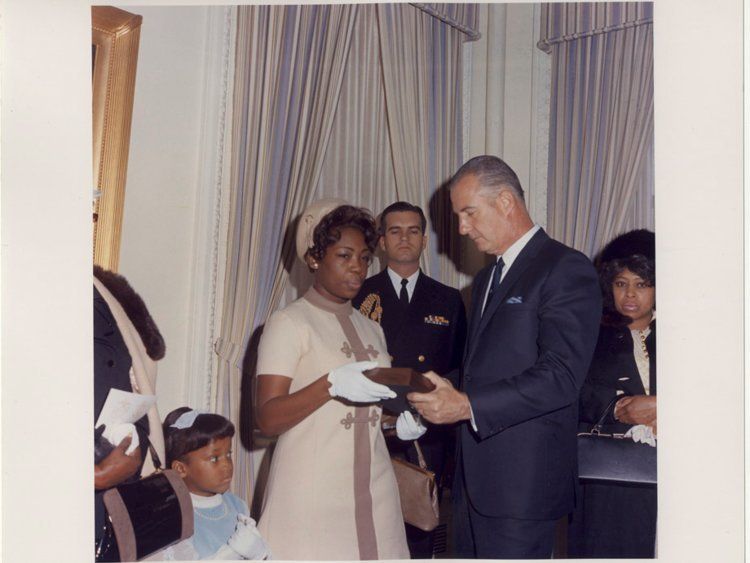 Mary Sims accepts the Medal of Honor on behalf of her husband, Staff Sergeant Clifford Sims, who died during the Battle of Hue City. (National Archives)
During an intense search-and-rescue mission, Staff Sgt. Sims heard the click of a booby trap as his platoon approached a bunker.

Shouting for his team to stay back, Sims jumped on top of the device to absorb the explosion.
Read the full award citation here.
Read more at Business Insider
:51 years ago, Vietnamese forces launched the Tet Offensive and changed how America saw the Vietnam War
WATCH NEXT: Medal Of Honor Recipient Flo Groberg On The Civil-Military Divide
Marines drag casualty from street fighting for control of southern bridge, head across street to an ambulance in Hue, Vietnam, Feb. 4, 1968. (Associated Press)
(Reuters/Henry Nicholls)
WASHINGTON (Reuters) - The U.S. Justice Department unveiled 17 new criminal charges against WikiLeaks founder Julian Assange on Thursday, saying he unlawfully published the names of classified sources and conspired with and assisted ex-Army intelligence analyst Chelsea Manning in obtaining access to classified information.
The superseding indictment comes a little more than a month after the Justice Department unsealed a narrower criminal case against Assange.
The F-35 Joint Strike Program may be the most expensive weapons program in modern military history, but it looks as though the new border wall is giving the beleaguered aircraft a run for its money.
NAVAL BASE SAN DIEGO — Three members of the defense team for Navy SEAL Chief Edward "Eddie" Gallagher were revealed on Wednesday to have close ties to the Trump administration amid reports the president is considering the veteran Navy SEAL for a pardon on Memorial Day.
President Donald Trump's personal attorney, Marc Mukasey, 51, and longtime Trump associate Bernard Kerik, 63, a former New York City police commissioner, have joined Gallagher's defense team in recent months, both men told Task & Purpose on Wednesday.
Meanwhile, in response to a question from a reporter after a motions hearing, lead defense attorney Tim Parlatore confirmed that he had previously represented Pete Hegseth, the conservative Fox News personality who has been privately lobbying Trump since January to pardon Gallagher, according to The Daily Beast.
(DoD photo by Claudett Roulo.)
Former Navy SEAL Eric Greitens, who resigned in disgrace as governor of Missouri last year, is putting his uniform back on — just not as a Navy SEAL.
Greitens, who stepped down in May 2018 amid criminal charges related to an alleged extramarital affair, has become a reserve naval officer with Navy Operational Support Center — St. Louis, a spokeswoman for Navy Recruiting Command confirmed to Task & Purpose. The Kansas City Star first reported the news.
(Department of Veterans Affairs photo)
A Department of Veterans affairs employee allegedly placing cameras in the women's restroom of a VA office in Washington, D.C., NBC News reported on Thursday.