Get Task & Purpose in your inbox
We Salute The Wounded Warrior Who Helped Gen. Colin Powell After His Tire Blew On The Way To Walter Reed
January 24, 2019 at 05:05 PM
Community
Good Samaritans come in all shapes and sizes, but if you're retired Gen. Colin Powell, you'll get an Army vet with a prosthetic leg and a sick beard to help you out of a jam.
---
The former Secretary of State and retired Army general wrote on Facebook on Thursday that after his tire blew out on the interstate while his way to an appointment at Walter Reed on Wednesday, a stranger pulled over in front of him offered assistance.
That man was Anthony Maggert, an Army veteran lost his leg in Afghanistan. Although Powell wrote that Maggert was a civilian contractor, the veteran told CNN that he had served as a contracting officer in the Army before leaving the military in June 2018.
Anthony Maggert. (Facebook/Gen. Colin Powell)
Maggert "grabbed the lug wrench and finished the job," and the two went their separate ways — but not before Maggert requested a selfie with the retired four-star, because, well, wouldn't you?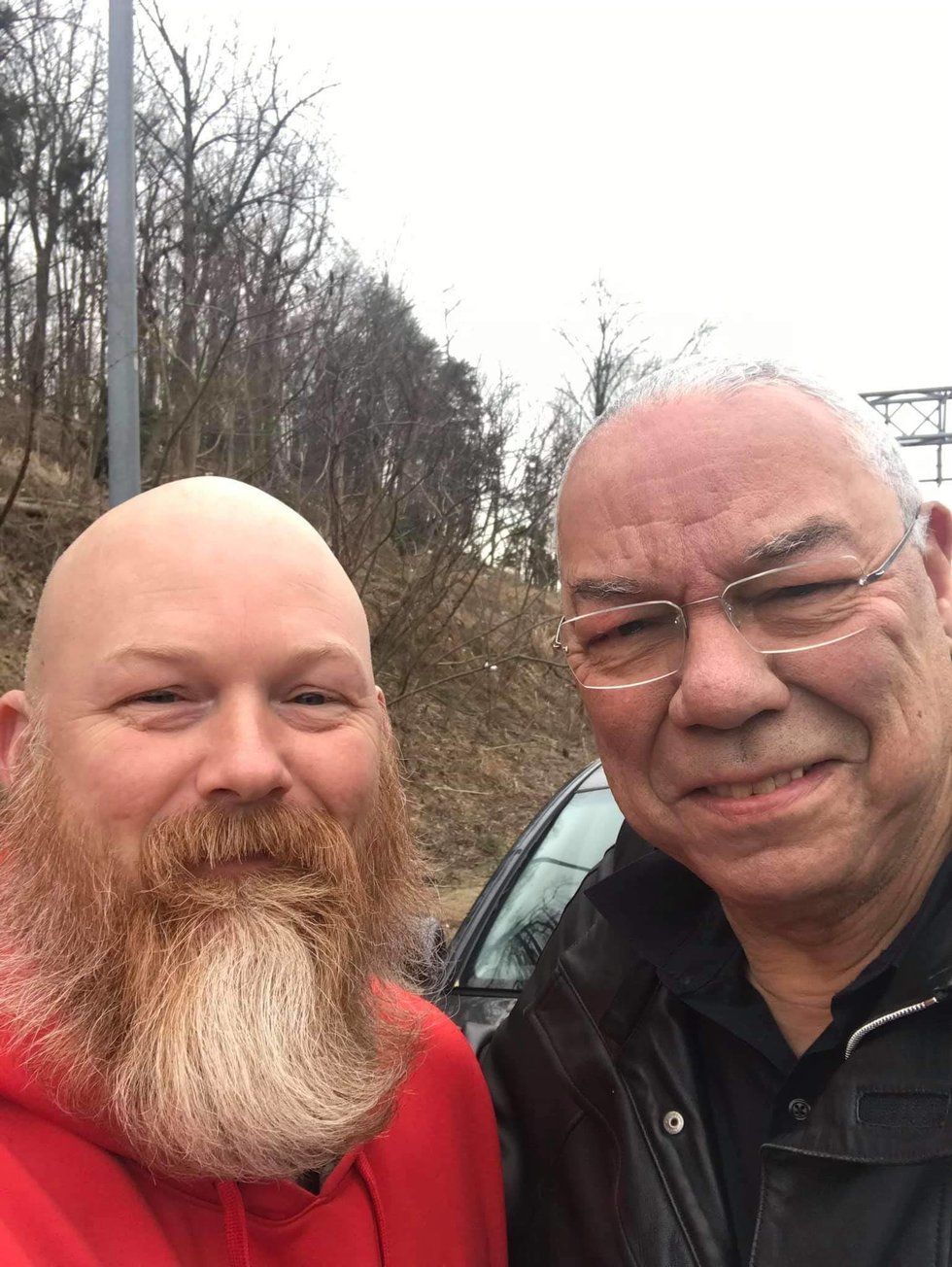 (Facebook/Gen. Colin Powell)
Powell later received a message with their photo, in which Maggert told Powell that he'd always inspired him, and was "the giant whose shoulders we stood upon to carry the torch to light the way."

Powell said in his post that Maggert reminded him "what this country is all about and why it is so great."
Powell's full post
"Yesterday was a reassuring day for me. I was on my way to Walter Reed Military Hospital for an exam. As I drove along Interstate 495 my left front tire blew out. I am a car guy and knew I could change it but it was cold outside and the lug bolts were very tight. I jacked the car up and got several of the bolts removed when a car suddenly pulled up in front of me. As the man got out of his car I could see that he had an artificial leg. He said he recognized me and wanted to help me. We chatted and I learned that he lost his leg in Afghanistan when he worked over there as a civilian employee. He grabbed the lug wrench and finished the job as I put the tools away. Then we both hurriedly headed off to appointments at Walter Reed. I hadn't gotten his name or address but he did ask for a "selfie". And then he sent me the message below last night.

'Gen. Powell, I hope I never forget today because I'll never forget reading your books. You were always an inspiration, a leader and statesman. After 33 years in the military you were the giant whose shoulders we stood upon to carry the torch to light the way and now it is tomorrow's generation that must do the same. Anthony Maggert'
Thanks, Anthony. You touched my soul and reminded me about what this country is all about and why it is so great. Let's stop screaming at each other. Let's just take care of each other. You made my day."
WATCH NEXT:
Related Articles From Your Site
Related Articles Around the Web
September 19, 2019 at 08:07 PM
news
Tom Delonge has been speculating about aliens for years. According to Vulture, he quit Blink 182, the band he founded, years ago to "expose the truth about aliens," and he founded To The Stars Academy of Arts and Sciences "to advance society's understanding of scientific phenomena and its technological implications" — or, in simpler terms, to research UFOs and extraterrestrial life.
September 19, 2019 at 07:43 PM
news
A tentative plan to build 20 miles of extra border wall in Arizona, on top of the already approved 100-plus miles, was put on hold Monday by the Pentagon.
Federal officials hoped to build the extra 20 miles of wall in the Border Patrol's Tucson and Yuma sectors. The Army Corps of Engineers said late last month that funds would come from other wall contracts that might cost less than expected. But those savings did not materialize, according to documents filed Monday in federal court in Washington, D.C.
September 19, 2019 at 06:46 PM
news
Iran's top diplomat threatened an "all-out war" Thursday with the U.S. or Saudi Arabia if either country launches a retaliatory strike over a drone and missile attack on oil reserves that sent energy prices soaring.
Tehran's tough-talking foreign minister, Mohammad Javad Zarif, threw the gauntlet down, promising a battle that would go on "to the last American soldier."
September 19, 2019 at 06:20 PM
news
Task & Purpose photo illustration by Paul Szoldra
After a pair of Army explosive ordnance disposal technicians were indicted on federal charges for attempting to sell weapons and explosives to smugglers headed to Mexico, one of the two men involved has been sentenced after taking a plea deal, according to court documents filed on Wednesday.
September 19, 2019 at 06:05 PM
news
JALALABAD, Afghanistan (Reuters) - A U.S. drone strike intended to hit an Islamic State (IS) hideout in Afghanistan killed at least 30 civilians resting after a day's labor in the fields, officials said on Thursday.
The attack on Wednesday night also injured 40 people after accidentally targeting farmers and laborers who had just finished collecting pine nuts at mountainous Wazir Tangi in eastern Nangarhar province, three Afghan officials told Reuters.
"The workers had lit a bonfire and were sitting together when a drone targeted them," tribal elder Malik Rahat Gul told Reuters by telephone from Wazir Tangi.