The Allied D-Day invasion plan fit on this single piece of paper
June 06, 2019 at 12:36 PM
History
(Associated Press photo)
The Allied invasion of Normandy on D-Day was one of the most complex military operations ever undertaken, but amid the intense preparation and planning for history's largest combined land, air, and sea operation, one commanding general kept it simple, scribbling out his war plans on a single piece of paper.
---
Around 160,000 Allied troops, supported by thousands of ships and aircraft, either parachuted into France or stormed its beaches beginning on June 6, 1944. Allied war planners spent months planning the invasion, the beginning of the Allied spearhead into German-occupied Europe known as Operation Overlord.
British Gen. Bernard "Monty" Montgomery served as a ground commander for Anglo-American forces under Supreme Allied Commander Gen. Dwight D. Eisenhower.
His penciled battle plan for D-Day took up no more than one piece of paper and included a note that read: "The key note of everything to be SIMPLICITY."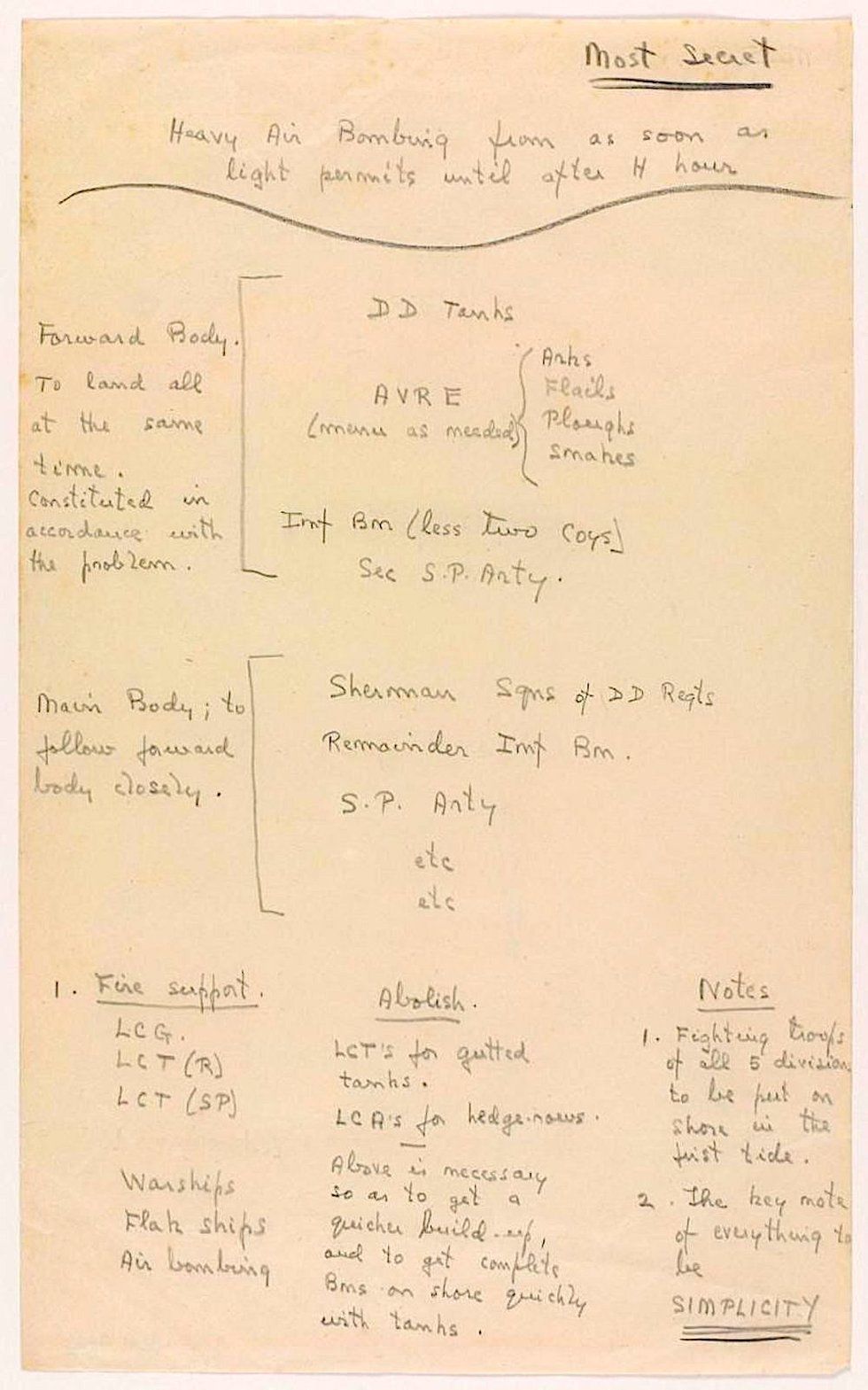 Montgomery's plans for D-Day(Imperial War Museum)
Montgomery's plans, which were labeled "Most Secret," were released for the first time in 2016 by the Imperial War Museums for the 72nd anniversary of the invasion.
The museum also released a handwritten draft of the general's speech to Allied troops, which officers read aloud to the invading forces just before the assault began.
"The time has come to deal the enemy a terrific blow in Western Europe," the speech read. "The blow will be struck by the combined sea, land and air forces of the Allies."
"Good luck to each one of you," Montgomery concluded his message. "And good hunting on the mainland of Europe."
Read more from Business Insider:
WATCH NEXT: Green Berets Parachute Over Mont Saint-Michel To Honor The 75th Anniversary Of Their Special Forces Predecessors' Arrival In France
January 19, 2020 at 02:57 PM
news
Dustin A. Peters (Cape May County Sheriff's Office)
The United Launch Alliance's Delta IV rocket launches with a Wideband Global SATCOM WGS-10 satellite from Cape Canaveral Air Force Station, Fla., Complex 37 on March 15, 2019. The satellite brings enhanced communication capability for command and control of U.S. military forces on the battlefield. (U.S. Air Force/Tech. Sgt. Andrew Satran)
Editor's Note: This article originally appeared on Business Insider.

The US military's newest service, the Space Force, is only about a month old, having been signed into law by President Donald Trump on December 20.
January 19, 2020 at 10:28 AM
news
(Cecil Field POW/MIA Memorial, Inc./Facebook)
Military veterans from throughout Northeast Florida came together Saturday morning to honor comrades in arms who were prisoners of war or missing in action, and remember their sacrifice.
January 19, 2020 at 09:49 AM
news
The remains of Army Staff Sgt. Ian McLaughlin arrived back to Fort Bragg a week after he was
killed Jan. 11
by an improvised explosive device in Afghanistan. (U.S. Army)
After the plane landed, Pope Army Airfield was silent on Saturday.
A chaplain prayed and a family member sobbed.
Tarah McLaughlin's fingers traced her husband's flag-draped coffin before she pressed two fingers to her lips then pressed her fingers to the coffin.
The remains of Staff Sgt. Ian McLaughlin, 29, of Newport News, Virginia, arrived back to Fort Bragg a week after he was killed Jan. 11 by an improvised explosive device in Afghanistan.
Pfc. Miguel Angel Villalon, 21, of Joliet, Illinois, also was killed in the same incident.
January 18, 2020 at 01:47 PM
popular
The U.S. Space Force has a name tape for uniforms now. Get excited people.
In a tweet from its official account, the Space Force said its uniform name tapes have "touched down in the Pentagon," sharing a photo of it on the chest of Gen. John W. Raymond, the newly-minted Chief of Space Operations for the new service branch nested in the Department of the Air Force.