The Allied D-Day invasion plan fit on this single piece of paper
June 06, 2019 at 12:36 PM
History
(Associated Press photo)
The Allied invasion of Normandy on D-Day was one of the most complex military operations ever undertaken, but amid the intense preparation and planning for history's largest combined land, air, and sea operation, one commanding general kept it simple, scribbling out his war plans on a single piece of paper.
---
Around 160,000 Allied troops, supported by thousands of ships and aircraft, either parachuted into France or stormed its beaches beginning on June 6, 1944. Allied war planners spent months planning the invasion, the beginning of the Allied spearhead into German-occupied Europe known as Operation Overlord.
British Gen. Bernard "Monty" Montgomery served as a ground commander for Anglo-American forces under Supreme Allied Commander Gen. Dwight D. Eisenhower.
His penciled battle plan for D-Day took up no more than one piece of paper and included a note that read: "The key note of everything to be SIMPLICITY."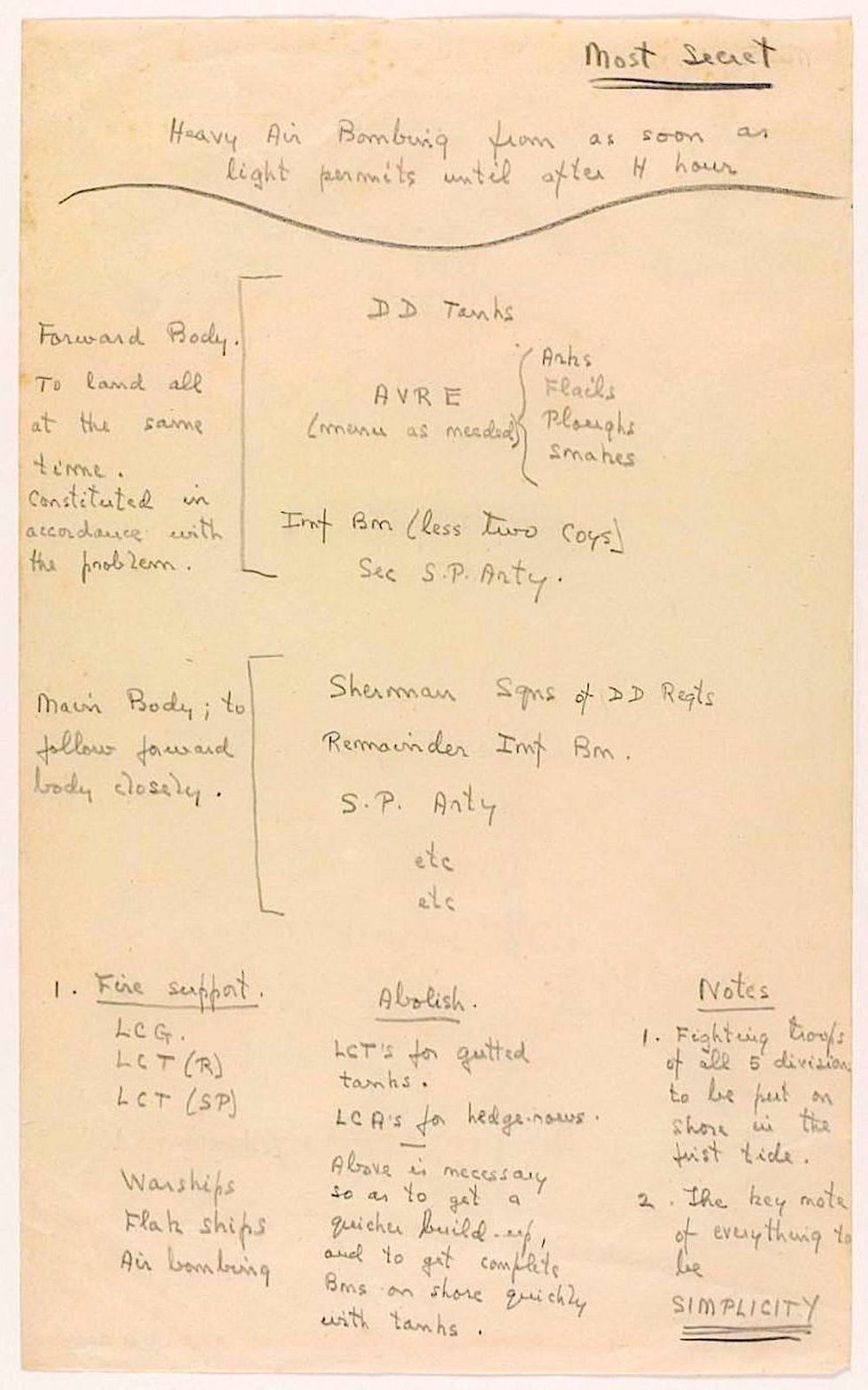 Montgomery's plans for D-Day(Imperial War Museum)
Montgomery's plans, which were labeled "Most Secret," were released for the first time in 2016 by the Imperial War Museums for the 72nd anniversary of the invasion.
The museum also released a handwritten draft of the general's speech to Allied troops, which officers read aloud to the invading forces just before the assault began.
"The time has come to deal the enemy a terrific blow in Western Europe," the speech read. "The blow will be struck by the combined sea, land and air forces of the Allies."
"Good luck to each one of you," Montgomery concluded his message. "And good hunting on the mainland of Europe."
Read more from Business Insider:
WATCH NEXT: Green Berets Parachute Over Mont Saint-Michel To Honor The 75th Anniversary Of Their Special Forces Predecessors' Arrival In France
August 22, 2019 at 06:49 PM
news
The Pentagon has identified the two soldiers were killed in combat in Afghanistan on Wednesday as members of U.S. Army Special Forces.
Master Sgt. Luis F. DeLeon-Figueroa, 31, and Master Sgt. Jose J. Gonzalez, 35, both died in Faryab Province from wounds sustained from small arms fire, the Pentagon said in a press release. The incident is under investigation.
August 22, 2019 at 06:05 PM
news
JERUSALEM (Reuters) - Israeli Prime Minister Benjamin Netanyahu hinted on Thursday of possible Israeli involvement in attacks against Iranian-linked targets in Iraq.
A series of blasts in the past few weeks have hit weapon depots and bases belonging to paramilitary groups in Iraq, many of them backed by Israel's regional foe Iran. The groups blamed the United States and Israel for the blasts on Wednesday.
August 22, 2019 at 05:46 PM
news
White House/Shealah Craighead
President Donald Trump signed an executive order on Wednesday that will make it easier for permanently disabled veterans to have their student loan debt forgiven.
August 22, 2019 at 05:26 PM
news
Capt. Tranay Lashawn Tanner. (U.S. Air Force photo)
Editor's Note: This article by Oriana Pawlyk originally appeared on Military.com, a leading source of news for the military and veteran community.
Physical fitness tests were briefly suspended earlier this week and outdoor cardio testing will be curtailed for the remainder of the summer at Eglin Air Force Base, Florida, after an airman died Saturday. She had completed her PT test on Friday.
August 22, 2019 at 04:03 PM
news
(DoD photo)
Navy Secretary Richard Spencer has expanded a review of the Judge Advocate General Corps to include the Marine Corps, a Navy spokesman said on Thursday.
"There is value in applying this review and its subsequent recommendations across the Department of the Navy," Cmdr. Jereal Dorsey told Task & Purpose. "The review's purpose is to confirm the uniformed legal community is structurally and organizationally sound and best supporting the good order and discipline our integrated naval force."