The Allied D-Day invasion plan fit on this single piece of paper
June 06, 2019 at 12:36 PM
History
(Associated Press photo)
The Allied invasion of Normandy on D-Day was one of the most complex military operations ever undertaken, but amid the intense preparation and planning for history's largest combined land, air, and sea operation, one commanding general kept it simple, scribbling out his war plans on a single piece of paper.
---
Around 160,000 Allied troops, supported by thousands of ships and aircraft, either parachuted into France or stormed its beaches beginning on June 6, 1944. Allied war planners spent months planning the invasion, the beginning of the Allied spearhead into German-occupied Europe known as Operation Overlord.
British Gen. Bernard "Monty" Montgomery served as a ground commander for Anglo-American forces under Supreme Allied Commander Gen. Dwight D. Eisenhower.
His penciled battle plan for D-Day took up no more than one piece of paper and included a note that read: "The key note of everything to be SIMPLICITY."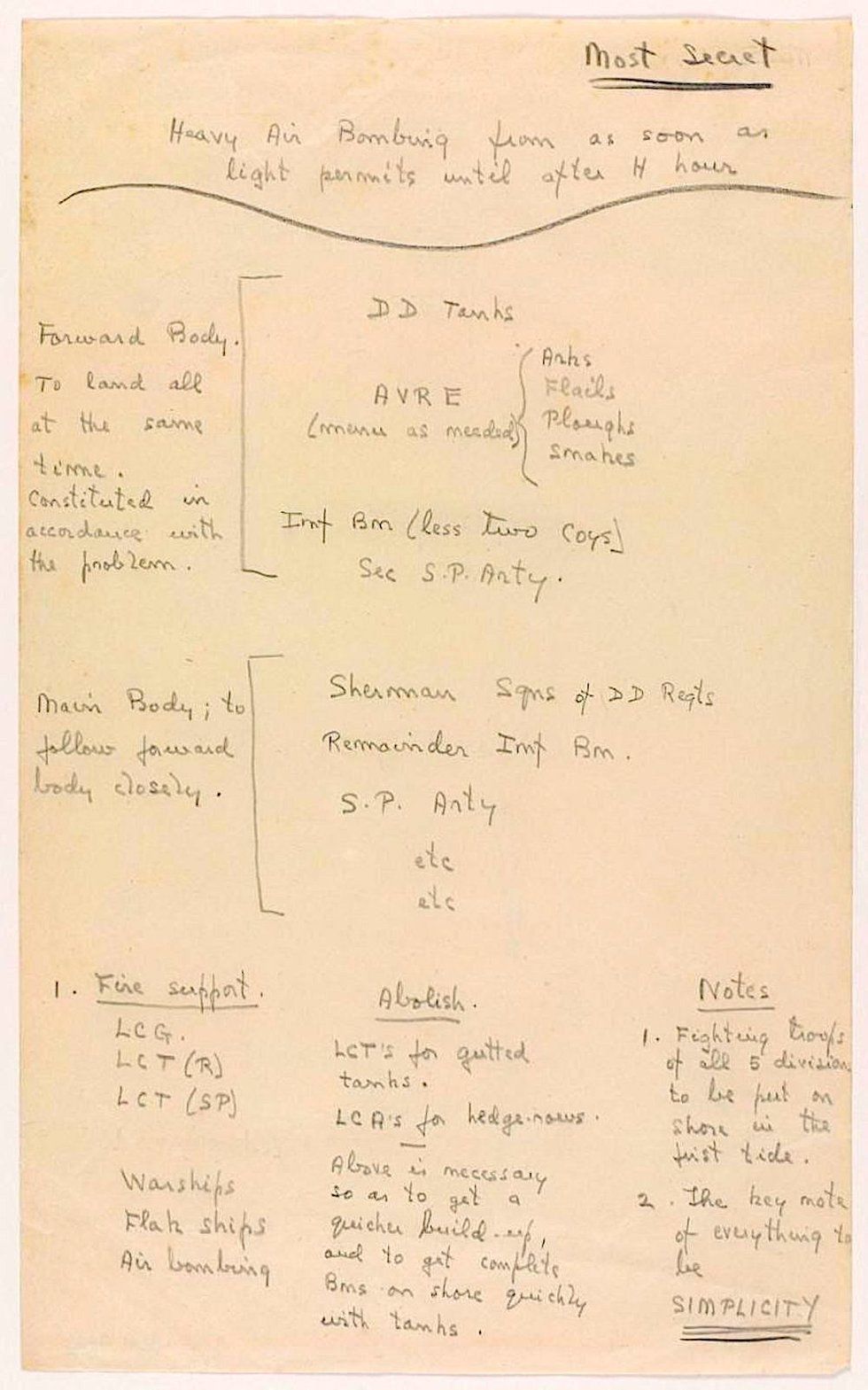 Montgomery's plans for D-Day(Imperial War Museum)
Montgomery's plans, which were labeled "Most Secret," were released for the first time in 2016 by the Imperial War Museums for the 72nd anniversary of the invasion.
The museum also released a handwritten draft of the general's speech to Allied troops, which officers read aloud to the invading forces just before the assault began.
"The time has come to deal the enemy a terrific blow in Western Europe," the speech read. "The blow will be struck by the combined sea, land and air forces of the Allies."
"Good luck to each one of you," Montgomery concluded his message. "And good hunting on the mainland of Europe."
Read more from Business Insider:
WATCH NEXT: Green Berets Parachute Over Mont Saint-Michel To Honor The 75th Anniversary Of Their Special Forces Predecessors' Arrival In France
October 17, 2019 at 01:52 PM
news
The United States and Turkey have agreed to a temporary cease fire to allow Kurdish fighters to withdraw from a safe zone that Turkey is establishing along its border with Syria, Vice President Mike Pence announced on Thursday.
October 17, 2019 at 12:24 PM
Opinion
Trump's recent decisions in northern Syria were ill-advised, strategically unsound, and morally shameful. In rapidly withdrawing U.S. presence and allowing a Turk offensive into Syria, we have left the Syrian Kurds behind, created a power vacuum for our adversaries to fill, and set the stage for the resurgence of ISIS.

WASHINGTON (Reuters) - One of the world's largest freshwater fish is protected by the natural equivalent of a "bulletproof vest," helping it thrive in the dangerous waters of the Amazon River basin with flexible armor-like scales able to withstand ferocious piranha attacks.
Researchers from the University of California, San Diego and University of California, Berkeley on Wednesday described the unique structure and impressive properties of the dermal armor of the fish, called Arapaima gigas. They said their findings can help guide development of better body armor for people as well as applications in aerospace design.
DELAND, Florida — A military freefall parachuting team has a better reason to conquer Mount Everest than "because it's there."
The 12-member team, assembled by Complete Parachute Solutions of DeLand, will attempt a world record for the highest-elevation tactical military freefall parachute landing. But it's more than a record. It's validation.
"When CPS says we've landed our parachutes at over 20,000 feet, that means we've done it," said Johnny Rogers, the company's vice president.
October 16, 2019 at 07:09 PM
news
The U.S. military's withdrawal from northeast Syria is looking more like Dunkirk every day.
On Wednesday, the U.S. military had to call in an airstrike on one of its own ammunition dumps in northern Syria because the cargo trucks required to safely remove the ammo are needed elsewhere to support the withdrawal, Task & Purpose has learned.