The Pentagon has a deserted island near NYC where DARPA runs war games for a massive cyber attack
May 25, 2019 at 08:06 AM
Military Tech
(Defense Advanced Research Projects Agency photo)
Only a few have gone through the extensive background checks needed to access Plum Island, where a secretive branch of the U.S. government runs exercises to prepare for all-out cyber war.
The speck of land in the Long Island Sound, owned by the Department of Homeland Security, is largely deserted. The main attractions are a defunct lighthouse and a center that studies infectious animal diseases.
It is also the perfect setting for the U.S. government to stage mock cyber attacks on the power grid.
---
Every six months, the Defense Advanced Research Projects Agency (DARPA) ferries over experts who work to jumpstart a dead grid while warding off a series of cyber threats.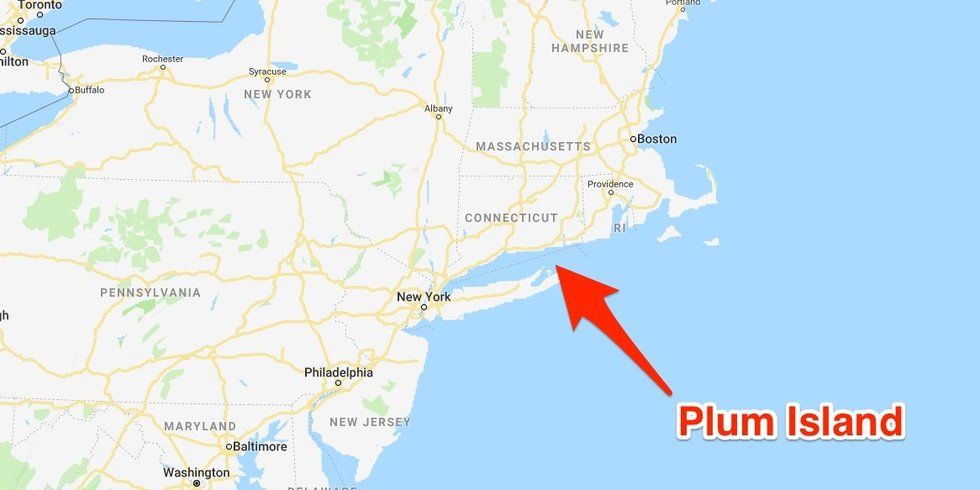 A map showing the location of Plum Island, New York(Google Maps)
The exercise prepares them for a worst case scenario: if hackers succeed in taking the U.S. electric grid offline.
In Ukraine, people have already seen the consequences of such an attack. Hackers plunged thousands of people into darkness when they compromised parts of the electric grid in 2015 and 2016.
The country's security services blamed Russia, which had occupied Crimea shortly before, and would ultimately annex it from Ukraine.
The U.S. has not yet seen an attack on its grid. But the FBI and DHS warned that Russian government hackers have in the past managed to access other critical infrastructure like the energy, nuclear, and manufacturing sectors.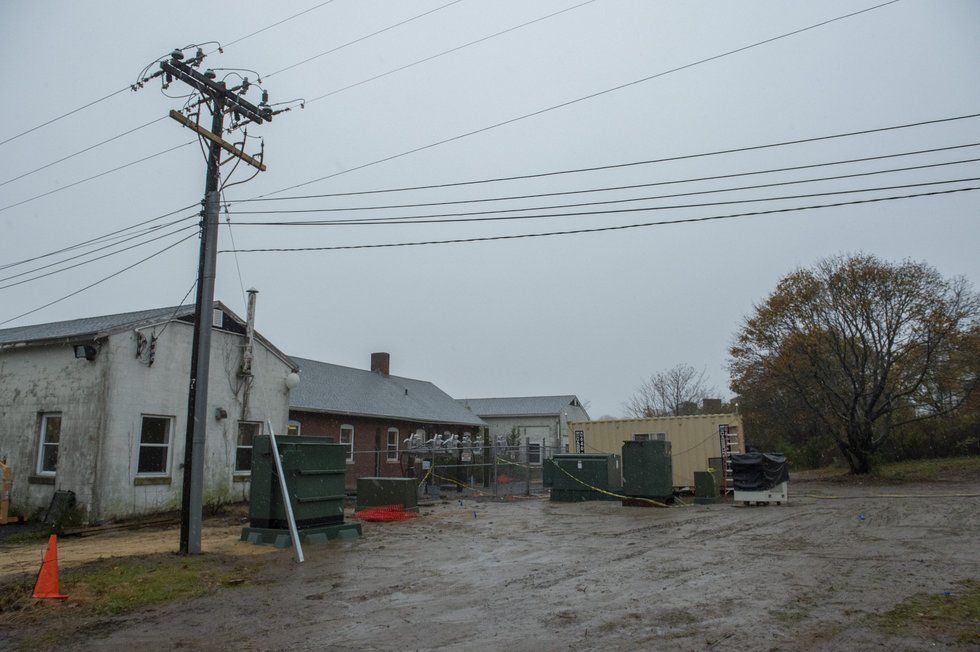 DARPA staged what a cyber attack on the U.S. power grid could look like in November(Defense Advanced Research Projects Agency photo)
Walter Weiss, the program manager overseeing the DARPA exercises, told Business Insider that his team is one of many studying how to defend the grid.
Weiss also sent Business Insider images of the site where DARPA carries out its operations.
"What we do that's different is that we start from the assumption that an attack would be successful," Weiss said.
"What scares us is that once you lose power it's tough to bring it back online... Doing that during a cyber attack is even harder because you can't trust the devices you need to restore power for that grid."
Without electricity, the experts cannot count on light, phone service, or access to the computer networks they need to restart the grid. Their only source of power are old-fashioned generators which need to be refueled constantly.
That means the the specialists cannot focus solely on fighting off cyber attacks, Weiss said, because so much of their focus is taken up with other things.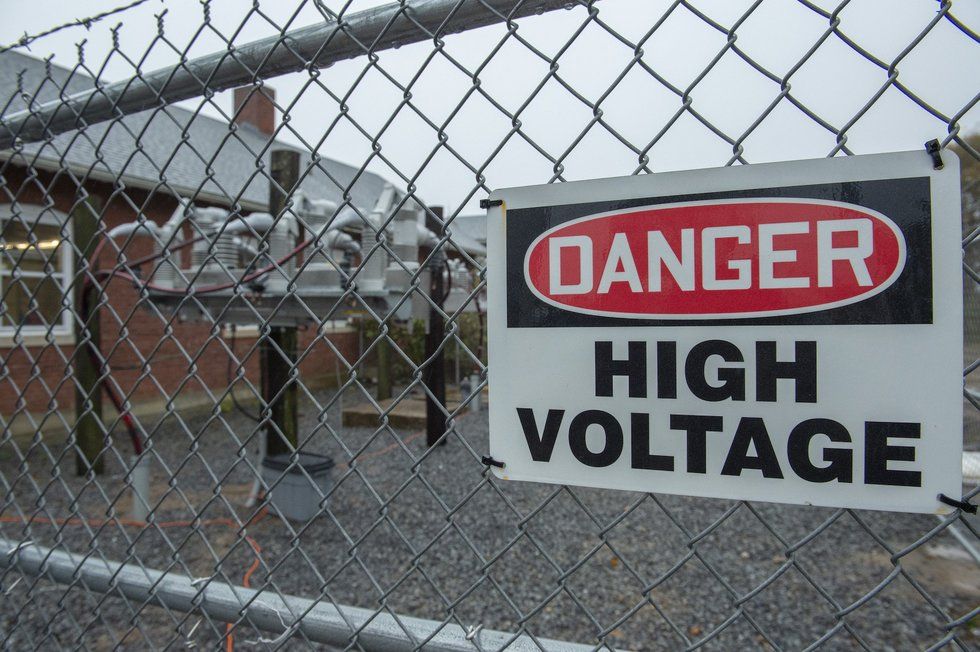 Experts have to jumpstart a dead grid during the exercise.(Defense Advanced Research Projects Agency photo)
Without being able to communicate, the tiniest misstep can set the team back dramatically.
Practicing on Plum Island in particular is useful, Weiss said, because it mimics the isolation that could come with a full-scale cyber attack on the mainland.
"That's something we like about the island: You have what you brought with you," he said.
With the exercise, DARPA hopes to reduce how interdependent the different teams are, because it is so hard to coordinate. The less time they need to waste trying to stay in contact, the quicker they can get power back to a population waiting in darkness.
Especially in a developed country like the United States, every aspect that citizens consider a basic necessity would be affected — from light, to communication, to running water, to transportation.
"I'm trying to think through whose life would still be normal in the US or in England without power," Weiss said. "I'm having a really hard time."
Read more from Business Insider:
WATCH NEXT: The Mew M320 Grenade Launcher Is Bulky Garbage
August 24, 2019 at 12:28 PM
news
U.S. Air Force/Staff Sgt. Sandra Welch
This article originally appeared on Military.com.
Inside Forward Operating Base Oqab in Kabul, Afghanistan stands a wall painted with a mural of an airman kneeling before a battlefield cross. Beneath it, a black gravestone bookended with flowers and dangling dog tags displays the names of eight U.S. airmen and an American contractor killed in a horrific insider attack at Kabul International Airport in 2011.
It's one of a number of such memorials ranging from plaques, murals and concrete T-walls scattered across Afghanistan. For the last eight years, those tributes have been proof to the families of the fallen that their loved ones have not been forgotten. But with a final U.S. pullout from Afghanistan possibly imminent, those families fear the combat-zone memorials may be lost for good.
August 24, 2019 at 09:44 AM
news
DOD photo
After a string of high profile incidents, the commander overseeing the Navy SEALs released an all hands memo stating that the elite Naval Special Warfare community has a discipline problem, and pinned the blame on those who place loyalty to their teammates over the Navy and the nation they serve.
August 23, 2019 at 03:20 PM
news
Ed Mahoney/Kickstarter
In June 2011 Iraq's defense minister announced that U.S. troops who had deployed to the country would receive the Iraq Commitment Medal in recognition of their service. Eight years later, millions of qualified veterans have yet to receive it.
The reason: The Iraqi government has so far failed to provide the medals to the Department of Defense for approval and distribution.
A small group of veterans hopes to change that.
August 23, 2019 at 02:09 PM
news
F-16 Fighting Falcon (Photo: US Air Force)
For a cool $8.5 million, you could be the proud owner of a "fully functioning" F-16 A/B Fighting Falcon fighter jet that a South Florida company acquired from Jordan.
The combat aircraft, which can hit a top speed of 1,357 mph at 40,000 feet, isn't showroom new — it was built in 1980. But it still has a max range of 2,400 miles and an initial climb rate of 62,000 feet per minute and remains militarized, according to The Drive, an automotive website that also covers defense topics, WBDO News 96.5 reported Wednesday.
August 23, 2019 at 01:56 PM
Humor
Sir, I mustache you a question! Haha no, but seriously I lost the crypto fill.