Exclusive: DHS is considering classifying fentanyl as a 'weapon of mass destruction'
April 15, 2019 at 08:31 AM
news
Photo illustration by Aaron Provost/Task & Purpose
The Department of Homeland Security is considering designating the painkiller drug fentanyl as a weapon of mass destruction "when certain criteria are met," according to an internal memo obtained by Task & Purpose.
---
Dated Feb. 22, 2019 under the subject line "Use of counter-WMD authorities to combat fentanyl," the information memorandum prepared for then-Secretary Kirstjen Nielsen from James F. McDonnell, DHS assistant secretary for countering weapons of mass destruction, offered background on the drug and how some elements of the U.S. government see fentanyl as a potential "mass casualty weapon."
"Fentanyl's high toxicity and increasing availability are attractive to threat actors seeking nonconventional materials for a chemical weapons attack," wrote McDonnell, a longtime Homeland Security executive appointed by President Donald Trump to lead the Countering Weapons of Mass Destruction (CWMD) Office in May 2018.
"In July 2018, the FBI Weapons of Mass Destruction Directorate assessed that '...fentanyl is very likely a viable option for a chemical weapon attack by extremists or criminals," he wrote.
The Department of Justice did not respond to a request for comment from Task & Purpose. The Department of Homeland Security also declined to answer any questions from Task & Purpose regarding the memo.
In 2017, President Trump declared the opioid crisis a public health emergency amid tens of thousands of American deaths traced to fentanyl overdose in recent years.
Roughly 50 to 100 times more powerful than morphine, fentanyl is a synthetic opioid that is medically-prescribed to treat severe pain under such names as Sublimaze and Actiq, according to the National Institute on Drug Abuse.
The illegal version — usually sourced from China or Mexico — is sometimes manufactured and sold as powder, put in small candies and eye droppers, or mixed into other illicit drugs to increase their potency, which has led to a significant increase in overdoses for unknowing drug users.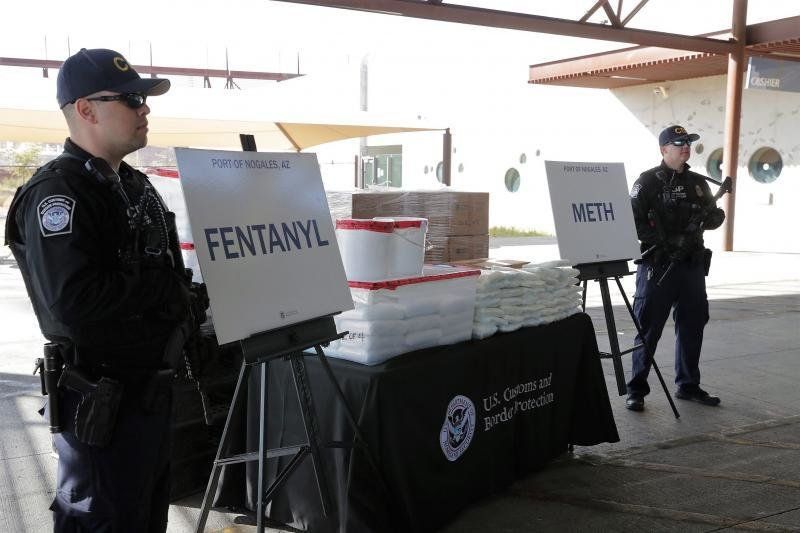 Customs and Border Patrol officers pose next to roughly 650 pounds of seized fentanyl and methamphetamine in Jan. 2019. www.cbp.gov
But the effort to classify the drug as a weapon capable of causing mass casualties has some experts scratching their heads.

"This is like declaring ecstasy as a WMD," said one member of the DoD's counter-WMD community, who would only speak on condition of anonymity, mentioning another illegal drug that could lead to overdose death.
Dan Kaszeta, a chemical, biological, radiological, and nuclear defense expert, told Task & Purpose the threat of fentanyl being used as a weapon is a "fringe scenario" since there are "literally dozens" of available toxic chemicals that could easily be weaponized.
"It reads like somebody is laying the administrative background for trying to tap into pots of money for detecting WMD and decontaminating WMD," Kaszeta told Task & Purpose after viewing the memo. "It's an interdepartmental play for money, that's all it is."
Indeed, the budget for countering weapons of mass destruction has declined, apparently due to Trump's homeland security priorities, which mainly emphasize border security and enforcement.

"The priorities are: increased border security along the southern border, hiring 15,000 more Customs and Border [Protection] agents, and increasing the number of detention facilities for undocumented immigrants," John Fischer, DHS division director, told National Defense Magazine in Sep. 2017. "That is consuming the budgets. Everybody else within DHS ... is contributing to those priorities."
Less than a year after the Countering Weapons of Mass Destruction Office was established, McDonnell's memo seemed to suggest that increasing counter-fentanyl efforts could get WMD-focused homeland security personnel alongside others trying to stop drug smugglers.
"[Counter-WMD] Office efforts will focus on quantities and configurations that could be used as mass casualty weapons," McDonnell wrote. "However, many activities, such as support to fentanyl interdiction and detection efforts, would tangentially benefit broader DHS and interagency counter-opioid efforts."
"Within the past couple years, there has been a reinvigorated interest in addressing fentanyl and its analogues as WMD materials due to the ongoing opioid crisis," McDonnell added, telling Nielsen that his office could assist in counter-fentanyl efforts by managing and developing new technologies, deploying sensors, and assisting others in the field.
Photo: DHS CWMD
McDonnell also claimed that other senior leaders in the Department of Defense, such as Navy Adm. Craig Faller, commander of U.S. Southern Command, had "proposed formally designating fentanyl as a WMD material."

A spokesperson for Southern Command declined to answer whether Faller had done so, telling Task & Purpose in a statement that "the command is constantly assessing a wide range of threats and concerns with our inter-agency partners and their potential impacts to national security; however, we will not be discussing the specifics of these conversations."
As part of the memo's proposed next steps, McDonnell said his office would further brief DHS on counter-WMD efforts related to fentanyl and host an interagency planning event on the topic.

"I think an interagency planning event is a good idea," a senior defense official told Task & Purpose on condition of anonymity in order to discuss sensitive matters, though the official concluded it was far more feasible for a threat actor to manufacture sarin or mustard gas. "Anybody with a college level degree in chemistry can manufacture chemical weapons agents."
"I cannot see any scenario where a nation-state would use fentanyl on the battlefield, or for that matter, a terrorist using a really toxic chemical like fentanyl in an attack when they could just sell it for funding the purchase of firearms and explosives or steal an industrial chemical instead," the official said.
Read the full memo below:
September 22, 2019 at 09:51 AM
news
U.S. Army recruits practice patrol tactics while marching during U.S. Army basic training at Fort Jackson, S.C., Dec. 6, 2006. (U.S. Air Force/Staff Sgt. Shawn Weismiller)
An 18-year-old Army recruit at Fort Jackson died following a "medical emergency" before a training drill, according to an officials with the base.
September 22, 2019 at 09:27 AM
news
Lance Cpl. Job Wallace (Facebook)
A Camp Pendleton Marine who was believed to be headed back to the base from Arizona on Monday, but never arrived, was found safe in Texas Saturday night, military officials said.
September 21, 2019 at 05:00 PM
news
Guided-missile destroyer USS Stethem (DDG 63) Sailors participate in a memorial for the shipÕs namesake, Robert D. Stethem. Navy diver, Steelworker 2nd Class Robert Stethem, who was returning from an assignment in the Middle East, when he was taken hostage aboard TWA 847 commercial airliner. The flight was hijacked by terrorists, and Stethem was shot to death after being tortured by the terrorists on June 15, 1985. (U.S. Navy photo by Ensign Danny Ewing Jr.)
ATHENS (Reuters) - Greek police have arrested a 65-year-old Lebanese man suspected of involvement in the 1985 hijacking of a Trans World Airlines (TWA) plane in which a U.S. navy diver was killed.
A Greek police official said on Saturday the suspect had disembarked from a cruise ship on the island of Mykonos on Thursday and that his name came up as being wanted by German authorities.
The last time the world saw Marine veteran Austin Tice, he had been taken prisoner by armed men. It was unclear whether his captors were jihadists or allies of Syrian dictator Bashar al Assad who were disguised as Islamic radicals.
Blindfolded and nearly out of breath, Tice spoke in Arabic before breaking into English:"Oh Jesus. Oh Jesus."
That was from a video posted on YouTube on Sept. 26, 2012, several weeks after Tice went missing near Damascus, Syria, while working as a freelance journalist for McClatchy and the Washington Post.
Now that Tice has been held in captivity for more than seven years, reporters who have regular access to President Donald Trump need to start asking him how he is going to bring Tice home.
September 21, 2019 at 01:45 PM
news
SAN DIEGO — John Timothy Earnest didn't hide his smirks as he sat in a San Diego courtroom on Thursday, watching surveillance video of Lori Gilbert-Kaye being shot down inside the lobby of a Poway synagogue.
Earnest also smiled as a synagogue congregant testified about running toward the shooter, screaming "I'm going to kill you!" and seeing the gunman "with a look of astonishment or fear" turn and run.
Earnest, 20, is facing one count of murder and three counts of attempted murder in the shootings at Chabad of Poway on April 27. He also faces an arson charge related to an Escondido mosque fire in March, when several people who were sleeping inside escaped unharmed.