Exclusive: DHS is considering classifying fentanyl as a 'weapon of mass destruction'
April 15, 2019 at 08:31 AM
news
Photo illustration by Aaron Provost/Task & Purpose
The Department of Homeland Security is considering designating the painkiller drug fentanyl as a weapon of mass destruction "when certain criteria are met," according to an internal memo obtained by Task & Purpose.
---
Dated Feb. 22, 2019 under the subject line "Use of counter-WMD authorities to combat fentanyl," the information memorandum prepared for then-Secretary Kirstjen Nielsen from James F. McDonnell, DHS assistant secretary for countering weapons of mass destruction, offered background on the drug and how some elements of the U.S. government see fentanyl as a potential "mass casualty weapon."
"Fentanyl's high toxicity and increasing availability are attractive to threat actors seeking nonconventional materials for a chemical weapons attack," wrote McDonnell, a longtime Homeland Security executive appointed by President Donald Trump to lead the Countering Weapons of Mass Destruction (CWMD) Office in May 2018.
"In July 2018, the FBI Weapons of Mass Destruction Directorate assessed that '...fentanyl is very likely a viable option for a chemical weapon attack by extremists or criminals," he wrote.
The Department of Justice did not respond to a request for comment from Task & Purpose. The Department of Homeland Security also declined to answer any questions from Task & Purpose regarding the memo.
In 2017, President Trump declared the opioid crisis a public health emergency amid tens of thousands of American deaths traced to fentanyl overdose in recent years.
Roughly 50 to 100 times more powerful than morphine, fentanyl is a synthetic opioid that is medically-prescribed to treat severe pain under such names as Sublimaze and Actiq, according to the National Institute on Drug Abuse.
The illegal version — usually sourced from China or Mexico — is sometimes manufactured and sold as powder, put in small candies and eye droppers, or mixed into other illicit drugs to increase their potency, which has led to a significant increase in overdoses for unknowing drug users.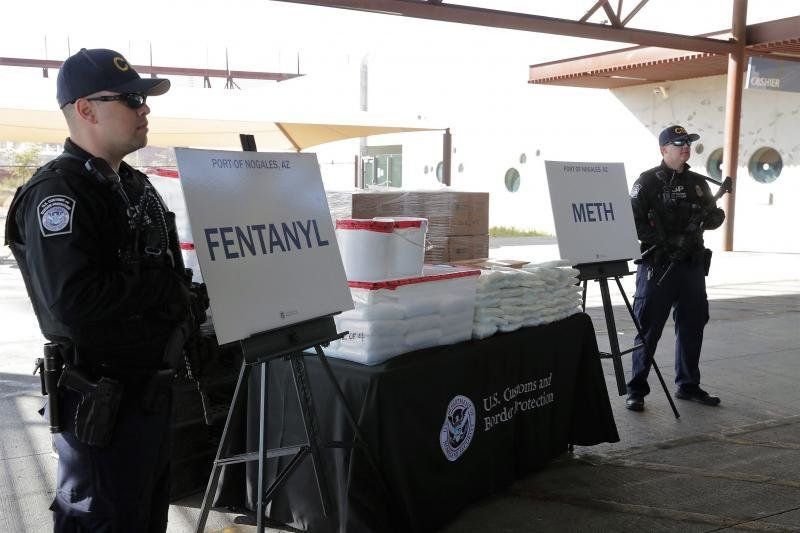 Customs and Border Patrol officers pose next to roughly 650 pounds of seized fentanyl and methamphetamine in Jan. 2019. www.cbp.gov
But the effort to classify the drug as a weapon capable of causing mass casualties has some experts scratching their heads.

"This is like declaring ecstasy as a WMD," said one member of the DoD's counter-WMD community, who would only speak on condition of anonymity, mentioning another illegal drug that could lead to overdose death.
Dan Kaszeta, a chemical, biological, radiological, and nuclear defense expert, told Task & Purpose the threat of fentanyl being used as a weapon is a "fringe scenario" since there are "literally dozens" of available toxic chemicals that could easily be weaponized.
"It reads like somebody is laying the administrative background for trying to tap into pots of money for detecting WMD and decontaminating WMD," Kaszeta told Task & Purpose after viewing the memo. "It's an interdepartmental play for money, that's all it is."
Indeed, the budget for countering weapons of mass destruction has declined, apparently due to Trump's homeland security priorities, which mainly emphasize border security and enforcement.

"The priorities are: increased border security along the southern border, hiring 15,000 more Customs and Border [Protection] agents, and increasing the number of detention facilities for undocumented immigrants," John Fischer, DHS division director, told National Defense Magazine in Sep. 2017. "That is consuming the budgets. Everybody else within DHS ... is contributing to those priorities."
Less than a year after the Countering Weapons of Mass Destruction Office was established, McDonnell's memo seemed to suggest that increasing counter-fentanyl efforts could get WMD-focused homeland security personnel alongside others trying to stop drug smugglers.
"[Counter-WMD] Office efforts will focus on quantities and configurations that could be used as mass casualty weapons," McDonnell wrote. "However, many activities, such as support to fentanyl interdiction and detection efforts, would tangentially benefit broader DHS and interagency counter-opioid efforts."
"Within the past couple years, there has been a reinvigorated interest in addressing fentanyl and its analogues as WMD materials due to the ongoing opioid crisis," McDonnell added, telling Nielsen that his office could assist in counter-fentanyl efforts by managing and developing new technologies, deploying sensors, and assisting others in the field.
Photo: DHS CWMD
McDonnell also claimed that other senior leaders in the Department of Defense, such as Navy Adm. Craig Faller, commander of U.S. Southern Command, had "proposed formally designating fentanyl as a WMD material."

A spokesperson for Southern Command declined to answer whether Faller had done so, telling Task & Purpose in a statement that "the command is constantly assessing a wide range of threats and concerns with our inter-agency partners and their potential impacts to national security; however, we will not be discussing the specifics of these conversations."
As part of the memo's proposed next steps, McDonnell said his office would further brief DHS on counter-WMD efforts related to fentanyl and host an interagency planning event on the topic.

"I think an interagency planning event is a good idea," a senior defense official told Task & Purpose on condition of anonymity in order to discuss sensitive matters, though the official concluded it was far more feasible for a threat actor to manufacture sarin or mustard gas. "Anybody with a college level degree in chemistry can manufacture chemical weapons agents."
"I cannot see any scenario where a nation-state would use fentanyl on the battlefield, or for that matter, a terrorist using a really toxic chemical like fentanyl in an attack when they could just sell it for funding the purchase of firearms and explosives or steal an industrial chemical instead," the official said.
Read the full memo below:
November 15, 2019 at 07:00 PM
popular
Navy SEAL Eddie Gallagher will retire as a chief petty officer now that President Donald Trump has restored his rank.
"Before the prosecution of Special Warfare Operator First Class Edward Gallagher, he had been selected for promotion to Senior Chief, awarded a Bronze Star with a "V" for valor, and assigned to an important position in the Navy as an instructor," a White House statement said.
"Though ultimately acquitted on all of the most serious charges, he was stripped of these honors as he awaited his trial and its outcome. Given his service to our Nation, a promotion back to the rank and pay grade of Chief Petty Officer is justified."
The announcement that Gallagher is once again an E-7 effectively nullifies the Navy's entire effort to prosecute Gallagher for allegedly committing war crimes. It is also the culmination of Trump's support for the SEAL throughout the legal process.
On July 2, military jurors found Gallagher not guilty of premeditated murder and attempted murder for allegedly stabbing a wounded ISIS fighter to death and opening fire at an old man and a young girl on separate occasions during his 2017 deployment to Iraq.
November 15, 2019 at 06:51 PM
news
Maj. Matthew Golsteyn in Afghanistan. (Photo courtesy of Philip Stackhouse.)
November 15, 2019 at 06:41 PM
news
(Screenshot from 'Leavenworth')
President Donald Trump has signed a full pardon for former 1st Lt. Clint Lorance, who had been convicted of murder for ordering his soldiers to open fire on three unarmed Afghan men, two of whom were killed.
Lorance will now be released from the United States Disciplinary Barracks at Fort Leavenworth, Kansas, where he had been serving a 19-year sentence.
"He has served more than six years of a 19-year sentence he received. Many Americans have sought executive clemency for Lorance, including 124,000 people who have signed a petition to the White House, as well as several members of Congress," said a White House statement released Friday.
"The President, as Commander-in-Chief, is ultimately responsible for ensuring that the law is enforced and when appropriate, that mercy is granted. For more than two hundred years, presidents have used their authority to offer second chances to deserving individuals, including those in uniform who have served our country. These actions are in keeping with this long history. As the President has stated, 'when our soldiers have to fight for our country, I want to give them the confidence to fight.'"
Additionally, Trump pardoned Maj. Matthew Golsteyn, who was to go on trial for murder charges next year, and restored the rank of Navy SEAL Chief Edward Gallagher, who was found not guilty of murdering a wounded ISIS prisoner but convicted of taking an unauthorized photo with the corpse.
Fox News contributor Pete Hegseth first announced on Nov. 4 that the president was expected to intervene in the Lorance case was well as exonerate Army Maj. Matthew Golsteyn, who has been charged with murder after he admitted to killing an unarmed Afghan man whom he believed was a Taliban bomb maker, and restore Navy SEAL Eddie Gallagher's rank to E-7.
For the past week, members of Lorance's family and his legal team have been holding a constant vigil in Kansas anticipating his release, said Lorance's attorney Don Brown.
Now that he has been exonerated of committing a war crime, Lorance wants to return to active duty, Brown told Task & Purpose on Wednesday.
"He loves the Army," Brown said prior to the president's announcement. "He doesn't have any animosity. He's hoping that his case – and even his time at Leavenworth – can be used for good to deal with some issues regarding rules of engagement on a permanent basis so that our warfighters are better protected, so that we have stronger presumptions favoring warfighters and they aren't treated like criminals on the South Side of Chicago."
In the Starz documentary "Leavenworth," Lorance's platoon members discuss the series of events that took place on July 2, 2012, when the two Afghan men were killed during a patrol in Kandahar province.They claim that Lorance ordered one of his soldiers to fire at three Afghan men riding a motorcycle. The three men got off their motorcycle and started walking toward Afghan troops, who ordered them to return to their motorcycle.
At that point, Lorance ordered the turret gunner on a nearby Mine Resistant Ambush Protected vehicle to shoot the three men, according to the documentary. That order was initially ignored, but the turret gunner eventually opened fire with his M-240, killing two of the men.
But Lorance told the documentary makers that his former soldiers' account of what happened was "ill-informed."
"From my experience of what actually went down, when my guy fired at it, and it kept coming, that signified hostile intent, because he didn't stop immediately," Lorance said in the documentary's second episode.
Brown argues that not only is Lorance innocent of murder, he should never have been prosecuted in the first case.
"He made a call and when you look at the evidence itself, the call was made within a matter of seconds," Brown said "He would make that call again."
The new Call of Duty Modern Warfare takes gaming to a new level. In fact, it's the best damn video game of 2019 (in my humble opinion).
You can watch video of the awesome gameplay for CoD above, and make sure to follow the Task & Purpose team on Twitch here.
This post was sponsored by GoatGuns.Com. Use the code TP15 for 15% off your next order.
A new trailer just dropped for the upcoming World War I action flick The Great War.