The Pentagon's new plan to kill North Korean ICBMs is basically ripped right from 'Asteroid'
February 27, 2019 at 01:07 PM
Military Tech
U.S. Marines with Marine Aerial Refueler Transport Squadron (VMGR) 252 help Marines with Marine Fighter Attack Training Squadron (VMFAT) 501 with the aerial refueling of F-35B Lightning II aircraft over Florida Oct. 2, 2012. (U.S. Marine Corps/Sgt. Gabriela Garcia)
The Defense Department is weighing a plan to deploy F-35 fighters to hover on the outskirts of North Korea airspace and neutralize intercontinental ballistic missiles shortly after launch, Reuters reports.
---
News of the plan, developed as part of a six-month study on intercepting North Korean ICBMs and conceived as a near-term option, comes as President Donald Trump meets with North Korea's Kim Jong Un in Vietnam on critical questions surrounding Pyonyang's nuclear and missile testing programs.
The Pentagon has been toying with novel missile defense strategies for years now: In January, the DoD's Missile Defense Review presented a milieu of potential options worth further examination, Defense One reported, ranging from drone-based lasers and orbiting missile platforms to reconfiguring the F-35 for missile defense missions.
Indeed, the MDR "[called] for the testing and development of a new or modified interceptor which could shoot down a ballistic missile in the boost phase," Defense News noted at the time. "There is also the possibility of using the F-35, equipped with its array of sensors, to hunt and track mobile missile units, which is a key part of North Korea's doctrine."
Three F-35C Lightning II, attached to Commander, Joint Strike Fighter Wing, the "Argonauts" of Strike Fighter Squadron (VFA) 147, the "Rough Raiders "Strike Fighter Squadron (VFA) 125 and the "Grim Reapers" Strike Fighter Squadron (VFA) 101 complete a flight overhead Eglin Air Force Base(U.S. Navy/Chief Mass Communication Specialist Shannon E. Renfroe)
Right now, the plan is, well, a pipe dream. An F-35-based ICBM killer 'calls for interceptor missiles that fly so fast they could melt one expert said, and the only surefire way for U.S. military aircraft to defeat a missile with current technology would be to fly in hostile airspace," missile defense experts told Reuters.

One possibility exists, however, based on combining two elements proposed in the MDR: Incorporating the drone-based laser concept into the F-35, a la the terrible 1997 miniseries Asteroid, which stars noted missile defense experts Michael Biehn and Annabella Sciorra.
This is absolutely how lasers work(NBC Universal)
It's not a new concept: Wired notes that the U.S. Missile Defense Agency suspended its Boeing 747-based Airborne Laser Test Bed anti-ICBM system because it "was too costly and unwieldy." And while the technology has matured significantly in recent years, airborne directed energy weapons are notoriously complicated and frequently short on funding, as with the Air Force Special Operations AC-130J Ghostrider gunship.

But not for long. In 2017, F-35 manufacturer Lockheed Martin was contracted to explore an aircraft-mounded directed energy weapon under the Air Force Research Lab's Self-Protect High Energy Laser Demonstrator program. The $26 million contract, which builds on the its work for the Army, aims to have a fighter-mounted test weapon by 2021.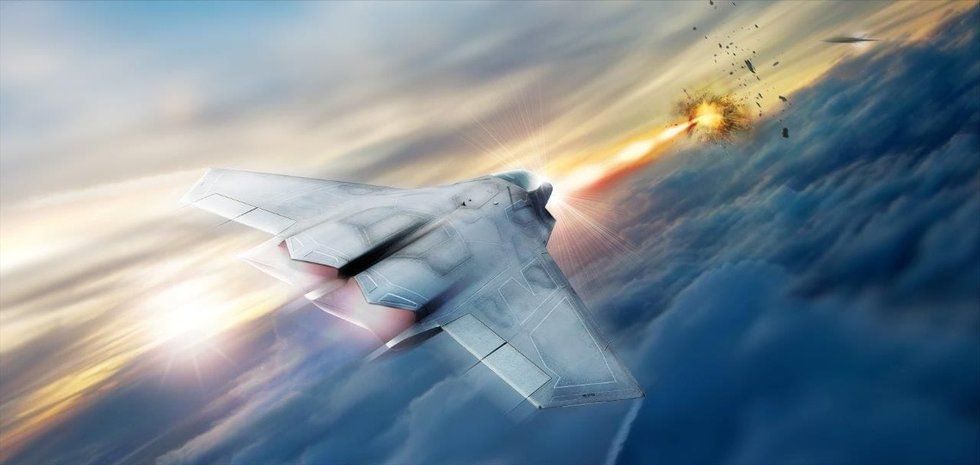 An Air Force artist's conception of a fighter-mounted directed energy weapon(U.S. Air Force Research Lab photo)
"We're putting a weapon traveling at the speed of light onto an aircraft capable of traveling the speed of sound, while targeting threats likely also traveling at supersonic speeds," Lockheed laser weapons systems senior fellow Rob Afzal told Wired. "Ruggedization is critical."

Despite this, the idea of a laser-equipped F-35B hovering near North Korean airspace and slapping missiles out of the sky may remain just an idea. Sure, the F-35 is inching towards real lethality downrange, the ongoing technical and reliability issues facing the F-35 program make the prospect of a complicated directed energy system increasingly improbable.
Oh well. We'll always have Asteroid.
January 22, 2020 at 02:26 PM
news
Photo illustration by Paul Szoldra
Navy Lt. Jonny Kim went viral last week when NASA announced that he and 10 other candidates (including six other service members) became the newest members of the agency's hallowed astronaut corps. A decorated Navy SEAL and graduate of Harvard Medical School, Kim in particular seems to have a penchant for achieving people's childhood dreams.
However, Kim shared with Task & Purpose that his motivation for living life the way he has stems not so much from starry-eyed ambition, but from the pain and loss he suffered both on the battlefields of Iraq and from childhood instability while growing up in Los Angeles. Kim tells his story in the following Q&A, which was lightly edited for length and clarity:
January 22, 2020 at 06:47 PM
popular
You can almost smell the gunpowder in the scene captured by a Marine photographer over the weekend, showing a Marine grunt firing a shotgun during non-lethal weapons training.
January 22, 2020 at 04:30 PM
news
A Marine grunt stationed in Camp Lejeune, North Carolina is being considered for an award after he saved the lives of three people earlier this month from a fiery car crash.
Cpl. Scott McDonell, an infantry assaultman with 1st Battalion, 2nd Marine Regiment, was driving down Market Street in Wilmington in the early morning hours of Jan. 11 when he saw a car on fire after it had crashed into a tree. Inside were three victims aged 17, 20, and 20.
"It was a pretty mangled wreck," McDonell told ABC 15. "The passenger was hanging out of the window."
Todd Robinson's upcoming Vietnam War drama, The Last Full Measure, is a story of two battles: One takes place during an ambush in the jungles of Vietnam in 1966, while the other unfolds more than three decades later as the survivors fight to see one pararescueman's valor posthumously recognized.
January 22, 2020 at 01:56 PM
news
Protesters and militia fighters gather to condemn air strikes on bases belonging to Hashd al-Shaabi (paramilitary forces), outside the main gate of the U.S. Embassy in Baghdad, Iraq December 31, 2019. (Reuters/Thaier al-Sudani)
With ISIS trying to reorganize itself into an insurgency, most attacks on U.S. and allied forces in Iraq are being carried out by Shiite militias, said Air Force Maj. Gen. Alex Grynkewich, the deputy commander for operations and intelligence for U.S. troops in Iraq and Syria.
"In the time that I have been in Iraq, we've taken a couple of casualties from ISIS fighting on the ground, but most of the attacks have come from those Shia militia groups, who are launching rockets at our bases and frankly just trying to kill someone to make a point," Grynkewich said Wednesday at an event hosted by the Air Force Association's Mitchell Institute for Aerospace Studies.