A Florida man tried to bring an RPG on a commercial flight
March 05, 2019 at 03:36 PM
news
(TSA photo)
Lehigh Valley International Airport officials said Tuesday that a Florida man had a non-functioning military rocket propelled grenade launcher and replica grenade.
---
Authorities say an alarm triggered Monday as the unidentified man's checked bag passed through security.
When the bag was opened, Transportation Security Administration officials were "surprised" to see the unassembled parts of a grenade launcher and realistic-looking mock grenade inside.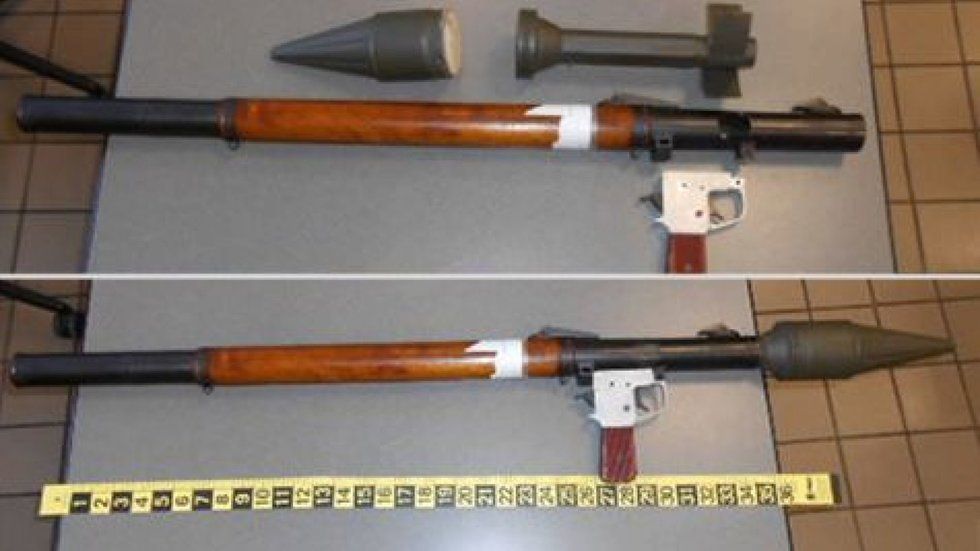 (TSA photo)
The man, who lives in St Augustine, was located at his departure gate and detained by police for questioning. The man will not face charges and authorities said they will not release his name.

"Upon closer inspection, it was determined that the various components of the device could be assembled, but fortunately the device was not a functioning launcher and the grenade itself was a realistic replica," the news release states.
The man told officials that he believed the item could be brought on the flight in a checked bag. But, authorities say no "realistic or replica" weapons are permitted on airplanes.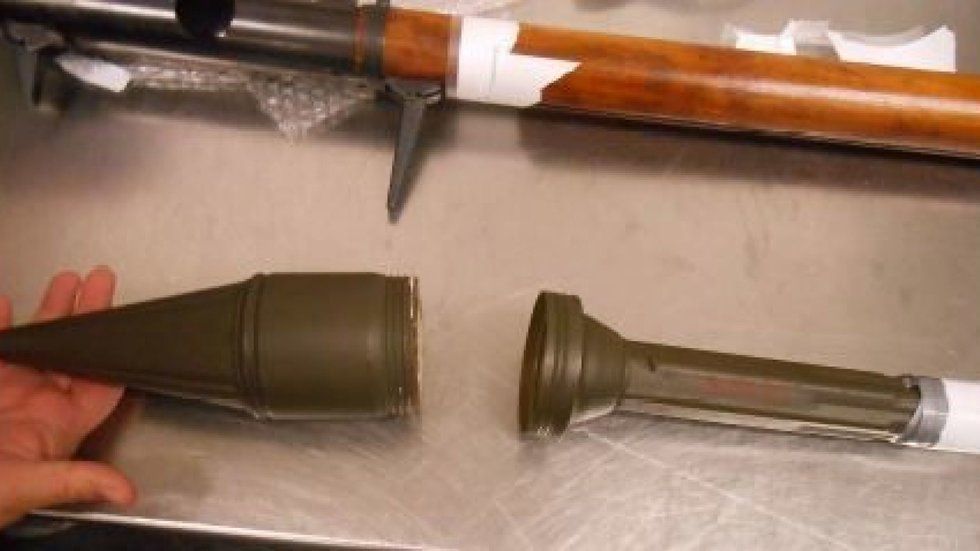 (TSA photo)
The items were confiscated and the man was able to catch his flight to Orlando Sanford International Airport.

TSA authorities say those who bring weapons and replica weapons to the airport are subject to possible civil penalties of up to $13,000.
"Don't bring military or replica weapons," said TSA spokeswoman Lisa Farbstein said. "Ship them."
———

©2019 The Morning Call (Allentown, Pa.). Distributed by Tribune Content Agency, LLC.
December 10, 2019 at 04:30 AM
news
Retired U.S. Air Force Col. Charles McGee (center), a decorated veteran of three wars, receives a congratulatory a send off after visiting with 436 Aerial Port Squadron personnel at Dover Air Force Base to help celebrate his 100th birthday in Dover, Delaware, Friday, Dec. 6, 2019. (Associated Press/David Tulis)
Retired Col. Charles McGee stepped out of the small commercial jet and flashed a smile.
Then a thumbs-up.
McGee had returned on a round-trip flight Friday morning from Dover Air Force Base, where he served as co-pilot on one of two flights done especially for his birthday.
By the way he disembarked from the plane, it was hard to tell that McGee, a Tuskegee Airman, was turning 100.
(U.S. Navy/Mass Communication Specialist 2nd Class Stephane Belcher)
The 2020 National Defense Authorization Act would allow service members to seek compensation when military doctors make mistakes that harm them, but they would still be unable to file medical malpractice lawsuits against the federal government.
On Monday night, Congress announced that it had finalized the NDAA, which must be passed by the House and Senate before going to President Donald Trump. If the president signs the NDAA into law, it would mark the first time in nearly seven decades that U.S. military personnel have had legal recourse to seek payment from the military in cases of medical malpractice.
December 09, 2019 at 05:53 PM
news
Maj. Jason Michael Musgrove (Lincoln County Sheriff's Office)
A major serving at U.S. Army Cyber Command has been charged with distributing child pornography, according to the Justice Department.
Maj. Jason Michael Musgrove, who is based at Fort Gordon, Georgia, has been remanded to the U.S. Marshals service, a news release from the U.S. Attorney's Office for the Southern District of Georgia says.
( DSG Technologies photo)
Editor's Note: This article originally appeared on Business Insider.
A new weapon being tested by the U.S. military could give special operators a more lethal edge by allowing them to shoot underwater, according to Defense One.

December 09, 2019 at 03:10 PM
Gear
Sailors from USS George Washington (CVN 73) wear-test the I-Boot 5 at Naval Station Norfolk. (U.S. Navy photo by Courtney Williams)
Navy senior leaders could decide whether or not to approve the new I-Boot 5 early in 2020, said Rob Carroll, director of the uniform matters office at the Chief of Naval Personnel's office.
"The I-Boot 5 is currently wrapping up its actual wear test, its evaluation," Carroll told Task & Purpose on Monday. "We're hoping that within the first quarter of calendar year 2020 that we'll be able to present leadership with the information that they need to make an informed decision."