A Florida man tried to bring an RPG on a commercial flight
March 05, 2019 at 03:36 PM
news
(TSA photo)
Lehigh Valley International Airport officials said Tuesday that a Florida man had a non-functioning military rocket propelled grenade launcher and replica grenade.
---
Authorities say an alarm triggered Monday as the unidentified man's checked bag passed through security.
When the bag was opened, Transportation Security Administration officials were "surprised" to see the unassembled parts of a grenade launcher and realistic-looking mock grenade inside.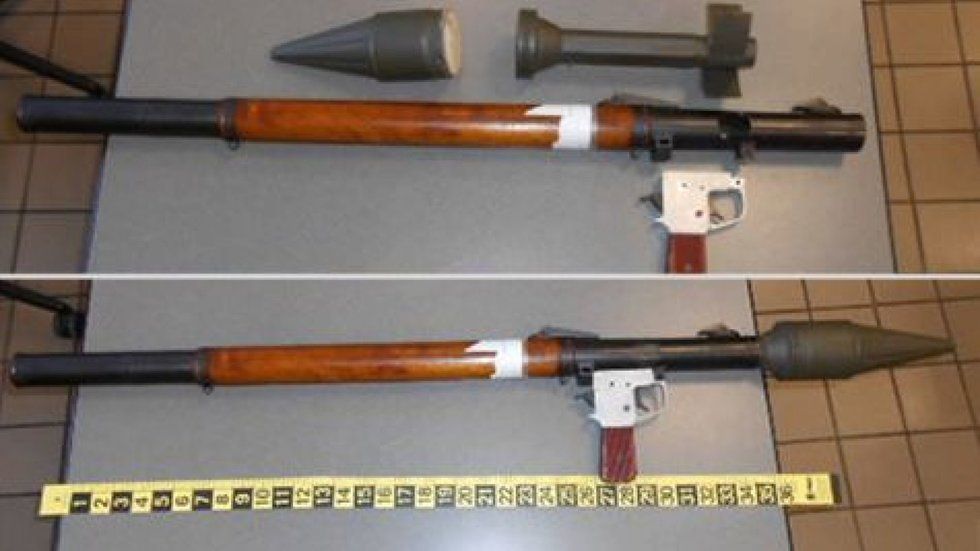 (TSA photo)
The man, who lives in St Augustine, was located at his departure gate and detained by police for questioning. The man will not face charges and authorities said they will not release his name.

"Upon closer inspection, it was determined that the various components of the device could be assembled, but fortunately the device was not a functioning launcher and the grenade itself was a realistic replica," the news release states.
The man told officials that he believed the item could be brought on the flight in a checked bag. But, authorities say no "realistic or replica" weapons are permitted on airplanes.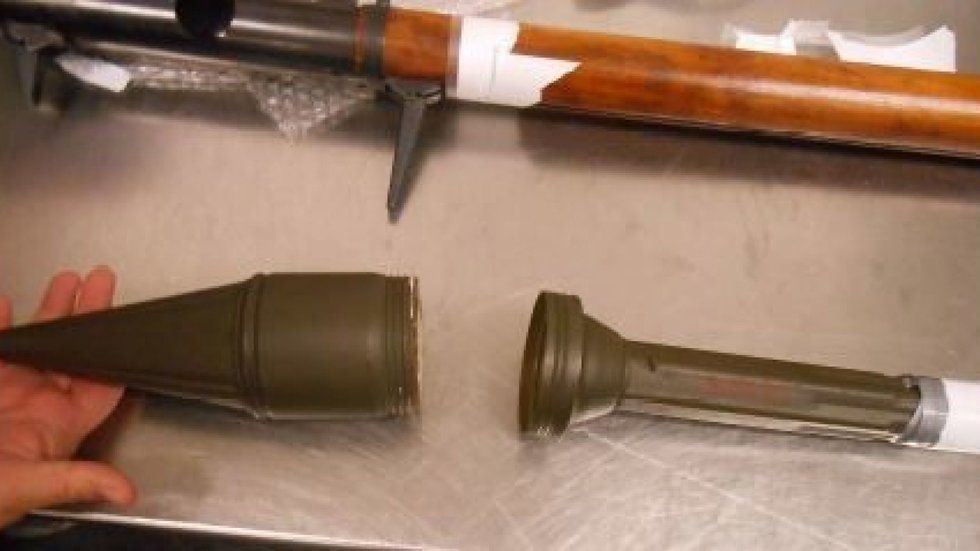 (TSA photo)
The items were confiscated and the man was able to catch his flight to Orlando Sanford International Airport.

TSA authorities say those who bring weapons and replica weapons to the airport are subject to possible civil penalties of up to $13,000.
"Don't bring military or replica weapons," said TSA spokeswoman Lisa Farbstein said. "Ship them."
———

©2019 The Morning Call (Allentown, Pa.). Distributed by Tribune Content Agency, LLC.
October 13, 2019 at 03:54 PM
Seven of the twelve Soldiers participating in the Army National Guard Military Funeral Honors Level 2 course at Fort Indiantown Gap practice folding the flag April 25. (U.S. Army National Guard photo by Staff Sgt. Zane Craig)
Retired Army Master Sgt. Mark Allen has died 10 years after he was shot in the head while searching for deserter Pvt. Bowe Bergdahl in Afghanistan.
Allen died on Saturday at the age of 46, according to funeral information posted online.
For U.S. service members who have fought alongside the Kurds, President Donald Trump's decision to approve repositioning U.S. forces in Syria ahead of Turkey's invasion is a naked betrayal of valued allies.
"I am ashamed for the first time in my career," one unnamed special operator told Fox News Jennifer Griffin.
In a Twitter thread that went viral, Griffin wrote the soldier told her the Kurds were continuing to support the United States by guarding tens of thousands of ISIS prisoners even though Turkey had nullified an arrangement under which U.S. and Turkish troops were conducting joint patrols in northeastern Syria to allow the Kurdish People's Protection Units, or YPG, to withdraw.
"The Kurds are sticking by us," the soldier told Griffin. "No other partner I have ever dealt with would stand by us."
October 13, 2019 at 09:47 AM
news
Most of the U.S. troops in Syria are being moved out of the country as Turkish forces and their Arab allies push further into Kurdish territory than originally expected, Task & Purpose has learned.
"I spoke with the president last night after discussions with the rest of the national security team and he directed that we begin a deliberate withdrawal of forces from northern Syria," Defense Secretary Mark Esper said on Sunday's edition of CBS News' "Face the Nation."'
October 13, 2019 at 09:03 AM
news
BEIRUT/ISTANBUL (Reuters) - Women affiliated with Islamic State and their children fled en masse from a camp where they were being held in northern Syria on Sunday after shelling by Turkish forces in a five-day-old offensive, the region's Kurdish-led administration said.
Turkey's cross-border attack in northern Syria against Kurdish forces widened to target the town of Suluk which was hit by Ankara's Syrian rebel allies. There were conflicting accounts on the outcome of the fighting.
Turkey is facing threats of possible sanctions from the United States unless it calls off the incursion. Two of its NATO allies, Germany and France, have said they are halting weapons exports to Turkey. The Arab League has denounced the operation.
October 12, 2019 at 04:25 PM
news
Former Defense Secretary Jim Mattis is warning that it's "absolutely a given" that ISIS will come back if the U.S. doesn't keep up pressure on the group, just one week after President Trump announced the withdrawal of U.S. military forces from northern Syria.
"It's in a situation of disarray right now. Obviously the Kurds are adapting to the Turkish attacks, and we'll have to see if they're able to maintain the fight against ISIS," Mattis said in an interview on NBC's "Meet The Press," set to air on Sunday. "It's going to have an impact. The question is how much?"