A New Book Reveals The Secret Plot To Assassinate George Washington
January 16, 2019 at 01:20 PM
History
The First Conspiracy: The Secret Plot to Kill George Washington by Brad Meltzer and Josh Mensch; Flatiron Books (413 pages, $29.99)
———
New York City has seen dark times, but in the spring and early summer of 1776 the outlook was especially grim. The Revolutionary War was in its early, chaotic days, the British fleet sailed en masse toward the city, and in a desperate defensive measure, General George Washington ordered thousands of his Continental troops into lower Manhattan. Almost a third of the city's citizens fled, and Washington's filthy, untrained and undisciplined soldiers quartered themselves in the elegant houses left behind. They were hungry, cold and scared, and they numbed their fear with drink, gambling and prostitutes. They were about to face the greatest military force in the world, outgunned and outmanned, fighting for a country that hadn't been created yet.
In hindsight, America's victory against the British seems like one of history's inevitabilities, but in the beginning it was anything but. And had a small group of pro-British conspirators had their way, the Glorious Cause might have lost its essential leader — George Washington — to imprisonment, execution or assassination.
---
That's the piece of New York's revolutionary story told by Brad Meltzer and co-author Josh Mensch in their new book, The First Conspiracy: The Secret Plot Against George Washington. Meltzer and Mensch have taken an obscure chapter of U.S. history and retold it as a thriller, with a dark-and-stormy-night beginning, short chapters, staccato one-sentence paragraphs, ominous foreshadowings and cliffhanger chapter endings. They aim to make the past come alive for a modern audience, but readers who enter this literary wayback machine are in for a bumpy ride.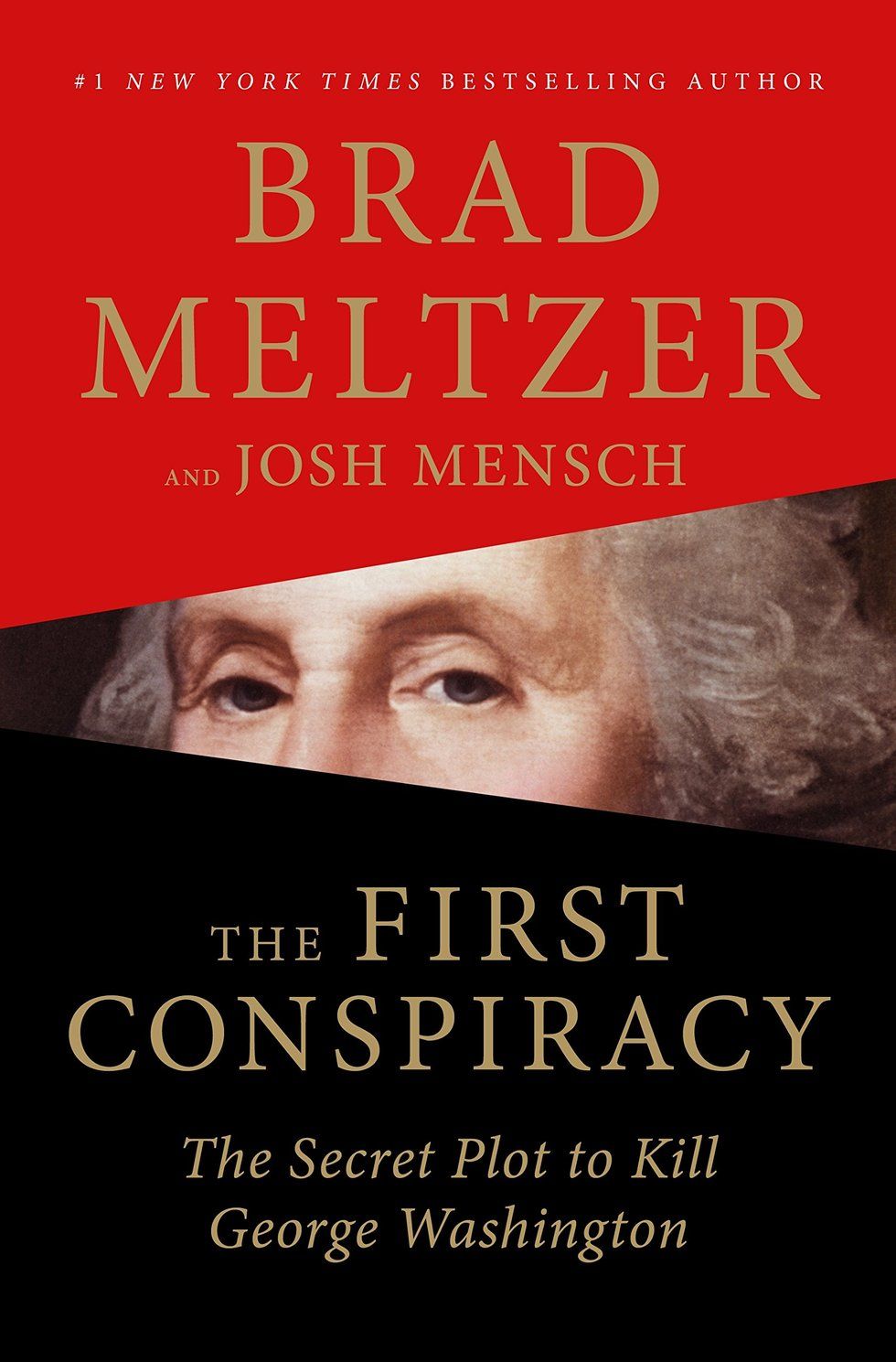 There's a great story in this material. The authors vividly portray Washington's multiple challenges as he tries to forge undisciplined recruits into a coordinated army, in a matter of weeks creating what for most countries took many years: the "Herculean task of organizing, feeding, supplying, transporting, paying and training the thousands of men who have arrived from every direction with only the clothes on their backs." Washington carries an immense burden on his shoulders, and to many he seems the only person who can shoulder it. For the colonists, he is the embodiment of the Revolution and the leader they hang their fragile hopes on, but for "oyalists and other opponents of the revolution, George Washington is now enemy number one."

Enter the villain in this piece, the British governor of New York, William Tryon. Tryon, an experienced military leader who made his fearsome reputation by hanging rebels in North Carolina, has fled from the Colonial army but remains close by, taking refuge on a British ship in New York Harbor and serving as a sort of "floating spymaster." He understands that many colonists are dubious about America's chances in this war, and he grasps Washington's strategic importance. He sets in motion a plot to bribe Continental soldiers with money and land to defect to the British side. Some of the targeted soldiers serve in the ranks of Washington's Life Guards, soldiers charged with keeping Washington safe, an early-days version of the Secret Service.
It's a dramatic story, and the authors try to make the most of it, but they are working with a limited palette. While there's abundant material on Colonial New York to draw on, proof of the extent of the actual conspiracy is patchy — as the plot unfolded, much of the investigation, discussion and response to it (the "counterintelligence") remained unrecorded. This shortage of facts may have impelled the authors to gin up the narrative using methods that Meltzer, a best-selling political thriller author, has mastered. The steady drumbeat of doom begins to feel strained, and the cliffhanger endings, frequent repetitions and constant reminders that George Washington is a very great man and William Tryon is a very, very bad man indeed begin to grate. It's as if the authors can't trust the reader to enjoy a complicated story with an ambiguous ending (Washington eventually withdrew from the city, and the British controlled it for seven years).
It's too bad. Americans need the lessons of our past as we navigate through our own tumultuous times, and we need versatile writer-historians to hold our attention. Perhaps Meltzer, an accomplished writer across many platforms (among other things, he's a producer for the History Channel), hoped to draw his huge audience further in to America's story. But history is a messy and ambivalent business. Maybe next time he will give his readers more credit for grasping that reality — we learn it anew, every day.
———
©2019 Newsday. Distributed by Tribune Content Agency, LLC.
WATCH NEXT: Jack Mandaville's History Of US Wars
August 25, 2019 at 05:40 PM
news
U.S. Army Astronaut Lt. Col. Anne McClain is captured in this photo during a media opportunity while serving as backup crew for NASA Expedition 56 to the International Space Station May, 2018, at the Baikonur Cosmodrome, Kazakhstan. (NASA photo)
NASA is reportedly investigating one of its astronauts in a case that appears to involve the first allegations of criminal activity from space.
August 25, 2019 at 05:13 PM
news
New York National Guard Soldiers and Airmen of the 24th Weapons of Mass Destruction Civil Support Team (CST) and 106th Rescue Wing prepare to identify and classify several hazardous chemical and biological materials during a collective training event at the Plum Island Animal Disease Research Facility, New York, May 2, 2018. (U.S. Army/Sgt. Harley Jelis)
The Department of Homeland Security stored sensitive data from the nation's bioterrorism defense program on an insecure website where it was vulnerable to attacks by hackers for over a decade, according to government documents reviewed by The Los Angeles Times.
The data included the locations of at least some BioWatch air samplers, which are installed at subway stations and other public locations in more than 30 U.S. cities and are designed to detect anthrax or other airborne biological weapons, Homeland Security officials confirmed. It also included the results of tests for possible pathogens, a list of biological agents that could be detected and response plans that would be put in place in the event of an attack.
The information — housed on a dot-org website run by a private contractor — has been moved behind a secure federal government firewall, and the website was shut down in May. But Homeland Security officials acknowledge they do not know whether hackers ever gained access to the data.
A U.S. Marine with Task Force Southwest observes Afghan National Army (ANA) 215th Corps soldiers move to the rally point to begin their training during a live-fire range at Camp Shorabak. (U.S. Marine Corps/Sgt. Luke Hoogendam)
By law, the United States is required to promote "human rights and fundamental freedoms" when it trains foreign militaries. So it makes sense that if the U.S. government is going to spend billions on foreign security assistance every year, it should probably systematically track whether that human rights training is actually having an impact or not, right?
Apparently not. According to a new audit from the Government Accountability Office, both the Departments of Defense and State "have not assessed the effectiveness of human rights training for foreign security forces" — and while the Pentagon agreed to establish a process to do so, State simply can't be bothered.
August 25, 2019 at 01:01 PM
news
The Topeka Veterans Affairs Medical Center (Public domain)
The Kansas City VA Medical Center is still dealing with the fallout of a violent confrontation last year between one of its police officers and a patient, with the Kansas City Police Department launching a homicide investigation.
And now Topeka's VA hospital is dealing with an internal dispute between leaders of its Veterans Affairs police force that raises new questions about how the agency nationwide treats patients — and the officers who report misconduct by colleagues.
August 25, 2019 at 10:43 AM
news
Jeannine Willard (Valencia County Detention Center)
A New Mexico woman was charged Friday in the robbery and homicide of a Marine Corps veteran from Belen late last month after allegedly watching her boyfriend kill the man and torch his car to hide evidence.