A New Book Reveals The Secret Plot To Assassinate George Washington
January 16, 2019 at 01:20 PM
History
The First Conspiracy: The Secret Plot to Kill George Washington by Brad Meltzer and Josh Mensch; Flatiron Books (413 pages, $29.99)
———
New York City has seen dark times, but in the spring and early summer of 1776 the outlook was especially grim. The Revolutionary War was in its early, chaotic days, the British fleet sailed en masse toward the city, and in a desperate defensive measure, General George Washington ordered thousands of his Continental troops into lower Manhattan. Almost a third of the city's citizens fled, and Washington's filthy, untrained and undisciplined soldiers quartered themselves in the elegant houses left behind. They were hungry, cold and scared, and they numbed their fear with drink, gambling and prostitutes. They were about to face the greatest military force in the world, outgunned and outmanned, fighting for a country that hadn't been created yet.
In hindsight, America's victory against the British seems like one of history's inevitabilities, but in the beginning it was anything but. And had a small group of pro-British conspirators had their way, the Glorious Cause might have lost its essential leader — George Washington — to imprisonment, execution or assassination.
---
That's the piece of New York's revolutionary story told by Brad Meltzer and co-author Josh Mensch in their new book, The First Conspiracy: The Secret Plot Against George Washington. Meltzer and Mensch have taken an obscure chapter of U.S. history and retold it as a thriller, with a dark-and-stormy-night beginning, short chapters, staccato one-sentence paragraphs, ominous foreshadowings and cliffhanger chapter endings. They aim to make the past come alive for a modern audience, but readers who enter this literary wayback machine are in for a bumpy ride.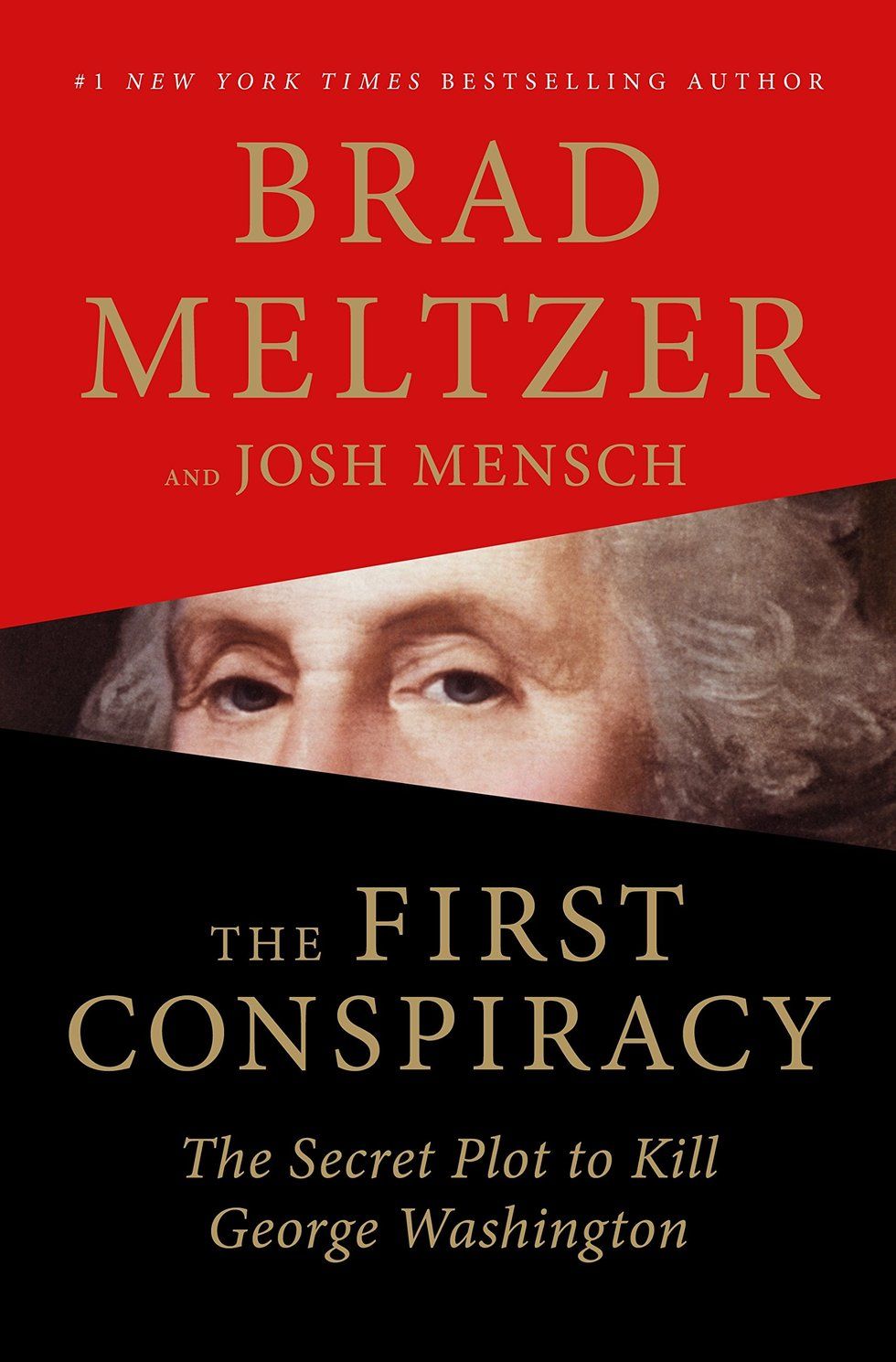 There's a great story in this material. The authors vividly portray Washington's multiple challenges as he tries to forge undisciplined recruits into a coordinated army, in a matter of weeks creating what for most countries took many years: the "Herculean task of organizing, feeding, supplying, transporting, paying and training the thousands of men who have arrived from every direction with only the clothes on their backs." Washington carries an immense burden on his shoulders, and to many he seems the only person who can shoulder it. For the colonists, he is the embodiment of the Revolution and the leader they hang their fragile hopes on, but for "oyalists and other opponents of the revolution, George Washington is now enemy number one."

Enter the villain in this piece, the British governor of New York, William Tryon. Tryon, an experienced military leader who made his fearsome reputation by hanging rebels in North Carolina, has fled from the Colonial army but remains close by, taking refuge on a British ship in New York Harbor and serving as a sort of "floating spymaster." He understands that many colonists are dubious about America's chances in this war, and he grasps Washington's strategic importance. He sets in motion a plot to bribe Continental soldiers with money and land to defect to the British side. Some of the targeted soldiers serve in the ranks of Washington's Life Guards, soldiers charged with keeping Washington safe, an early-days version of the Secret Service.
It's a dramatic story, and the authors try to make the most of it, but they are working with a limited palette. While there's abundant material on Colonial New York to draw on, proof of the extent of the actual conspiracy is patchy — as the plot unfolded, much of the investigation, discussion and response to it (the "counterintelligence") remained unrecorded. This shortage of facts may have impelled the authors to gin up the narrative using methods that Meltzer, a best-selling political thriller author, has mastered. The steady drumbeat of doom begins to feel strained, and the cliffhanger endings, frequent repetitions and constant reminders that George Washington is a very great man and William Tryon is a very, very bad man indeed begin to grate. It's as if the authors can't trust the reader to enjoy a complicated story with an ambiguous ending (Washington eventually withdrew from the city, and the British controlled it for seven years).
It's too bad. Americans need the lessons of our past as we navigate through our own tumultuous times, and we need versatile writer-historians to hold our attention. Perhaps Meltzer, an accomplished writer across many platforms (among other things, he's a producer for the History Channel), hoped to draw his huge audience further in to America's story. But history is a messy and ambivalent business. Maybe next time he will give his readers more credit for grasping that reality — we learn it anew, every day.
———
©2019 Newsday. Distributed by Tribune Content Agency, LLC.
WATCH NEXT: Jack Mandaville's History Of US Wars
November 17, 2019 at 03:57 PM
news
In this March 12, 2016, file photo, Marines of the U.S., left, and South Korea, wearing blue headbands on their helmets, take positions after landing on a beach during the joint military combined amphibious exercise, called Ssangyong, part of the Key Resolve and Foal Eagle military exercises, in Pohang, South Korea. (Associated Press/Yonhap/Kim Jun-bum)
BANGKOK (Reuters) - The United States and South Korea said on Sunday they will postpone upcoming military drills in an effort to bolster a stalled peace push with North Korea, even as Washington denied the move amounted to another concession to Pyongyang.
The drills, known as the Combined Flying Training Event, would have simulated air combat scenarios and involved an undisclosed number of warplanes from both the United States and South Korea.
November 17, 2019 at 01:52 PM
news
An opening ceremony will be held Monday on Hawaii island for a military exercise with China that will involve about 100 People's Liberation Army soldiers training alongside U.S. Army counterparts.
This comes after Adm. Phil Davidson, head of U.S. Indo-Pacific Command, spoke on Veterans Day at Punchbowl cemetery about the "rules-based international order" that followed U.S. victory in the Pacific in World War II, and China's attempts to usurp it.
Those American standards "are even more important today," Davidson said, "as malicious actors like the Communist Party of China seek to redefine the international order through corruption, malign cyber activities, intellectual property theft, restriction of individual liberties, military coercion and the direct attempts to override other nations' sovereignty."
November 17, 2019 at 12:16 PM
news
WASHINGTON (Reuters) - U.S. President Donald Trump on Sunday told North Korean leader Kim Jong Un to "act quickly" to reach a deal with the United States, in a tweet weighing in on North Korea's criticism of his political rival former Vice President Joe Biden.
Trump, who has met Kim three times since 2018 over ending the North's missile and nuclear programs, addressed Kim directly, referring to the one-party state's ruler as "Mr. Chairman".
In his tweet, Trump told Kim, "You should act quickly, get the deal done," and hinted at a further meeting, signing off "See you soon!"
It is impossible to tune out news about the impeachment inquiry into President Donald Trump now that the hearings have become public. And this means that cable news networks and Congress are happier than pigs in manure: this story will dominate the news for the foreseeable future unless Angelina Jolie and Brad Pitt get back together.
But the wall-to-wall coverage of impeachment mania has also created a news desert. To those of you who would rather emigrate to North Korea than watch one more lawmaker grandstand for the cameras, I humbly offer you an oasis of news that has absolutely nothing to do with Washington intrigue.
November 17, 2019 at 11:29 AM
news
MOSCOW (Reuters) - Russia will return three captured naval ships to Ukraine on Monday and is moving them to a handover location agreed with Kiev, Crimea's border guard service was cited as saying by Russian news agencies on Sunday.
A Reuters reporter in Crimea, which Russian annexed from Ukraine in 2014, earlier on Sunday saw coastguard boats pulling the three vessels through the Kerch Strait toward the Black Sea where they could potentially be handed over to Ukraine.