'Don't wait' — A Gold Star sister explains what she learned from her brother's death
November 05, 2019 at 03:20 PM
Opinion
Screenshot from Marine Corps video/Sgt. David Diggs
Editor's Note: The following is an op-ed. The opinions expressed are those of the author, and do not necessarily reflect the views of Task & Purpose.
Two weeks before my brother Travis was killed in Iraq, he called home to tell my father that he wanted the two of them to run the Marine Corps Marathon together. In mid-May, when the funeral services were over and my parents, extended family, and friends were gathered in the living room, my father announced "I'm still going to run that marathon."
One by one, the other people in the room picked up their heads, hardened their gazes, and joined him. Pretty soon, every single person in the room had committed to 26.2 miles in honor of Travis. I was conveniently engrossed in a thread in the carpet when I felt a dozen pairs of eyes landing intently on my face. I looked up.
I had been an athlete in college, but that was nearly five years earlier. I had given birth to Maggie only ten months before, and I hadn't run so much as a 5k in ages. But those stares were burning a hole right through my skin, and thankfully my bullheadedness kicked in.
"All right, I'll do it," I said.
---
Training for that marathon proved to be the most disciplined effort I'd ever undertaken. It was exactly the challenge and distraction I needed. A lot of hard work, a strong commitment to my family, and an eclectic iPod playlist from Travis's iPod were all I needed that summer.
At dinner at a hotel in Washington, D.C. the night before the race, my family invited a few people, including my brother's best friend Brendan Looney, to say a few words. Brendan stood solemnly at the microphone. He started in about how Travis had been a brother to him and how he couldn't believe he was gone.
He'd been choking back tears, and his voice finally broke.
I have to get out of this room, I thought. I simply couldn't watch this tough Navy SEAL break down as he remembered my brother. It was too much.
I slipped out of the hotel and found myself gulping in the cold fall night air outside. My head was spinning and I couldn't help but feel that I was learning for the first time that Travis was gone forever.
I lit a cigarette. It had been an on-and-off again habit of mine over the years, one that Travis had chastised me about. I can't tell you how long I stood outside, inhaling deeply and focusing on nothing but blowing the smoke out of my lungs. I might have been halfway through my first cigarette or might have been well into my fifth. But eventually, a gentle hand touched my arm.
"I know this is a lot. And I'm sure you're nervous," a voice said. I turned around to see my uncle Chris who was also my godfather and had been one of Travis's mentors. He calmly asked, "Do you think a cigarette is a good idea before a twenty-six mile run?" We both burst out laughing at the sheer ridiculousness of the question.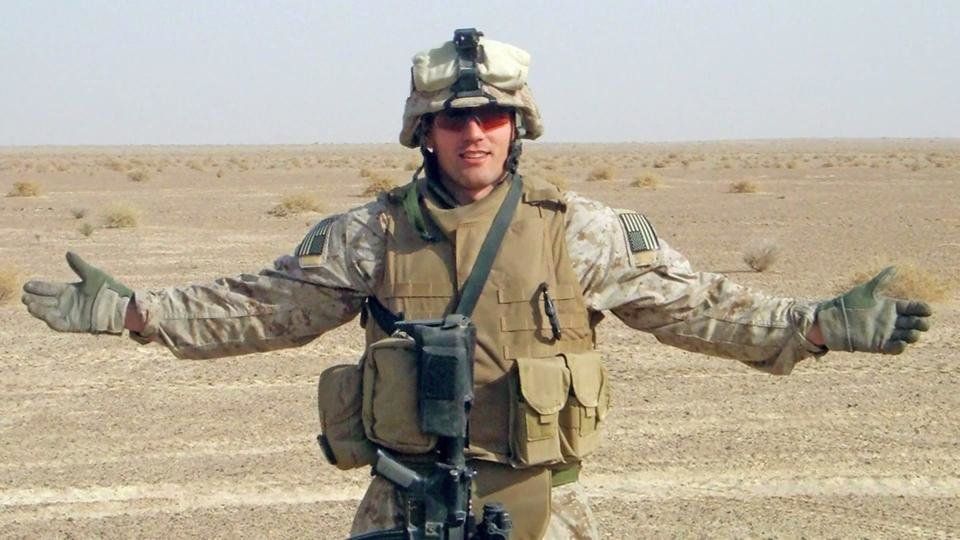 Travis Manion
I imagine that there are plenty of seasoned health professionals, renowned therapists, and successful counselors who will insist that committing to a twenty-six mile run and a brand new lifestyle within weeks of a loved one's death may not be a good idea. Neither is inhaling cigarette smoke before you take on the greatest physical challenge of your life.
But as I've had to remind myself time and time again, we're only human. We can take only so much. Don't be so hard on yourself when you take one step forward and several steps back. You made it this far. You got up today and put one foot in front of the other. You completed today's run. Go home, relax. Get ready for tomorrow's.
When I left that night, I was a complete mess. But when I woke up the next morning, I was a new woman. I was going to crush this run, and I was not going to do it alone. I knew that Travis was going to trot effortlessly alongside me as we jammed to a mix of Creedence Clearwater Revival and Eminem. The mental image of Travis pushing me along carried me through the first eighteen miles. I was sailing. More than once, I even caught myself thinking how easy the run was.
Until I hit the base of the bridge.
I'd reached that critical point in the run that determines whether you get to finish the race or not. Right around mile eighteen, a bus comes and scoops up the slow-moving stragglers so race officials can begin to reopen the roads to traffic.
All of my training leading up to race day had been about beat that bus to the bridge. What I didn't factor in was that, once I beat the bridge and got to mile 19, I still had 7.2 miles to complete.
At this point, the wheels had all but come off. My brain was no longer able to bully my body into behaving. My knees, my ankles, my arches -- everything was rebelling.
Finally, I made one last-ditch effort. I reached into my fanny pack and rifled through my unused power gels and energy beans until my fingers rested on the Mass card with Travis's face on it. I gripped it tightly and offered a silent prayer. This is it, Travis. You better freaking do something this minute or I'm letting that bus pick us up.
Travis always came through when I needed him.
I finished the race, and I can honestly say I'm a different person because of it. Pushing myself through that training and navigating the emotional strain and physical stress taught me a lot about myself and even more about grief.
It took me years to process my brother's death, and years more to organize my thoughts about what wisdom I could possibly gain from it. It's only after more than a decade of reflection that I can share what I now know.
First, What You Don't Know Can't Hurt You
Fear and self-doubt often keep us from knowing our own strength. And that's something we simply can't risk. If I had never run that race, I would never have discovered what I was capable of achieving. Sometimes, the best way to learn how to swim is to spring from the diving board and cannonball into the deep end of the pool.
Second, Embrace Your Support System
Relationships are everything. Family, friends, and loved ones can get us through our darkest and saddest moments. We just need to let them. Our friends and families feed our wild ambitions and nourish our ill-conceived dreams. When we share with them some embarrassing fantasy that's well beyond our reach, they say, "Go for it." And if you're lucky enough to have a family and friends like mine, they may even say, "I'm in. Let's do it together."
And Finally, Don't Wait
I had no idea how tough I was. Why did I wait until my brother was dead to find out? My only regret that marathon in 2007 was that it didn't take place in 2006. You know who would have loved to run and train with me? Travis. Something like that, which required focus and discipline, was far more up his alley than mine. He would have been so proud and we would have had a ball together. There are so many things I wish we could have done together. I'm not the same woman he knew when he was alive. I'm better. I'm stronger. Why did I wait for him to disappear before I became the woman I wanted to be?
Ryan Manion is the President of leading veterans service organization the Travis Manion Foundation and co-author of "The Knock at the Door." She is the surviving sister of 1st Lt. Travis Manion.

Adapted from THE KNOCK AT THE DOOR: Copyright © 2019 by Ryan Manion, Heather Kelly & Amy Looney. Published by Center Street, an imprint of Hachette Book Group.
January 29, 2020 at 11:24 AM
news
A C-17 Globemaster III assigned to the 911th Airlift Wing is towed across the flightline at March Air Reserve Base, California, Jan. 7, 2020. (Air Force photo by Joshua J. Seybert)
March Air Reserve Base in California will host nearly 200 U.S. citizens who were flown out of Wuhan, China due to the rapidly-spreading coronavirus, a Defense Department spokeswoman announced on Wednesday.
"March Air Reserve Base and the Department of Defense (DoD) stand ready to provide housing support to Health and Human Services (HHS) as they work to handle the arrival of nearly 200 people, including Department of State employees, dependents and U.S. citizens evacuated from Wuhan, China," said Pentagon press secretary Alyssa Farah in a statement on Wednesday.
Wuhan is the epicenter of the coronavirus, which is a mild to severe respiratory illness that's associated with symptoms of fever, cough and shortness of breath, according to the Centers for Disease Control and Prevention.
The virus has so far killed 132 people and infected nearly 6,000 others in China, according to news reports.
January 28, 2020 at 07:03 PM
news
The number of U.S. troops diagnosed with Traumatic Brain Injury following Iran's missile attack on Al- Asad Air Base in Iraq now stands at 50, the Defense Department announced on Tuesday.
January 29, 2020 at 10:26 AM
news
A U.S. Marine with 2nd Battalion, 7th Marines, assigned to the Special Purpose Marine Air-Ground Task Force-Crisis Response-Central Command (SPMAGTF-CR-CC) 19.2, carries a sand bag to strengthen a security post during the reinforcement of the Baghdad Embassy Compound in Iraq, Jan. 4, 2020. (U.S. Marine Corps/Sgt. Kyle C. Talbot)
COPENHAGEN (Reuters) - The United States hopes to discuss the entire strategic framework of its relationship with Iraq soon, a U.S. envoy said on Tuesday, as the fate of a U.S. military mission there remains in doubt after a drone strike that killed an Iranian general.
January 29, 2020 at 04:30 AM
news
On Jan. 28, 2020, four Marines were awarded the Navy and Marine Corps Medal for their actions in June 2018, when they rescued a family that had been caught in a dangerous rip current. (U.S. Marine Corps/Staff Sgt. William L. Holdaway)
In June, 2018, when a group of Marines noticed a family was being swept along by a powerful rip current at Atlantic Beach in North Carolina they immediately swam out to save them. Now, more than a year later, those Marines have been recognized for their actions.
An Army Combat Fitness Test instructor watches 229th Military Intelligence Battalion Soldiers attempt the new fitness test at the Presidio of Monterey, California. (U.S. Army/Marcus Fichtl)
Any excuses that soldiers have for not being able to prepare for the new Army Combat Fitness Test are growing slimmer and slimmer, as the service has released a revamped physical readiness training (PRT) mobile app.