Florida military bases move planes, ships as they prepare for Hurricane Dorian
September 01, 2019 at 11:12 AM
news
U.S. Navy/Mass Communication Specialist 3rd Class Nathan T. Beard
Editor's Note: This article by Oriana Pawlyk and Gina Harkins originally appeared on Military.com, a leading source of news for the military and veteran community.
Florida-based troops and their families are being urged to make hurricane preparations as Hurricane Dorian picks up speed as it careens toward the state, forcing aircraft and ships to be moved out of the storm's path.
Dorian is expected to make landfall in Florida on Monday evening as a Category 4 storm. The hurricane is expected to pack 140 mph winds and pummel the state with heavy rainfall, bringing the threat of dangerous storm surges.
---
Maj. Gen. James Eifert, head of the Florida National Guard, said during a Friday press conference that nearly 2,000 Air Force and Army Guardsmen would be mobilized by the end of the day.
Here's a look at how bases across the state are preparing ahead of the potentially dangerous storm.
Moving Aircraft
MacDill Air Force Base, home to U.S. Central Command and Special Operations Command, evacuated its KC-135s from the 6th Air Mobility Wing, according to base news release. The base has 24 assigned tankers and is expected to fly out at least 18, according to the Tampa Bay Times. The aircraft will be temporarily stationed at McConnell Air Force Base in Kansas, through the duration of the storm.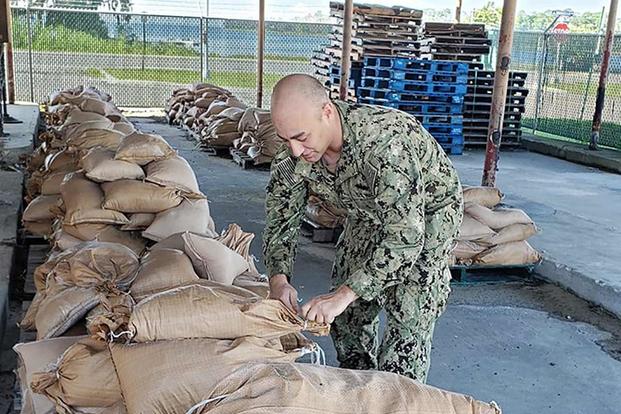 "The safety of our service members, families and aircraft are paramount," Col. Stephen Snelson, 6th Air Mobility Wing commander, said in a release. The base is in the Tampa Bay area on the western side of the state.
Related: Hurricane Florence Was a 'Gut Punch' to Readiness, Marine General Says
Should the hurricane follow one of its projected models straight for Tampa, the surge "could cause significant ... flooding," MacDill officials warned on Facebook. "It would also cause a base evacuation 24-48 hours in advance of the storm's arrival. As you can imagine, we are hoping for the best but preparing for the [worst]."
"We realize that everyone is waiting for the base to make an evacuation decision," the message added. "We will coordinate any evacuation order with Hillsborough County and mission partners."
Just outside Orlando, Patrick Air Force Base, home to the 45th Space Wing and the Air Force Reserve's 920th Rescue Wing, has already closed down a number of facilities ahead of the storm. Closures include the family readiness and fitness centers, along with a number of recreational spots. The Medical Group is also curtailing operations, according to a base release.
It's unclear whether the base evacuated its HH-60G Pave Hawk helicopters and HC-130P/N recovery planes. Officials with the 920th could not be reached by press time.
Homestead Air Reserve Base flew out its F-16 Fighting Falcons ahead of the storm, base spokesman Timothy Norton told Stars and Stripes. The base, which was destroyed during Hurricane Andrew in 1992, sits south of Miami. There are no personnel living on the installation.
The Navy also began relocating aircraft Friday. Six Naval Air Station Jacksonville-based squadrons -- including Patrol Squadrons 10, 16, 26, 30, 45 and 62 -- were set to evacuate, a Navy news release states.
Any aircraft unable to leave the base will be moved to hangars for the duration of the storm, according to the release.
Troops based at the air station were encouraged to discuss evacuation and reporting requirements with their chain of command.
Securing Ships and Ports
The Navy also began moving ships based at Naval Station Mayport in Jacksonville out of the storm's path on Thursday night. Rear Adm. Don Gabrielson, head of Naval Forces Southern Command, said the safety of sailors and their families, along with the security of ships and aircraft, remained a top priority.
"We appreciate how our families support our missions even as their own homes face the risk of these difficult storms," Gabrielson said in a statement.
The patrol ship Shamal got underway Thursday, according to a Navy news release. The guided-missile destroyers Lassen, Paul Ignatius, Farragut, along with the littoral combat ships Billings and Milwaukee were expected to get underway Friday.
The ships have been directed to areas of the Atlantic where they can avoid the storm.
Others are expected to shelter in place, taking precautions to avoid damage. Those ships include the amphibious assault ship Iwo Jima; littoral combat ships Little Rock and Detroit; guided missile cruiser Hue City; dock landing ship Fort McHenry; and destroyers Roosevelt, The Sullivans and Thomas Hudner.
Sailors and their families on base are urged to sandbag flood-prone areas, get extra fuel, remove debris from drainage areas, and relocate dumpsters and equipment that could be swept up in floodwaters to more secure areas.
Coast Guard Warnings
The Coast Guard has set conditions at several ports in Florida at "X-ray," which means they're open to commercial traffic, but mariners are warned that high winds are coming and that there are no safe havens in the facilities.
"Ports are safest when the inventory of vessels is at a minimum," a Coast Guard release states. "All ocean-going commercial vessels and ocean-going barges greater than 500 gross tons should make plans for departing the port."
The service is advising all recreational boats to stay out of the water.
The Coast Guard is advising people do the same, with officials telling them to steer clear of beaches. Families should have disaster plans, including for pets, and people should secure belongings on their property to prevent them from being swept away by floods.
The service is also warning people not to rely on social media for storm-related information or to report emergencies.
"People in distress should use 911 to request assistance whenever possible," a service news release states. "Social media should not be used to report life-threatening distress due to limited resources to monitor the dozens of social media platforms during a hurricane or large-scale rescue event."
Storm Watching
Others are keeping track of the storm from on high.
Earlier this week, three WC-130J "Hurricane Hunter" aircraft and one C-130J Super Hercules aircraft from the 403rd Wing at Keesler Air Force Base, Mississippi, flew to the Curaçao island in the Caribbean to provide weather reconnaissance for Hurricane Dorian, according to the service.
The Hunters, of the 53rd Weather Reconnaissance Squadron, collect data that helps the National Hurricane Center determine which category to classify the storm, in addition to how far out the winds go and how strong they are.
The teams use a device called a dropsonde, which is ejected from the aircraft into the water. The biodegradable and non-recoverable sensor measures temperatures, dew-points, pressure, and wind speeds and direction. The sensors also mark the storm's location.
Dozens of the sensors can be dropped in a single six-to-10-hour mission, collecting data from each device as the WC-130 flies through the storm.
This article originally appeared on Military.com
More articles from Military.com:
September 19, 2019 at 04:30 AM
news
Andrew Christian Gray (Onslow County Sheriff's Office)
Two people, including a U.S. Marine Corps member, were arrested over the weekend and accused of distributing drugs to service members and civilians in North Carolina.
September 18, 2019 at 06:23 PM
news
It has been a deadly year for Green Berets, with every active-duty Special Forces Group losing a valued soldier in Afghanistan or Syria.
A total of 12 members of the Army special operations forces community have died in 2019, according to U.S. Army Special Operations Command. All but one of those soldiers were killed in combat.
In Afghanistan, Army special operators account for 10 of the 17 U.S. troops killed so far this year. Eight of the fallen were Green Berets. Of the other two soldiers, one was attached to the 10th Special Forces Group and the other was a Ranger.
September 18, 2019 at 04:36 PM
news
WASHINGTON (Reuters) - Documents from the Pentagon show that "far more taxpayer funds" were spent by the U.S. military on overnight stays at a Trump resort in Scotland than previously known, two Democratic lawmakers said on Wednesday, as they demanded more evidence from the Defense Department as part of their investigation.
In a letter to Defense Secretary Mark Esper, the heads of the House of Representatives Oversight Committee and one of it subcommittees said that while initial reports indicated that only one U.S. military crew had stayed at President Donald Trump's Turnberry resort southeast of Glasgow, the Pentagon had now turned over data indicating "more than three dozen separate stays" since Trump moved into the White House.
Sigourney Weaver as Ellen Ripley from 1979's 'Alien' (20th Century Fox)
Editor's Note: This article by Gina Harkins originally appeared on Military.com, a leading source of news for the military and veteran community.
QUANTICO, Va. -- Marines who spend much of their day lifting hefty ammunition or moving pallets full of gear could soon get a helping hand.
The Marine Corps is close to signing a deal to test an exoskeleton prototype that can help a single person move as much as several leathernecks combined.
NEC Corp.'s machine with propellers hovers at the company's facility in Abiko near Tokyo, Monday, Aug. 5, 2019. The Japanese electronics maker showed a "flying car," a large drone-like machine with four propellers that hovered steadily for about a minute. (Associated Press/Koji Sasahara
'Agility Prime' sounds like a revolutionary new video streaming service, or a parkour-themed workout regimen, or Transformers-inspired niche porno venture.
But no, it's the name of the Air Force's nascent effort to replace the V-22 Osprey with a militarized flying car — and it's set to take off sooner than you think.