The Indian fighter pilot shot down over Pakistan reportedly swallowed sensitive documents before he was captured
March 01, 2019 at 12:32 PM
news
Indian Wing Cmdr. Abhinandan Varthaman, in the navy blazer, waiting to cross the border into India after being released from Pakistani custody. (Sky News)
Pakistan returned a captured Indian fighter pilot late on Friday, after a dramatic clash between regional rivals that him shot down over the fiercely-contested Kashmir border region.
---
According to reports in local media, Wing Commander Abhinandan Varthaman parachuted from his stricken plane, fended off locals on the ground by firing warning shots from his pistol, and swallowed sensitive paperwork to keep it secret.
Varthaman was shot down and captured on Wednesday when the two countries clashed in the air, the latest in a series of encounters following a February 14 terrorist attack that left 40 Indian troops dead.
When Varthaman landed he asked if he was in India or Pakistan, two witnesses told Reuters.
On hearing he was in Pakistan, he fired a shot into the air as locals picked up stones, the witnesses said.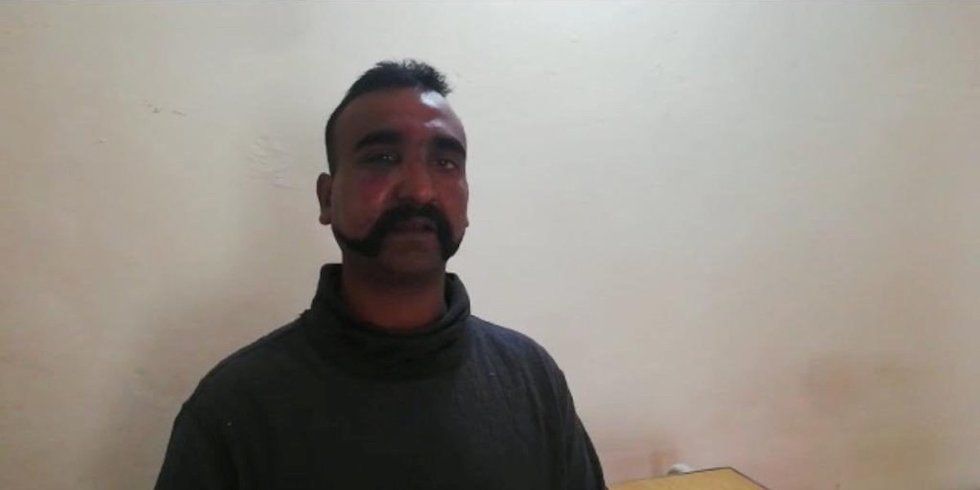 Varthaman in a video released by Pakistani officials. (Inter Service Public Relation handout via Reuters)
According to the witnesses, he then ran, firing shots behind him, and jumped into a small pond where he took out documents and maps, ate some of them and soaked others in water to prevent Pakistan from getting them.
He was then restrained by the locals until Pakistani soldiers arrived.
Abdul Majeed, 40, told Reuters that he was one of the locals who had beaten and thrown stones at Varthaman.
"While in the stream he once again pointed his revolver at us and fearing that he may shoot directly at us, I threw a stone at him," he said.
"Some of us did thrash him... because he had given us a tough time. But later we handed him over to the army personnel."
A witness, who was not named, gave the same details to Pakistan's Dawn newspaper.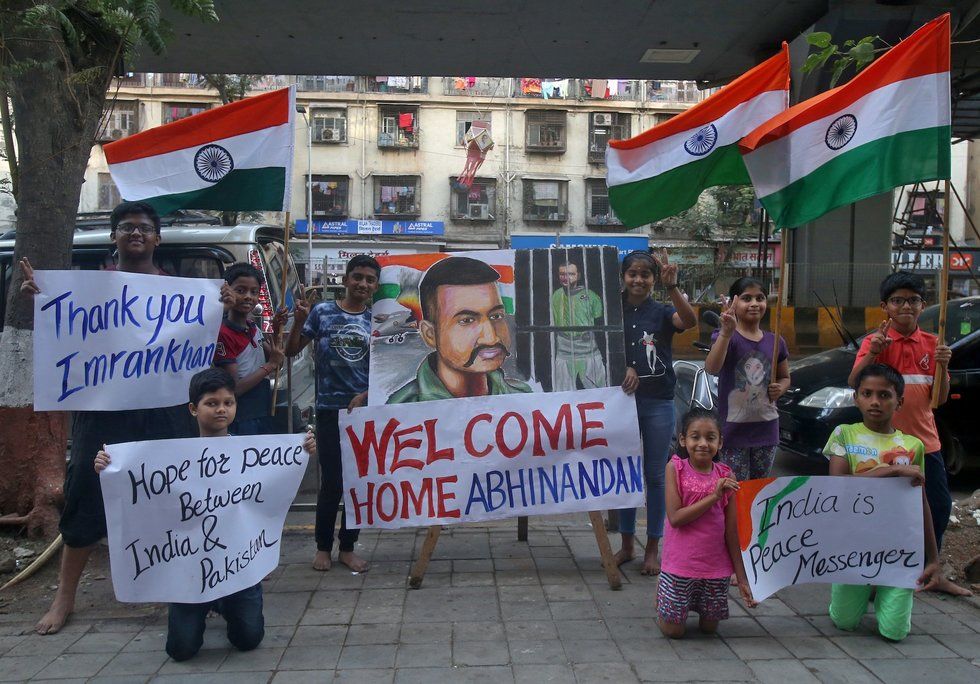 Children holding banners and Indian flags to celebrate the return of Varthaman, who's being described as a hero. (Reuters/Francis Mascarenhas0
Varthaman was kept in Pakistan's custody until Friday, when he was returned to India in what Pakistani Prime Minister Imran Khan called a "peace gesture."
Footage broadcast on Pakistani state TV showed Varthaman, surrounded by soldiers, crossing into India on foot, where he is set to be welcomed as a hero.
Pakistan shared videos of the pilot in their custody
Shortly after his capture, Varthaman was shown in video published by Pakistan with a bloodied face and wearing a blindfold — treatment which experts say could violate international treaties. Pakistan's information ministry later deleted the video on its Twitter account.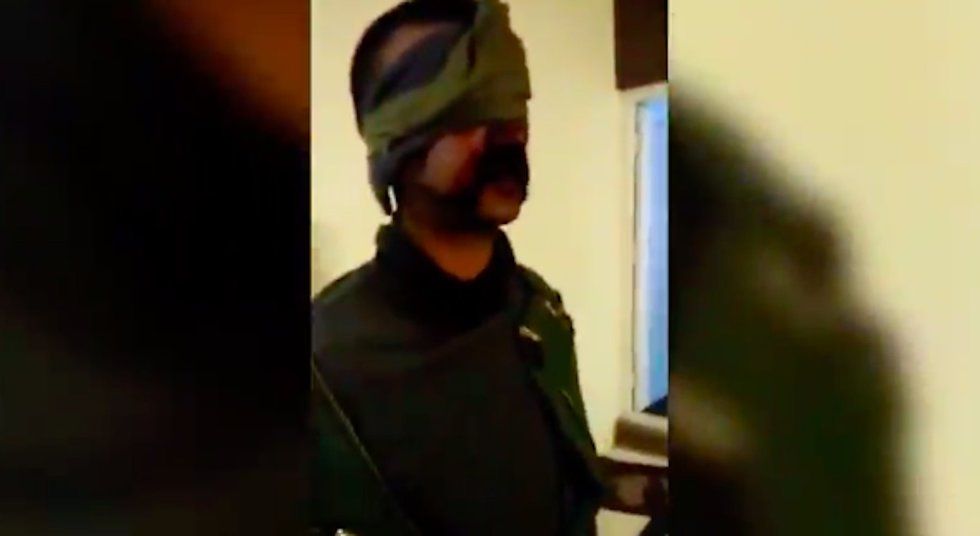 A video tweeted and later deleted by the Pakistan's information ministry showed the pilot blindfolded and with a bloody face. (Pakistan Information Ministry)
In it, he gave his name, rank, and service number, and called his captors "sir."
Officials later shared a second video of the pilot, that shows him drinking tea and saying that Pakistan is treating him well.

"I would like to put this on record & I would not change my statement if I go back to my country. The officers of the Pakistan Army have looked after me very well. They are thorough gentlemen," he says in the video.
The videos helped Varthaman become the face of the conflict between the two nuclear powers, which could have become a "mutual suicide" for the two nations had it escalated into war, Pakistan's foreign minister told CNN.

Indian military officials said on Thursday that they welcomed the return of Varthaman, but refused to say if they considered his return to be a de-escalation of the conflict, Reuters reported.
Air Vice Marshal RGK Kapoor said at a joint news conference of India's three armed forces on Thursday evening that India is "happy" that Varthaman was to be released the next day. He did not answer reporters who asked if whether this would de-escalate the conflict.

Shah Mehmood Qureshi, Foreign Minister of Pakistan, told CNN's Christiane Amanpour that Pakistan wants "peace and stability in the region." Khan previously questioned whether the countries could "afford miscalculation" given the devastation that could be caused by their nuclear arsenals.
World leaders such as the United States, EU, and China had urged the countries to exercise caution, emphasizing the importance of peace in the region.
Read more from Business Insider:
WATCH NEXT: The Guy Who Reportedly Sent His Resume To ISIS
February 21, 2020 at 08:02 AM
news
In this June 16, 2018 photo, Taliban fighters greet residents in the Surkhroad district of Nangarhar province, east of Kabul, Afghanistan, (AP Photo/Rahmat Gul)
KABUL/WASHINGTON/PESHAWAR, Pakistan (Reuters) - The United States and the Taliban will sign an agreement on Feb. 29 at the end of a week long period of violence reduction in Afghanistan, U.S. Secretary of State Mike Pompeo and the Taliban said on Friday.
A developmental, early variant of the Common Unmanned Surface Vehicle (CUSV) autonomously conducts maneuvers on the Elizabeth River during its demonstration during Citadel Shield-Solid Curtain 2020 at Naval Station Norfolk on Feb. 12, 2020. (U.S. Navy/Mass Communication Specialist 3rd Class Rebekah M. Rinckey)
Large cargo ships, small fishing boats and other watercraft sail safely past Naval Station Norfolk every day, but there's always a possibility that terrorists could use any one of them to attack the world's largest naval base.
While Navy security keeps a close eye on every vessel that passes, there's an inherent risk for the sailors aboard small patrol boats who are tasked with helping keep aircraft carriers, submarines and destroyers on base safe from waterborne attacks.
So the Navy experimented Wednesday to test whether an unmanned vessel could stop a small boat threatening the base from the Elizabeth River.
February 20, 2020 at 09:37 AM
news
U.S. soldiers inspect the site where an Iranian missile hit at Ain al-Asad air base in Anbar province, Iraq January 13, 2020. (REUTERS/John Davison)
In the wee hours of Jan. 8, Tehran retaliated over the U.S. killing of Iran's most powerful general by bombarding the al-Asad air base in Iraq.
Among the 2,000 troops stationed there was U.S. Army Specialist Kimo Keltz, who recalls hearing a missile whistling through the sky as he lay on the deck of a guard tower. The explosion lifted his body - in full armor - an inch or two off the floor.
Keltz says he thought he had escaped with little more than a mild headache. Initial assessments around the base found no serious injuries or deaths from the attack. U.S. President Donald Trump tweeted, "All is well!"
The next day was different.
"My head kinda felt like I got hit with a truck," Keltz told Reuters in an interview from al-Asad air base in Iraq's western Anbar desert. "My stomach was grinding."
February 19, 2020 at 05:59 PM
news
A U.S. military vehicle runs a Russian armored truck off the road in Syria near the Turkish border town of Qamishli (Video screencap)
A video has emerged showing a U.S. military vehicle running a Russian armored truck off the road in Syria after it tried to pass an American convoy.
Questions still remain about the incident, to include when it occurred, though it appears to have taken place on a stretch of road near the Turkish border town of Qamishli, according to The War Zone.
February 19, 2020 at 10:35 AM
Opinion
(U.S. Marine Corps photo)
Editor's Note: The following is an op-ed. The opinions expressed are those of the author, and do not necessarily reflect the views of Task & Purpose.

We are women veterans who have served in the Army, Navy, and Marine Corps. Our service – as aviators, ship drivers, intelligence analysts, engineers, professors, and diplomats — spans decades. We have served in times of peace and war, separated from our families and loved ones. We are proud of our accomplishments, particularly as many were earned while immersed in a military culture that often ignores and demeans women's contributions. We are veterans.

Yet we recognize that as we grew as leaders over time, we often failed to challenge or even question this culture. It took decades for us to recognize that our individual successes came despite this culture and the damage it caused us and the women who follow in our footsteps. The easier course has always been to tolerate insulting, discriminatory, and harmful behavior toward women veterans and service members and to cling to the idea that 'a few bad apples' do not reflect the attitudes of the whole.
Recent allegations that Secretary of Veterans Affairs Robert Wilkie allegedly sought to intentionally discredit a female veteran who reported a sexual assault at a VA medical center allow no such pretense.