A notorious ISIS war bride wants to return to sweet home Alabama
February 18, 2019 at 07:09 AM
news
A photo shared by Hoda Muthana on her now-closed @ZumarulJannaTwitter account. (Twitter/ZumarulJannah)
An American woman who left her life in Alabama to join ISIS in Syria, where she called for violent attacks on U.S. soil, has asked for forgiveness and said she would like to return.
---
Hoda Muthana was a so-called ISIS bride, women who left their home countries to join the terror group in Syria and Iraq, where they married fighters.
Muthana made a name for herself tweeting violent calls to action from her new home in Syria, including a request for people to use pick-up trucks to ram into crowds of people on patriotic holidays.
In a March 2015 tweet, she said: "Go on drive bys, and spill all of their blood, or rent a big truck and drive all over them. Veterans, Patriots, Memorial, etc day … Kill them."
Since then, ISIS has lost almost all of its territory. Muthana now lives in a Syrian refugee camp, where she gave an interview to the Guardian and said she wanted to go back to the US.
She told the newspaper she was "brainwashed" and regrets her actions, and that she wants to go "home".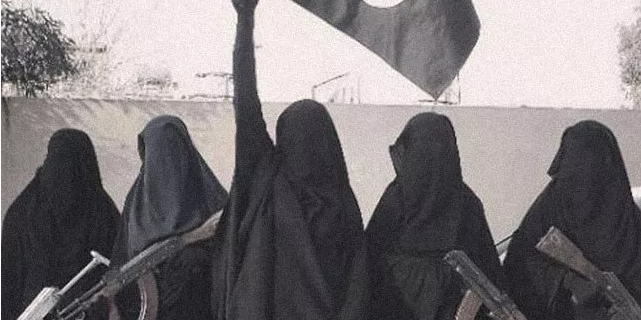 A photo posted by Hoda Muthana on her Twitter account. (Twitter/ZumarulJannah)
Kurdish forces captured Muthana in January 2019 after she deserted from the village of Susa, near the ISIS front line settlement of Baghuz, the Guardian reported.
"I was brainwashed once and my friends are still brainwashed," she said in the interview, conducted in the al-Hawl refugee camp, which houses 39,000 people.
While living under ISIS she post from the now-deleted account @ZumarulJannah. She told the Guardian her Twitter account was managed by others.
Muthana graduated from Hoover High School in 2013, and enrolled at the University of Alabama at Birmingham to read business, before fleeing the U.S. for Syria in November 2014 under guise of going to visit Atlanta, BuzzFeed reported in 2015.
She was radicalized online, the report said, and used a phone given to her by her father to access conservative Islamic lectures online. From there she started a popular Twitter account.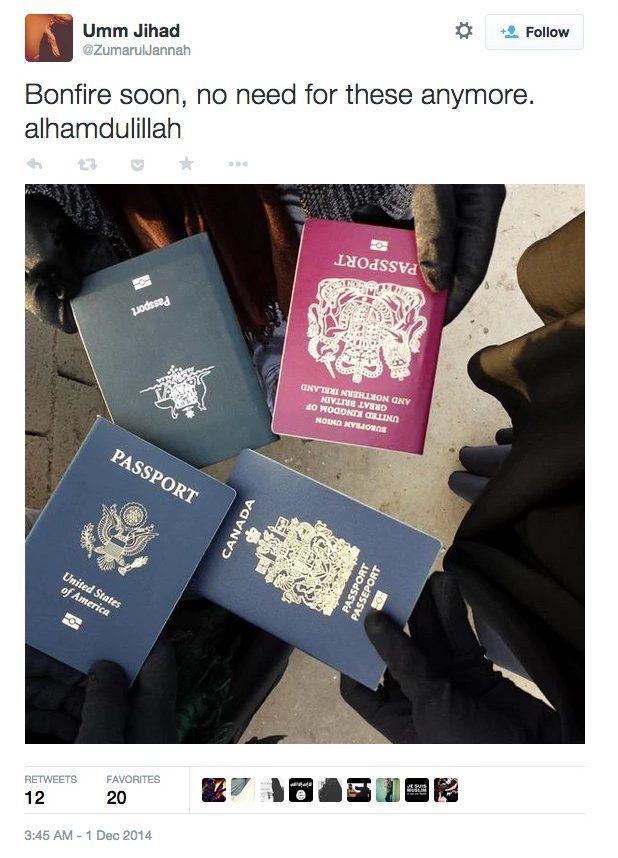 A tweet from Hoda Muthana showing passports. She wrote: "Bonfire soon, no need for these anymore." (Twitter/ZumarulJannah)
She told BuzzFeed that she enrolled at the University of Alabama at Birmingham, and then pulled out to get her tuition costs money returned. She then used that money to buy a plane ticket to Turkey.
Her father told BuzzFeed: "I believe she been brainwashed. She's not that kind of girl."
Speaking to the Guardian, Muthana said: "We were basically in the time of ignorance […] and then became jihadi, if you like to describe it that way. I thought I was doing things correctly for the sake of God."
"I look back now and I think I was very arrogant. Now I'm worried about my son's future. In the end I didn't have many friends left, because the more I talked about the oppression of ISIS the more I lost friends."
When asked by the Guardian what she would say to U.S. officials, she said: "I would tell them please forgive me for being so ignorant, and I was really young and ignorant and I was 19 when I decided to leave."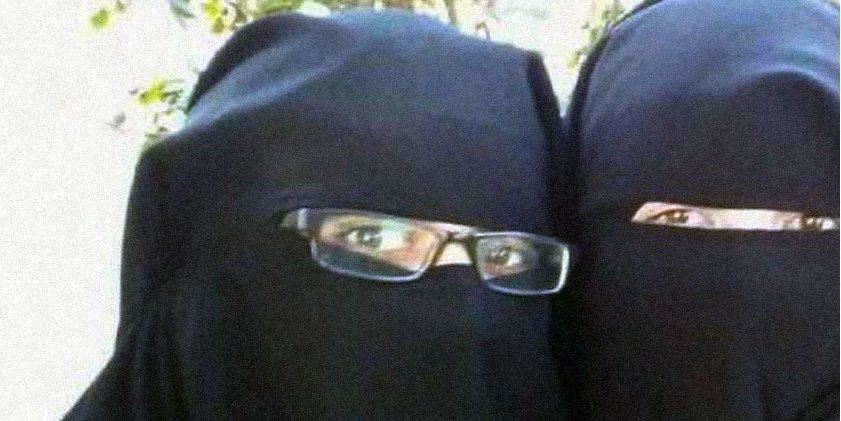 A photo of Hoda Muthana shared on her Twitter account. (Twitter/ZumarulJannah)
"I believe that America gives second chances. I want to return and I'll never come back to the Middle East. America can take my passport and I wouldn't mind."
ISIS was "very mind-blowing," she said. "It was like a movie. You read one book and think you know everything. I'm really traumatized by my experience. We starved and we literally ate grass."
Another woman at the al-Hawl refugee camp, Shamima Begum, 19, fled the UK to join ISIS in 2015, and also wants to return home to Britain with her newborn child.
"I was hoping that maybe for the sake of me and my child they'd let me come back," she told Sky News on Saturday.
On Sunday, U.S. President Donald Trump tweeted: "The United States is asking Britain, France, Germany and other European allies to take back over 800 ISIS fighters that we captured in Syria and put them on trial."
"The caliphate is ready to fall. The alternative is not a good one in that we will be forced to release them ..."
Trump had declared victory over ISIS on December 19, a claim he used to justify an abrupt and immediate withdrawal from Syria.
He later walked back the claim, saying his decision to pull roughly 2,000 troops means other countries will have to continue the fight against them.
Read more from Business Insider:
WATCH NEXT: The Guy Who Reportedly Sent His Resume To ISIS
December 10, 2019 at 06:26 PM
news
The Pentagon will implement an "operational pause" on the training of foreign students inside the United States as the military undergoes a review of screening procedures, according to senior defense officials.
December 10, 2019 at 06:25 PM
news
In this Nov 24, 2009, file photo, a University of Phoenix billboard is shown in Chandler, Ariz. The University of Phoenix for-profit college and its parent company will pay $50 million and cancel $141 million in student debt to settle allegations of deceptive advertisement brought by the Federal Trade Commission. (AP Photo/Matt York)
WASHINGTON (Reuters) - The University of Phoenix, which is owned by Apollo Education Group, has agreed to pay $191 million to settle charges that it falsely advertised close ties with major U.S. companies that could lead to jobs for students, the Federal Trade Commission said on Tuesday.
The University of Phoenix will pay $50 million to the FTC to return to consumers and cancel $141 million in student debt.
Some of the advertisements targeted military and Hispanic students, the FTC said.
Shane Reynolds, UCF Research Associate demonstrates an AR/VR system to train soldiers and Marines on how to improve their ability to detect improvised explosive devices. (Orlando Sentinel/Ricardo Ramirez Buxeda)
As UCF research associate Shane Reynolds guides his avatar over a virtual minefield using his iPad, small beeps and whistles reveal the location of the scourge of the modern war zone: Improvised Explosive Devices, or IEDs. He must take his time to sweep every last inch of the playing field to make sure his character doesn't miss any of the often-deadly bombs.
Despite his slow pace, Reynolds makes a small misstep and with a kaboom! a bomb blows up his player, graphically scattering body parts.
December 10, 2019 at 05:21 PM
news
US Navy
The Navy has posthumously awarded aviator and aircrewman wings to three sailors killed in last week's shooting at Naval Air Station Pensacola.
"The selfless acts of heroism displayed by these young Sailors the morning of Dec. 6 are nothing short of incredible," Chief of Naval Air Training Rear Adm. Daniel Dwyer said in a statement.
(U.S. Marine Corps/Lance Cpl. Melissa I. Ugalde)
Ah, Heartbreak Ridge, the creme de la' creme of moto-movies that gave us such gems as: "Recon platoon kicks butt!" and the tried-and-tested method of firing a bunch of AK rounds at your Marines and calling it a teachable moment.