ISIS propaganda blooper video shows a recruit botching his pledge of allegiance with an assist from some furious birds
August 14, 2019 at 10:06 AM
news
A still from a behind-the-scenes video of ISIS recruits in Yemen reaffirming their vows. (
Hidaya Media/Twitter/Elisabeth Kendall)
A new video of ISIS recruits trying to pledge their allegiance to the caliphate shows a recruit fluffing his lines and being interrupted by screeching bird calls.
---
A video of a recruits in Yemen, unearthed by Dr Elisabeth Kendall, a senior research fellow at Oxford University's Pembroke College, shows a bearded youth coming struggling to get through his vows.
The footage was recorded in 2017, when ISIS still held territory in Iraq and Syria, and was attracting recruits from further afield.
Kendall told Business Insider the clip was released this week by Hidaya Media, a broadcaster associated with al-Qaeda's operations around the Red Sea.
ISIS and al-Qaeda are rival jihadist organizations and have been known to insult and belittle each other.
Although ISIS has been deprived of its former territory in Syria and Iraq, the organization continues. Both ISIS and al-Qaeda are currently fighting over territory in Yemen.

In the video the insurgent, identified by The Independent as Abu Muhammad al-Adeni, trips over his lines, prompting a fellow recruit to say: "Stay calm, keep cool".
On two occasions his speech is cut short by loud, intrusive bird calls. The man has a Janbiya knife tucked into his belt.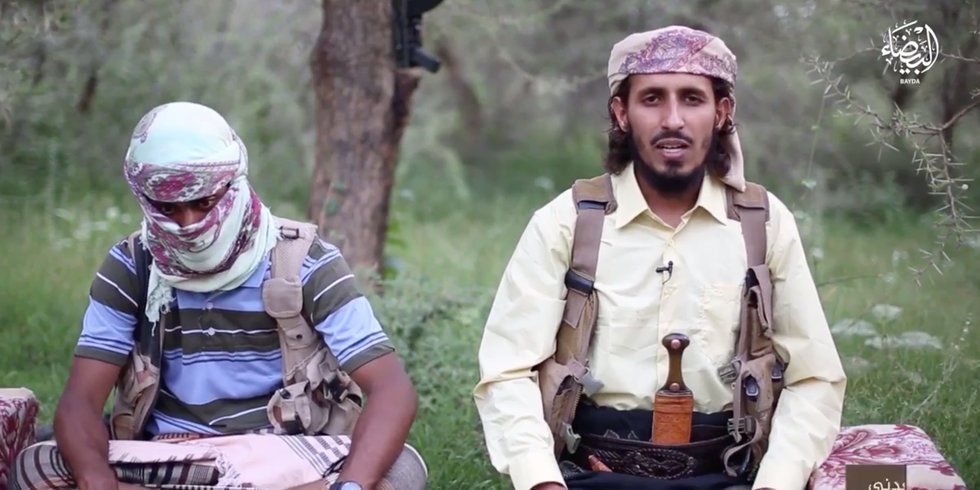 A still showing ISIS recruits reaffirming their vows in a video first shared by the terror cell in 2017. (Twitter/Elisabeth Kendall)
The footage may have been found by al-Qaeda operatives when they took over an ISIS camp in northwestern al-Bayda, Yemen, earlier this summer, Kendall told Business Insider.
Footage from a different part of the shoot later made it into an actual ISIS propaganda video, released in September 2017. It shows a series of young recruits gathering together, celebrating, affirming their vows to the caliphate, and eating.
Read more from Business Insider:
Sailors from Coastal Riverine Squadron (CRS) 1 conduct category III qualifications on the M2A1 heavy machine gun at Marine Corps Base Camp Pendleton, Calif. CRS-1 is qualifying for future mobilization requirements. (U.S. Navy/Hospital Corpsman 1st Class Kenji Shiroma)
The Navy is considering giving Ma Deuce a quiet new update.
A competitor performs push-ups during the physical fitness event at the Minnesota Army National Guard Best Warrior Competition on April 4, 2019, at Camp Ripley, Minnesota. (Minnesota National Guard photo by Sgt. Sebastian Nemec)
Despite what you may have heard, the Army has not declared war on mustaches.
The Army W.T.F! Moments Facebook page on Monday posted a memo written by a 3rd Infantry Division company commander telling his soldiers that only the fittest among them will be allowed to sprout facial hair under their warrior nostrils.
"During my tenure at Battle Company, I have noticed a direct correlation between mustaches and a lack of physical fitness," the memo says. "In an effort to increase the physical fitness of Battle Company, mustaches will not be authorized for any soldier earning less than a 300 on the APFT [Army Physical Fitness Test]."
Task & Purpose
I don't always drop everything to spend a few hours with a short, squat Marine, but when I do, you can bet it's for Chesty.
August 20, 2019 at 12:43 PM
Humor
A U.S. Army Soldier assigned to the 3rd Battalion, 21st Infantry Regiment, Fort Wainwright, Alaska, consoles a fellow Soldier after sleeping on the ground in a designated sleeping area on another cold evening, between training exercises during NTC 17-03, National Training Center, Ft. Irwin, CA., Jan. 15, 2017. (U.S. Army/Spc. Tracy McKithern)
The Defense Visual Information Distribution Service (DVIDS) is the largest official database of U.S. military media available for public consumption. It is also an occasional source of unexpected laughs, like this gem from a live fire exercise that a public affairs officer simply tagged 'Fire mortar boom.' In the world of droll data entry and too many acronyms, sometimes little jokes are their own little form of rebellion, right?
But some DVIDS uploads, however, come with captions and titles that cut right to the core, perfectly capturing the essence of life in the U.S. military in a way that makes you sigh, facepalm, and utter a mournful, 'too real.'
August 20, 2019 at 10:51 AM
news
The U.S. military does not need Iraqi permission to fly close air support and casualty evacuation missions for U.S. troops in combat, a top spokesman for the U.S.-led coalition fighting ISIS clarified on Tuesday.
Army Col. James Rawlinson clarified that the Iraqis do not need to approve missions in emergency circumstances after Task & Purpose reported on Monday that the U.S. military needed permission to fly CAS missions for troops in a fight.