ISIS propaganda blooper video shows a recruit botching his pledge of allegiance with an assist from some furious birds
August 14, 2019 at 10:06 AM
news
A still from a behind-the-scenes video of ISIS recruits in Yemen reaffirming their vows. (
Hidaya Media/Twitter/Elisabeth Kendall)
A new video of ISIS recruits trying to pledge their allegiance to the caliphate shows a recruit fluffing his lines and being interrupted by screeching bird calls.
---
A video of a recruits in Yemen, unearthed by Dr Elisabeth Kendall, a senior research fellow at Oxford University's Pembroke College, shows a bearded youth coming struggling to get through his vows.
The footage was recorded in 2017, when ISIS still held territory in Iraq and Syria, and was attracting recruits from further afield.
Kendall told Business Insider the clip was released this week by Hidaya Media, a broadcaster associated with al-Qaeda's operations around the Red Sea.
ISIS and al-Qaeda are rival jihadist organizations and have been known to insult and belittle each other.
Although ISIS has been deprived of its former territory in Syria and Iraq, the organization continues. Both ISIS and al-Qaeda are currently fighting over territory in Yemen.

In the video the insurgent, identified by The Independent as Abu Muhammad al-Adeni, trips over his lines, prompting a fellow recruit to say: "Stay calm, keep cool".
On two occasions his speech is cut short by loud, intrusive bird calls. The man has a Janbiya knife tucked into his belt.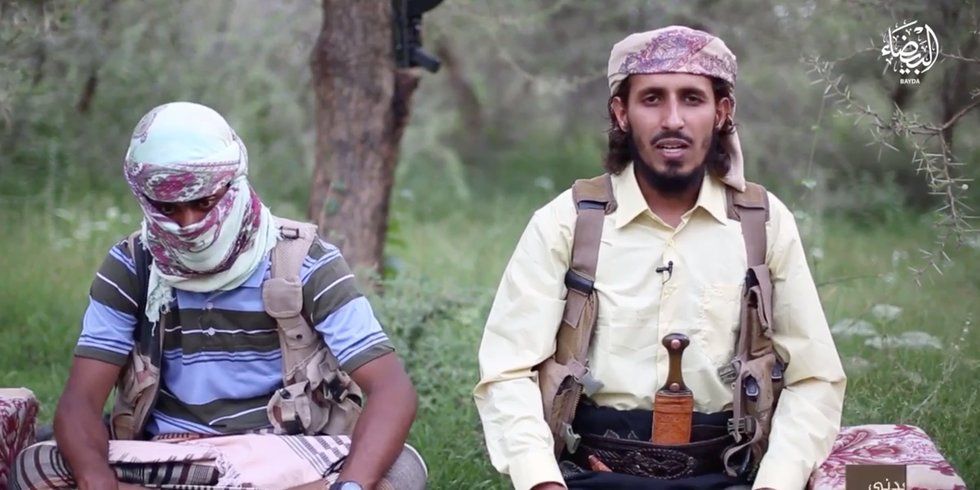 A still showing ISIS recruits reaffirming their vows in a video first shared by the terror cell in 2017. (Twitter/Elisabeth Kendall)
The footage may have been found by al-Qaeda operatives when they took over an ISIS camp in northwestern al-Bayda, Yemen, earlier this summer, Kendall told Business Insider.
Footage from a different part of the shoot later made it into an actual ISIS propaganda video, released in September 2017. It shows a series of young recruits gathering together, celebrating, affirming their vows to the caliphate, and eating.
Read more from Business Insider:
December 07, 2019 at 04:43 PM
news
Pearl Harbor survivor Lauren Bruner attends the dual interment of fellow USS Arizona survivors John D. Anderson, boatswain's mate 2nd class, and Clarendon R. Hetrick, seaman 1st class, at the USS Arizona Memorial in Pearl Harbor, Hawaii, as part of the 75th anniversary of the attacks on Pearl Harbor. (U.S. Navy/Petty Officer 2nd Class Somers Steelman)
Just before 8 a.m. on a Sunday morning 78 years ago, Lauren Bruner was preparing for church services and a date that would follow with a girl he'd met outside his Navy base.
The 21-year-old sailor was stationed as a fire controlman aboard the U.S. battleship USS Arizona, overseeing the vessel's .50-caliber guns.
Then alarms rang out. A Japanese plane had bombed the ship in a surprise attack.
It took only nine minutes for the Arizona to sink after the first bomb hit. Bruner was struck by gunfire while trying to flee the inferno that consumed the ship, the second-to-last man to escape the explosion that killed 1,177, including his best friend; 335 survived.
More than 70% of Bruner's body was burned. He was hospitalized for weeks.
Now, nearly eight decades after that fateful day, Bruner's ashes will be delivered to the sea that cradled his fallen comrades, stored in an urn inside the battleship's wreckage.
December 07, 2019 at 11:41 AM
news
Joshua Kaleb Watson (Facebook via Business Insider)
Editor's Note: This article originally appeared on Business Insider.
Joshua Kaleb Watson has been identified as one of the victims of a shooting at the Naval Air Station Pensacola, CBS News reported.

The 23-year-old Alabama native and Naval Academy graduate was named to the Academy's prestigious Commandant's and Dean's lists, and also competed on the rifle team, Alabama's WTVY reported.
December 07, 2019 at 04:33 PM
news
Mohammed Saeed Alshamrani (Courtesy photo)
PENSACOLA, Fla. (Reuters) - The Saudi airman accused of killing three people at a U.S. Navy base in Florida appeared to have posted criticism of U.S. wars and quoted slain al Qaeda leader Osama bin Laden on social media hours before the shooting spree, according to a group that monitors online extremism.
Federal investigators have not disclosed any motive behind the attack, which unfolded at dawn on Friday when the Saudi national is said to have began firing a handgun inside a classroom at the Naval Air Station Pensacola.
Saudi air force Second Lt. Mohammed Saeed al-Shamrani (NBC News)
The Saudi military officer who shot and killed 3 people at Naval Air Station Pensacola on Friday reportedly hosted a "dinner party" the week before the attack "to watch videos of mass shootings," the Associated Press reports, citing an unnamed U.S. official.
December 07, 2019 at 11:07 AM
news
Soldiers from the 3d U.S. Infantry Regiment (The Old Guard) hold folded flags before military funeral honors. (U.S. Army/Elizabeth Fraser)