ISIS propaganda blooper video shows a recruit botching his pledge of allegiance with an assist from some furious birds
August 14, 2019 at 10:06 AM
news
A still from a behind-the-scenes video of ISIS recruits in Yemen reaffirming their vows. (
Hidaya Media/Twitter/Elisabeth Kendall)
A new video of ISIS recruits trying to pledge their allegiance to the caliphate shows a recruit fluffing his lines and being interrupted by screeching bird calls.
---
A video of a recruits in Yemen, unearthed by Dr Elisabeth Kendall, a senior research fellow at Oxford University's Pembroke College, shows a bearded youth coming struggling to get through his vows.
The footage was recorded in 2017, when ISIS still held territory in Iraq and Syria, and was attracting recruits from further afield.
Kendall told Business Insider the clip was released this week by Hidaya Media, a broadcaster associated with al-Qaeda's operations around the Red Sea.
ISIS and al-Qaeda are rival jihadist organizations and have been known to insult and belittle each other.
Although ISIS has been deprived of its former territory in Syria and Iraq, the organization continues. Both ISIS and al-Qaeda are currently fighting over territory in Yemen.

In the video the insurgent, identified by The Independent as Abu Muhammad al-Adeni, trips over his lines, prompting a fellow recruit to say: "Stay calm, keep cool".
On two occasions his speech is cut short by loud, intrusive bird calls. The man has a Janbiya knife tucked into his belt.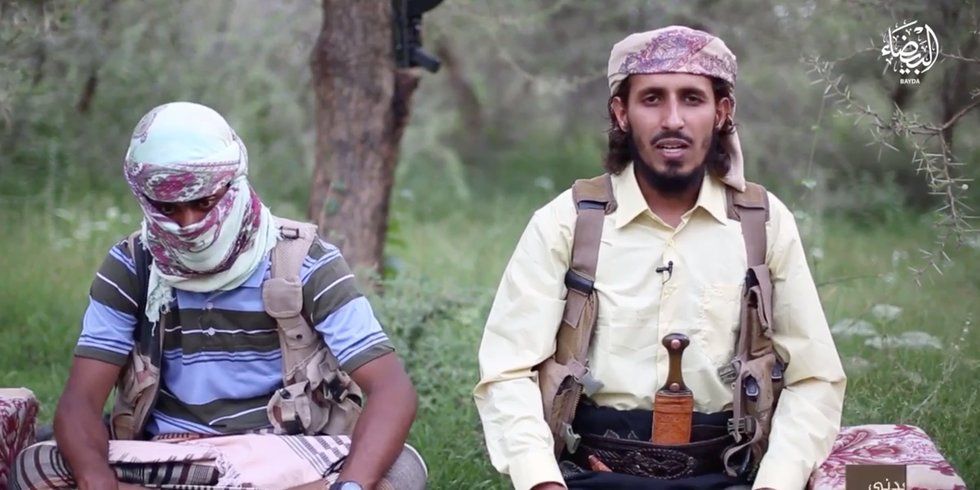 A still showing ISIS recruits reaffirming their vows in a video first shared by the terror cell in 2017. (Twitter/Elisabeth Kendall)
The footage may have been found by al-Qaeda operatives when they took over an ISIS camp in northwestern al-Bayda, Yemen, earlier this summer, Kendall told Business Insider.
Footage from a different part of the shoot later made it into an actual ISIS propaganda video, released in September 2017. It shows a series of young recruits gathering together, celebrating, affirming their vows to the caliphate, and eating.
Read more from Business Insider:
January 26, 2020 at 05:05 AM
news
Newport News Police Chief Steve Drew becomes emotional while speaking about officer Katie Thyne during a press conference Friday morning Jan. 24, 2020 in Newport News, Va. Officer Thyne died Thursday night after being dragged during a traffic stop. (Daily Press/Jonathon Gruenke via Tribune News Service)
NEWPORT NEWS, Va. — The police officer killed during a traffic stop in Newport News on Thursday night was a well-liked young officer who just graduated from the police academy seven months ago, Police Chief Steve Drew said at a somber news conference Friday.
January 26, 2020 at 05:00 AM
news
Calvin Cooper (Facebook via Albuquerque Journal)
The airman who struck and killed a woman with his car last year near Kirtland Air Force Base is now headed to trial and facing possible prison time in the incident.
January 25, 2020 at 10:22 PM
History
Audie Murphy (U.S. Army photo)
Editor's note: a version of this post first appeared in 2018
On January 26, 1945, the most decorated U.S. service member of World War II earned his legacy in a fiery fashion.
January 25, 2020 at 05:44 PM
popular
A military funeral at Fort Jackson National Cemetery in 2014. Photo: Sgt. 1st Class Joel Quebec/U.S. Army
A U.S. soldier died on Friday while in Syria supporting Operation Inherent Resolve, the Defense Department announced on Saturday.
January 25, 2020 at 03:15 PM
popular
DoD photo
A word that could once not be mentioned in court — torture — was front and center on Friday as a military tribunal prepares to take on the long-delayed trial of Khalid Shaikh Mohammed, the confessed chief plotter of the 9/11 attacks, and four other defendants.
"I know torture's a dirty word," defense attorney Walter Ruiz told the tribunal. "I'll tell you what, judge, I'm not going to sanitize this for their concerns."