ISIS propaganda blooper video shows a recruit botching his pledge of allegiance with an assist from some furious birds
August 14, 2019 at 10:06 AM
news
A still from a behind-the-scenes video of ISIS recruits in Yemen reaffirming their vows. (
Hidaya Media/Twitter/Elisabeth Kendall)
A new video of ISIS recruits trying to pledge their allegiance to the caliphate shows a recruit fluffing his lines and being interrupted by screeching bird calls.
---
A video of a recruits in Yemen, unearthed by Dr Elisabeth Kendall, a senior research fellow at Oxford University's Pembroke College, shows a bearded youth coming struggling to get through his vows.
The footage was recorded in 2017, when ISIS still held territory in Iraq and Syria, and was attracting recruits from further afield.
Kendall told Business Insider the clip was released this week by Hidaya Media, a broadcaster associated with al-Qaeda's operations around the Red Sea.
ISIS and al-Qaeda are rival jihadist organizations and have been known to insult and belittle each other.
Although ISIS has been deprived of its former territory in Syria and Iraq, the organization continues. Both ISIS and al-Qaeda are currently fighting over territory in Yemen.

In the video the insurgent, identified by The Independent as Abu Muhammad al-Adeni, trips over his lines, prompting a fellow recruit to say: "Stay calm, keep cool".
On two occasions his speech is cut short by loud, intrusive bird calls. The man has a Janbiya knife tucked into his belt.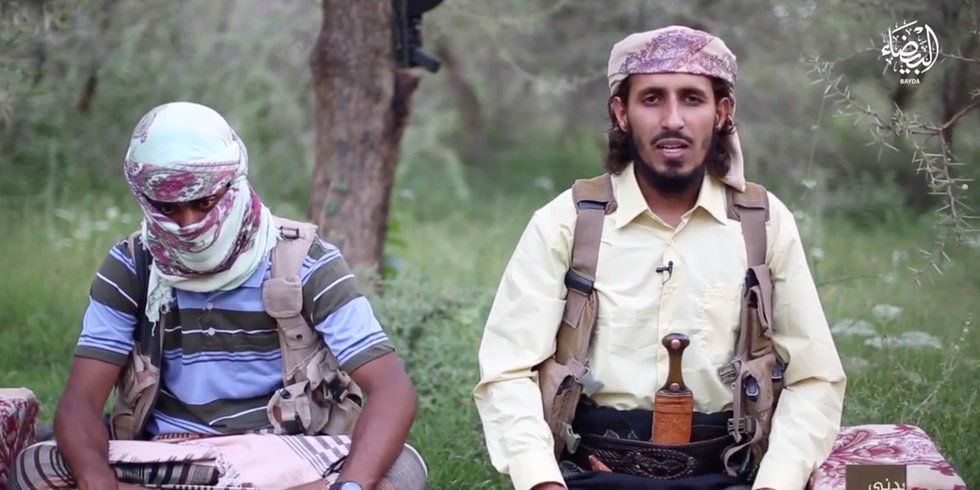 A still showing ISIS recruits reaffirming their vows in a video first shared by the terror cell in 2017. (Twitter/Elisabeth Kendall)
The footage may have been found by al-Qaeda operatives when they took over an ISIS camp in northwestern al-Bayda, Yemen, earlier this summer, Kendall told Business Insider.
Footage from a different part of the shoot later made it into an actual ISIS propaganda video, released in September 2017. It shows a series of young recruits gathering together, celebrating, affirming their vows to the caliphate, and eating.
Read more from Business Insider:
October 21, 2019 at 06:10 PM
news
Editor's Note: This article by Hope Hodge Seck originally appeared on Military.com, a leading source of news for the military and veteran community.

In the wake of a heartwarming viral video that was featured everywhere from Good Morning America to the Daily Mail comes a disheartening revelation: The 84-year-old self-described Army nurse cranking out push-ups in her crisp Vietnam-era uniform might not be who she said she was.
Maggie DeSanti, allegedly a retired Army lieutenant colonel who rappeled out of helicopters in Vietnam, was captured in a video challenging a TSA agent to a push-up competition ahead of a flight to Washington, D.C., with the Arizona chapter of the organization Honor Flight on Oct. 16. The video soon was everywhere, and many who shared it, including Honor Flight, hailed DeSanti's toughness and spirit.
October 21, 2019 at 05:13 PM
news
The summer before sixth grade, Cindy Dawson went to an air show with her father and was enamored by the flight maneuvers the pilots performed.
"I just thought that would be the coolest thing that anybody could ever do," she said, especially having already heard stories about her grandfather flying bombers during World War II with the Army Air Corps.
So by the first day of school, she had already decided what she wanted to be when she grew up.
(ABC News)
Peach schnapps, sex on the beach, and piña colada may be familiar drinks to anyone who's spent an afternoon (or a whole day) getting plastered on an ocean-side boardwalk, but they're also specialty desserts at Ray's Boozy Cupcakes, Etc, a bakery in Voorhees, New Jersey run by a 93-year-old World War II veteran named Ray Boutwell.
October 21, 2019 at 03:28 PM
news
Instagram/US Coast Guard
A former senior Coast Guard official has been accused of shoplifting from a Philadelphia sex shop.
Rear Adm. Francis "Stash" Pelkowski (Ret.) was accused of stealing a tester item from Kink Shoppe on Oct. 8, according to an Instagram post by the store that appeared online two days later. In the post, which included apparent security camera footage of the incident, a man can be seen looking at products on a counter before picking up an item and placing it in his pocket before turning and walking away.
The Instagram post identified the man as Pelkowski, and said it wished him "all the best in his retirement, a sincere thank you for your service, and extreme and utter disappointment in his personal morals."
October 21, 2019 at 02:24 PM
news
SAN DIEGO —The Marines say changes in the way they train recruits and their notoriously hard-nosed drill instructors have led to fewer incidents of drill instructor misconduct, officials told the Union-Tribune.
Their statement about training followed an Oct. 5 Washington Post report revealing that more than 20 Marines at the San Diego boot camp have been disciplined for misconduct since 2017, including cases of physical attacks and racist and homophobic slurs. The story also was published in the Union-Tribune.