Here's what happened to that Japanese F-35 that mysteriously disappeared in the Pacific
June 10, 2019 at 10:34 AM
news
(JASDF's 3rd Air Wing, 302nd Tactical Fighter Squadron)
The F-35 that went missing in April crashed after the pilot lost his spatial awareness and slammed the fighter into the Pacific Ocean at almost 700 mph, the Japanese defense ministry said Monday, according to multiple reports.

A Japan Air Self-Defense Force (JASDF) F-35A Joint Strike Fighter piloted by Maj. Akinori Hosomi of the 3rd Air Wing's 302nd Tactical Fighter Squadron mysteriously vanished from radar on April 9 about 85 miles east of Misawa Air Base.
The U.S and Japan dispatched military assets to assist in search and rescue operations. The U.S. ended its search in May, but the Japanese military kept going until last week.
---
"We believe it highly likely," Defense Minister Takeshi Iwaya explained to reporters Monday, "the pilot was suffering from vertigo or spatial disorientation and wasn't aware of his condition. It can affect any pilot regardless of their experience." The 41-year-old major had over 3,200 flight hours, including 60 hours on the F-35, under his belt at the time of the crash.
This conclusion was reached after careful analysis of the radar and flight control data, as well as conversations with other F-35 pilots.
The pilot did not send out a distress signal indicating that he thought he was in trouble, and there is no indication he tried to eject. Furthermore, there is no evidence the major tried to pull up as the fighter's onboard proximity warning system, which was presumably alerting him of an imminent collision, Reuters reported.
The Japanese defense ministry has ruled out a loss of consciousness or any problem with the plane as an explanation for the crash. Nonetheless, all Japanese F-35 pilots are being re-trained on avoiding spatial disorientation and gravity-induced loss of consciousness. All of its stealth fighters are currently grounded.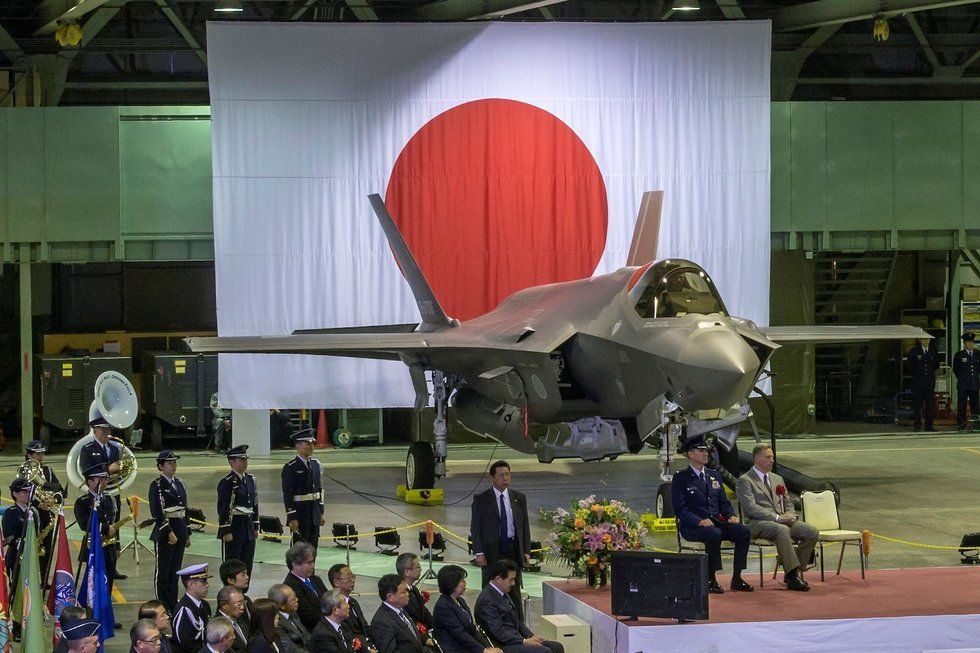 Senior leaders from Japan's Ministry of Defense, US Forces Japan, Pacific Air Forces, and Lockheed Martin at a Japan Air Self-Defense Force hangar to welcome the first operational F-35A Lightning II to JASDF's 3rd Air Wing, at Misawa Air Base, Japan, February 24, 2018(U.S. Air Force/Tech. Sgt. Benjamin W. Stratton)
The ministry said in a statement that the fifth-generation fighter, following a rapid descent from an altitude of 31,500 feet, was flying 1,000 feet above the ocean's surface at a speed of about 1,100 kph (683 mph) when the jet inexplicably disappeared from radar, according to Stars and Stripes. The defense ministry explained that the aircraft was destroyed "and parts and fragments scattered across the sea bottom."

On June 3, Japan called off the search for the missing fighter and the remains of the pilot, who was declared deceased at a press conference on June 7 after it was confirmed that body parts found among wreckage discovered shortly after the accident were those of Maj. Hosomi.
The flight data recorder was found during a later deep-water search, but the memory was lost, leaving many questions unanswered.
"It is truly regrettable that we lost such an excellent pilot," Iwaya said late last week. "We truly respect Maj. Hosomi, who was lost while devotedly performing his duty and we extend our heartfelt condolences and offer our deepest sympathies to the family."

Read more from Business Insider:
WATCH NEXT: The F-35 Lightning II Is One Pretty Jet
January 24, 2020 at 11:33 AM
news
Supporters of Iraqi Shi'ite cleric Moqtada al-Sadr carry placards depicting U.S. President Donald Trump at a protest against what they say is U.S. presence and violations in Iraq, duri in Baghdad, Iraq January 24, 2020. (REUTERS/Alaa al-Marjani)
BAGHDAD (Reuters) - Tens of thousands of Iraqis rallied in central Baghdad on Friday calling for the expulsion of U.S. troops, but the protest mostly dissipated after a few hours despite fears of violence following a cleric's call for a "million strong" turnout.
Populist cleric Moqtada al-Sadr convened the march after the U.S. killing of an Iranian general and an Iraqi paramilitary chief in Baghdad this month. His eventual decision to hold it away from a separate anti-government protest camp, and away from the U.S. embassy, looked pivotal in keeping the march peaceful.
World War II veteran and Purple Heart recipient Maj. Bill White, who at 104 is believed to be the oldest living Marine, has received a remarkable outpouring of cards and support from around the world after asking the public for Valentine's Day cards. "It hit me like a ton of bricks. I still can't get over it," he said. (CLIFFORD OTO/THE RECORD)
STOCKTON — Diane Wright opened the door of an apartment at The Oaks at Inglewood, the assisted care facility in Stockton where she is the executive director. Inside, three people busily went through postal trays crammed with envelopes near a table heaped with handmade gifts, military memorabilia, blankets, quilts, candy and the like.
Operation Valentine has generated a remarkable outpouring of support from around the world for retired United States Marine, Maj. Bill White. Earlier this month, a resident at The Oaks, Tony Walker, posted a request on social media to send Valentine's Day cards to the 104-year-old World War II veteran and recipient of the Purple Heart.
Walker believed Maj. White would enjoy adding the cards to his collection of memorabilia. The response has been greater than anyone ever thought possible.
January 24, 2020 at 10:30 AM
news
Editor's Note: This article originally appeared on Radio Free Europe/Radio Free Liberty.
A spokesman for the Taliban has told a Pakistani newspaper that the militant group is hoping to reach an Afghan peace deal with U.S negotiators by the end of January.
The comments by Suhail Shaheen on January 18 to the Dawn newspaper come after negotiators from the Taliban and the United States met for two days of talks in Qatar.
January 24, 2020 at 09:53 AM
news
The three Americans killed in a C-130 crash in Australia on Thursday were all veterans (left to right) Ian H. McBeth, of the Wyoming and Montana Air National Guard; Paul Clyde Hudson, of the Marine Corps; and Rick A. DeMorgan Jr., of the Air Force. (Coulson Aviation courtesy photo)
The three Americans killed in a C-130 air tanker crash while fighting Australian bushfires on Thursday were all identified as military veterans, according to a statement released by their employer, Coulson Aviation.
The oldest of the three fallen veterans was Ian H. McBeth, a 44-year-old pilot who served with the Wyoming Air National Guard and was an active member of the Montana Air National Guard. McBeth "spent his entire career flying C-130s and was a qualified Instructor and Evaluator pilot," said Coulson Aviation. He's survived by his wife Bowdie and three children Abigail, Calvin and Ella.
January 23, 2020 at 07:53 PM
news
MIAMI/JERUSALEM (Reuters) - U.S. President Donald Trump said on Thursday he will release details of his long-delayed peace plan for the Middle East before Israeli Prime Minister Benjamin Netanyahu and his election rival Benny Gantz visit the White House next week.
The political aspects of the peace initiative have been closely guarded. Only the economic proposals have been unveiled.