Here's what happened to that Japanese F-35 that mysteriously disappeared in the Pacific
June 10, 2019 at 10:34 AM
news
(JASDF's 3rd Air Wing, 302nd Tactical Fighter Squadron)
The F-35 that went missing in April crashed after the pilot lost his spatial awareness and slammed the fighter into the Pacific Ocean at almost 700 mph, the Japanese defense ministry said Monday, according to multiple reports.

A Japan Air Self-Defense Force (JASDF) F-35A Joint Strike Fighter piloted by Maj. Akinori Hosomi of the 3rd Air Wing's 302nd Tactical Fighter Squadron mysteriously vanished from radar on April 9 about 85 miles east of Misawa Air Base.
The U.S and Japan dispatched military assets to assist in search and rescue operations. The U.S. ended its search in May, but the Japanese military kept going until last week.
---
"We believe it highly likely," Defense Minister Takeshi Iwaya explained to reporters Monday, "the pilot was suffering from vertigo or spatial disorientation and wasn't aware of his condition. It can affect any pilot regardless of their experience." The 41-year-old major had over 3,200 flight hours, including 60 hours on the F-35, under his belt at the time of the crash.
This conclusion was reached after careful analysis of the radar and flight control data, as well as conversations with other F-35 pilots.
The pilot did not send out a distress signal indicating that he thought he was in trouble, and there is no indication he tried to eject. Furthermore, there is no evidence the major tried to pull up as the fighter's onboard proximity warning system, which was presumably alerting him of an imminent collision, Reuters reported.
The Japanese defense ministry has ruled out a loss of consciousness or any problem with the plane as an explanation for the crash. Nonetheless, all Japanese F-35 pilots are being re-trained on avoiding spatial disorientation and gravity-induced loss of consciousness. All of its stealth fighters are currently grounded.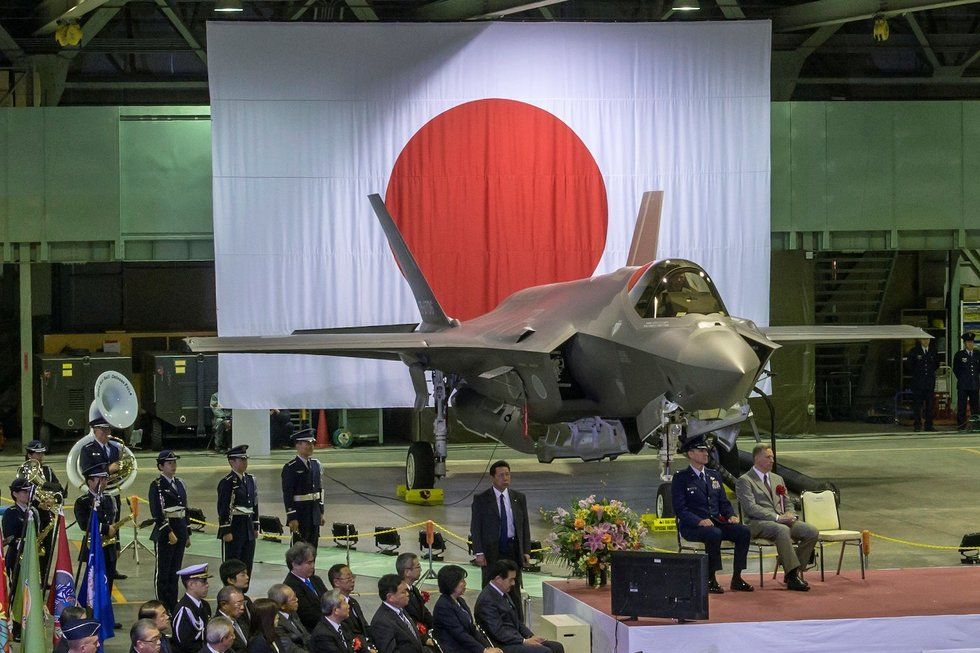 Senior leaders from Japan's Ministry of Defense, US Forces Japan, Pacific Air Forces, and Lockheed Martin at a Japan Air Self-Defense Force hangar to welcome the first operational F-35A Lightning II to JASDF's 3rd Air Wing, at Misawa Air Base, Japan, February 24, 2018(U.S. Air Force/Tech. Sgt. Benjamin W. Stratton)
The ministry said in a statement that the fifth-generation fighter, following a rapid descent from an altitude of 31,500 feet, was flying 1,000 feet above the ocean's surface at a speed of about 1,100 kph (683 mph) when the jet inexplicably disappeared from radar, according to Stars and Stripes. The defense ministry explained that the aircraft was destroyed "and parts and fragments scattered across the sea bottom."

On June 3, Japan called off the search for the missing fighter and the remains of the pilot, who was declared deceased at a press conference on June 7 after it was confirmed that body parts found among wreckage discovered shortly after the accident were those of Maj. Hosomi.
The flight data recorder was found during a later deep-water search, but the memory was lost, leaving many questions unanswered.
"It is truly regrettable that we lost such an excellent pilot," Iwaya said late last week. "We truly respect Maj. Hosomi, who was lost while devotedly performing his duty and we extend our heartfelt condolences and offer our deepest sympathies to the family."

Read more from Business Insider:
WATCH NEXT: The F-35 Lightning II Is One Pretty Jet
August 22, 2019 at 06:05 PM
news
JERUSALEM (Reuters) - Israeli Prime Minister Benjamin Netanyahu hinted on Thursday of possible Israeli involvement in attacks against Iranian-linked targets in Iraq.
A series of blasts in the past few weeks have hit weapon depots and bases belonging to paramilitary groups in Iraq, many of them backed by Israel's regional foe Iran. The groups blamed the United States and Israel for the blasts on Wednesday.
August 22, 2019 at 05:46 PM
news
White House/Shealah Craighead
President Donald Trump signed an executive order on Wednesday that will make it easier for permanently disabled veterans to have their student loan debt forgiven.
August 22, 2019 at 05:26 PM
news
Capt. Tranay Lashawn Tanner. (U.S. Air Force photo)
Editor's Note: This article by Oriana Pawlyk originally appeared on Military.com, a leading source of news for the military and veteran community.
Physical fitness tests were briefly suspended earlier this week and outdoor cardio testing will be curtailed for the remainder of the summer at Eglin Air Force Base, Florida, after an airman died Saturday. She had completed her PT test on Friday.
August 22, 2019 at 04:03 PM
news
(DoD photo)
Navy Secretary Richard Spencer has expanded a review of the Judge Advocate General Corps to include the Marine Corps, a Navy spokesman said on Thursday.
"There is value in applying this review and its subsequent recommendations across the Department of the Navy," Cmdr. Jereal Dorsey told Task & Purpose. "The review's purpose is to confirm the uniformed legal community is structurally and organizationally sound and best supporting the good order and discipline our integrated naval force."
Marine veteran, professional mumbler, temper-tantrum prone Sith Lord, and A-list actor, Adam Driver, is taking on the CIA in a new teaser trailer for the feature-length political thriller The Report.