Decorated soldier slain in Syria suicide bombing returns home to a hero's welcome
February 13, 2019 at 05:00 AM
news
WEST PALM BEACH — The family of Jonathan Farmer opted to grieve privately Monday as he returned to his native Palm Beach County for the last time. But people who didn't know him came anyway. To salute him.
---
The remains of the U.S. Army veteran, who was killed Jan. 16 by a suicide bomb in northern Syria, arrived just before midday Monday at Signature Flight Services at Palm Beach International Airport for a motorcade to a Jupiter funeral home. Services are set for Feb. 18, with burial later this year at Arlington National Cemetery.
With reporters standing across the street, Farmer's casket came off a private jet and into a hearse, which pulled onto Southern Boulevard behind a Palm Beach County Sheriff's Office motorcycle escort and was gone in about two minutes.
Farmer, 37, who was born in Boynton Beach and attended The Benjamin School, served multiple overseas combat tours and was awarded some of the Army's highest honors, including a Purple Heart and three Bronze Star medals, which are awarded for exceptional achievements in a combat zone. He is survived by his wife and four children, who are residents of Clarksville, Tennessee, and his parents, Duncan and Jobeth Farmer of Palm Beach Gardens.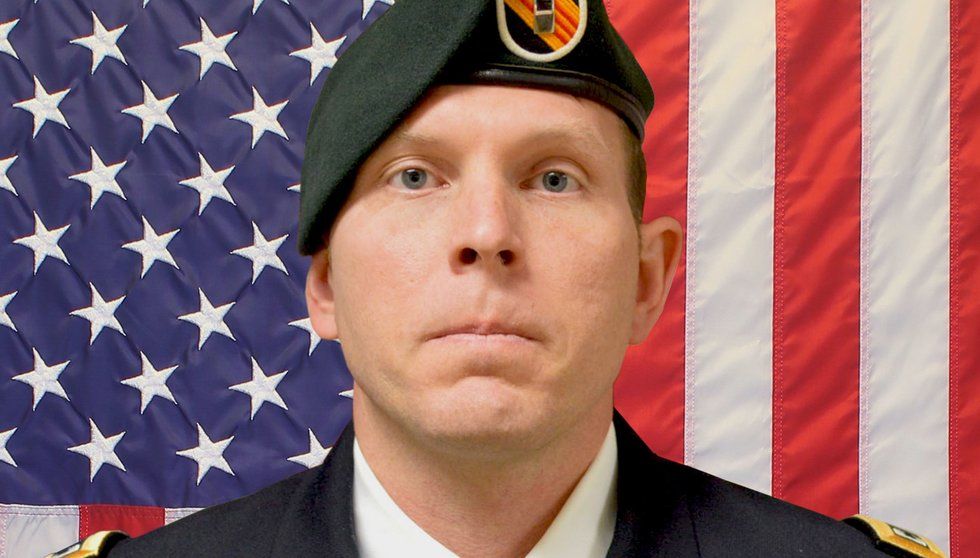 Jonathan Farmer(U.S. Army photo)
Monday's was a low-key arrival, ahead of the funeral Mass scheduled for at 10:30 a.m. Feb. 18 at St. Patrick Catholic Church in Palm Beach Gardens. Farmer's parents were not there; they were in Maine with another son, who was undergoing a medical procedure. But people who were strangers to Jon Farmer came anyway.

Jeff Kidwell parked his white SUV along the airport's Perimeter Road and draped a U.S. flag on its side. The West Palm Beach financial broker often sings the National Anthem at local spring-training baseball games and major-league games around the country. His girlfriend for the last decade has a grown son he "sort of adopted." The son is in Green Beret School in North Carolina but already has been in Iraq and Kuwait.
He said the son, whom he didn't want to name, is "honored to do it. But, he said. "I worry about it every day."
Kidwell saw a story Friday about Farmer's return and, "I wanted to pay respects to a hero," he said, his voice choked. "I hope people would do it for my son."
Auto glass business owner Bob Crouch had been stationed in Okinawa in the 1970s. He didn't get to Vietnam, but many of his buddies did, and some didn't come back.
"I'm here for a fallen soldier," he said, his voice also breaking.
And three firefighters, from nearby Palm Beach County Fire-Rescue Station 24 in Westgate, climbed atop their truck to salute as Farmer's motorcade passed by. Yadian Mederos said that "we just wanted to show our respects."
———
©2019 The Palm Beach Post (West Palm Beach, Fla.). Distributed by Tribune Content Agency, LLC.
WATCH NEXT: The Final Countdown In Syria?
October 14, 2019 at 06:23 PM
popular
Photo: Twitter
For an organization that is constantly shining a light on things that would rather be kept out of the public eye, the moderators of U.S. Army WTF! Moments have done a remarkably impressive job at staying anonymous.
That is, until Monday.
For U.S. service members who have fought alongside the Kurds, President Donald Trump's decision to approve repositioning U.S. forces in Syria ahead of Turkey's invasion is a naked betrayal of valued allies.
"I am ashamed for the first time in my career," one unnamed special operator told Fox News Jennifer Griffin.
In a Twitter thread that went viral, Griffin wrote the soldier told her the Kurds were continuing to support the United States by guarding tens of thousands of ISIS prisoners even though Turkey had nullified an arrangement under which U.S. and Turkish troops were conducting joint patrols in northeastern Syria to allow the Kurdish People's Protection Units, or YPG, to withdraw.
"The Kurds are sticking by us," the soldier told Griffin. "No other partner I have ever dealt with would stand by us."
October 14, 2019 at 05:47 PM
news
Defense Secretary Mark Esper has confirmed that a nightmare scenario has come to pass: Captured ISIS fighters are escaping as a result of Turkey's invasion of Kurdish-held northeast Syria.
Turkey's incursion has led to "the release of many dangerous ISIS detainees," Esper said in a statement on Monday.
October 14, 2019 at 03:06 PM
news
ABC News anchor Tom Llamas just before his network airs grossly inaccurate footage
Video footage of a purported "bombing of Kurd civilians" by Turkish military forces shown on ABC News appeared to be a nighttime firing of tracer rounds at a Kentucky gun range.
October 14, 2019 at 02:58 PM
news
The U.S. military's seemingly never-ending mission supporting civil authorities along the southwestern border will last at least another year.
On Sept. 3, Defense Secretary Mark Esper approved a request from the Department of Homeland Security to provide a total of up to 5,500 troops along the border until Sept. 30, 2020, Lt. Gen. Laura Richardson, commander of U.S. Army North, said on Monday.