The company behind the AK-47 just unveiled a new kamikaze drone
February 21, 2019 at 12:20 PM
Military Tech
Russian company is developing a propeller-driven "suicide drone" that could target enemy air defenses.
---
Kalashnikov Group, the same family of companies that produces Russia's iconic assault rifles, revealed the KUB-BLA drone at the IDEX-2019 trade show in Abu Dhabi in February 2019.
It's unclear whether the Russian air force requested the drone's development, or Kalashnikov developed the type on its own for the domestic or foreign market.
"KUB-BLA is designed to destroy remote ground targets," Kalashnikov stated. "An unmanned aerial vehicle delivers a special load to the coordinates of the target, which are set manually or in the image from the [drone's] guidance system."
The four-feet-long drone has a 30-minute endurance at a speed of 80 miles per hour while carrying a six-pound warhead, Kalashnikov stated. "The advantages of the system are hidden launch, high accuracy of the shot, noiselessness and ease of handling," according to Kalashnikov.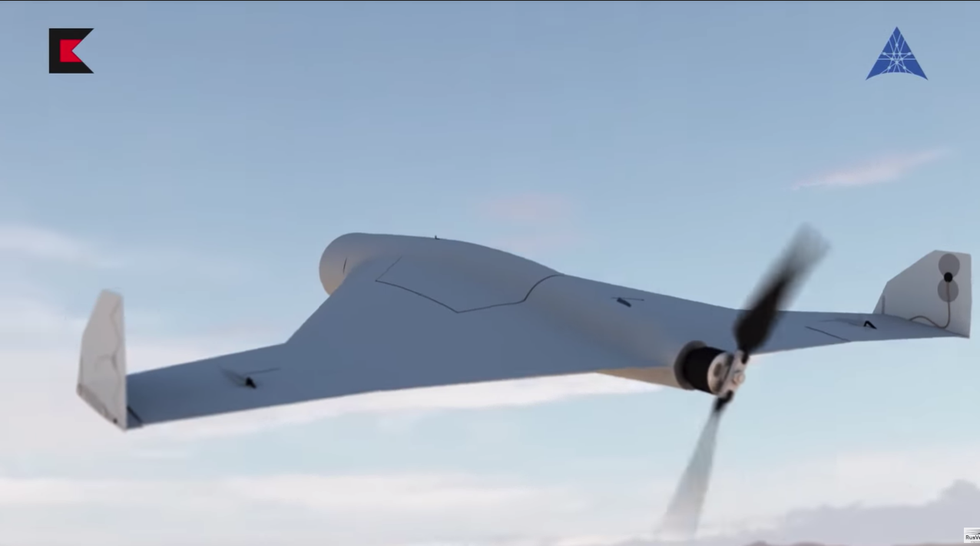 The KUB-BLA(Kalashnikov Concern)
KUB-BLA in essence is a small, slow and presumably inexpensive cruise missile. It apparently is similar in design to Israel's truck-launched Harpy drone, which has been on the market for at least 25 years.

The jet-propelled Harpy however is much heavier than KUB-BLA is, carries a 70-pound warhead and boasts much greater performance.
"The Harpy weapon detects, attacks and destroys enemy radar emitters, hitting them with high hit accuracy," Israel Aerospace Industries stated. "Harpy effectively suppresses hostile SAM and radar sites for long durations, loitering above enemy territory for hours."
If Harpy is a weapon for the suppression of enemy air defenses, KUB-BLA might be, too. A single Harpy reportedly costs around $70,000. A KUB-BLA could be even cheaper. In theory, an operator could purchase hundreds of KUB-BLAs and deploy them by the dozen to swarm enemy defenses.
The concept is popular. The U.S. Air Force is developing its own suicide drone that could target enemy radar sites.
The Low Cost Attritable Aircraft, or LCAA, has been in a development since July 2016. That's when the Air Force awarded Kratos, a San Diego drone-maker, a $41-million contract to design and demonstrate what the government described as a "high-speed, long-range, low-cost, limited-life strike unmanned aerial system."
The jet-powered LCAA has stealthy features including sharply-swept wings, a narrow air intake, panels with sawtooth-like edges and a silvery, likely radar-absorbing paint job—all of which could help the drone penetrate enemy defenses in order to strike radar sites and surface-to-air missiles.
The Air Force expects each LCAA to cost just $3 million, meaning it's much less expendable than a Harpy or KUB-BLA might be and likely will operate in smaller swarms.
If LCAA exists at the high end of the range of suicide drones, KUB-BLA probably is closer to the opposite end, alongside improvised systems that militant groups based on commercial-style drones.
In January 2018, a swarm of 13 explosives-laden small drones, apparently controlled by Syrian rebels, attacked two Russian bases in western Syria. Each of the drones carried 10 one-pound bomb under its wings, the Kremlin stated.
"As both Islamic State and Amazon have shown, small drones are an efficient way of carrying a payload to a target," Nick Waters, a former British Army officer and independent military analyst, told The National Interest . "Whether that payload is your new book or several hundred grams of explosive is up to the sender."
Kalashnikov revealed KUB-BLA just a few weeks after another major Russian drone type made its public debut.
The first blurry images of the Okhotnik-B drone appeared in late January 2019 on a Russian aviation website. The photos depict a tractor towing the apparently roughly 50-foot-wide unmanned aerial vehicle along a snow-ringed runway at an airfield in Novosibirsk in southern Russia.
A flying wing similar in shape to the U.S. Air Force's B-2 stealth bomber, Okhotnik-B—that means "hunter" in Russian—in theory could penetrate enemy defenses to deliver ordnance.
After lagging behind for decades in the development of unmanned aerial vehicles, in recent years Russia has gotten serious. "Going into Syria in 2015, Russia was lacking a key combat element — the ability to hit targets quickly following their identification, one of the key functions of [unmanned combat air vehicles] around the world today," Samuel Bendett, an expert on the Russian military, told reporter Kelsey Atherton.
"Moscow's experience in Syria underscored that point — despite fielding a large number of [intelligence, surveillance and reconnaissance] drones that enabled Russian to be more precise in combat, the majority of targets were hit by manned aviation or manned artillery forces," Bendett added. "Hence, the push today to field an entire lineup of strike UAVs for a diverse range of missions."
Read more from The National Interest:
WATCH NEXT: Watch A Falcon Punch A Drone Out Of The Sky
"It's kind of like the equivalent of dropping a soda can into canyon and putting on a blindfold and going and finding it, because you can't just look down and see it," diver Jeff Goodreau said of finding the wreck.
The USS Eagle 56 was only five miles off the coast of Maine when it exploded.

The World War I-era patrol boat split in half, then slipped beneath the surface of the North Atlantic. The Eagle 56 had been carrying a crew of 62. Rescuers pulled 13 survivors from the water that day. It was April 23, 1945, just two weeks before the surrender of Nazi Germany.
The U.S. Navy classified the disaster as an accident, attributing the sinking to a blast in the boiler room. In 2001, that ruling was changed to reflect the sinking as a deliberate act of war, perpetuated by German submarine U-853, a u-boat belonging to Nazi Germany's Kriegsmarine.
Still, despite the Navy's effort to clarify the circumstances surrounding the sinking, the Eagle 56 lingered as a mystery. The ship had sunk relatively close to shore, but efforts to locate the wreck were futile for decades. No one could find the Eagle 56, a small patrol ship that had come so close to making it back home.
Then, a group of friends and amateur divers decided to try to find the wreck in 2014. After years of fruitless dives and intensive research, New England-based Nomad Exploration Team successfully located the Eagle 56 in June 2018.
Business Insider spoke to two crew members — meat truck driver Jeff Goodreau and Massachusetts Department of Corrections officer Donald Ferrara — about their discovery.
(CIA photo)
Before the 5th Special Forces Group's Operational Detachment Alpha 595, before 160th Special Operations Aviation Regiment's MH-47E Chinooks, and before the Air Force combat controllers, there were a handful of CIA officers and a buttload of cash.
The last time the world saw Marine veteran Austin Tice, he had been taken prisoner by armed men. It was unclear whether his captors were jihadists or allies of Syrian dictator Bashar al Assad who were disguised as Islamic radicals.
Blindfolded and nearly out of breath, Tice spoke in Arabic before breaking into English:"Oh Jesus. Oh Jesus."
That was from a video posted on YouTube on Sept. 26, 2012, several weeks after Tice went missing near Damascus, Syria, while working as a freelance journalist for McClatchy and the Washington Post.
Now that Tice has been held in captivity for more than seven years, reporters who have regular access to President Donald Trump need to start asking him how he is going to bring Tice home.
September 22, 2019 at 12:16 PM
Gear
"Shoots like a carbine, holsters like a pistol." That's the pitch behind the new Flux Defense system designed to transform the Army's brand new sidearm into a personal defense weapon.
Sometimes a joke just doesn't work.
For example, the Defense Visual Information Distribution Service tweeted and subsequently deleted a Gilbert Gottfried-esque misfire about the "Storm Area 51" movement.
On Friday DVIDSHUB tweeted a picture of a B-2 bomber on the flight line with a formation of airmen in front of it along with the caption: "The last thing #Millenials will see if they attempt the #area51raid today."