The company behind the AK-47 just unveiled a new kamikaze drone
February 21, 2019 at 12:20 PM
Military Tech
Russian company is developing a propeller-driven "suicide drone" that could target enemy air defenses.
---
Kalashnikov Group, the same family of companies that produces Russia's iconic assault rifles, revealed the KUB-BLA drone at the IDEX-2019 trade show in Abu Dhabi in February 2019.
It's unclear whether the Russian air force requested the drone's development, or Kalashnikov developed the type on its own for the domestic or foreign market.
"KUB-BLA is designed to destroy remote ground targets," Kalashnikov stated. "An unmanned aerial vehicle delivers a special load to the coordinates of the target, which are set manually or in the image from the [drone's] guidance system."
The four-feet-long drone has a 30-minute endurance at a speed of 80 miles per hour while carrying a six-pound warhead, Kalashnikov stated. "The advantages of the system are hidden launch, high accuracy of the shot, noiselessness and ease of handling," according to Kalashnikov.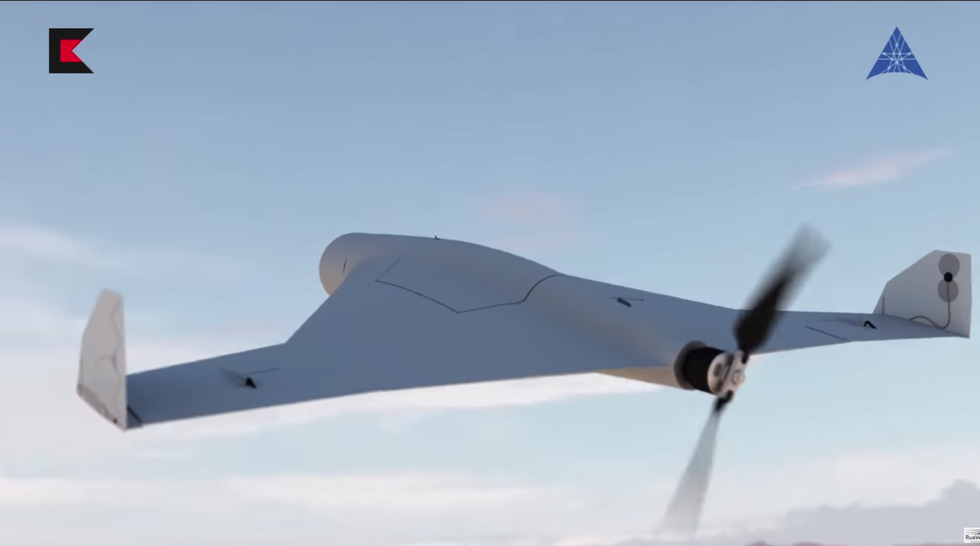 The KUB-BLA(Kalashnikov Concern)
KUB-BLA in essence is a small, slow and presumably inexpensive cruise missile. It apparently is similar in design to Israel's truck-launched Harpy drone, which has been on the market for at least 25 years.

The jet-propelled Harpy however is much heavier than KUB-BLA is, carries a 70-pound warhead and boasts much greater performance.
"The Harpy weapon detects, attacks and destroys enemy radar emitters, hitting them with high hit accuracy," Israel Aerospace Industries stated. "Harpy effectively suppresses hostile SAM and radar sites for long durations, loitering above enemy territory for hours."
If Harpy is a weapon for the suppression of enemy air defenses, KUB-BLA might be, too. A single Harpy reportedly costs around $70,000. A KUB-BLA could be even cheaper. In theory, an operator could purchase hundreds of KUB-BLAs and deploy them by the dozen to swarm enemy defenses.
The concept is popular. The U.S. Air Force is developing its own suicide drone that could target enemy radar sites.
The Low Cost Attritable Aircraft, or LCAA, has been in a development since July 2016. That's when the Air Force awarded Kratos, a San Diego drone-maker, a $41-million contract to design and demonstrate what the government described as a "high-speed, long-range, low-cost, limited-life strike unmanned aerial system."
The jet-powered LCAA has stealthy features including sharply-swept wings, a narrow air intake, panels with sawtooth-like edges and a silvery, likely radar-absorbing paint job—all of which could help the drone penetrate enemy defenses in order to strike radar sites and surface-to-air missiles.
The Air Force expects each LCAA to cost just $3 million, meaning it's much less expendable than a Harpy or KUB-BLA might be and likely will operate in smaller swarms.
If LCAA exists at the high end of the range of suicide drones, KUB-BLA probably is closer to the opposite end, alongside improvised systems that militant groups based on commercial-style drones.
In January 2018, a swarm of 13 explosives-laden small drones, apparently controlled by Syrian rebels, attacked two Russian bases in western Syria. Each of the drones carried 10 one-pound bomb under its wings, the Kremlin stated.
"As both Islamic State and Amazon have shown, small drones are an efficient way of carrying a payload to a target," Nick Waters, a former British Army officer and independent military analyst, told The National Interest . "Whether that payload is your new book or several hundred grams of explosive is up to the sender."
Kalashnikov revealed KUB-BLA just a few weeks after another major Russian drone type made its public debut.
The first blurry images of the Okhotnik-B drone appeared in late January 2019 on a Russian aviation website. The photos depict a tractor towing the apparently roughly 50-foot-wide unmanned aerial vehicle along a snow-ringed runway at an airfield in Novosibirsk in southern Russia.
A flying wing similar in shape to the U.S. Air Force's B-2 stealth bomber, Okhotnik-B—that means "hunter" in Russian—in theory could penetrate enemy defenses to deliver ordnance.
After lagging behind for decades in the development of unmanned aerial vehicles, in recent years Russia has gotten serious. "Going into Syria in 2015, Russia was lacking a key combat element — the ability to hit targets quickly following their identification, one of the key functions of [unmanned combat air vehicles] around the world today," Samuel Bendett, an expert on the Russian military, told reporter Kelsey Atherton.
"Moscow's experience in Syria underscored that point — despite fielding a large number of [intelligence, surveillance and reconnaissance] drones that enabled Russian to be more precise in combat, the majority of targets were hit by manned aviation or manned artillery forces," Bendett added. "Hence, the push today to field an entire lineup of strike UAVs for a diverse range of missions."
Read more from The National Interest:
WATCH NEXT: Watch A Falcon Punch A Drone Out Of The Sky
December 11, 2019 at 05:26 PM
news
(Department of Defense)
Actor Mark Wahlberg will be visiting troops overseas to plug Wahlburgers, a fast-casual restaurant chain owned by the actor and his two brothers, Donnie Wahlberg, and chef Paul Wahlberg.
December 11, 2019 at 03:58 PM
news
From left to right: Naval SEAL Chief Eddie Gallagher, Army 1st Lt. Clint Lorance, and Army Special Forces Maj. Matthew Golsteyn (DoD photos)
December 11, 2019 at 12:53 PM
news
Taliban fighters attempted to fight their way into Bagram Airfield on Wednesday by invading a medical facility just outside of the base's perimeter, a spokesman for Operation Resolute Support said Wednesday.
J.P. Lawrence of Stars and Stripes and Jim LaPorta of Newsweek first reported that the battle lasted for several hours after using car bombs to attack the hospital, which is near the base's northern corner. Helicopter and fixed-wing aircraft were reportedly used to drop ordnance on the hospital.
December 11, 2019 at 11:10 AM
news
The welcome sign at Naval Air Station Corpus Christi (Facebook photo)
An armed suspect was taken into custody at Naval Air Station Corpus Christi on Wednesday morning after a brief lockdown period, according to the Texas base's Facebook account.
Though the exact nature of the incident is unclear, base officials wrote that no shots were fired and no injuries were reported.
December 11, 2019 at 01:48 PM
popular
(DoD photo)
Among the dozens of requirements outlined in the latest version of the National Defense Authorization Act is the requirement for the Secretary of Defense to create a public database for privatized housing complaints.

So, that will be... a lot.