Kim Jong Un reportedly demanded to hang out with 'famous' basketball players during nuclear negotiations with US
May 12, 2019 at 09:35 PM
news
North Korean leader Kim Jong Un watches a game between former NBA players and North Korean players with Dennis Rodman at Pyongyang Indoor Stadium in an undated photo release on January 9, 2014 (KCNA/Reuters)
Kim Jong Un reportedly brought his love of basketball into nuclear negotiations with Washington, demanding that access to "famous" basketball players be part of any nuclear deal, ABC News reported, citing U.S. officials.

---
Before the North Korean leader sat down with President Donald Trump for a second time in Hanoi, Kim requested that the US send basketball stars to North Korea to help normalize bilateral relations, two officials told ABC News. He requested it be included in a potential joint statement on denuclearization.
Basketball diplomacy is not without precedent in US-North Korea relations.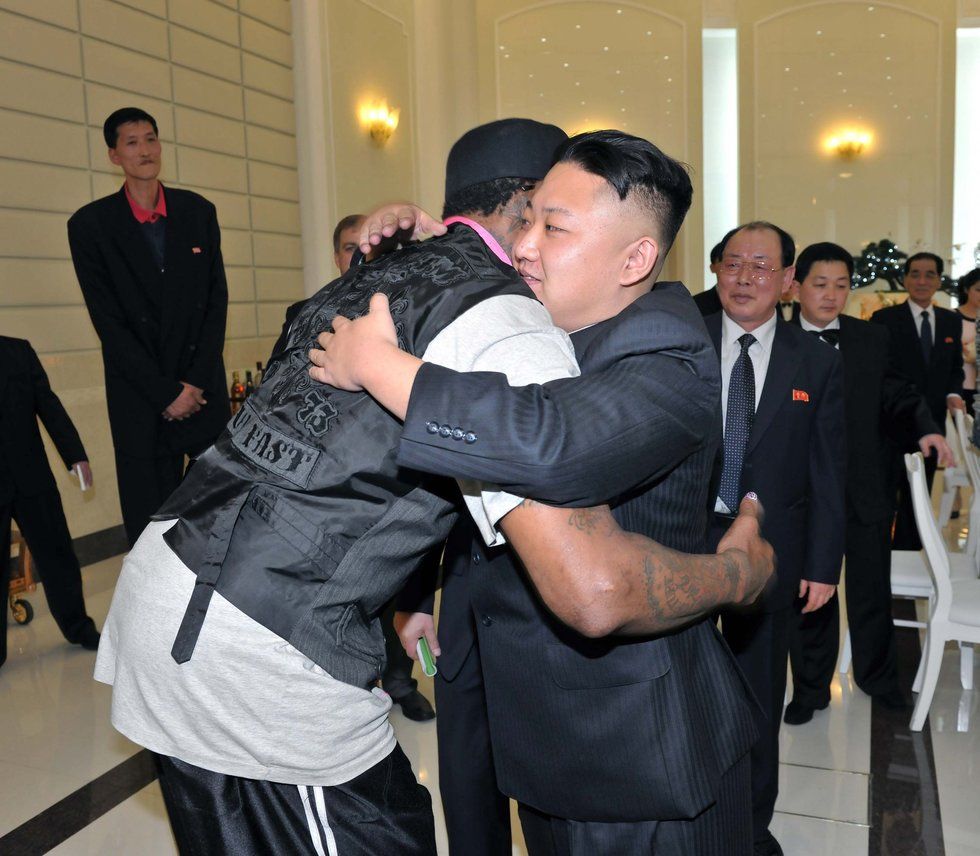 (Reuters)
Kim's father, Kim Jong Il, was also a fan of basketball who requested the opportunity to meet Michael Jordan. While that request was never met, then-Secretary of State Madeleine Albright gave the late dictator a basketball signed by Jordan at the turn of the century.
Kim Jong Un is said to be a fan of the Chicago Bulls, and his friendship with Dennis Rodman is no secret. Rodman has made several trips to North Korea over the years. He first met Kim in 2013. Since then the two have ridden jet skis, sang karaoke, and even gone out drinking together.
But a deal was never reached in Vietnam. The second Trump-Kim summit wrapped up early, failing to bring about any meaningful results. Since then relations with North Korea have deteriorated.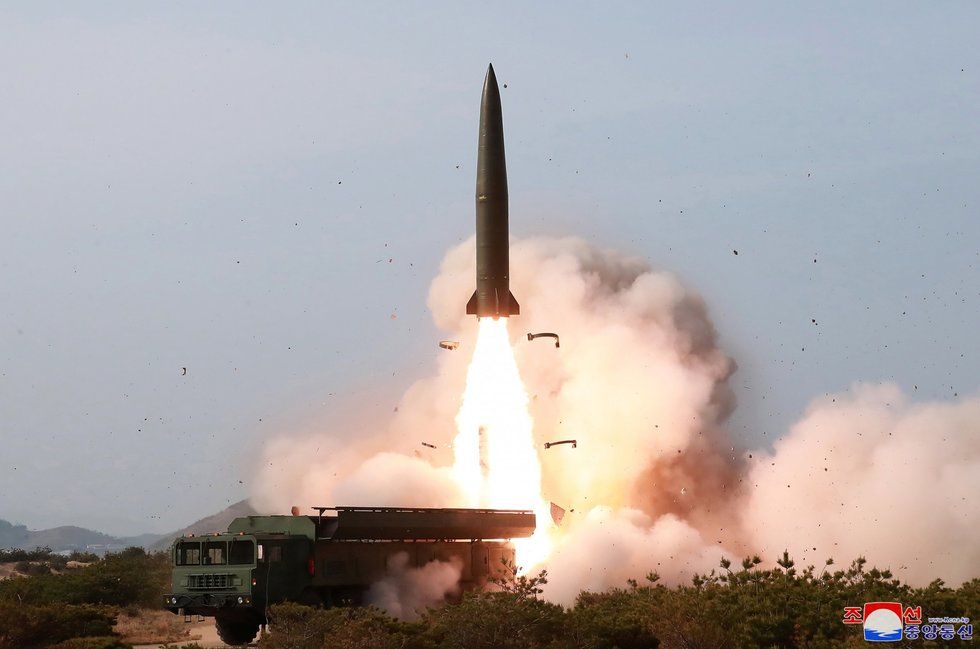 An unidentified short-range ballistic missile(KCNA via Reuters)
Recently, North Korea began testing missiles again after more than a year without any such provocations. Twice in one week, Kim oversaw the launch of a new short-range ballistic missile that some experts believe to be a North Korean derivative of Russia's Iskander missile.
Some observers have speculated that the weapons testing is a message to Washington, while others have suggested the North may be warning Seoul. In either case, the prevailing view is that Pyongyang's patience is wearing thin. North Korea has previously warned that it will not wait forever.
Commenting on the recent launches, President Donald Trump said Thursday, "We are looking at it very seriously right now. Nobody's happy about it."
Read more from Business Insider:
WATCH NEXT: 3 Carrier Strike Groups Roll Up On North Korea's Doorstep
"It's kind of like the equivalent of dropping a soda can into canyon and putting on a blindfold and going and finding it, because you can't just look down and see it," diver Jeff Goodreau said of finding the wreck.
The USS Eagle 56 was only five miles off the coast of Maine when it exploded.

The World War I-era patrol boat split in half, then slipped beneath the surface of the North Atlantic. The Eagle 56 had been carrying a crew of 62. Rescuers pulled 13 survivors from the water that day. It was April 23, 1945, just two weeks before the surrender of Nazi Germany.
The U.S. Navy classified the disaster as an accident, attributing the sinking to a blast in the boiler room. In 2001, that ruling was changed to reflect the sinking as a deliberate act of war, perpetuated by German submarine U-853, a u-boat belonging to Nazi Germany's Kriegsmarine.
Still, despite the Navy's effort to clarify the circumstances surrounding the sinking, the Eagle 56 lingered as a mystery. The ship had sunk relatively close to shore, but efforts to locate the wreck were futile for decades. No one could find the Eagle 56, a small patrol ship that had come so close to making it back home.
Then, a group of friends and amateur divers decided to try to find the wreck in 2014. After years of fruitless dives and intensive research, New England-based Nomad Exploration Team successfully located the Eagle 56 in June 2018.
Business Insider spoke to two crew members — meat truck driver Jeff Goodreau and Massachusetts Department of Corrections officer Donald Ferrara — about their discovery.
(CIA photo)
Before the 5th Special Forces Group's Operational Detachment Alpha 595, before 160th Special Operations Aviation Regiment's MH-47E Chinooks, and before the Air Force combat controllers, there were a handful of CIA officers and a buttload of cash.
The last time the world saw Marine veteran Austin Tice, he had been taken prisoner by armed men. It was unclear whether his captors were jihadists or allies of Syrian dictator Bashar al Assad who were disguised as Islamic radicals.
Blindfolded and nearly out of breath, Tice spoke in Arabic before breaking into English:"Oh Jesus. Oh Jesus."
That was from a video posted on YouTube on Sept. 26, 2012, several weeks after Tice went missing near Damascus, Syria, while working as a freelance journalist for McClatchy and the Washington Post.
Now that Tice has been held in captivity for more than seven years, reporters who have regular access to President Donald Trump need to start asking him how he is going to bring Tice home.
September 22, 2019 at 12:16 PM
Gear
"Shoots like a carbine, holsters like a pistol." That's the pitch behind the new Flux Defense system designed to transform the Army's brand new sidearm into a personal defense weapon.
Sometimes a joke just doesn't work.
For example, the Defense Visual Information Distribution Service tweeted and subsequently deleted a Gilbert Gottfried-esque misfire about the "Storm Area 51" movement.
On Friday DVIDSHUB tweeted a picture of a B-2 bomber on the flight line with a formation of airmen in front of it along with the caption: "The last thing #Millenials will see if they attempt the #area51raid today."