A Libyan militia rigged a Humvee with a monster 90mm cannon
April 10, 2019 at 12:24 PM
Military Tech
(Twitter/@ToyotaWars)
There's really only one message you can send when you roll up in your neighborhood with a 90mm cannon on the back of your vehicle: I have come here to chew bubblegum and kick ass...and I'm all out of bubblegum.
---
A Humvee with what appears to be a heavily-modified turret from an armored car was spotted cruising through the Libyan town of Wadi al Rabith just south of the capitol of Tripoli over the weekend.
Brief cameo by our machine pic.twitter.com/4u5yzvyea3
— ToyotaWars (@ToyotaWars) April 7, 2019
The turret appears to be ripped from a French-made Panhard AML-90 armored car that's capable of firing D921 90 mm explosive shells at targets up to 1,500 meters away.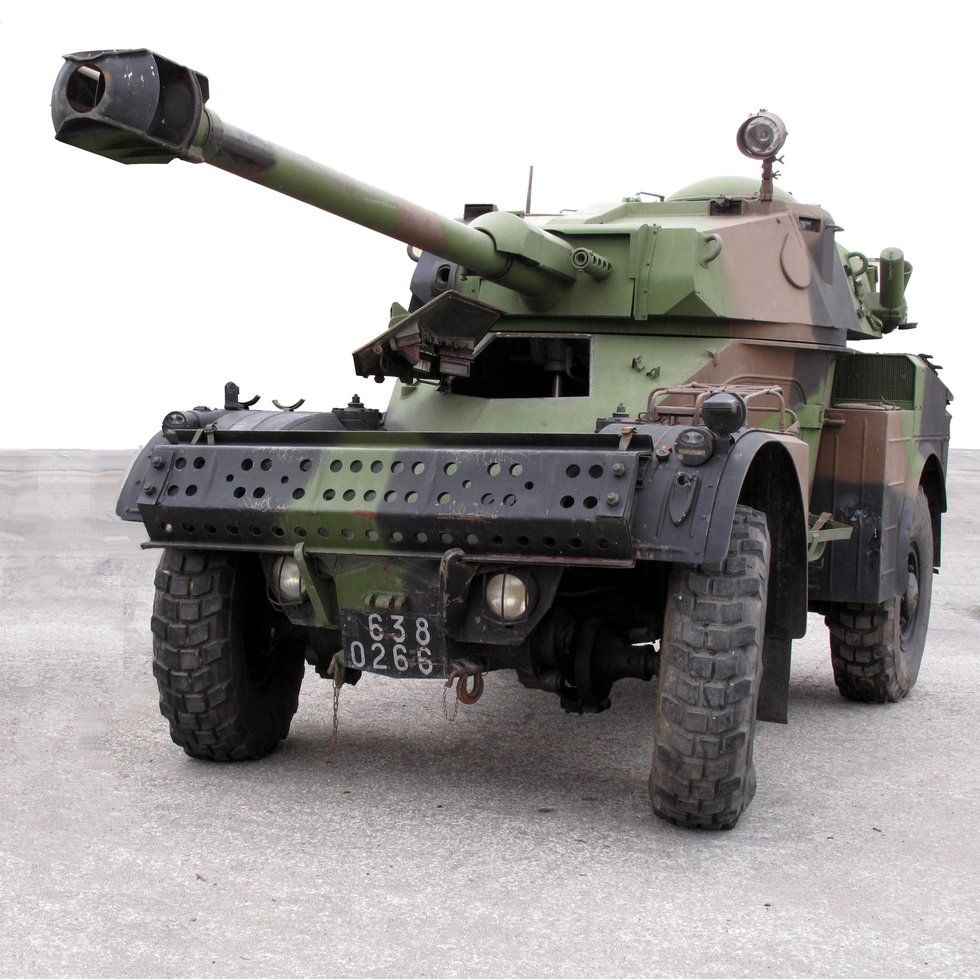 A Panhard AML at the Musée des Blindés in Saumur, France(Wikimedia Commons/Rama)
The operators of this battlewagon were identified by Reuters as members of militias from the western city of Misrata that, under protection of Tripoli's forces, have clashed with eastern Libyan National Army forces near the capitol in recent days in what the Washington Post characterized as "the most significant escalation of violence in the country" since the 2011 toppling of dictator Muammar Gaddafi.
Those militias, allied with Libyan Prime Minister Fayez al-Serraj against LNA leader and former Gaddafi general Khalifa Haftar, "rushed to Tripoli from Misrata in pickup trucks fitted with machine guns" to rebuff the advance of LNA forces towards the capitol, Reuters reported on Monday.
The Toyota-borne technical has become a well-documented fixture of irregular conflicts across the Middle East and North Africa, and the ingenuity that goes into them is deeply impressive. In 2014, War on the Rocks noted that Libyan engineers in particular have managed to mount even the most mismatched weapons systems on their pickups, from a Soviet BMP-1 Armored Personnel Carrier to S-5 rocket pods that were originally designed for aircraft.

But here's a question: Given that the Humvee was designed as a military-specific vechicle, does jury-rigging a 90mm cannon make it a technical, you know, technically? Feel free to leave your thoughts in the comment below.
WATCH NEXT: Inside a B-2 Spirit Strike In Libya

December 13, 2019 at 05:30 AM
news
Zachary Johnston (Photo via Doña Ana County Jail)
A former Fort Bliss solider stood bruised and badly injured in court Thursday as he pleaded guilty to cutting the throat of another soldier during a 2017 drug robbery.
Zachary Johnston, who appeared in court in an orange jail jumpsuit and shackles around his ankles, pleaded guilty Thursday to a lesser count of murder as part of a plea agreement with state prosecutors.
He also appeared in court with two black eyes, bruises and cuts all over his face after he was involved in a jailhouse fight.
Johnston was sentenced to life in prison with the possibility of parole in connection with the brutal slaying of Tyler Kaden Croke, 23, on May 7, 2017, during a drug robbery at the Cantera Apartments in East El Paso. Croke, 23, was in the U.S. Army and served a tour of duty in Afghanistan.
December 13, 2019 at 04:30 AM
news
Naval Air Station Pensacola (U.S. Navy photo)
WASHINGTON (Reuters) - The Saudi ambassador to the United States visited a U.S. naval air station in Florida on Thursday to extend her condolences for a shooting attack by a Saudi Air Force officer that killed three people last week, the Saudi embassy said.
December 12, 2019 at 07:35 PM
news
WASHINGTON (Reuters) - The Pentagon on Thursday tested a conventionally configured ground-launched ballistic missile, a test that would have been prohibited under the Intermediate-range Nuclear Forces Treaty.
The United States formally withdrew from the landmark 1987 INF pact with Russia in August after determining that Moscow was violating the treaty, an accusation the Kremlin has denied.
December 12, 2019 at 05:08 PM
news
U.S. Air Force airmen from the 405th Expeditionary Support Squadron work together to clear debris inside the passenger terminal the day after a Taliban-led attack at Bagram Airfield, Afghanistan, Dec. 12, 2019. (U.S. Air Force/Airman 1st Class Brandon Cribelar)
December 12, 2019 at 04:57 PM
news
Retired Navy Seal Floyd McLendon. (Business Insider)
Editor's Note: This article originally appeared on Business Insider.
A retired Navy SEAL running for Congress wore a U.S. Navy dress white uniform at a recent campaign event, Business Insider has learned.
Republican candidate Floyd McLendon of Texas spoke to an audience at his campaign kick-off event in November, wearing the Navy uniform adorned with numerous medals — including what appeared to be the Navy SEAL Trident, the insignia reserved for members of the elite community like McLendon.
The inaugural event in Dallas was held in the 30th congressional district, a different district than the one McLendon is running in. Political strategists in Texas described the venue's location as highly unusual for a House candidate.