A Libyan militia rigged a Humvee with a monster 90mm cannon
April 10, 2019 at 12:24 PM
Military Tech
(Twitter/@ToyotaWars)
There's really only one message you can send when you roll up in your neighborhood with a 90mm cannon on the back of your vehicle: I have come here to chew bubblegum and kick ass...and I'm all out of bubblegum.
---
A Humvee with what appears to be a heavily-modified turret from an armored car was spotted cruising through the Libyan town of Wadi al Rabith just south of the capitol of Tripoli over the weekend.
Brief cameo by our machine pic.twitter.com/4u5yzvyea3
— ToyotaWars (@ToyotaWars) April 7, 2019
The turret appears to be ripped from a French-made Panhard AML-90 armored car that's capable of firing D921 90 mm explosive shells at targets up to 1,500 meters away.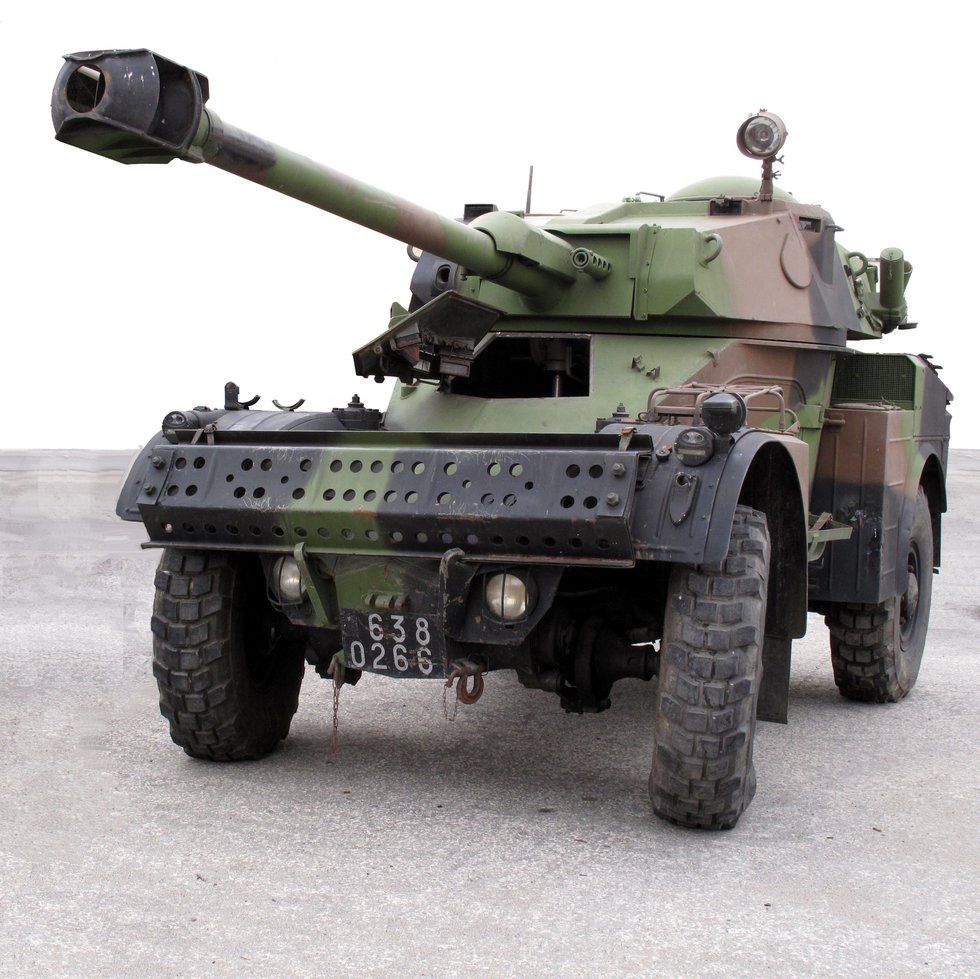 A Panhard AML at the Musée des Blindés in Saumur, France(Wikimedia Commons/Rama)
The operators of this battlewagon were identified by Reuters as members of militias from the western city of Misrata that, under protection of Tripoli's forces, have clashed with eastern Libyan National Army forces near the capitol in recent days in what the Washington Post characterized as "the most significant escalation of violence in the country" since the 2011 toppling of dictator Muammar Gaddafi.
Those militias, allied with Libyan Prime Minister Fayez al-Serraj against LNA leader and former Gaddafi general Khalifa Haftar, "rushed to Tripoli from Misrata in pickup trucks fitted with machine guns" to rebuff the advance of LNA forces towards the capitol, Reuters reported on Monday.
The Toyota-borne technical has become a well-documented fixture of irregular conflicts across the Middle East and North Africa, and the ingenuity that goes into them is deeply impressive. In 2014, War on the Rocks noted that Libyan engineers in particular have managed to mount even the most mismatched weapons systems on their pickups, from a Soviet BMP-1 Armored Personnel Carrier to S-5 rocket pods that were originally designed for aircraft.

But here's a question: Given that the Humvee was designed as a military-specific vechicle, does jury-rigging a 90mm cannon make it a technical, you know, technically? Feel free to leave your thoughts in the comment below.
WATCH NEXT: Inside a B-2 Spirit Strike In Libya

Photo illustration by Paul Szoldra/Task & Purpose
It all began with a routine medical check.
Carson Thomas, a healthy and fit 20-year-old infantryman who had joined the Army after a brief stint in college, figured he should tell the medics about the pain in his groin he had been feeling lately. It was Feb. 12, 2012, and the senior medic looked him over and decided to send him to sick call at the base hospital.
It seemed almost routine, something the Army doctors would be able to diagnose and fix so he could get back to being a grunt.
Now looking back on what happened some seven years later, it was anything but routine.
August 19, 2019 at 03:14 PM
news
Army Spc. Clayton James Horne
Army Spc. Clayton James Horne died in Saudi Arabia on Aug. 17, making him the eighth non-combat fatality for Operation Inherent Resolve so far this year, defense officials have announced.
Horne, 23, was assigned to the 351st Military Police Company, 160th Military Police Battalion, an Army Reserve unit based in Ocala, Florida, a Pentagon news release says.
August 19, 2019 at 02:14 PM
news
Joshua Yabut/Twitter
The soldier who was arrested for taking an armored personnel carrier on a slow-speed police chase through Virginia has been found not guilty by reason of insanity on two charges, according to The Richmond-Times Dispatch.
Joshua Phillip Yabut, 30, entered a plea of not guilty by reason of insanity for unauthorized use of a motor vehicle — in this case, a 12-ton APC taken from Fort Pickett in June 2018 — and violating the terms of his bond, which stemmed from a trip to Iraq he took in March 2019 (which was not a military deployment).
This photo taken on Oct. 7, 2018, shows a billboard that reads "The State Central Navy Testing Range" near residential buildings in the village of Nyonoksa, northwestern Russia. The Aug. 8, 2019, explosion of a rocket engine at the Russian navy's testing range just outside Nyonoksa led to a brief spike in radiation levels and raised new questions about prospective Russian weapons. (AP Photo/Sergei Yakovlev)
It's been more than a week since a mysterious Russian nuclear accident roughly 600 miles north of Moscow and only the Kremlin and those killed know what happened.
What is known is something exploded on Aug. 8 at a naval weapons testing range near the village of Nyonoksa. The Russian government's official account of the accident has changed several times since then, but the country's weather agency recently confirmed that radiation levels jumped to 16 times greater than normal after the blast.
U.S. media outlets have reported that a nuclear-powered cruise missile named the SSX-C-9 Skyfall likely exploded during testing. President Donald Trump appeared to confirm as much when he tweeted on Aug. 12 that the United States had gleaned useful information from "the failed missile explosion in Russia."
August 19, 2019 at 02:38 PM
news
Top officials of the Department of Veterans Affairs declined to step in to try to exempt veterans and their families from a new immigration rule that would make it far easier to deny green cards to low-income immigrants, according to documents obtained by ProPublica under a Freedom of Information Act request.
The Department of Defense, on the other hand, worked throughout 2018 to minimize the new policy's impact on military families.
As a result, the regulation, which goes into effect in October, applies just as strictly to veterans and their families as it does to the broader public, while active-duty members of the military and reserve forces face a relaxed version of the rule.