A Libyan militia rigged a Humvee with a monster 90mm cannon
April 10, 2019 at 12:24 PM
Military Tech
(Twitter/@ToyotaWars)
There's really only one message you can send when you roll up in your neighborhood with a 90mm cannon on the back of your vehicle: I have come here to chew bubblegum and kick ass...and I'm all out of bubblegum.
---
A Humvee with what appears to be a heavily-modified turret from an armored car was spotted cruising through the Libyan town of Wadi al Rabith just south of the capitol of Tripoli over the weekend.
Brief cameo by our machine pic.twitter.com/4u5yzvyea3
— ToyotaWars (@ToyotaWars) April 7, 2019
The turret appears to be ripped from a French-made Panhard AML-90 armored car that's capable of firing D921 90 mm explosive shells at targets up to 1,500 meters away.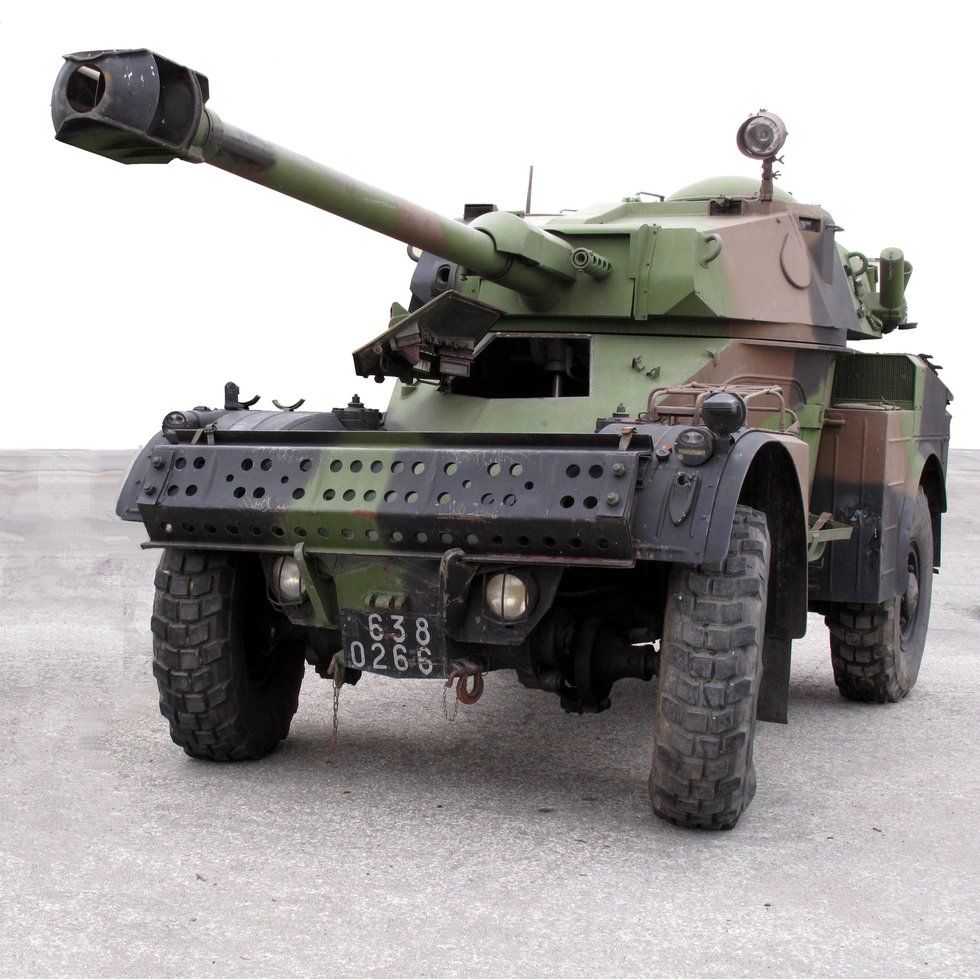 A Panhard AML at the Musée des Blindés in Saumur, France(Wikimedia Commons/Rama)
The operators of this battlewagon were identified by Reuters as members of militias from the western city of Misrata that, under protection of Tripoli's forces, have clashed with eastern Libyan National Army forces near the capitol in recent days in what the Washington Post characterized as "the most significant escalation of violence in the country" since the 2011 toppling of dictator Muammar Gaddafi.
Those militias, allied with Libyan Prime Minister Fayez al-Serraj against LNA leader and former Gaddafi general Khalifa Haftar, "rushed to Tripoli from Misrata in pickup trucks fitted with machine guns" to rebuff the advance of LNA forces towards the capitol, Reuters reported on Monday.
The Toyota-borne technical has become a well-documented fixture of irregular conflicts across the Middle East and North Africa, and the ingenuity that goes into them is deeply impressive. In 2014, War on the Rocks noted that Libyan engineers in particular have managed to mount even the most mismatched weapons systems on their pickups, from a Soviet BMP-1 Armored Personnel Carrier to S-5 rocket pods that were originally designed for aircraft.

But here's a question: Given that the Humvee was designed as a military-specific vechicle, does jury-rigging a 90mm cannon make it a technical, you know, technically? Feel free to leave your thoughts in the comment below.
WATCH NEXT: Inside a B-2 Spirit Strike In Libya

October 23, 2019 at 07:44 AM
news
Kade Kurita (U.S. Army photo(
Kade Kurita, the 20-year-old West Point cadet who had been missing since Friday evening, was found dead on Tuesday night, the U.S. Military Academy announced early Wednesday morning.
"We are grieving this loss and our thoughts and prayers go out to Cadet Kurita's family and friends," Lt. Gen. Darryl Williams, superintendent of West Point, said in the release.
October 23, 2019 at 10:22 AM
news
The Minot Air Force Base main gate (U.S. Air Force photo)
The Air Force is investigating reports that an airman consumed marijuana while assigned to one of the highly-sensitive missile alert facility (MAF) responsible for overseeing 400 nuclear GM-30G Minuteman III intercontinental ballistic missiles at Minot Air Force Base in North Dakota.
October 22, 2019 at 05:35 PM
news
Mark Mitchell is stepping down as the acting assistant defense secretary for special operations and low-intensity conflict, a position he has held since late June, a defense official confirmed on Tuesday.
No information was immediately available about why Mitchell decided to resign. His last day will be Nov. 1 and he will be replaced by Thomas Alexander, who is currently leading the Defense Department's counternarcotics efforts, the defense official told Task & Purpose.
Editor's Note: This article by Matthew Cox originally appeared on Military.com, a leading source of news for the military and veteran community.
The U.S. Army's Next Generation Squad Weapon effort looked a lot more possible this week as the three competing weapons firms displayed their prototype 6.8mm rifles and automatic rifles at the 2019 Association of the United States Army's annual meeting.
Just two months ago, the Army selected General Dynamics Ordnance and Tactical Systems inc., Textron Systems and Sig Sauer Inc. for the final phase of the NGSW effort — one of the service's top modernization priorities to replace the 5.56mm M4A1 carbine and the M249 squad automatic weapon in infantry and other close-combat units.
Army officials, as well as the companies in competition, have been guarded about specific details, but the end result will equip combat squads with weapons that fire a specially designed 6.8mm projectile, capable of penetrating enemy body armor at ranges well beyond the current M855A1 5.56mm round.
There have previously been glimpses of weapons from two firms, but this year's AUSA was the first time all three competitors displayed their prototype weapons, which are distinctly different from one another.
October 23, 2019 at 08:16 AM
news
U.S Defense Secretary Mark Esper and Iraqi Defense Minister Najah al-Shammari outside Iraq's defense ministry in Baghdad on Wednesday (Associated Press/Hadi Mizban)
The 1,000 U.S. troops leaving Syria will be allowed to stay in Iraq for at most four weeks, Iraq's defense minister said Wednesday, in an embarrassing rebuff to President Donald Trump's plans for withdrawing from Syria.
Najah al-Shammari's comments to the Associated Press came shortly after his meeting with U.S. Defense Secretary Mark Esper, who went to Baghdad to negotiate the redeployment of U.S. troops in Iraq after they withdrew from Syria.