Which Parts Of The US Are Likeliest To Be Vaporized In A Russian Nuclear Attack?
June 02, 2017 at 09:32 AM
news
Wikimedia Commons
Since the Cold War, the US and Russia have drawn up plans on how to best wage nuclear war against each other — but while large population centers with huge cultural impact may seem like obvious choices, a smarter nuclear attack would focus on countering the enemy's nuclear forces.
---
So while people in New York City or Los Angeles may see themselves as being in the center of the world, in terms of nuclear-target priorities, they're not as important as places in states like North Dakota or Montana.
Stephen Schwartz, the author of "Atomic Audit: The Costs and Consequences of US Nuclear Weapons Since 1940," says that after the Cold War, the US and Russia shifted from targeting each other's most populous cities to targeting each other's nuclear stockpiles.
This map shows the essential points Russia would have to attack to wipe out the US's nuclear forces, according to Schwartz: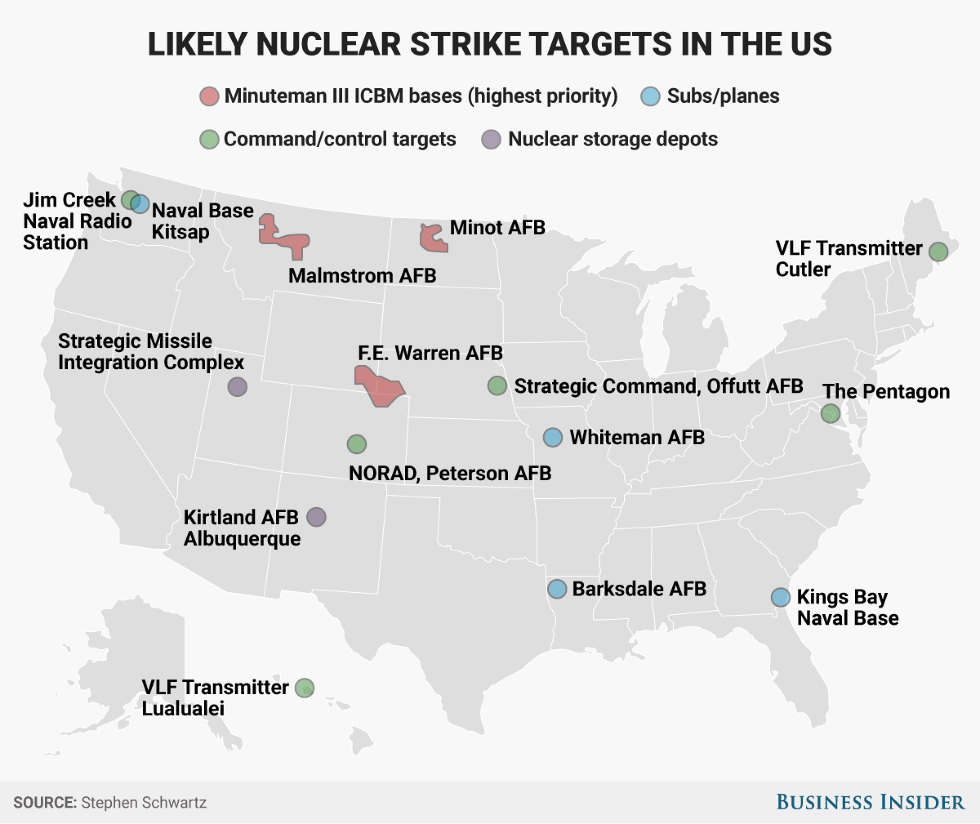 Skye Gould/Business Insider
This map represents targets for an all-out attack on the US's fixed nuclear infrastructure, weapons, and command and control centers — but even a massive strike like this wouldn't guarantee anything.
"It's exceedingly unlikely that such an attack would be fully successful," Schwartz told Business Insider. "There's an enormous amount of variables in pulling off an attack like this flawlessly, and it would have to be flawless. If even a handful of weapons escape, the stuff you missed will be coming back at you."
Even if every single US intercontinental ballistic missile silo, stockpiled nuclear weapon, and nuclear-capable bomber were flattened, US nuclear submarines could — and would — retaliate.
According to Schwartz, at any given time, the US has four to five nuclear-armed submarines "on hard alert, in their patrol areas, awaiting orders for launch." Even high-ranking officials in the US military don't know where the silent submarines are, and there's no way Russia could chase them all down before they fired back, which Schwartz said could be done in as little as five to 15 minutes.
But even a strike on a relatively sparsely populated area could lead to death and destruction across the US, depending on how the wind blew. That's because of fallout.
Dangerous radioactive fallout zones shrink rapidly after a nuclear explosion.Bruce Buddemeier/Lawrence Livermore National Laboratory
The US has strategically positioned the bulk of its nuclear forces, which double as nuclear targets, far from population centers. But if you happen to live next to an ICBM silo, fear not.
There's a "0.0 percent chance" that Russia could hope to survive an act of nuclear aggression against the US, according to Schwartz.
So while we all live under a nuclear "sword of Damocles," Schwartz said, people in big cities like New York and Los Angeles most likely shouldn't worry about being struck by a nuclear weapon.
More from Business Insider:
D-Day veteran James McCue died a hero. About 500 strangers made sure of it.
"It's beautiful," Army Sgt. Pete Rooney said of the crowd that gathered in the cold and stood on the snow Thursday during McCue's burial. "I wish it happened for every veteran's funeral."
February 15, 2019 at 12:37 PM
news
President Donald Trump claims the $6.1 billion from the Defense Department's budget that he will now spend on his border wall was not going to be used for anything "important."
Trump announced on Friday that he was declaring a national emergency, allowing him to tap into military funding to help pay for barriers along the U.S.-Mexico border.
February 15, 2019 at 06:08 PM
History
Every once in a while, we run across a photo in The Times-Picayune archives that's so striking that it begs a simple question: "What in the name of Momus Alexander Morgus is going on in this New Orleans photograph?" When we do, we've decided, we're going to share it — and to attempt to answer that question.
February 15, 2019 at 02:53 PM
news
Members of the Syrian Democratic Forces control the monitor of their drone at their advanced position, during the fighting with Islamic State's fighters in Nazlat Shahada, a district of Raqqa. (Reuters/Zohra Bensemra)
MUSCAT (Reuters) - The United States should keep arming and aiding the Kurdish-led Syrian Democratic Forces (SDF) following the planned U.S. withdrawal from Syria, provided the group keeps up the pressure on Islamic State, a senior U.S. general told Reuters on Friday.
Long before Tony Stark took a load of shrapnel to the chest in a distant war zone, science fiction legend Robert Heinlein gave America the most visceral description of powered armor for the warfighter of the future. Forget the spines of extra-lethal weaponry, the heads-up display, and even the augmented strength of an Iron Man suit — the real genius, Heinlein wrote in Starship Troopers, "is that you don't have to control the suit; you just wear it, like your clothes, like skin."
"Any sort of ship you have to learn to pilot; it takes a long time, a new full set of reflexes, a different and artificial way of thinking," explains Johnny Rico. "Spaceships are for acrobats who are also mathematicians. But a suit, you just wear."

First introduced in 2013, U.S. Special Operations Command's Tactical Assault Light Operator Suit (TALOS) purported to offer this capability as America's first stab at militarized powered armor. And while SOCOM initially promised a veritable Iron Man-style tactical armor by 2018, a Navy spokesman told Task & Purpose the much-hyped exoskeleton will likely never get off the launch pad.

"The prototype itself is not currently suitable for operation in a close combat environment," SOCOM spokesman Navy Lt. Phillip Chitty told Task & Purpose, adding that JATF-TALOS has no plans for an external demonstration this year. "There is still no intent to field the TALOS Mk 5 combat suit prototype."