The Marine Corps is experimenting with 'mini' carrier strike groups laden with F-35 fighters
April 16, 2019 at 11:54 AM
news
Not only are U.S. Marines experimenting with a new aircraft carrier concept, but they are also taking a fresh look at forming "mini" carrier strike groups to fill in when the carriers are called away.
---
The capable fifth-generation F-35 stealth fighters are changing the way the service's big amphibious assault ships — the centerpieces of the so-called "gator navy" — go to war.
The Marine Corps is aggressively pushing ahead with the experimental "Lightning Carrier" concept, which involves arming the large flattops with a literal boatload of F-35B Lightning II Joint Strike Fighters to turn the traditional troop transport ships into light carriers capable of boosting the overall firepower of the U.S. carrier force.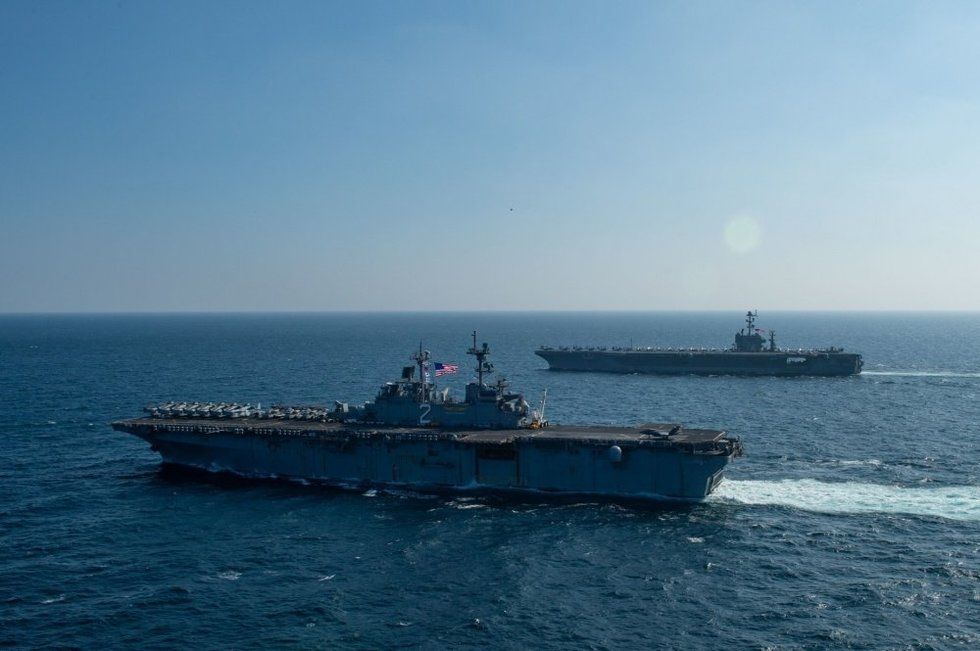 The amphibious assault ship USS Essex (LHD 2) sails alongside the aircraft carrier USS John C. Stennis (CVN 74) in the Arabian Sea, Dec. 14, 2018.(U.S. Navy/Mass Communication Specialist 3rd Class Jake Greenberg)
At the same time, the service and the U.S. Navy are looking at making changes to amphibious readiness groups (ARGs), transforming them into miniature carrier strike groups (CSGs). An ARG typically consists of an amphibious assault ship, an amphibious transport dock, a landing dock ship, and a contingent of Marine expeditionary forces.
"We're definitely changing the way amphibs are employed, especially on the blue side — we're no longer just the trucks that carry Marines that we used to be," explained Lt. Cmdr. David Mahoney, Amphibious Squadron 1 Operations Officer, USNI News reported Tuesday.
The amphibious assault ship USS Essex, the lead capital ship for the Essex ARG, sailed into the Persian Gulf last fall as the USS Harry S. Truman aircraft carrier and its escort ships, which were initially expected to deploy to the Middle East, sailed into the North Atlantic in support of NATO.
"There was no carrier in 5th Fleet, so a lot of the CSG-like duties we started taking over just because we had to," Mahoney explained. "The ARG is now becoming almost like a mini CSG."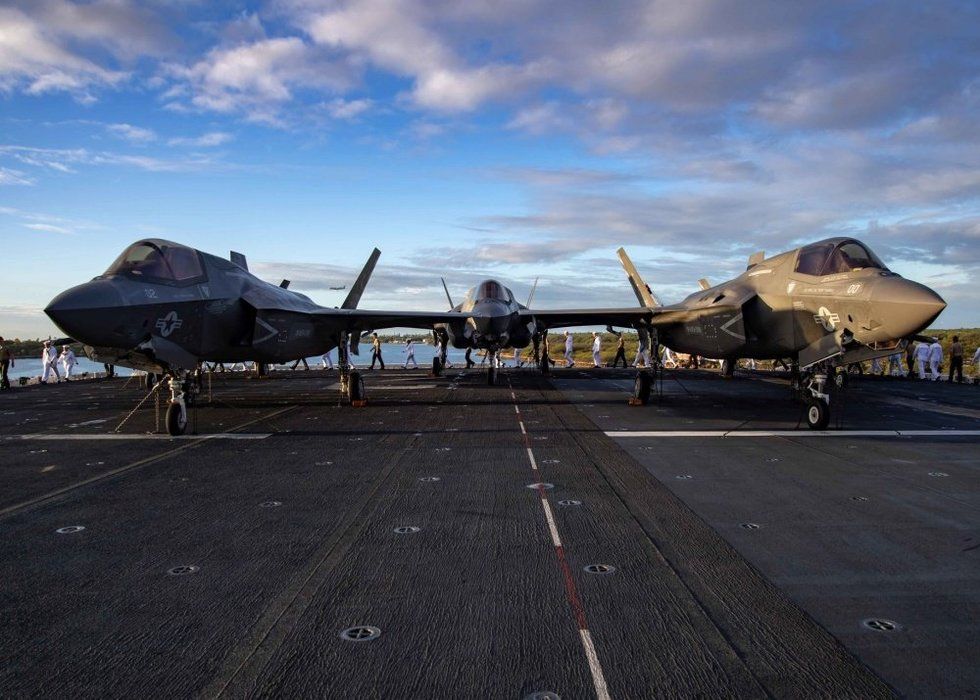 F-35B Lightning II sit on the flight deck while Sailors and Marines prepare to man the rails of Wasp-class amphibious assault ship USS Essex (LHD 2) as it pulls into Pearl Harbor during a deployment of Essex Amphibious Ready Group (ARG) and 13th Marine Expeditionary Unit (MEU)(U.S. Navy/Mass Communication Specialist 3rd Class Matthew Freeman)
"You can see that layered defense," he said, pointing to the ARGs cooperation with destroyers and other warships, as well as the increased capability provided by the multi-mission F-35s with advanced stealth and a powerful sensor suite. "This is what has to happen as the carriers are being sometimes sent elsewhere because the needs are rising elsewhere."
The ARGs, especially in this time of renewed great power competition, are "definitely in high demand to fill those [CSG] roles as the Navy is spreading out further and further around the globe."
Marine Corps F-35Bs, short take-off vertical landing aircraft built for operations aboard the amphibs, flew into combat for the first time during the Essex ARG's deployment. Amphibious assault ships lack the catapults and arresting wires used on aircraft carriers, and only support these jump-jets and helicopters.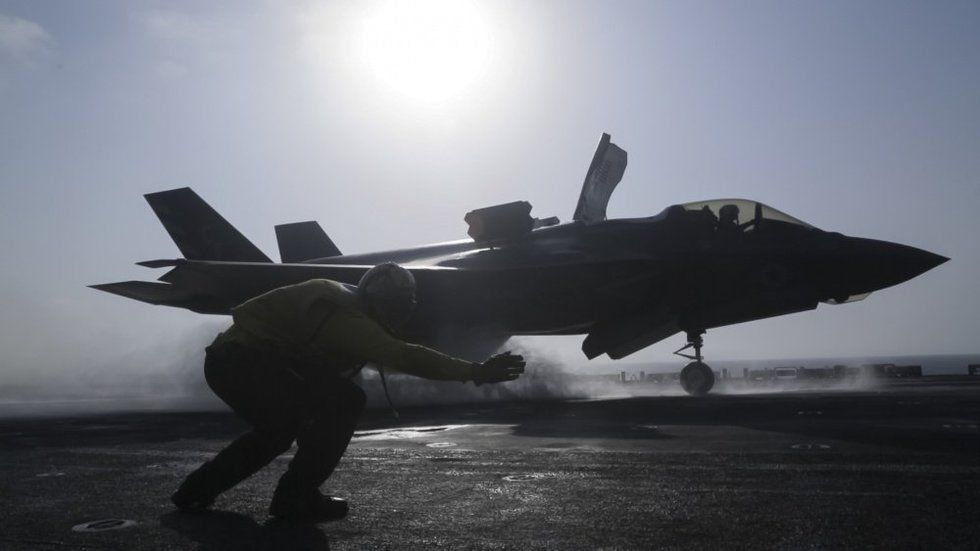 U.S. Navy Petty Officer 1st Class Rey White, an aviation boatswains mate handler with the Essex Amphibious Ready Group (ARG), launches an F-35B Lightning II with Marine Fighter Attack Squadron 211, 13th Marine Expeditionary Unit (MEU), from the Wasp-class amphibious assault ship USS Essex (LHD 2)(U.S. Marine Corps/Cpl. Francisco J. Diaz Jr.)
In February of this year, the F-35B achieved another first as fighters aboard the USS Wasp carried out simulated strikes in "beast mode," meaning it was operating with an external ordnance loadout, in the Pacific.
Recently, the Wasp sailed into the South China Sea with an unusually heavy configuration of at least ten stealth fighters, significantly more than normal, for joint drills with the Philippines. During the Balikatan exercises, the ship was spotted running flight operations near the disputed Scarborough Shoal as part of the light carrier experiment.: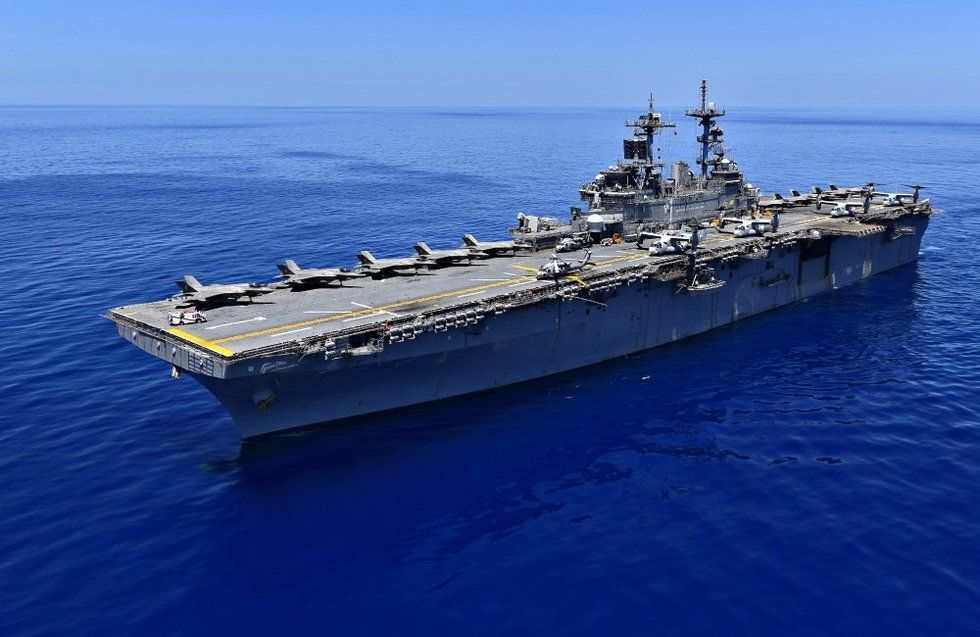 The amphibious assault ship USS Wasp (LHD 1) transits the waters of the South China Sea.(U.S. Navy/Mass Communication Specialist 1st Class Daniel Barker)
At the heart of the new "mini" CSGs is the "Lightning Carrier," an amphib loaded up with as many as 20 F-35s for carrier-like operations. This concept, which the Marines began experimenting with in 2016, is a rebranded version of the "Harrier Carrier" concept, a earlier variation with AV-8 Harrier jump jets that served the military well for decades.
"While the amphibious assault ship will never replace the aircraft carrier," the Marine Corps said in a 2017 report, "it can be complementary if employed in imaginative ways."
Read more from Business Insider:
WATCH NEXT: The Navy's F-35C is One Mean Fighter
September 22, 2019 at 09:51 AM
news
U.S. Army recruits practice patrol tactics while marching during U.S. Army basic training at Fort Jackson, S.C., Dec. 6, 2006. (U.S. Air Force/Staff Sgt. Shawn Weismiller)
An 18-year-old Army recruit at Fort Jackson died following a "medical emergency" before a training drill, according to an officials with the base.
September 22, 2019 at 09:27 AM
news
Lance Cpl. Job Wallace (Facebook)
A Camp Pendleton Marine who was believed to be headed back to the base from Arizona on Monday, but never arrived, was found safe in Texas Saturday night, military officials said.
September 21, 2019 at 05:00 PM
news
Guided-missile destroyer USS Stethem (DDG 63) Sailors participate in a memorial for the shipÕs namesake, Robert D. Stethem. Navy diver, Steelworker 2nd Class Robert Stethem, who was returning from an assignment in the Middle East, when he was taken hostage aboard TWA 847 commercial airliner. The flight was hijacked by terrorists, and Stethem was shot to death after being tortured by the terrorists on June 15, 1985. (U.S. Navy photo by Ensign Danny Ewing Jr.)
ATHENS (Reuters) - Greek police have arrested a 65-year-old Lebanese man suspected of involvement in the 1985 hijacking of a Trans World Airlines (TWA) plane in which a U.S. navy diver was killed.
A Greek police official said on Saturday the suspect had disembarked from a cruise ship on the island of Mykonos on Thursday and that his name came up as being wanted by German authorities.
The last time the world saw Marine veteran Austin Tice, he had been taken prisoner by armed men. It was unclear whether his captors were jihadists or allies of Syrian dictator Bashar al Assad who were disguised as Islamic radicals.
Blindfolded and nearly out of breath, Tice spoke in Arabic before breaking into English:"Oh Jesus. Oh Jesus."
That was from a video posted on YouTube on Sept. 26, 2012, several weeks after Tice went missing near Damascus, Syria, while working as a freelance journalist for McClatchy and the Washington Post.
Now that Tice has been held in captivity for more than seven years, reporters who have regular access to President Donald Trump need to start asking him how he is going to bring Tice home.
September 21, 2019 at 01:45 PM
news
SAN DIEGO — John Timothy Earnest didn't hide his smirks as he sat in a San Diego courtroom on Thursday, watching surveillance video of Lori Gilbert-Kaye being shot down inside the lobby of a Poway synagogue.
Earnest also smiled as a synagogue congregant testified about running toward the shooter, screaming "I'm going to kill you!" and seeing the gunman "with a look of astonishment or fear" turn and run.
Earnest, 20, is facing one count of murder and three counts of attempted murder in the shootings at Chabad of Poway on April 27. He also faces an arson charge related to an Escondido mosque fire in March, when several people who were sleeping inside escaped unharmed.