The Marine Corps Is Embracing A New Naval Warfare Concept For The Next Big Fight Against China
January 27, 2019 at 03:40 PM
popular
The U.S. Marine Corps is developing a new concept of naval warfare to allow Marines to take South China Sea islands from Beijing in the context of a massive missile fight in the Pacific.
---
Marine Corps leaders at the Surface Navy Association's annual national symposium told USNI News that today's naval protocol wasn't what the force was looking for to take on China's Pacific fortress.
China has spent years dredging up the sea floor to build artificial islands in the South China Sea, an international waterway.
Despite promising never to militarize the islands and losing an international arbitration case concluding they did not own the islands, China has enforced de facto control over the vital shipping lane that sees trillions in annual trade.
The U.S. regularly contests China's claims to these waters by sailing U.S. Navy destroyers through the area, but China has increasingly responded with militaristic rhetoric and one Chinese admiral even calling for the sinking of US aircraft carriers.
CSIS/Asia Maritime Transparency Initiative
But the U.S. remains committed to checking China's land grab in the Pacific, and accordingly, it's crafting war plans to stand up to Beijing's growing military and rocket forces.

Taking Beijing's islands is central to those plans, U.S. Marine Corps Maj. Gen. David Coffman said, according to USNI News.
Coffman said "integrated naval operations could be needed to take an island somewhere – natural or manmade," in a likely reference to Beijing's man-made South China Sea outposts.
"It certainly will be required when a great power competition pits a whale against an elephant, or maybe two elephants – a global maritime power, that's us, against a regional land power hegemon with home-field advantage," he continued, again referencing China as an "elephant," or a land power that the U.S., a "whale" or maritime power would have to overcome.
"In that long war, maritime superiority is necessary but not sufficient for the whale to beat the elephant," he said.
In other words, the U.S. Navy and Marines can't just win the fight with better sea power, they will also need to make landings.
But those landings will have to be made under a massive missile attack.
Can the carriers survive?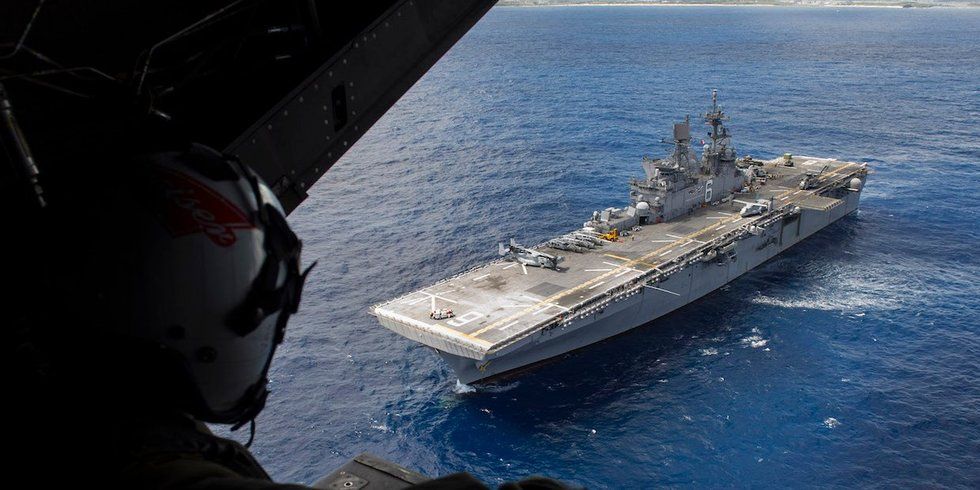 The amphibious assault ship USS America (LHA 6) conducts flight operations near the island of Hawaii, July 30, 2016.(U.S. Navy photo)
China recently deployed DF-26 "carrier killer" missiles to its northwest where they could sink U.S. ships from outside the range of the longest-legged Navy platform.
The South China Sea now hosts a vast network of radars that experts say could be used to track and kill U.S. naval aviation, even the stealth kind.
Additionally, a recent study that looked at carrier survivability at the Heritage Foundation revealed that China could likely muster up 600 anti-ship missiles and that a carrier strike group could likely only down 450 of those fires.
As a result, Coffman said the normal three-ship Amphibious Ready Group and the accompanying a Marine Expeditionary Unit on small deck carriers would no longer cut it.
Up gunning the fleet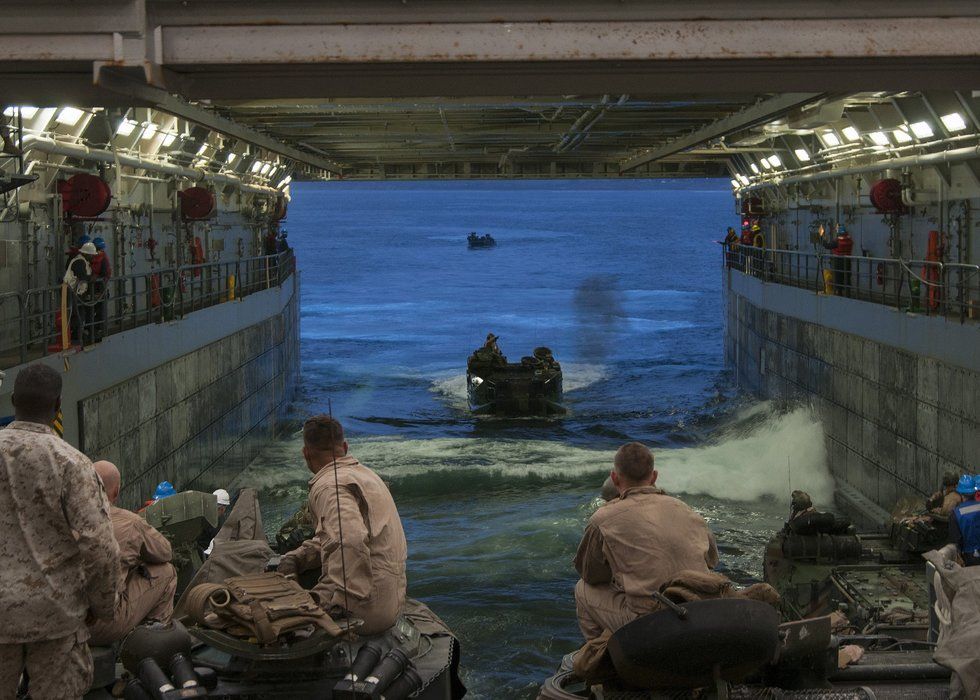 U.S. Marines assigned to 3rd Assault Amphibian Battalion observe the approach of amphibious assault vehicles (AAV) during well deck operations aboard amphibious transport dock ship USS Somerset (LPD 25). Somerset is participating in Exercise Dawn Blitz 2015 (DB-15)(U.S. Navy/Mass Communication Specialist 1st Class Vladimir Ramos)
The solution? Up-gunning the small carriers and including destroyers and cruisers in the battle formation.
"Every ship has to be a warship that can defend itself, have an offensive striking capability and be able to deal with the threats that are coming in, be it a cyber threat – so it needs a good network – or whether it's a kinetic threat in the form of a missile that's coming at it," Lt. Gen. Brian Beaudreault said, according to USNI.
Beaudreault suggested putting vertical lauch cells on new U.S. Marine Corps helicopter and F-35B carriers to handle incoming threats, essentially turning these amphibious flattops into aircraft-carrying destroyers in their own right.
Read more from Business Insider:
WATCH NEXT: That Time China's Navy Dropped A Diss Track
The video opens innocently enough. A bell sounds as we gaze onto a U.S. Navy frigate, safely docked at port at Naval Base San Diego. A cadre of sailors, dressed in "crackerjack" style enlisted dress uniforms and hauling duffel bags over their shoulders, stride up a gangplank aboard the vessel. The officer on deck greets them with a blast of a boatswain's call. It could be the opening scene of a recruitment video for the greatest naval force on the planet.
Then the rhythmic clapping begins.
This is no recruitment video. It's 'In The Navy,' the legendary 1979 hit from disco queens The Village People, shot aboard the very real Knox-class USS Reasoner (FF-1063) frigate. And one of those five Navy sailors who strode up that gangplank during filming was Ronald Beck, at the time a legal yeoman and witness to one of the strangest collisions between the U.S. military and pop culture of the 20th century.
"They picked the ship and they picked us, I don't know why," Beck, who left the Navy in 1982, told Task & Purpose in a phone interview from his Texas home in October. "I was just lucky to be one of 'em picked."
October 23, 2019 at 01:17 PM
news
Defense Secretary Mark Esper on Tuesday casually brushed aside the disturbing news that, holy shit, MORE THAN 100 ISIS FIGHTERS HAVE ESCAPED FROM JAIL.
In an interview with CNN's Christiane Amanpour, Esper essentially turned this fact into a positive, no doubt impressing public relations and political talking heads everywhere with some truly masterful spin.
"Of the 11,000 or so detainees that were imprisoned in northeast Syria, we've only had reports that a little more than a hundred have escaped," Esper said, adding that the Syrian Democratic Forces were continuing to guard prisons, and the Pentagon had not "seen this big prison break that we all expected."
Well, I feel better. How about you?
On Wednesday, the top U.S. envoy in charge of the global coalition to defeat ISIS said much the same, while adding another cherry on top: The United States has no idea where those 100+ fighters went.
"We do not know where they are," James Jeffrey told members of Congress of the 100+ escaped detainees. ISIS has about 18,000 "members" left in Iraq and Syria, according to recent Pentagon estimates.
A senior administration official told reporters on Wednesday the White House's understanding is that the SDF continues to keep the "vast majority" of ISIS fighters under "lock and key."
"It's obviously a fluid situation on the ground that we're monitoring closely," the official said, adding that released fighters will be "hunted down and recaptured." The official said it was Turkey's responsibility to do so.
President Trump expressed optimism on Wednesday about what was happening on the ground in northeast Syria, when he announced that a ceasefire between Turkey and the Kurds was expected to be made permanent.
"Turkey, Syria, and all forms of the Kurds have been fighting for centuries," Trump said. "We have done them a great service and we've done a great job for all of them — and now we're getting out."
The president boasted that the U.S.-brokered ceasefire had saved the lives of tens of thousands of Kurds "without spilling one drop of American blood."

Trump said that "small number of U.S. troops" would remain in Syria to protect oilfields.
October 23, 2019 at 07:44 AM
news
Kade Kurita (U.S. Army photo(
Kade Kurita, the 20-year-old West Point cadet who had been missing since Friday evening, was found dead on Tuesday night, the U.S. Military Academy announced early Wednesday morning.
"We are grieving this loss and our thoughts and prayers go out to Cadet Kurita's family and friends," Lt. Gen. Darryl Williams, superintendent of West Point, said in the release.
Editor's Note: This article by Matthew Cox originally appeared on Military.com, a leading source of news for the military and veteran community.
The U.S. Army's Next Generation Squad Weapon effort looked a lot more possible this week as the three competing weapons firms displayed their prototype 6.8mm rifles and automatic rifles at the 2019 Association of the United States Army's annual meeting.
Just two months ago, the Army selected General Dynamics Ordnance and Tactical Systems inc., Textron Systems and Sig Sauer Inc. for the final phase of the NGSW effort — one of the service's top modernization priorities to replace the 5.56mm M4A1 carbine and the M249 squad automatic weapon in infantry and other close-combat units.
Army officials, as well as the companies in competition, have been guarded about specific details, but the end result will equip combat squads with weapons that fire a specially designed 6.8mm projectile, capable of penetrating enemy body armor at ranges well beyond the current M855A1 5.56mm round.
There have previously been glimpses of weapons from two firms, but this year's AUSA was the first time all three competitors displayed their prototype weapons, which are distinctly different from one another.
October 23, 2019 at 10:22 AM
news
The Minot Air Force Base main gate (U.S. Air Force photo)
The Air Force is investigating reports that an airman consumed marijuana while assigned to one of the highly-sensitive missile alert facility (MAF) responsible for overseeing Minuteman III intercontinental ballistic missiles at Minot Air Force Base in North Dakota.