This Marine Corps sniper nailed a target nearly 8,000 feet away. Here's how he took one of the toughest shots of his life
August 19, 2019 at 02:36 PM
Community
U.S. military snipers have to be able to make the hard shots, the seemingly impossible shots. They have to be able to push themselves and their weapons.
Staff Sgt. Hunter Bernius, a veteran Marine Corps scout sniper who runs an advanced urban sniper training course, walked INSIDER through his most technically difficult shot — he fired a bullet into a target roughly 2.3 kilometers (1.4 miles) away with a .50 caliber sniper rifle.
---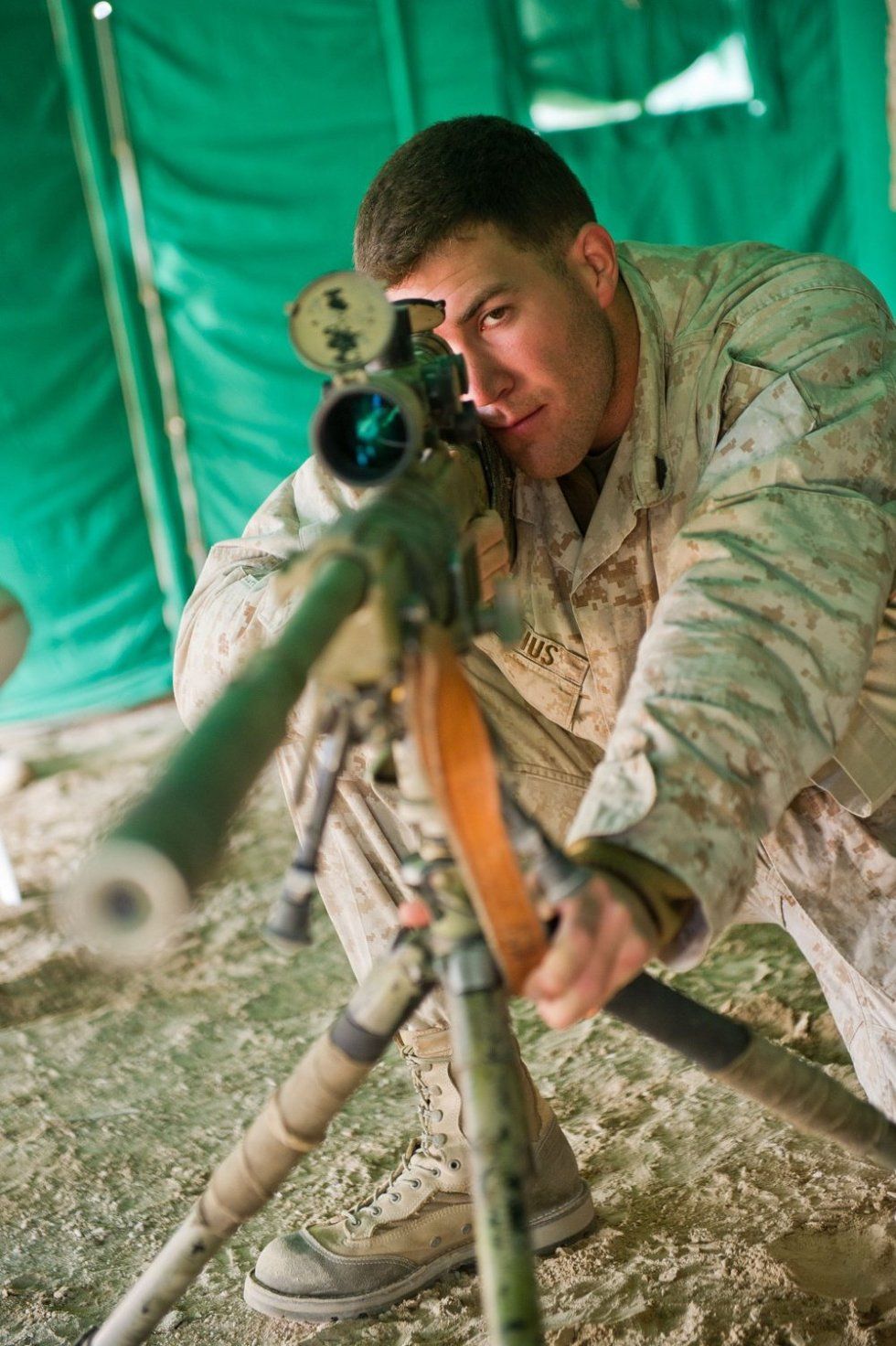 Weapons Company scout sniper and Lufkin, Texas, native Sgt. Hunter Bernius takes a shooting position here Feb. 12, 2012 during field training(U.S. Marine Corps/Cpl. Tommy Huynh)
The longest confirmed kill shot of all time was taken by a Canadian special forces sniper, who shot an ISIS militant dead at 3,540 meters, or 2.2 miles, in Iraq in 2017. The previous record was held by British sniper Craig Harrison, who shot and killed a Taliban insurgent from 2,475 meters away.
"There are definitely people out there who have done amazing things," U.S. Army First Sgt. Kevin Sipes, a veteran sniper and instructor at the sniper school at Fort Benning, Georgia, told INSIDER. "Anything is possible."
Snipers are trained to scout the movements of enemy forces often from very exposed positions, and are also used to target enemy leaders and to pin down their forces. These dangerous missions require they become masters of concealment.
While 2,300 meters may not be a record, it is still a very hard shot to make.
'Hard math'
U.S. military snipers typically operate at ranges between 600 and 1,200 meters. At extreme ranges, the Marine is pushing his weapon past its limits. The M107 semi-automatic long range sniper rifles used by the Marine Corps can fire accurately out to only about 2,000 meters.
"Shooting on the ground can be easy, especially when you are shooting 600 meters in or 1,000 meters in. That's almost second nature," Bernius explained. "But, when you are extending it to the extremes, beyond the capability of the weapon system, you have all kinds of different things to consider."
At those longer ranges, a sniper has to rely a lot more on "hard math" than just shooter instinct.
Sgt. Hunter G. Bernius, a scout sniper with Weapons Company, Battalion Landing Team 3/1, 11th Marine Expeditionary Unit and Lufkin, Texas native, shoots at a target placed in the water from a UH-1Y Huey during an aerial sniper exercise Jan. 2, 2012 (U.S. Marine Corps/Staff Sgt. Chance Haworth)
Bernius, a Texas native who has deployed to Iraq and other locations across the Middle East, made his most technically difficult shot as a student in the advanced sniper course, a training program for Marine Corps sharpshooters who have already successfully completed basic sniper training.

"When I came through as a student at the course I am running now, my partner and I were shooting at a target at approximately 2,300 meters," Bernius explained. "We did in fact hit it, but it took approximately 20-25 minutes of planning, thinking of everything we needed to do with calculations, with the readings."
At that distance, it takes the bullet roughly six to eight seconds to reach the target, which means there is a whole lot of time for any number of external factors to affect where it lands.
"You have all kinds of considerations," Bernius told INSIDER, explaining that snipers have to think about "the rotation of the earth, which direction you are facing, wind at not just your muzzle but at 2,300 meters, at 1,000 meters, you name it."
Direction and rotation of the earth are considerations that most people might not realize come into play.
Which direction the sniper is facing can affect the way the sun hits the scope, possibly distorting the image inside the scope and throwing off the shot. It also determines how the rotation of the planet affects the bullet, which may hit higher or lower depending on the sniper's position.
"This is only for extreme long range, shots over 2,000 meters," Bernius explained.
Other possible considerations include the temperature, the humidity, the time of day, whether or not the sniper is shooting over a body of water (it can create a mirage), the shape of the bullet, and spin drift of the round.
"We ended up hitting it," Bernius said. "That, to me, was probably the most technically difficult shot."
Read more from Business Insider:
December 14, 2019 at 03:24 PM
news
A Marine wanted for killing his mother's boyfriend reportedly escaped police by hiding inside an RV they'd spent hours searching before towing it to a parking lot, where he escaped under the cover of darkness.
It wasn't until more than two weeks later authorities finally caught up to Michael Brown at his mom's home, which was the scene of the crime.
Brown stuffed himself into a tight spot in his camper during an hours-long search of the vehicle on Nov. 10, according to NBC affiliate WSLS in Virginia. A day earlier, cops said Brown fatally shot his mother's boyfriend, Rodney Brown. The AWOL Marine remained on the lam until Nov. 27, where he was finally apprehended without incident.
December 14, 2019 at 01:24 PM
news
No motive is yet known for last week's Pearl Harbor Naval Shipyard shooting tragedy, which appears to have been a random act of violence in which the sailor who fatally shot two civilian workers and himself did not know them and did not plan his actions ahead of time, shipyard commander Capt. Greg Burton said in an "All Hands" message sent out Friday.
Machinist's Mate Auxiliary Fireman Gabriel Antonio Romero of San Antonio, an armed watch-stander on the attack submarine USS Columbia, shot three civilian workers Dec. 4 and then turned a gun on himself while the sub rested in dry dock 2 for a major overhaul, the Navy said.
"The investigation continues, but there is currently no known motive and no information to indicate the sailor knew any of the victims," Burton said.
December 14, 2019 at 12:56 PM
news
A projectile is fired during North Korea's missile tests in this undated picture released by North Korea's Central News Agency (KCNA) on November 28, 2019. (KCNA via Reuters)
SEOUL (Reuters) - North Korea said it had successfully conducted another test at a satellite launch site, the latest in a string of developments aimed at "restraining and overpowering the nuclear threat of the U.S.", state news agency KCNA reported on Saturday.
The test was conducted on Friday at the Sohae satellite launch site, KCNA said, citing a spokesman for North Korea's Academy of Defence Science, without specifying what sort of testing occurred.
Since the Washington Post first published the "Afghanistan papers," I have been reminded of a scene from "Apocalypse Now Redux" in which Army Col. Walter Kurtz reads to the soldier assigned to kill him two Time magazine articles showing how the American people had been lied to about Vietnam by both the Lyndon Johnson and Richard Nixon administrations.
In one of the articles, a British counterinsurgency expert tells Nixon that "things felt much better and smelled much better" during his visit to Vietnam.
"How do they smell to you, soldier?" Kurtz asks.
December 14, 2019 at 12:06 PM
news
Erik Prince arrives for the New York Young Republican Club Gala at The Yale Club of New York City in Manhattan in New York City, New York, U.S., November 7, 2019. (REUTERS/Jeenah Moon)
WASHINGTON (Reuters) - Erik Prince, the controversial private security executive and prominent supporter of U.S. President Donald Trump, made a secret visit to Venezuela last month and met Vice President Delcy Rodriguez, one of socialist leader Nicolas Maduro's closest and most outspoken allies, according to five sources familiar with the matter.