A Marine flattop sailed through the Strait of Hormuz with an armored vehicle on its flight deck to fend off Iranian gunboats
August 15, 2019 at 09:46 AM
news
Marines embarked aboard the amphibious assault ship USS Boxer recently sailed through the Strait of Hormuz with an armored vehicle strapped to the flight deck, ready to fight off drones and Iranian gunboats.
A light armored vehicle (LAV) belonging to the 11th Marine Expeditionary Unit can be seen on the flight deck as an AH-1Z Viper lifts off in a recently-released Marine Corps photo, NPR's Phil Ewing first noted.
---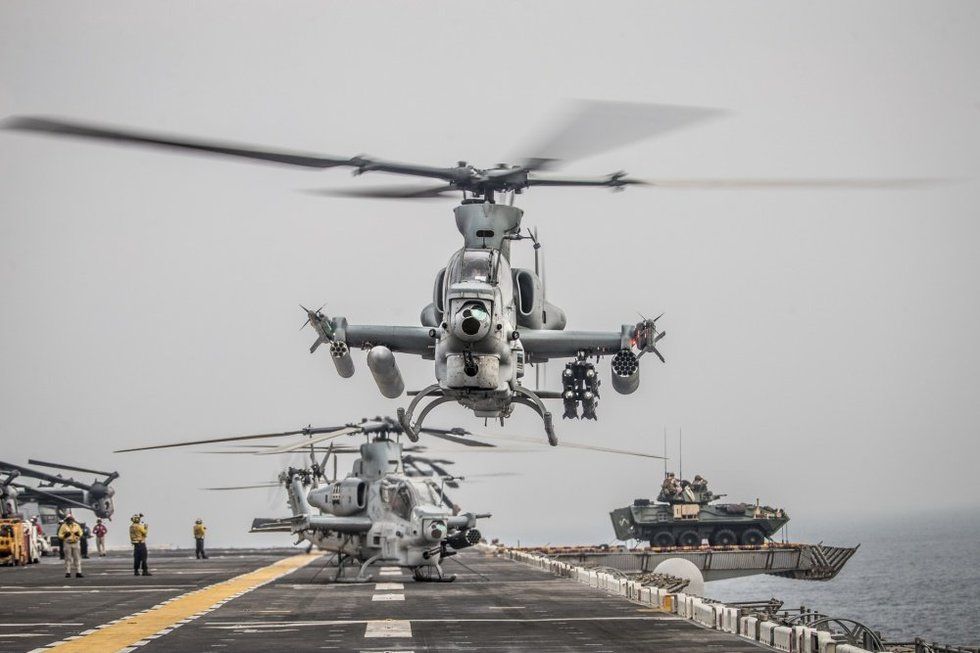 An AH-1Z Viper attached to Marine Medium Tiltrotor Squadron 163 (Reinforced), 11th Marine Expeditionary Unit taking off during a strait transit aboard the amphibious assault ship USS Boxer. (U.S. Marine Corps/Lance Cpl. Dalton S. Swanbeck)
The Marine Corps LAV-25 has a high-end targeting system that directs its 25mm chain guns and M240 7.62mm machine gun. The USS Boxer is armed with counter-air missiles, as well as various close-in weapon systems, among other weapons. The Vipers carry two air-to-air missiles, a handful of air-to-surface missiles, and a 20mm Gatling cannon.
The Marine Corps began experimenting last year with strapping LAVs to the decks of the amphibs — flattops capable of carrying helicopters and vertical landing and take-off jets and transporting Marines — to make the ships more lethal.
In September 2018, the 31st Marine Expeditionary Unit embarked aboard the USS Wasp, another amphibious assault ship, drilled in the South China Sea with a LAV parked on the flight deck, training to fend off the types of threats Marines might face in hostile waterways.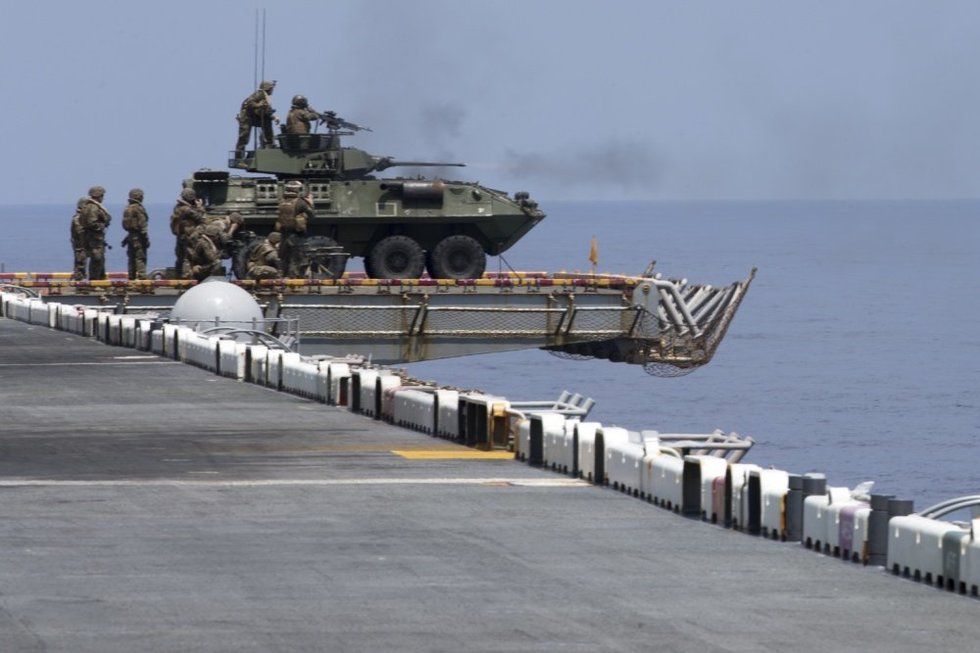 Marines with Weapons Company, Battalion Landing Team, 2nd Battalion, 5th Marines, on a Light Armored Vehicle atop the flight deck of the amphibious assault ship USS Wasp(U.S. Marine Corps/Gunnery Sgt. E. V. Hagewood)
"This was the first time," Capt. George McArthur, a 31st MEU spokesman, told Military Times, "that a LAV-25 platoon with the 31st MEU performed this level of integrated targeting and live-fire from the flight deck of a ship such as the Wasp with combined arms."
"Weapons Company assets improved the integrated defensive posture aboard the Wasp," he added.
The USS Boxer was harassed by Iranian unmanned aerial assets in the Strait of Hormuz last month. The U.S. warship downed one, if not two, of the Iranian drones with a new electronic jamming system. Another potential threat in this region is Iranian gunboats, which have targeted commercial shipping in recent months.
Commenting on why the Marines experimented with using armored vehicles on the flight decks of the amphibs, Marine Maj. Gen. David Coffman, the director of Expeditionary Warfare for the chief of naval operations, said last November that he "watched a MEU commander strap an LAV to the front of a flight deck because it had better sensors than the ship did to find small boat."
That the USS Boxer was sailing through the Strait of Hormuz with an LAV out on the flight deck suggests that the ship was ready for a confrontation.
Read more from Business Insider:
A competitor performs push-ups during the physical fitness event at the Minnesota Army National Guard Best Warrior Competition on April 4, 2019, at Camp Ripley, Minnesota. (Minnesota National Guard photo by Sgt. Sebastian Nemec)
Despite what you may have heard, the Army has not declared war on mustaches.
The Army W.T.F! Moments Facebook page on Monday posted a memo written by a 3rd Infantry Division company commander telling his soldiers that only the fittest among them will be allowed to sprout facial hair under their warrior nostrils.
"During my tenure at Battle Company, I have noticed a direct correlation between mustaches and a lack of physical fitness," the memo says. "In an effort to increase the physical fitness of Battle Company, mustaches will not be authorized for any soldier earning less than a 300 on the APFT [Army Physical Fitness Test]."
Task & Purpose
I don't always drop everything to spend a few hours with a short, squat Marine, but when I do, you can bet it's for Chesty.
August 20, 2019 at 12:43 PM
Humor
A U.S. Army Soldier assigned to the 3rd Battalion, 21st Infantry Regiment, Fort Wainwright, Alaska, consoles a fellow Soldier after sleeping on the ground in a designated sleeping area on another cold evening, between training exercises during NTC 17-03, National Training Center, Ft. Irwin, CA., Jan. 15, 2017. (U.S. Army/Spc. Tracy McKithern)
The Defense Visual Information Distribution Service (DVIDS) is the largest official database of U.S. military media available for public consumption. It is also an occasional source of unexpected laughs, like this gem from a live fire exercise that a public affairs officer simply tagged 'Fire mortar boom.' In the world of droll data entry and too many acronyms, sometimes little jokes are their own little form of rebellion, right?
But some DVIDS uploads, however, come with captions and titles that cut right to the core, perfectly capturing the essence of life in the U.S. military in a way that makes you sigh, facepalm, and utter a mournful, 'too real.'
August 20, 2019 at 10:51 AM
news
The U.S. military does not need Iraqi permission to fly close air support and casualty evacuation missions for U.S. troops in combat, a top spokesman for the U.S.-led coalition fighting ISIS clarified on Tuesday.
Army Col. James Rawlinson clarified that the Iraqis do not need to approve missions in emergency circumstances after Task & Purpose reported on Monday that the U.S. military needed permission to fly CAS missions for troops in a fight.
Photo illustration by Paul Szoldra/Task & Purpose
It all began with a medical check.
Carson Thomas, a healthy and fit 20-year-old infantryman who had joined the Army after a brief stint in college, figured he should tell the medics about the pain in his groin he had been feeling. It was Feb. 12, 2012, and the senior medic looked him over and decided to send him to sick call at the base hospital.
It seemed almost routine, something the Army doctors would be able to diagnose and fix so he could get back to being a grunt.
Now looking back on what happened some seven years later, it was anything but routine.