A Marine flattop sailed through the Strait of Hormuz with an armored vehicle on its flight deck to fend off Iranian gunboats
August 15, 2019 at 09:46 AM
news
Marines embarked aboard the amphibious assault ship USS Boxer recently sailed through the Strait of Hormuz with an armored vehicle strapped to the flight deck, ready to fight off drones and Iranian gunboats.
A light armored vehicle (LAV) belonging to the 11th Marine Expeditionary Unit can be seen on the flight deck as an AH-1Z Viper lifts off in a recently-released Marine Corps photo, NPR's Phil Ewing first noted.
---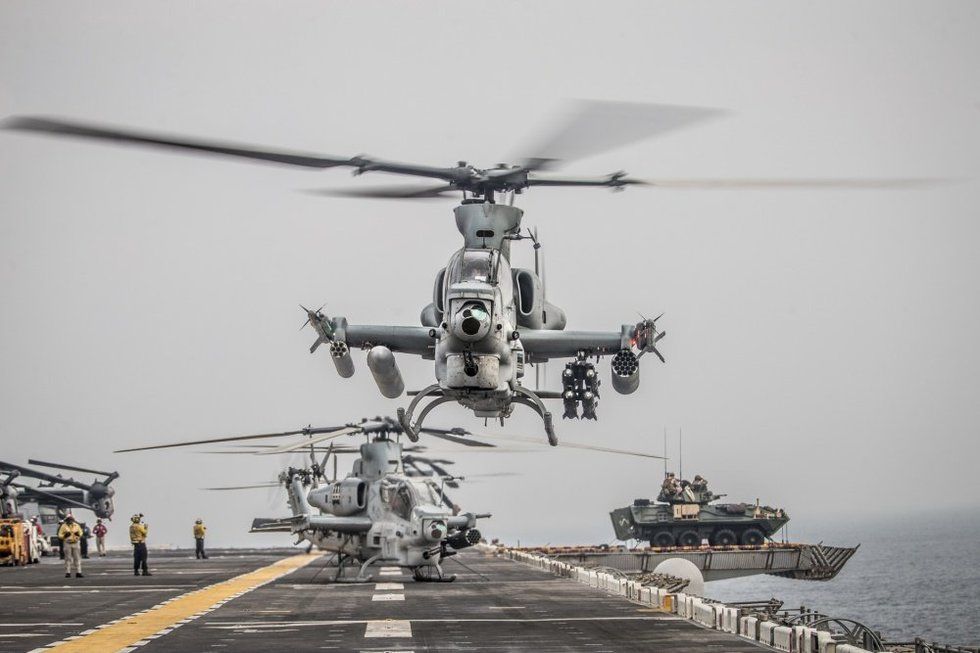 An AH-1Z Viper attached to Marine Medium Tiltrotor Squadron 163 (Reinforced), 11th Marine Expeditionary Unit taking off during a strait transit aboard the amphibious assault ship USS Boxer. (U.S. Marine Corps/Lance Cpl. Dalton S. Swanbeck)
The Marine Corps LAV-25 has a high-end targeting system that directs its 25mm chain guns and M240 7.62mm machine gun. The USS Boxer is armed with counter-air missiles, as well as various close-in weapon systems, among other weapons. The Vipers carry two air-to-air missiles, a handful of air-to-surface missiles, and a 20mm Gatling cannon.
The Marine Corps began experimenting last year with strapping LAVs to the decks of the amphibs — flattops capable of carrying helicopters and vertical landing and take-off jets and transporting Marines — to make the ships more lethal.
In September 2018, the 31st Marine Expeditionary Unit embarked aboard the USS Wasp, another amphibious assault ship, drilled in the South China Sea with a LAV parked on the flight deck, training to fend off the types of threats Marines might face in hostile waterways.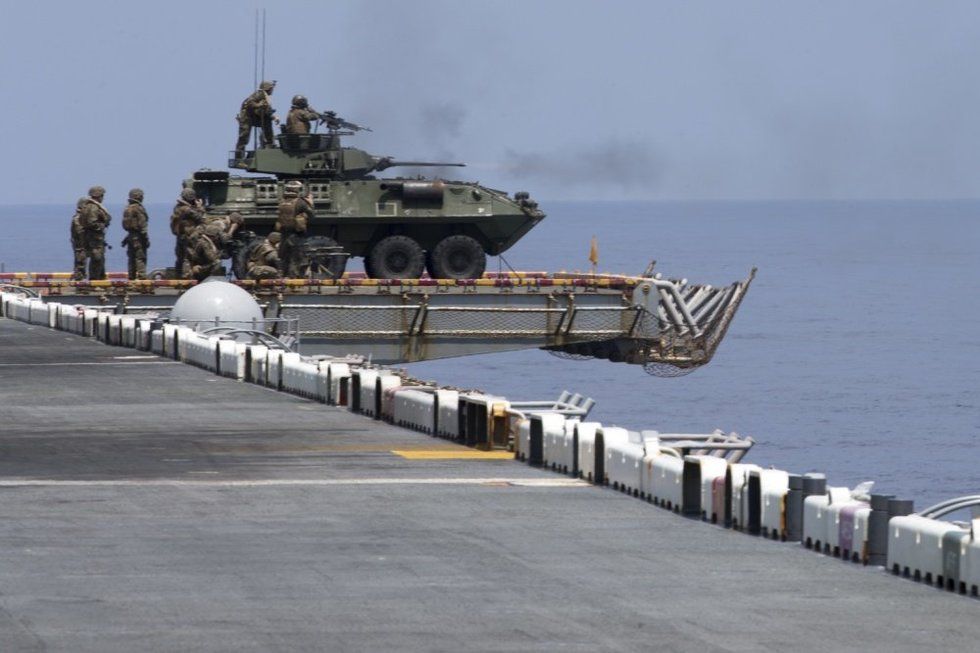 Marines with Weapons Company, Battalion Landing Team, 2nd Battalion, 5th Marines, on a Light Armored Vehicle atop the flight deck of the amphibious assault ship USS Wasp(U.S. Marine Corps/Gunnery Sgt. E. V. Hagewood)
"This was the first time," Capt. George McArthur, a 31st MEU spokesman, told Military Times, "that a LAV-25 platoon with the 31st MEU performed this level of integrated targeting and live-fire from the flight deck of a ship such as the Wasp with combined arms."
"Weapons Company assets improved the integrated defensive posture aboard the Wasp," he added.
The USS Boxer was harassed by Iranian unmanned aerial assets in the Strait of Hormuz last month. The U.S. warship downed one, if not two, of the Iranian drones with a new electronic jamming system. Another potential threat in this region is Iranian gunboats, which have targeted commercial shipping in recent months.
Commenting on why the Marines experimented with using armored vehicles on the flight decks of the amphibs, Marine Maj. Gen. David Coffman, the director of Expeditionary Warfare for the chief of naval operations, said last November that he "watched a MEU commander strap an LAV to the front of a flight deck because it had better sensors than the ship did to find small boat."
That the USS Boxer was sailing through the Strait of Hormuz with an LAV out on the flight deck suggests that the ship was ready for a confrontation.
Read more from Business Insider:
December 13, 2019 at 04:30 AM
news
Naval Air Station Pensacola (U.S. Navy photo)
WASHINGTON (Reuters) - The Saudi ambassador to the United States visited a U.S. naval air station in Florida on Thursday to extend her condolences for a shooting attack by a Saudi Air Force officer that killed three people last week, the Saudi embassy said.
December 12, 2019 at 07:35 PM
news
WASHINGTON (Reuters) - The Pentagon on Thursday tested a conventionally configured ground-launched ballistic missile, a test that would have been prohibited under the Intermediate-range Nuclear Forces Treaty.
The United States formally withdrew from the landmark 1987 INF pact with Russia in August after determining that Moscow was violating the treaty, an accusation the Kremlin has denied.
December 12, 2019 at 05:08 PM
news
U.S. Air Force airmen from the 405th Expeditionary Support Squadron work together to clear debris inside the passenger terminal the day after a Taliban-led attack at Bagram Airfield, Afghanistan, Dec. 12, 2019. (U.S. Air Force/Airman 1st Class Brandon Cribelar)
December 12, 2019 at 01:23 PM
news
December 12, 2019 at 12:24 PM
news
Katherine Burton was sitting on her couch when she heard a scream.
Though she had not yet met her upstairs neighbors, Army. Col. Jerel Grimes and his wife Ellizabeth, Burton went to investigate almost immediately. "I knew it was a cry for help," she recalled of the August 1 incident.
Above her downstairs apartment in Huntsville, Alabama, Jerel and Ellizabeth had been arguing. They had been doing a lot of that lately. According to Ellizabeth, Jerel, a soldier with 26 years of service and two Afghanistan deployments under his belt, had become increasingly controlling in the months since the couple had married in April, forcing her to share computer passwords, receipts for purchases, and asking where she was at all times.
"I was starting to realize how controlling he was, and how manipulative he was," Ellizabeth said. "And he'd never been this way towards me in the 15 years that I've known him."