The Al Qaeda bomb-maker who switched sides after plotting to blow up the NYC subway may soon walk free
May 03, 2019 at 10:19 AM
popular
Najibullah Zazi (Associated Press/Ed Andrieski)
The man who plotted to bomb New York City's subway system and then switched sides to help investigators may be released from prison in the next few days.

Najibullah Zazi, a would-be terrorist trained by al Qaeda bomb-makers, pleaded guilty in 2010 to three charges associated with a plan to detonate explosive in the NYC subway. He was, according to CNN, charged with conspiring to use weapons of mass destruction, conspiracy to commit murder in a foreign country and providing material support to a terrorist organization.
For his crimes, he was facing life in prison.
---
Over the past decade, though, Zazi has spent his time helping federal investigators. He has "provided critical intelligence and unique insight regarding al Qaeda and its members," court filings reportedly revealed. Prosecutors wrote that Zazi's "extraordinary assistance" has "directly contributed to the prosecution of numerous individuals."
On Thursday, Judge Raymond Dearie made the surprising decision to sentence him to only 10 years in prison, the majority of which has already been served. The judge called it an "unthinkable" second chance, adding, "If you wish to appeal this ruling, you should have your head examined."
Prior to the judge's ruling, Zazi told the court, "I am sorry for the harm that I caused. I am asking for forgiveness. I tried my best to correct a horrible mistake. I am not the same person," NBC reported.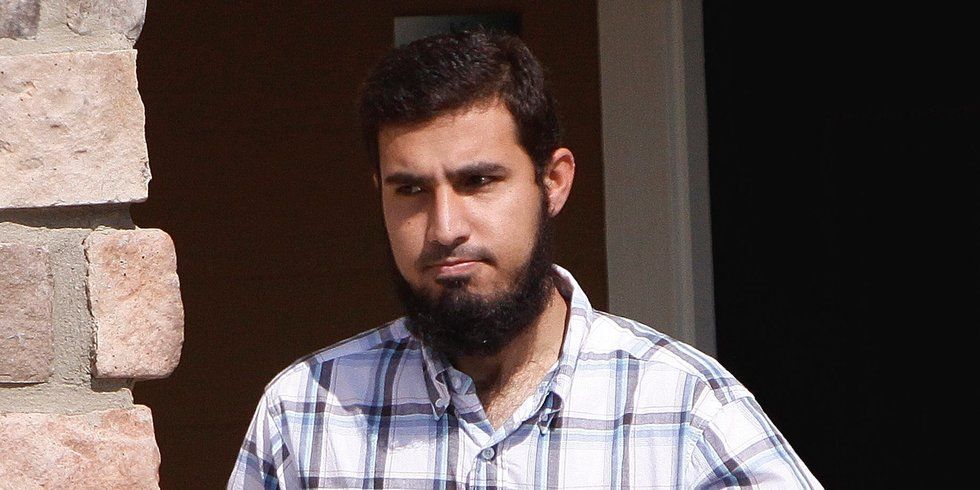 Najibullah Zazi (Associated Press/Ed Andrieski)
Zazi was born in Afghanistan and raised in Pakistan until he moved to Queens in New York City with his family as a teenager. In 2008, he returned to Pakistan, where he was recruited by al Qaeda operatives and trained to make explosives.

Zazi came back to the U.S. in 2009 and began making preparations for a suicide bombing attack on the New York City subway system, but his plans were uncovered and he was arrested just a few days after the 9th anniversary of the September 11 terrorist attacks.
After he was arrested in 2009, Zazi told reporters he had done no wrong, according to the New York Times.
Reflecting on his past actions in court, he said, "I find it almost hard to imagine what I was involved in in 2008 and 2009."
The judge reportedly repeatedly expressed skepticism of claims Zazi had denounced radical Islam and turned away from his past life before sentencing Zazi, but ultimately opted for leniency rather than sentencing the man to life in prison without parole.
Read more from Business Insider:
WATCH NEXT: Al Qaeda Has A Women's Magazine?
"As I learned while researching a book about John, the SEAL ground commander, Cmdr. Tim Szymanski, had stupidly and with great hubris insisted on insertion being that night."
November 14, 2019 at 11:07 AM
Opinion
Editor's Note: The following is an op-ed. The opinions expressed are those of the author, and do not necessarily reflect the views of Task & Purpose.
Air Force Master Sgt. John "Chappy" Chapman is my brother. As one of an elite group, Air Force Combat Control — the deadliest and most badass band of brothers to walk a battlefield — John gave his life on March 4, 2002 for brothers he never knew.
They were the brave men who comprised a Quick Reaction Force (QRF) that had been called in to rescue the SEAL Team 6 team (Mako-30) with whom he had been embedded, which left him behind on Takur Ghar, a desolate mountain in Afghanistan that topped out at over 10,000 feet.
As I learned while researching a book about John, the SEAL ground commander, Cmdr. Tim Szymanski, had stupidly and with great hubris insisted on insertion being that night. After many delays, the mission should and could have been pushed one day, but Szymanski ordered the team to proceed as planned, and Britt "Slab" Slabinski, John's team leader, fell into step after another SEAL team refused the mission.
But the "plan" went even more south when they made the rookie move to insert directly atop the mountain — right into the hands of the bad guys they knew were there.
Don't get into any shenanigans during your 10-day leave.
November 14, 2019 at 09:56 AM
news
Conflict photographer Lynsey Addario's seen a hell of a lot of combat over the past twenty years. She patrolled Afghanistan's Helmand Province with the Marines, accompanied the Army on night raids in Baghdad, took artillery fire with rebel fighters in Libya and has taken photos in countless other wars and humanitarian disasters around the world.
Along the way, Addario captured images of plenty of women serving with pride in uniform, not only in the U.S. armed forces, but also on the battlefields of Syria, Colombia, South Sudan and Israel. Her photographs are the subject of a new article in the November 2019 special issue of National Geographic, "Women: A Century of Change," the magazine's first-ever edition written and photographed exclusively by women.
The photos showcase the wide range of goals and ideals for which these women took up arms. Addario's work includes captivating vignettes of a seasoned guerrilla fighter in the jungles of Colombia; a team of Israeli military police patrolling the streets of Jerusalem; and a unit of Kurdish women guarding ISIS refugees in Syria. Some fight to prove themselves, others seek to ignite social change in their home country, and others do it to liberate other women from the grip of ISIS.

Addario visited several active war zones for the piece, but she found herself shaken by something much closer to home: the Marine Corps Recruit Depot at Parris Island, South Carolina.
Addario discussed her visit to boot camp and her other travels in an interview with Task & Purpose, which has been lightly edited for length and clarity.
November 13, 2019 at 05:57 PM
popular
An Army staff sergeant who "represents the very best of the 101st Airborne Division" has finally received a Silver Star for his heroic actions during the Battle of the Bulge after a 75-year delay.
On Sunday, Staff Sgt. Edmund "Eddie" Sternot was posthumously awarded with a Silver Star for his heroics while leading a machine gun team in the Ardennes Forest. The award, along with Sternot's Bronze Star and Purple Heart, was presented to his only living relative, Sternot's first cousin, 80-year-old Delores Sternot.
U.S. special operations forces are currently field testing a lightweight combat armor designed to cover more of an operator's body than previous protective gear, an official told Task & Purpose.
The armor, called the Lightweight Polyethylene (PE) Armor for Extremity Protection, is one of a handful of subsystems to come out of U.S. Special Operations Command's Tactical Assault Light Operator Suit (TALOS) effort that media outlets dubbed the "Iron Man suit," Navy Lieutenant Cmdr. Tim Hawkins, a SOCOM spokesman, told Task & Purpose on Wednesday.