NATO gave Polish firefighters an award for putting out a US Army Stryker that burst into flames
February 13, 2020 at 12:26 PM
news
A U.S. Army Stryker Infantry Carrier Vehicle that caught fire on a road in Poland, January 18, 2020 (Facebook/Orzysz 998)
The leaders of NATO's Enhanced Forward Presence battle group in Poland honored Polish firefighters on Monday for their response when a U.S. Army Stryker armored vehicle caught fire at the end of January.
---
The Stryker burst into flames on the side of a road outside the village of Gorzekaly, in northeast Poland near the Lithuanian border, on January 28. Its crew was able to pull over but unable to put out the fire and instead called local emergency responders.
Firefighters from the nearby town Pisz arrived and extinguished the fire quickly enough to prevent the vehicle's total loss, according to an Army release, which said there no injuries and damage was limited to the engine compartment.
U.S. Army Lt. Col. Andrew Gallo, commander of NATO Battle Group Poland, and Command Sgt. Maj. Marcus Brister, the group's senior enlisted adviser, presented certificates of appreciation to the firefighters on February 10.

"We sincerely appreciate the fire chief's professionalism and dedication to duty," Gallo said. "We are excited to continue to build relationships like this one with the local community during our deployment to Poland."
"On public roads, we have never had to deal with vehicle fires, of course some kind of accidents but never fires," said Lt. Col. Pawel Pienkosz of the fire brigade. "We were just doing our jobs; we will do it for you every time."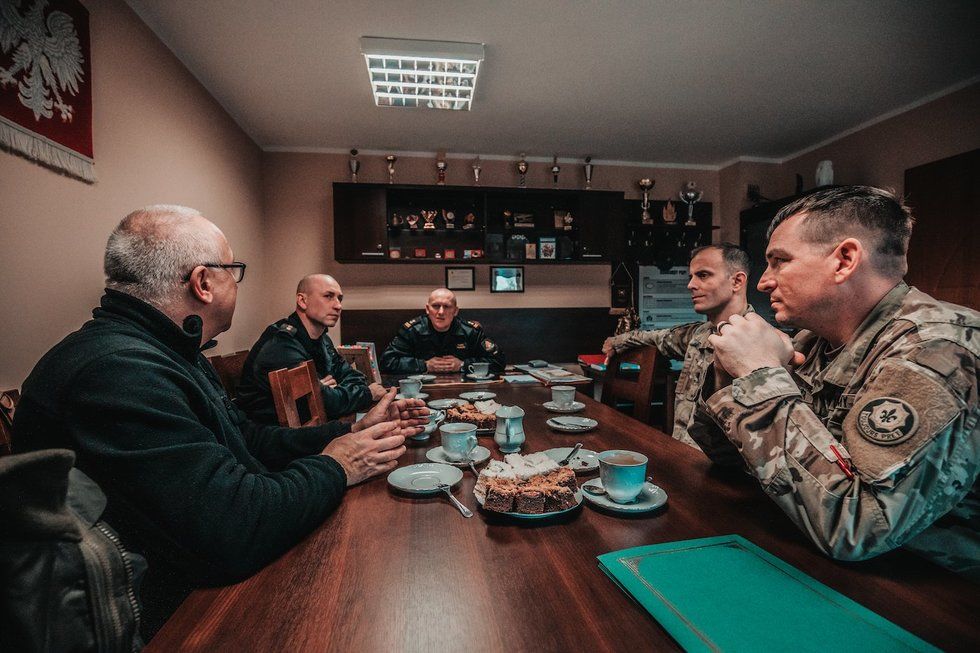 U.S. Army Lt. Col Andrew Gallo, center right, and Command Sgt. Maj. Marcus Brister, right, with senior fire department officials in Pisz, Poland, February 10, 2020. (U.S. Army/Sgt. Timothy Hamlin)
The NATO battle group replaced the Stryker with a new one from Vilseck, Germany, headquarters of the 2nd Calvary Regiment, to which the Stryker was assigned.

NATO's enhanced forward presence battle groups were set up after Russia's 2014 annexation of Crimea to show the "strength of the transatlantic bond" and provide training opportunities.
The Stryker fire wasn't the 2nd Calvary Regiment's first incident during a NATO operation. During a June 2018 exercise, four of the regiment's Strykers collided during a road march in Lithuania, injuring 15 U.S. soldiers.
Read more from Business Insider:
February 21, 2020 at 10:18 AM
news
Army recruiters hold a swearing-in ceremony for over 40 of Arkansas' Future Soldiers at the Arkansas State Capital Building. (U.S. Army/Amber Osei)
Though the Army has yet to actually set an official recruiting goal for this year, leaders are confident they're going to bring in more soldiers than last year.
Maj. Gen. Frank Muth, head of Army Recruiting Command, told reporters on Wednesday that the Army was currently 2,226 contracts ahead of where it was in 2019.
"I will just tell you that this time last year we were in the red, and now we're in the green which is — the momentum's there and we see it continuing throughout the end of the year," Muth said, adding that the service hit recruiting numbers in February that haven't been hit during that month since 2014.

February 21, 2020 at 08:02 AM
news
In this June 16, 2018 photo, Taliban fighters greet residents in the Surkhroad district of Nangarhar province, east of Kabul, Afghanistan, (AP Photo/Rahmat Gul)
KABUL/WASHINGTON/PESHAWAR, Pakistan (Reuters) - The United States and the Taliban will sign an agreement on Feb. 29 at the end of a week long period of violence reduction in Afghanistan, U.S. Secretary of State Mike Pompeo and the Taliban said on Friday.
February 21, 2020 at 10:26 AM
news
A screen grab from a YouTube video shows Marines being arrested during formation at Camp Pendleton in July, 2019. (Screen capture)
Editor's Note: This article by Gina Harkins originally appeared on Military.com, a leading source of news for the military and veteran community.
Another Marine was hit with jail time and a bad-conduct discharge in connection with a slew of arrests made last summer over suspicions that members of a California-based infantry battalion were transporting people who'd crossed into the U.S. illegally.
February 21, 2020 at 09:09 AM
popular
A soldier reunites with his daughter at Fort Bragg, N.C. after returning from the Middle East. The 82nd Airborne Division's Immediate Response Force had been deployed since New Years Eve. Thursday, Feb. 20, 2020. (U.S. Army via Associated Press)
Some Fort Bragg paratroopers who left for the Middle East on a no-notice deployment last month came home Thursday.
About 3,500 soldiers with the 82nd Airborne Division's 1st Brigade Combat Team were sent to Kuwait beginning Jan. 1 as tensions were rising in the region. The first soldiers were in the air within 18 hours of being told to go.
A developmental, early variant of the Common Unmanned Surface Vehicle (CUSV) autonomously conducts maneuvers on the Elizabeth River during its demonstration during Citadel Shield-Solid Curtain 2020 at Naval Station Norfolk on Feb. 12, 2020. (U.S. Navy/Mass Communication Specialist 3rd Class Rebekah M. Rinckey)
Large cargo ships, small fishing boats and other watercraft sail safely past Naval Station Norfolk every day, but there's always a possibility that terrorists could use any one of them to attack the world's largest naval base.
While Navy security keeps a close eye on every vessel that passes, there's an inherent risk for the sailors aboard small patrol boats who are tasked with helping keep aircraft carriers, submarines and destroyers on base safe from waterborne attacks.
So the Navy experimented Wednesday to test whether an unmanned vessel could stop a small boat threatening the base from the Elizabeth River.