He fled his home at the end of the war. Now he's the first Vietnamese-American to be a US Navy admiral
October 11, 2019 at 04:53 PM
popular
WASHINGTON (NNS) -- Huan Nguyen became the first Vietnamese American promoted to the rank of rear admiral during a ceremony at the Navy Memorial in Washington, D.C., Oct. 10.
Nguyen, 60, will serve as the Deputy Commander for Cyber Engineering at the Naval Sea Systems Command (NAVSEA) on the Washington Navy Yard. NAVSEA Commander Vice Adm. Tom Moore served as the presiding officer.
"Today we will welcome the first Vietnamese-born U.S. Navy officer to achieve flag rank, and that is a significant event," Moore said.
---
Nguyen addressed the audience after being promoted. "It is a great honor to attain the rank of admiral," Nguyen said. "I am tremendously humbled to become the first Vietnamese American to wear the flag's rank in the U.S. Navy.
"The honor actually belongs to the Vietnamese American community, which instilled in us a sense of patriotism, duty, honor, courage and commitment to our adopted country, the United States of America," he added.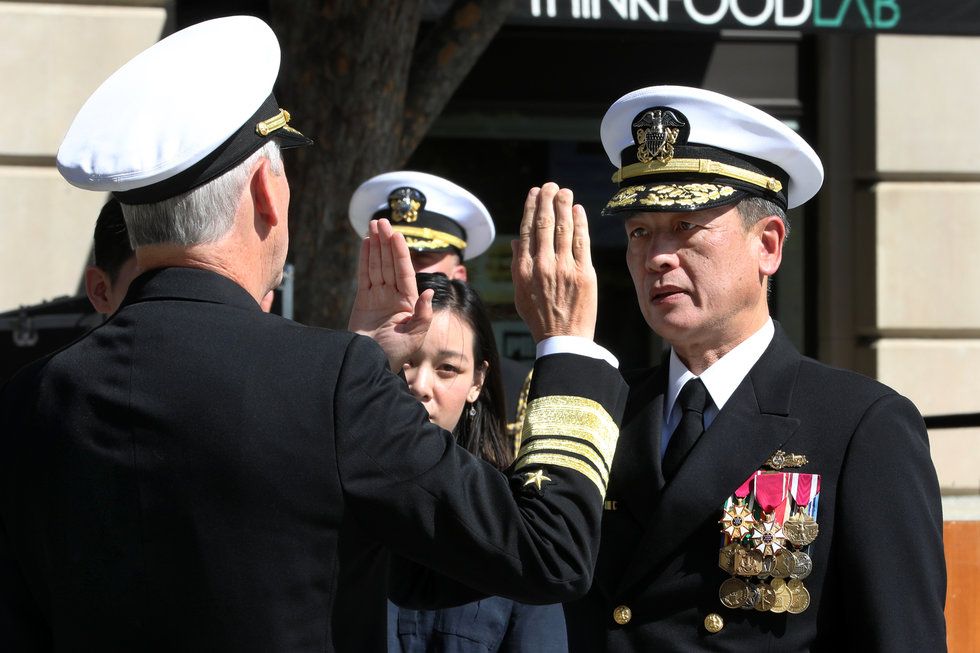 www.navy.mil
"This is our America. A country built on service, kindness and generosity, opportunity--the freedom to hope and dream. These values are what inspired me to serve. And what a great honor and privilege it is to serve our Navy, to serve our country, to support and defend our Constitution," Nguyen said.
Nguyen was born in Hue, Vietnam, the son of an armor officer in the Army of the Republic of Vietnam. During the 1968 Tet Offensive, Nguyen's mother and father, along with his five brothers and sister, were killed by Viet Cong communist guerillas in their family home outside Saigon. Nine-year-old Nguyen was shot in the arm and thigh, with another bullet piercing his skull. He stayed with his mother for two hours, until she bled out and died. Amazingly, Nguyen survived and escaped after dark.
Nguyen was taken in by his uncle, a colonel in the Republic of Vietnam Air Force. In 1975, at age 16, they fled Vietnam, seeking refuge in the United States following the fall of Saigon.
Transported through Guam, U.S. Navy and Marine Corps personnel took care of Nguyen and his family. The U.S. 7th Fleet helped to evacuate thousands of Vietnamese refugees and transport them to safety in Guam. Seeing the U.S. Navy take care of his family would later inspire Nguyen to serve in the Navy.
"I was one of those refugees, apprehensive about an uncertain future, yet feeling extremely grateful that I was here at all," he recalled. "The images that I remember vividly when I arrived at Camp Asan, Guam, now Asan Beach Park, were of American sailors and Marines toiling in the hot sun, setting up tents and chow hall, distributing water and hot food, helping and caring for the people with dignity and respect.
"I thought to myself how lucky I am to be in a place like America. Those sailors inspired me to later serve in the United States Navy," Nguyen said.
Later that year, U.S. Air Force Colonel Ed Veiluva and his wife Dorothy sponsored his uncle's family, allowing them to officially come to the United States as political refugees. Nguyen moved with his uncle's family to Midwest City, Oklahoma, just outside of Tinker Air Force Base.
Nguyen graduated with a bachelor of science degree in Electrical Engineering from Oklahoma State University in 1981. He holds master's degrees in Electrical Engineering from Southern Methodist University, in Engineering (Manufacturing Concentration) from Purdue University, and in Information Technology with Highest Distinction from Carnegie Mellon University. He received a Navy direct commission through the Reserve Engineering Duty Officer program in 1993.
"America is the beacon of hope for all of us. There is no other place in the world where a person can go for such opportunity," Nguyen said.
Nguyen's operational tours include a number of waterfront maintenance assignments: Ship Repair Facility Yokosuka as testing officer on USS Kitty Hawk availability; Officer in Charge, Ship Repair Facility, Detachment 113. Later, he served as Executive Officer/Chief Engineer at the Joint Counter Radio-Controlled Improvised Explosive Device (CREW) Field Office in Baghdad supporting Task Force Troy/18th Airborne Corps and V Corps, CREW Engineer at Task Force Paladin and Combined Explosive/Exploitation Cell (CEXC) in Afghanistan.
Staff assignments included duties as Deputy Chief Information Officer, Naval Sea Systems Command (NAVSEA) from 2017-2019, Director Military Programs, Naval Sea Systems Command (NAVSEA) and Executive Officer, NAVSEA Enlisted Personnel from 2013 - 2017. He also served as Community Manager, Engineering Duty Officer (Reserve Component). Reserve assignments include multiple command tours with various units at NAVSEA, Pacific Fleet (PACFLT), and Office of Naval Research.
Nguyen's personal awards include the Legion of Merit, Bronze Star Medal, Meritorious Service Medal, Navy and Marine Corps Commendation Medal (two awards) and Navy and Marine Corps Achievement Medal (two awards).
December 11, 2019 at 05:26 PM
news
(Department of Defense)
Actor Mark Wahlberg will be visiting troops overseas to plug Wahlburgers, a fast-casual restaurant chain owned by the actor and his two brothers, Donnie Wahlberg, and chef Paul Wahlberg.
December 11, 2019 at 03:58 PM
news
From left to right: Naval SEAL Chief Eddie Gallagher, Army 1st Lt. Clint Lorance, and Army Special Forces Maj. Matthew Golsteyn (DoD photos)
December 11, 2019 at 12:53 PM
news
Taliban fighters attempted to fight their way into Bagram Airfield on Wednesday by invading a medical facility just outside of the base's perimeter, a spokesman for Operation Resolute Support said Wednesday.
J.P. Lawrence of Stars and Stripes and Jim LaPorta of Newsweek first reported that the battle lasted for several hours after using car bombs to attack the hospital, which is near the base's northern corner. Helicopter and fixed-wing aircraft were reportedly used to drop ordnance on the hospital.
December 11, 2019 at 11:10 AM
news
The welcome sign at Naval Air Station Corpus Christi (Facebook photo)
An armed suspect was taken into custody at Naval Air Station Corpus Christi on Wednesday morning after a brief lockdown period, according to the Texas base's Facebook account.
Though the exact nature of the incident is unclear, base officials wrote that no shots were fired and no injuries were reported.
December 11, 2019 at 01:48 PM
popular
(DoD photo)
Among the dozens of requirements outlined in the latest version of the National Defense Authorization Act is the requirement for the Secretary of Defense to create a public database for privatized housing complaints.

So, that will be... a lot.