The Navy is having sailors train on an ineffective aircraft carrier weapon it's getting rid of
August 15, 2019 at 04:31 PM
Military Tech
The aircraft carrier USS Dwight D. Eisenhower (CVN 69) transits the Atlantic Ocean. (U.S. Navy/Mass Communication Specialist 3rd Class Sawyer Haskins)
The Navy is having its sailors train on an aircraft carrier weapon system that the service is planning to rip out of its Nimitz-class carriers due to its ineffectiveness.
---
Sailors continue to train on the Anti-Torpedo Torpedo Defense System (ATTDS), a weapon system that was designed to counter one of the single greatest threats to an aircraft carrier — torpedoes, The War Zone reports, noting that the Navy recently released images of sailors aboard the USS Dwight D. Eisenhower training on the ATTDS for a Board of Inspection and Survey.
The most recent training, which involved firing the weapon system, took place in late July. The material survey for which the crew was preparing requires proficiency with all onboard systems, and that they are functional and properly maintained.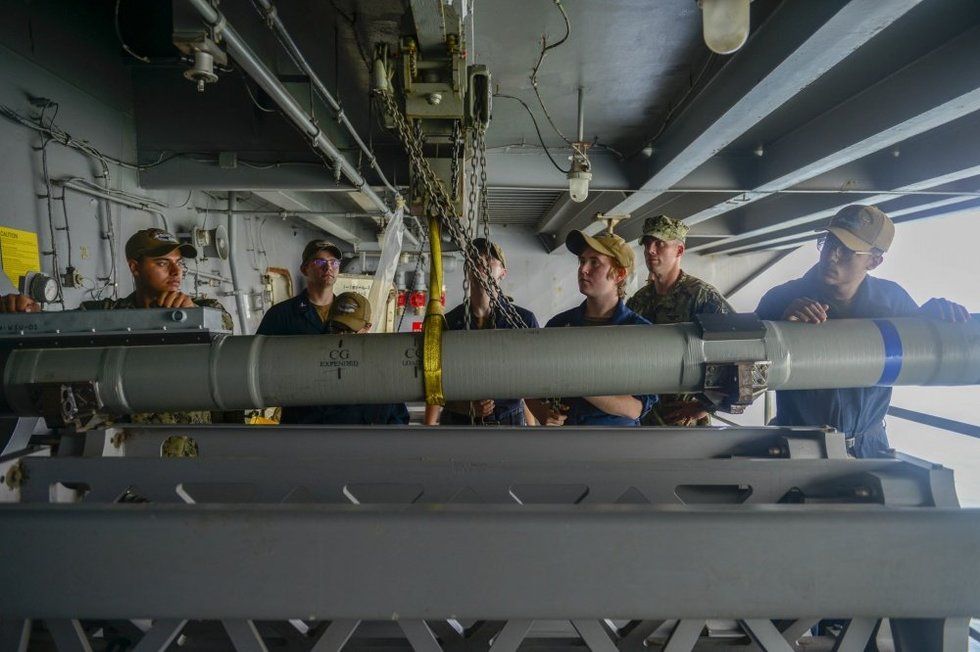 Sailors stow an anti-torpedo torpedo aboard the aircraft carrier USS Dwight D. Eisenhower (CVN 69)(U.S. Navy/Mass Communication Specialist Seaman Joseph T. Miller)
The ATTDS, part of the broader Surface Ship Torpedo Defense (SSTD) system, is installed and operational aboard the Eisenhower, as well as the USS Harry S. Truman, USS George H.W. Bush, USS Nimitz, and USS Theodore Roosevelt. But that doesn't mean it actually works to intercept incoming torpedoes in time to save the ship.
The Navy has abandoned its plans to develop the SSTD and is in the process of removing it from the carriers on which it has been installed, the Pentagon's Office of the Director of Operational Test and Evaluation said in a report released earlier this year.
The anti-torpedo system was a $760 million project that never really went anywhere.
In principle, the Torpedo Warning System (TWS), a component of the ATTDS, would detect an incoming threat and then send launch information to another piece, the Countermeasure Anti-Torpedo (CAT), an interceptor that would be launched into the water to neutralize the incoming torpedo.

The DOT&E report noted that the "TWS demonstrated some capability to detect incoming torpedoes," but there were also false positives. It added that the "CAT demonstrated some capability to defeat an incoming torpedo" but had "uncertain reliability."
The report also said that the anti-torpedo torpedo's lethality was untested, meaning that the Navy is not even sure the weapon could destroy or deflect an incoming torpedo. The best the service could say is that there's a possibility it would work.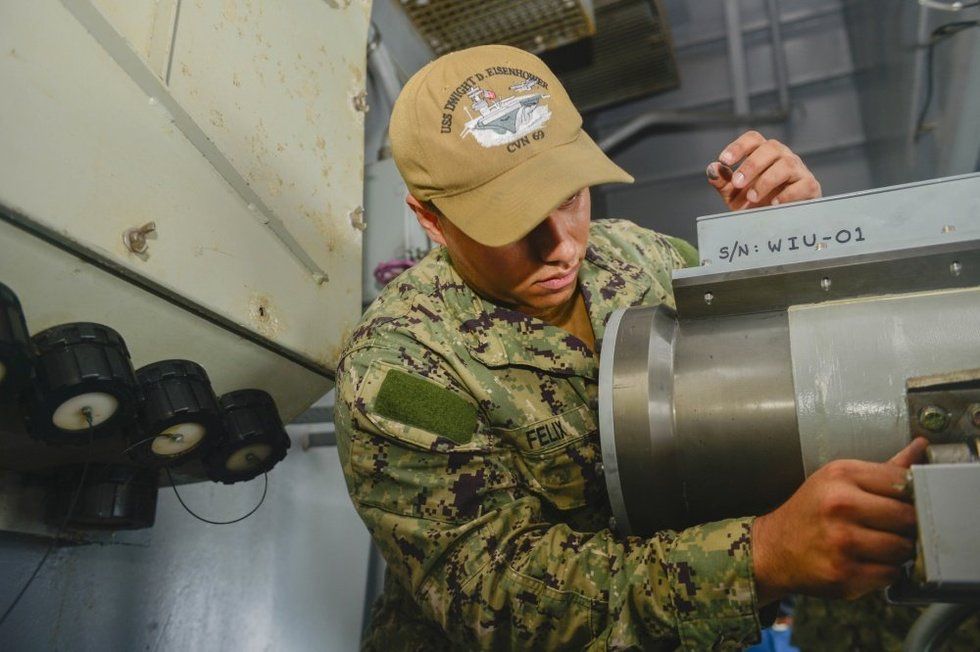 Fire Controlman 2nd Class Hector Felix, from Atlanta, fastens a bolt on an anti-torpedo torpedo aboard the aircraft carrier USS Dwight D. Eisenhower (CVN 69)(U.S. Navy/Mass Communication Specialist Seaman Joseph T. Miller)
Despite having plans to remove the SSTD from its carriers, a project that should be completed by 2023, the Navy continues to have sailors train on the system, even as the service reviews training to identify potential detriments to readiness.

"The Navy is planning to remove ATTDS from aircraft carriers incrementally through fiscal year 2023 as the ships cycle through shipyard periods," Naval Sea Systems Command (NAVSEA) spokesperson William Couch told The War Zone.
"The Navy is sustaining the ATTDS systems that are still installed on some vessels, where it is necessary for the Sailors to train with the system to maintain their qualifications in preparation for future deployments," he added.
In other words, it appears that the reason for the continued training is simply that the system is on the ship and won't be removed until ships have scheduled shipyard time, making the ability to operate it an unavoidable requirement.
INSIDER reached out to NAVSEA for clarity but has yet to receive a response.
Read more from Business Insider:
November 22, 2019 at 06:12 PM
popular
HALIFAX, Nova Scotia (Reuters) - U.S. Navy Secretary Richard Spencer said on Friday a Navy SEAL convicted of battlefield misconduct should face a board of peers weighing whether to oust him from the elite force, despite President Donald Trump's assertion that he not be expelled.
"I believe the process matters for good order and discipline," Spencer told Reuters, weighing in on a confrontation between Trump and senior Navy officials over the outcome of a high-profile war-crimes case.
A military jury in July convicted Special Operations Chief Edward Gallagher of illegally posing for pictures with the corpse of an Islamic State fighter but acquitted him of murder in the detainee's death. Gallagher also was cleared of charges that he deliberately fired on unarmed civilians.
November 22, 2019 at 05:49 PM
news
The Air Force has identified the two airmen killed in a training accident on Thursday as Lt. Col John "Matt" Kincade, 47, and 2nd Lt. Travis B. Wilkie, 23.
Kincade and Wilkie were killed at Vance Air Force Base in Oklahoma during a training mission involving T-38C Talon aircraft, the Air Force said. Two T-38s were training in formation when the incident occurred during the landing phase, according to a press release.
November 22, 2019 at 05:03 PM
news
US Marine Corps
A Marine lance corporal has become the first female Marine in history to graduate the Basic Reconnaissance Course, earning the military occupational specialty of 0321 Reconnaissance Marine.
Lance Cpl. Alexa Barth completed the 12-week course on Nov. 7, said Maj. Kendra Motz, a Marine spokeswoman. Barth previously graduated from the Corps' Infantry Training Battalion-East, earning the MOS of 0311 Rifleman.
STATEN ISLAND, N.Y. -- By day, Arik Rangel works as a U.S. Coast Guard operations specialist third class, but when the spotlight hits, his stage name and personalty -- Arik Cavalli -- takes over.
Rangel, born in San Marcos, Tx., was raised by a single mother with three sisters. He didn't want his mother to have to support him after high school, so he honored her and his country by joining the U.S. Air Force in 2012.
He worked as a senior airman in the Knowledge Operations Management field and was in the Air Force reserves for three years. In 2015, he joined the U.S. Coast Guard as an operations specialist and is currently stationed at Fort Wadsworth.
More than 15 years ago, Marine Cpl. Jason Dunham gave his life to save his fellow Marines on the streets of Husaybah, Iraq when he leaped upon a grenade. In 2007, he became the first Marine since the Vietnam War to be awarded the Medal of Honor.
In the years since his death, his story of courage and sacrifice has been told and re-told. His Medal of Honor citation is read to Marine recruits during the Crucible at boot camp. And his name adorns the USS Jason Dunham, where his dress blue uniform rests in a clear display case on the quarterdeck, a solemn shrine to a young man who gave his life for his brothers in arms.

Now, Marines who served with Dunham are sharing his story in their own words, and a small group of military veterans and film makers are helping them do it as part of The Gift, a crowd-funded documentary film chronicling his life, and legacy.