The Navy wants to ditch an aircraft carrier to buy new weapons for a next-level fight with China
March 12, 2019 at 01:38 PM
Military Tech
The aircraft carrier USS Harry S. Truman (CVN 75) and ships assigned to the Harry S. Truman Carrier Strike Group (HSTCSG) transit the Atlantic Ocean while conducting composite training unit exercise (COMPTUEX) on February 16, 2018. (U.S. Navy/Mass Communication Specialist 2nd Class Scott Swofford)
The U.S. Navy plans to retire one of its aircraft carriers decades early, a highly controversial move to free up funds for the new weapons needed to fight a powerful adversary.

---
"We made the difficult decision to retire CVN 75 (USS Harry S. Truman) in lieu of its previously funded refueling complex overhaul that was scheduled to occur in FY 2024," the Navy said in an overview of the fiscal year 2020 budget released Tuesday, referring to the refueling the carrier with new reactor cores.
The purpose is to free up funding for new weapons that are more likely to survive were the U.S. to go to war with China, a senior defense official told Breaking Defense, which first broke the story about the Pentagon's plans to mothball the Truman.
The decision to retire the Truman decades early, which reportedly came from Acting Secretary of Defense Pat Shanahan, "is in concert with the Defense Department's commitment to proactively pursue diversified investments in next-generation, advanced, and distributed capabilities," the Navy said, noting it would be looking into both manned and unmanned systems.
"This approach pursues a balance of high-end, survivable manned platforms with a greater number of complementary, more affordable, potentially more cost-imposing, and attritable options," the service added.
Nonetheless, the Navy still intends to move forward with its planned purchase of two more Ford-class aircraft carriers.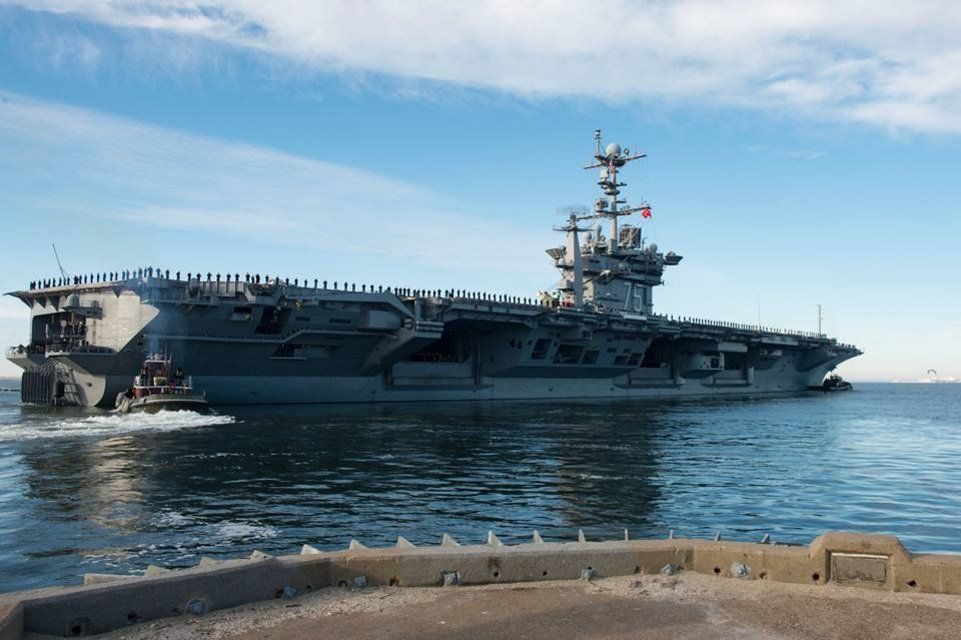 USS Harry S. Truman (CVN 75) departed Naval Station Norfolk, Monday, in support of maritime security operations and theater security cooperation efforts in U.S. 5th and 6th fleets(U.S. Navy photo)
While aircraft carriers have long been beacons of American military might, they are becoming increasingly vulnerable. Carriers remain difficult to kill, but near-peer adversaries are developing weapons capable of knocking them out of the fight at long range.
Naval experts say that U.S. carriers now need to operate at least 1,000 nautical miles from the Chinese mainland to keep out of range of China's precision anti-ship missiles, according to USNI News. That puts carrier-based fighters out of range for attacks on mainland command and control centers.
The U.S. Navy is turning its attention away from traditional capabilities to robotic vessels, such as unmanned scout ships to conduct surveillance and draw enemy fire and unmanned missile boats to fire on targets identified by the robotic scout vessels, Breaking Defense reported.
The loss of an unmanned platform is nothing compared to damage to a Nimitz-class supercarrier loaded with bombs, an air wing of about 60 aircraft, two nuclear reactors — and roughly 5,000 sailors on board.
The entire U.S. military is investing more heavily in long-range, precision fires — missiles and artillery — to punch holes in contested battlespaces.
Commenting on the Department of Defense's proposed $718 budget for fiscal year 2020, Shanahan stated that "this budget will strongly position the U.S. military for great power competition for decades to come." The budget is expected to face pushback from Congress.
After all, there is a strong possibility the USS Harry S. Truman, like the USS George Washington before it, is a bargaining chip in the Defense Department's effort to secure additional funding from Congress.
Read more from Business Insider:
WATCH NEXT: The Navy's F-35C Is One Mean Fighter
January 22, 2020 at 02:26 PM
news
Photo illustration by Paul Szoldra
Navy Lt. Jonny Kim went viral last week when NASA announced that he and 10 other candidates (including six other service members) became the newest members of the agency's hallowed astronaut corps. A decorated Navy SEAL and graduate of Harvard Medical School, Kim in particular seems to have a penchant for achieving people's childhood dreams.
However, Kim shared with Task & Purpose that his motivation for living life the way he has stems not so much from starry-eyed ambition, but from the pain and loss he suffered both on the battlefields of Iraq and from childhood instability while growing up in Los Angeles. Kim tells his story in the following Q&A, which was lightly edited for length and clarity:
January 22, 2020 at 06:47 PM
popular
You can almost smell the gunpowder in the scene captured by a Marine photographer over the weekend, showing a Marine grunt firing a shotgun during non-lethal weapons training.
January 22, 2020 at 04:30 PM
news
A Marine grunt stationed in Camp Lejeune, North Carolina is being considered for an award after he saved the lives of three people earlier this month from a fiery car crash.
Cpl. Scott McDonell, an infantry assaultman with 1st Battalion, 2nd Marine Regiment, was driving down Market Street in Wilmington in the early morning hours of Jan. 11 when he saw a car on fire after it had crashed into a tree. Inside were three victims aged 17, 20, and 20.
"It was a pretty mangled wreck," McDonell told ABC 15. "The passenger was hanging out of the window."
Todd Robinson's upcoming Vietnam War drama, The Last Full Measure, is a story of two battles: One takes place during an ambush in the jungles of Vietnam in 1966, while the other unfolds more than three decades later as the survivors fight to see one pararescueman's valor posthumously recognized.
January 22, 2020 at 01:56 PM
news
Protesters and militia fighters gather to condemn air strikes on bases belonging to Hashd al-Shaabi (paramilitary forces), outside the main gate of the U.S. Embassy in Baghdad, Iraq December 31, 2019. (Reuters/Thaier al-Sudani)
With ISIS trying to reorganize itself into an insurgency, most attacks on U.S. and allied forces in Iraq are being carried out by Shiite militias, said Air Force Maj. Gen. Alex Grynkewich, the deputy commander for operations and intelligence for U.S. troops in Iraq and Syria.
"In the time that I have been in Iraq, we've taken a couple of casualties from ISIS fighting on the ground, but most of the attacks have come from those Shia militia groups, who are launching rockets at our bases and frankly just trying to kill someone to make a point," Grynkewich said Wednesday at an event hosted by the Air Force Association's Mitchell Institute for Aerospace Studies.