North Korea Could Have 100 Nuclear Warheads By 2020, Report Says
January 15, 2019 at 04:14 PM
Analysis
By 2020, North Korea could possess as many as 100 nuclear warheads.
That's the startling conclusion of a January 2019 report from the RAND Corporation, a California think tank with close ties to the U.S. military.
---
"North Korean provocations and threats have created an unstable environment on the Korean Peninsula," RAND's report explains. "North Korea's ongoing development of nuclear weapons and ballistic missiles increases the possibility of their use against regional states, furthering instability across the region and beyond, thus affecting vital U.S. interests."
To deliver its nukes, the Democratic People's Republic of Korea, as the regime in Pyongyang calls itself, is building up a large stockpile of rockets of varying ranges.
"The DPRK's growing arsenal will provide its regime with multiple options to employ its nuclear weapons," the RAND report warns.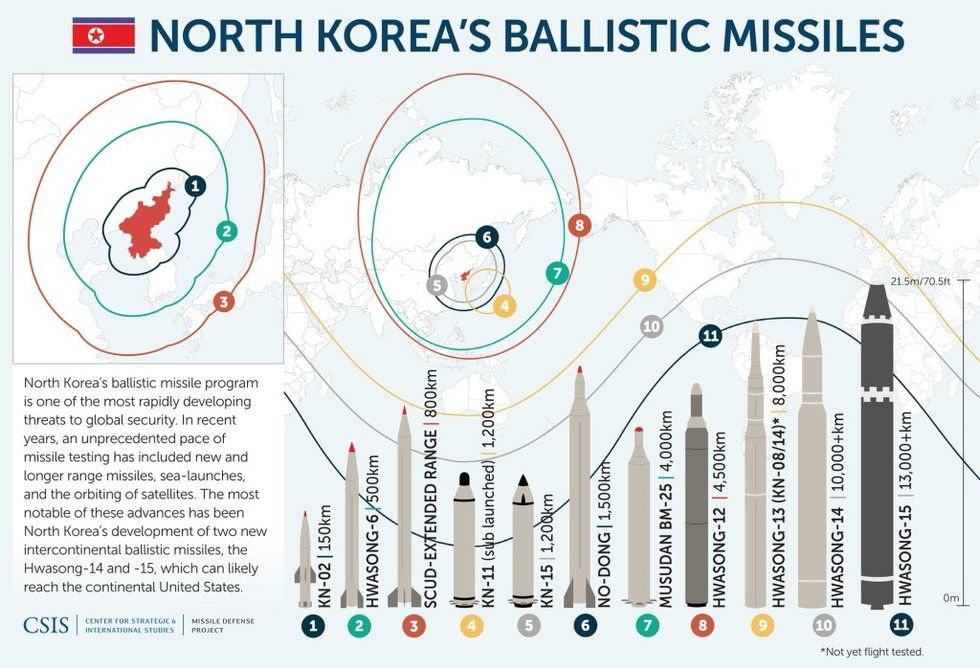 North Korea has invested heavily in the development of increasingly longer range ballistic missiles, and the miniaturization of its nascent nuclear weapons stockpileCSIS Missile Defense Project
North Korea possesses more than 650 short- and medium-range ballistic missiles capable of hitting cities throughout South Korea, Japan and eastern China," the think tank noted. "If successfully mated with nuclear weapons, these missiles will allow the DPRK to hold military bases and population centers in northeast Asia at risk."

And if Pyongyang succeeds in developing a long-range rocket, it could also target Guam, Hawaii, Alaska and the northwestern continental United States.
With an arsenal of up to 100 nuclear warheads and a wide range of rockets to deliver them, Pyongyang could pursue a nuclear-war strategy that might actually work, RAND explained in its report.
"The DPRK could explode one or more early in a conflict as a warning, while reserving a salvo of 20 to 60 weapons to attack military targets like troop concentrations, air bases and seaports," the think tank posited."This would leave enough for a final salvo of 30 to 40 weapons to threaten attacks against cities in South Korea, Japan, China, Russia and—if they develop the delivery means—targets in the United States."
For its report, RAND war-gamed a North Korean attack on Seoul's wealthy Gangnam district. "Roughly half the size of Manhattan, Gangnam—a district of Seoul—is a major economic center and home to many large companies, such as Google and IBM. With some of the most expensive real estate in the country, the district is also considered the most affluent in all of South Korea. Consequences of a single DPRK nuclear attack on Gangnam would be severe."
If Pyongyang struck Gangnam with a 100-kiloton airburst nuke, 400,000 people instantly might die. Another million could suffer injuries.
Seoul lies just 35 miles from the demilitarized zone between the DPRK and the Republic of Korea in the south. Any number of existing missiles could deliver an atomic warhead to such a close target. North Korea's longest-range operational missile, the Musudan, can travel 1,900 miles and deliver a nuke to Japan, China and Russia.
The Hwasong series of rockets that the DPRK is developing can travel as far as 6,200 miles and threaten the U.S. mainland.
North Korea on Nov. 28 conducted the maiden launch of the Hwasong 15(KCNA/Associated Press)
RAND's report recommends a comprehensive response to the North Korean threat. "In addition to multilateral diplomatic measures to halt the DPRK's nuclear progress, the United States and its allies in the region—as well as China—must take steps to reduce the risks posed by the North's nuclear program.

"These steps range from creative U.S. operational concepts to fight, move and sustain in new ways; U.S.-ROK work on crisis management procedures and mechanisms; trilateral coordination with Seoul and Tokyo on ways to mitigate the threat; and an accelerating dialogue with China on responses to various crisis scenarios."
U.S. president Donald Trump's June 2018 meeting with North Korean leader Kim Jong Un in Singapore didn't result in any meaningful progress toward disarmament. Shortly after the summit, Trump falsely declared that the DPRK was "no longer a nuclear threat."
As of early 2019, the Trump administration reportedly was scouting potential locations for a second Trump-Kim summit.
This article originally appeared on The National Interest.
More from The National Interest:
WATCH NEXT: North Korea Tests Hwasong-12 Missile
November 18, 2019 at 05:37 PM
news
Former Army 1st Lt. Clint Lorance, whom President Donald Trump recently pardoned of his 2013 murder conviction, claims he was nothing more than a pawn whom generals sacrificed for political expediency.
The infantry officer had been sentenced to 19 years in prison for ordering his soldiers to open fire on three unarmed Afghan men in 2012. Two of the men were killed.
During a Monday interview on Fox & Friends, Lorance accused his superiors of betraying him.
"A service member who knows that their commanders love them will go to the gates of hell for their country and knock them down," Lorance said. "I think that's extremely important. Anybody who is not part of the senior Pentagon brass will tell you the same thing."
"I think folks that start putting stars on their collar — anybody that has got to be confirmed by the Senate for a promotion — they are no longer a soldier, they are a politician," he continued. "And so I think they lose some of their values — and they certainly lose a lot of their respect from their subordinates — when they do what they did to me, which was throw me under the bus."
Members of the Iranian Revolutionary Guard Corps march during a parade to commemorate the anniversary of the Iran-Iraq war (1980-88), in Tehran September 22, 2011. (Reuters photo)
Fifteen years after the U.S. military toppled the regime of Saddam Hussein, the Army's massive two-volume study of the Iraq War closed with a sobering assessment of the campaign's outcome: With nearly 3,500 U.S. service members killed in action and trillions of dollars spent, "an emboldened and expansionist Iran appears to be the only victor.
Thanks to roughly 700 pages of newly-publicized secret Iranian intelligence cables, we now have a good idea as to why.
November 18, 2019 at 04:00 AM
news
(Associated Press photo)
BANGKOK (Reuters) - Defense Secretary Mark Esper expressed confidence on Sunday in the U.S. military justice system's ability to hold troops to account, two days after President Donald Trump pardoned two Army officers accused of war crimes in Afghanistan.
Trump also restored the rank of a Navy SEAL platoon commander who was demoted for actions in Iraq.
Asked how he would reassure countries such as Afghanistan and Iraq in the wake of the pardons, Esper said: "We have a very effective military justice system."
"I have great faith in the military justice system," Esper told reporters during a trip to Bangkok, in his first remarks about the issue since Trump issued the pardons.
U.S. Army Rangers resting in the vicinity of Pointe du Hoc, which they assaulted in support of "Omaha" Beach landings on "D-Day," June 6, 1944. (Public domain)
Editor's Note: This article by Richard Sisk originally appeared on Military.com, a leading source of news for the military and veteran community.
For one veteran who fought through the crossfires of German heavy machine guns in the D-Day landings, receiving a Congressional Gold Medal on behalf of his service and that of his World War II comrades would be "quite meaningful."
Bills have been introduced in the House and Senate to award the Army Rangers of World War II the medal, the highest civilian award bestowed by the United States, along with the Presidential Medal of Freedom.
November 18, 2019 at 04:01 PM
news
Senior Airman Marlon Xavier Cruz Gonzalez
An airman at Seymour Johnson Air Force Base was arrested and charged with murder on Sunday after a shooting at a Raleigh night club that killed a 21-year-old man, the Air Force and the Raleigh Police Department said.