North Korea Could Have 100 Nuclear Warheads By 2020, Report Says
January 15, 2019 at 04:14 PM
Analysis
By 2020, North Korea could possess as many as 100 nuclear warheads.
That's the startling conclusion of a January 2019 report from the RAND Corporation, a California think tank with close ties to the U.S. military.
---
"North Korean provocations and threats have created an unstable environment on the Korean Peninsula," RAND's report explains. "North Korea's ongoing development of nuclear weapons and ballistic missiles increases the possibility of their use against regional states, furthering instability across the region and beyond, thus affecting vital U.S. interests."
To deliver its nukes, the Democratic People's Republic of Korea, as the regime in Pyongyang calls itself, is building up a large stockpile of rockets of varying ranges.
"The DPRK's growing arsenal will provide its regime with multiple options to employ its nuclear weapons," the RAND report warns.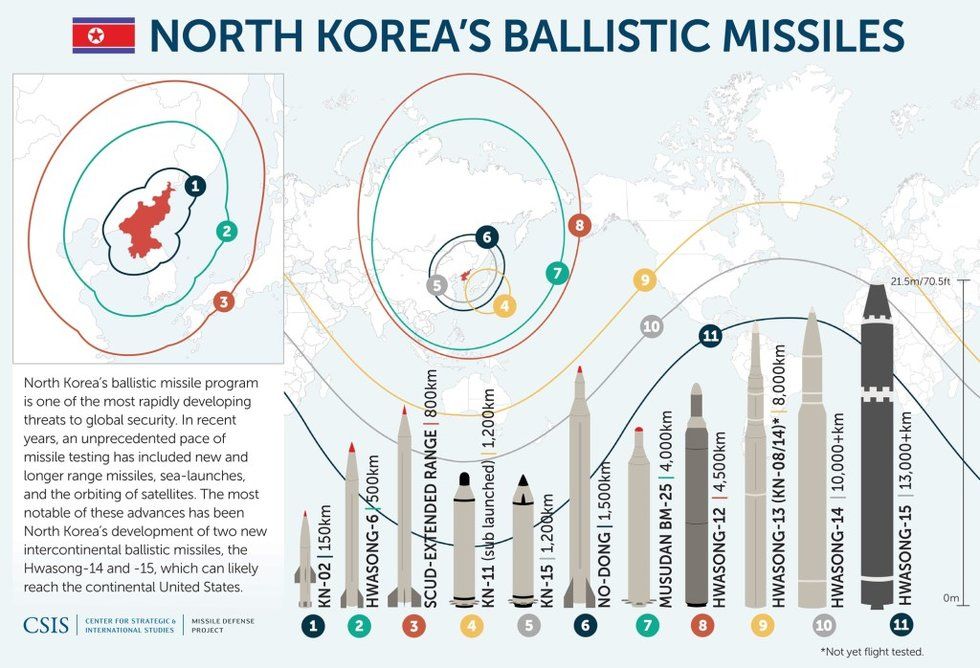 North Korea has invested heavily in the development of increasingly longer range ballistic missiles, and the miniaturization of its nascent nuclear weapons stockpileCSIS Missile Defense Project
North Korea possesses more than 650 short- and medium-range ballistic missiles capable of hitting cities throughout South Korea, Japan and eastern China," the think tank noted. "If successfully mated with nuclear weapons, these missiles will allow the DPRK to hold military bases and population centers in northeast Asia at risk."

And if Pyongyang succeeds in developing a long-range rocket, it could also target Guam, Hawaii, Alaska and the northwestern continental United States.
With an arsenal of up to 100 nuclear warheads and a wide range of rockets to deliver them, Pyongyang could pursue a nuclear-war strategy that might actually work, RAND explained in its report.
"The DPRK could explode one or more early in a conflict as a warning, while reserving a salvo of 20 to 60 weapons to attack military targets like troop concentrations, air bases and seaports," the think tank posited."This would leave enough for a final salvo of 30 to 40 weapons to threaten attacks against cities in South Korea, Japan, China, Russia and—if they develop the delivery means—targets in the United States."
For its report, RAND war-gamed a North Korean attack on Seoul's wealthy Gangnam district. "Roughly half the size of Manhattan, Gangnam—a district of Seoul—is a major economic center and home to many large companies, such as Google and IBM. With some of the most expensive real estate in the country, the district is also considered the most affluent in all of South Korea. Consequences of a single DPRK nuclear attack on Gangnam would be severe."
If Pyongyang struck Gangnam with a 100-kiloton airburst nuke, 400,000 people instantly might die. Another million could suffer injuries.
Seoul lies just 35 miles from the demilitarized zone between the DPRK and the Republic of Korea in the south. Any number of existing missiles could deliver an atomic warhead to such a close target. North Korea's longest-range operational missile, the Musudan, can travel 1,900 miles and deliver a nuke to Japan, China and Russia.
The Hwasong series of rockets that the DPRK is developing can travel as far as 6,200 miles and threaten the U.S. mainland.
North Korea on Nov. 28 conducted the maiden launch of the Hwasong 15(KCNA/Associated Press)
RAND's report recommends a comprehensive response to the North Korean threat. "In addition to multilateral diplomatic measures to halt the DPRK's nuclear progress, the United States and its allies in the region—as well as China—must take steps to reduce the risks posed by the North's nuclear program.

"These steps range from creative U.S. operational concepts to fight, move and sustain in new ways; U.S.-ROK work on crisis management procedures and mechanisms; trilateral coordination with Seoul and Tokyo on ways to mitigate the threat; and an accelerating dialogue with China on responses to various crisis scenarios."
U.S. president Donald Trump's June 2018 meeting with North Korean leader Kim Jong Un in Singapore didn't result in any meaningful progress toward disarmament. Shortly after the summit, Trump falsely declared that the DPRK was "no longer a nuclear threat."
As of early 2019, the Trump administration reportedly was scouting potential locations for a second Trump-Kim summit.
This article originally appeared on The National Interest.
More from The National Interest:
WATCH NEXT: North Korea Tests Hwasong-12 Missile
Editor's Note: This article by Matthew Cox originally appeared on Military.com, a leading source of news for the military and veteran community.
QUANTICO, Virginia -- They may not be deadly, but some of the nonlethal weapons the Marine Corps is working on look pretty devastating.
The Marine Corps Joint Nonlethal Weapons Directorate is currently testing an 81mm mortar round that delivers a shower of flashbang grenades to disperse troublemakers. There is also an electric vehicle-stopper that delivers an electrical pulse to shut down a vehicle's powertrain, designed for use at access control points.
"When you hear nonlethal, you are thinking rubber bullets and batons and tear gas; it's way more than that," Marine Col. Wendell Leimbach Jr., director of the Joint Nonlethal Weapons Directorate, told an audience at the Modern Day Marine 2019 expo.
RACHEL, Nev. (Reuters) - UFO enthusiasts began descending on rural Nevada on Thursday near the secret U.S. military installation known as Area 51, long rumored to house government secrets about alien life, with local authorities hoping the visitors were coming in peace.
Some residents of Rachel, a remote desert town of 50 people a short distance from the military base, worried their community might be overwhelmed by unruly crowds turning out in response to a recent, viral social-media invitation to "storm" Area 51. The town, about 150 miles (240 km) north of Las Vegas, lacks a grocery store or even a gasoline station.
Dozens of visitors began arriving outside Rachel's only business - an extraterrestrial-themed motel and restaurant called the Little A'Le'Inn - parking themselves in cars, tents and campers. A fire truck was stationed nearby.
Alien enthusiasts descend on the Nevada desert to 'storm' Area 51
(Reuters/Jim Urquhart)
Attendees arrive at the Little A'Le'Inn as an influx of tourists responding to a call to 'storm' Area 51, a secretive U.S. military base believed by UFO enthusiasts to hold government secrets about extra-terrestrials, is expected Rachel, Nevada, U.S. September 19, 2019
One couple, Nicholas Bohen and Cayla McVey, both sporting UFO tattoos, traveled to Rachel from the Los Angeles suburb of Fullerton with enough food to last for a week of car-camping.
"It's evolved into a peaceful gathering, a sharing of life stories," McVey told Reuters, sizing up the crowd. "I think you are going to get a group of people that are prepared, respectful and they know what they getting themselves into."
September 20, 2019 at 04:00 AM
news
OAKLAND, Calif. — A United States Coast Guard commander was charged with illegal importation of controlled substances Wednesday, a U.S. Justice Department spokesman said.
September 19, 2019 at 08:07 PM
news
Tom Delonge has been speculating about aliens for years. According to Vulture, he quit Blink 182, the band he founded, years ago to "expose the truth about aliens," and he founded To The Stars Academy of Arts and Sciences "to advance society's understanding of scientific phenomena and its technological implications" — or, in simpler terms, to research UFOs and extraterrestrial life.
September 19, 2019 at 07:43 PM
news
A tentative plan to build 20 miles of extra border wall in Arizona, on top of the already approved 100-plus miles, was put on hold Monday by the Pentagon.
Federal officials hoped to build the extra 20 miles of wall in the Border Patrol's Tucson and Yuma sectors. The Army Corps of Engineers said late last month that funds would come from other wall contracts that might cost less than expected. But those savings did not materialize, according to documents filed Monday in federal court in Washington, D.C.