On New Year's Eve, A Brief Phone Call Will Mark The End Of Mattis' Tenure As Defense Secretary
December 30, 2018 at 11:21 AM
news
Secretary of Defense James Mattis greets U.S. Marine Corps Gen. Joseph Dunford, Chairman of the Joint Chiefs of Staff, after arriving at the Pentagon in Washington, D.C., Jan. 21, 2017. (DOD photo by Air Force Tech. Sgt. Brigitte N. Brantley)
On New Year's Eve, a short phone call will mark the end of Defense Secretary Jim Mattis' tenure and the beginning of Patrick Shanahan's command of the Pentagon.
---
Mattis, 68, is officially out as defense secretary on Dec. 31 — two months ahead of when he was supposed to turn over the reins of the Defense Department. President Donald Trump forced Mattis out ahead of schedule after becoming angry over coverage of Mattis' resignation letter, which sharply rebuked the president's foreign policy views.
The handoff between Mattis and Shanahan will have little pomp and circumstance when it takes place — in the form of a conference call just minutes before 2018 comes to a close, according to a defense official.
"Contact will be established by the Office of Secretary of Defense communications team who will bring Mr. Mattis and Mr. Shanahan into the call," a defense official explained, adding that the call will go by an approved script that, unfortunately, will not be made public.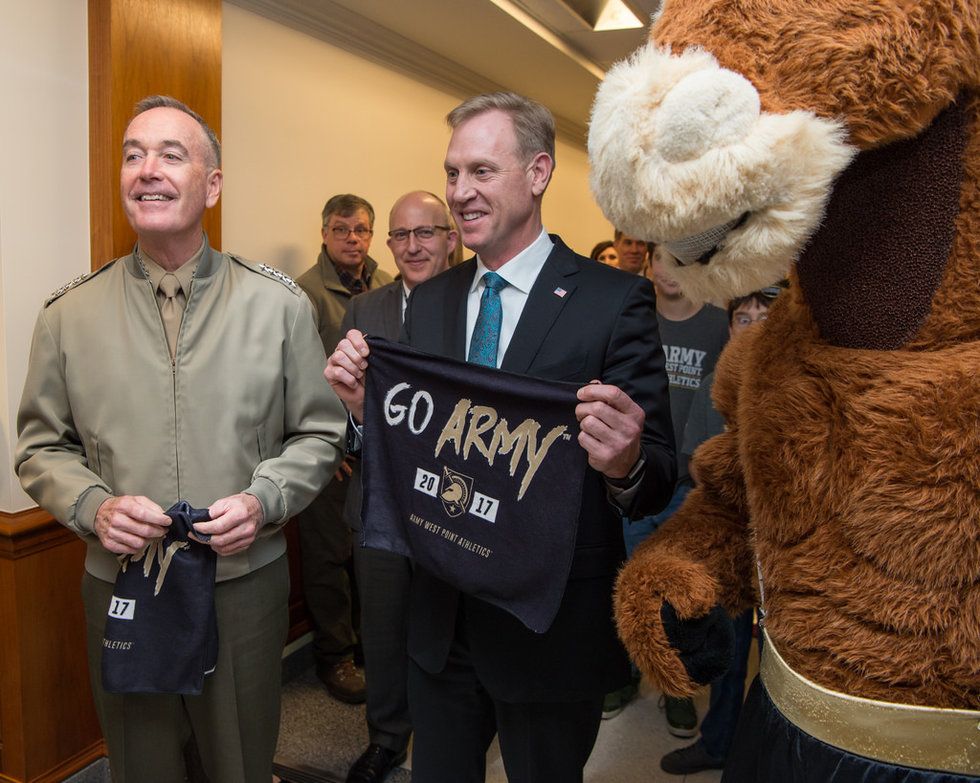 Patrick Shanahan (center) c1.staticflickr.com
Still, the basic gist is that Mattis and Shanahan will be brought on the line, go through a prepared text handing over command, and then it will be all over. As the ball drops in New York City, a new acting Secretary of Defense will emerge. And Mattis will likely head west to his hometown of Richland, Washington, or back to his teaching position at Stanford's Hoover Institution.

"The position of the Secretary of Defense is a command position and the purpose of the call is to ensure all members within the government know who is in command," the official said. "The call is also a courtesy and a mark of respect for the incoming Secretary of Defense."

A former Boeing senior vice president, Shanahan has been serving as deputy secretary of defense since July 2017. He'll be serving as acting Secretary of Defense for the time being, although he is reportedly under consideration to be nominated as a permanent replacement, in addition to Sen. Tom Cotton (R-Ark.), Air Force Secretary Heather Wilson, and Navy Secretary Richard Spencer.
WATCH NEXT: Top 5 Mattis Quotes
Air Force Tech. Sgt. Cody Smith (Photo courtesy U.S. Air Force)
Editor's Note: This article by Gina Harkins originally appeared on Military.com, a leading source of news for the military and veteran community.
A U.S. Air Force combat controller will receive the nation's third highest award for valor this week for playing an essential role in two intense firefight missions against the Taliban in Afghanistan last year.
Tech. Sgt. Cody Smith, an airman with the 26th Special Tactics Squadron, 24th Special Operations Wing at Air Force Special Operations Command, will receive the Silver Star at Cannon Air Force Base, New Mexico on Nov. 22, the service announced Monday.
Some dank nugs. (Flickr/Creative Commons/Dank Depot)
SARASOTA, Fla. — With data continuing to roll in that underscores the health benefits of cannabis, two Florida legislators aren't waiting for clarity in the national policy debates and are sponsoring bills designed to give medical marijuana cards to military veterans free of charge.
November 18, 2019 at 05:37 PM
news
Former Army 1st Lt. Clint Lorance, whom President Donald Trump recently pardoned of his 2013 murder conviction, claims he was nothing more than a pawn whom generals sacrificed for political expediency.
The infantry officer had been sentenced to 19 years in prison for ordering his soldiers to open fire on three unarmed Afghan men in 2012. Two of the men were killed.
During a Monday interview on Fox & Friends, Lorance accused his superiors of betraying him.
"A service member who knows that their commanders love them will go to the gates of hell for their country and knock them down," Lorance said. "I think that's extremely important. Anybody who is not part of the senior Pentagon brass will tell you the same thing."
"I think folks that start putting stars on their collar — anybody that has got to be confirmed by the Senate for a promotion — they are no longer a soldier, they are a politician," he continued. "And so I think they lose some of their values — and they certainly lose a lot of their respect from their subordinates — when they do what they did to me, which was throw me under the bus."
Members of the Iranian Revolutionary Guard Corps march during a parade to commemorate the anniversary of the Iran-Iraq war (1980-88), in Tehran September 22, 2011. (Reuters photo)
Fifteen years after the U.S. military toppled the regime of Saddam Hussein, the Army's massive two-volume study of the Iraq War closed with a sobering assessment of the campaign's outcome: With nearly 3,500 U.S. service members killed in action and trillions of dollars spent, "an emboldened and expansionist Iran appears to be the only victor.
Thanks to roughly 700 pages of newly-publicized secret Iranian intelligence cables, we now have a good idea as to why.
November 18, 2019 at 04:00 AM
news
(Associated Press photo)
BANGKOK (Reuters) - Defense Secretary Mark Esper expressed confidence on Sunday in the U.S. military justice system's ability to hold troops to account, two days after President Donald Trump pardoned two Army officers accused of war crimes in Afghanistan.
Trump also restored the rank of a Navy SEAL platoon commander who was demoted for actions in Iraq.
Asked how he would reassure countries such as Afghanistan and Iraq in the wake of the pardons, Esper said: "We have a very effective military justice system."
"I have great faith in the military justice system," Esper told reporters during a trip to Bangkok, in his first remarks about the issue since Trump issued the pardons.