On New Year's Eve, A Brief Phone Call Will Mark The End Of Mattis' Tenure As Defense Secretary
December 30, 2018 at 11:21 AM
news
Secretary of Defense James Mattis greets U.S. Marine Corps Gen. Joseph Dunford, Chairman of the Joint Chiefs of Staff, after arriving at the Pentagon in Washington, D.C., Jan. 21, 2017. (DOD photo by Air Force Tech. Sgt. Brigitte N. Brantley)
On New Year's Eve, a short phone call will mark the end of Defense Secretary Jim Mattis' tenure and the beginning of Patrick Shanahan's command of the Pentagon.
---
Mattis, 68, is officially out as defense secretary on Dec. 31 — two months ahead of when he was supposed to turn over the reins of the Defense Department. President Donald Trump forced Mattis out ahead of schedule after becoming angry over coverage of Mattis' resignation letter, which sharply rebuked the president's foreign policy views.
The handoff between Mattis and Shanahan will have little pomp and circumstance when it takes place — in the form of a conference call just minutes before 2018 comes to a close, according to a defense official.
"Contact will be established by the Office of Secretary of Defense communications team who will bring Mr. Mattis and Mr. Shanahan into the call," a defense official explained, adding that the call will go by an approved script that, unfortunately, will not be made public.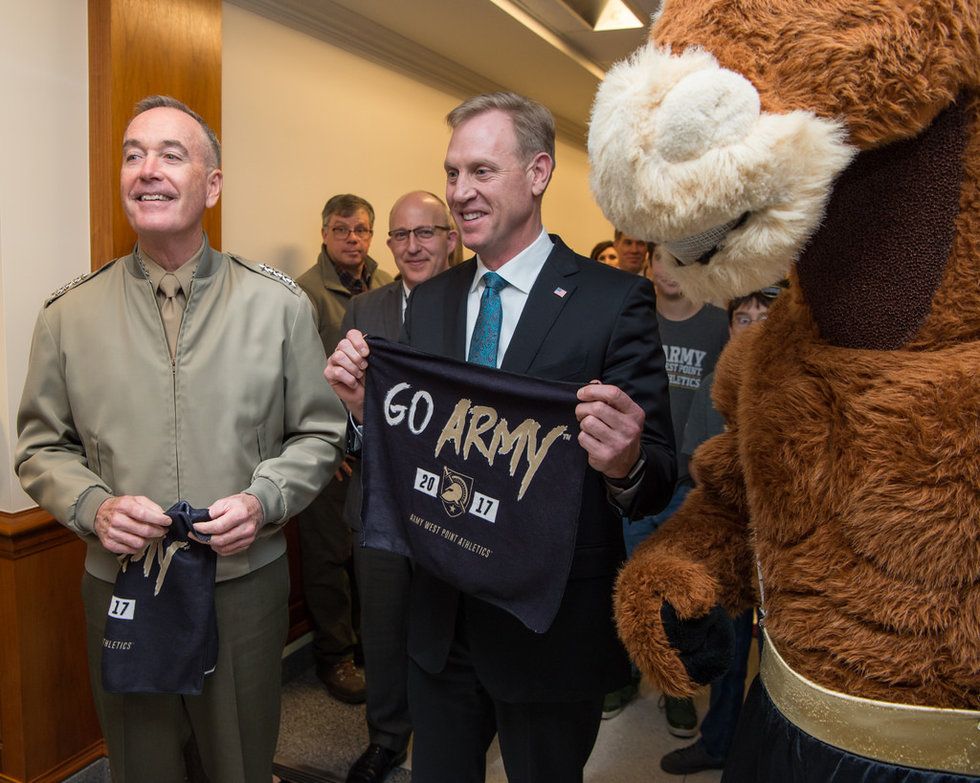 Patrick Shanahan (center) c1.staticflickr.com
Still, the basic gist is that Mattis and Shanahan will be brought on the line, go through a prepared text handing over command, and then it will be all over. As the ball drops in New York City, a new acting Secretary of Defense will emerge. And Mattis will likely head west to his hometown of Richland, Washington, or back to his teaching position at Stanford's Hoover Institution.

"The position of the Secretary of Defense is a command position and the purpose of the call is to ensure all members within the government know who is in command," the official said. "The call is also a courtesy and a mark of respect for the incoming Secretary of Defense."

A former Boeing senior vice president, Shanahan has been serving as deputy secretary of defense since July 2017. He'll be serving as acting Secretary of Defense for the time being, although he is reportedly under consideration to be nominated as a permanent replacement, in addition to Sen. Tom Cotton (R-Ark.), Air Force Secretary Heather Wilson, and Navy Secretary Richard Spencer.
WATCH NEXT: Top 5 Mattis Quotes
Soldiers from the 1-118th Field Artillery Regiment of the 48th Infantry Brigade Combat Team fire an M777 Howitzer during a fire mission in Southern Afghanistan, June 10th, 2019. (U.S. Army photo by Sgt. Jordan Trent)
January 25, 2020 at 10:22 PM
History
Audie Murphy (U.S. Army photo)
Editor's note: a version of this post first appeared in 2018
On January 26, 1945, the most decorated U.S. service member of World War II earned his legacy in a fiery fashion.
January 26, 2020 at 10:04 AM
news
A Purple Heart (DoD photo)
Florida's two senators are pushing the Defense Department to award Purple Hearts to the U.S. service members wounded in the December shooting at Naval Air Station Pensacola.
January 26, 2020 at 11:30 AM
news
Ships from Destroyer Squadron (DESRON) 23 transit the Pacific Ocean Jan. 22, 2020. DESRON 23, part of the Theodore Roosevelt Carrier Strike Group, is on a scheduled deployment to the Indo-Pacific. (U.S. Navy/Mass Communication Specialist 3rd Class Erick A. Parsons)
Editor's Note: This article by Gina Harkins originally appeared on Military.com, a leading source of news for the military and veteran community.
The Navy and Marine Corps need to be a bit more short-sighted when assessing how many ships they need, the acting Navy secretary said this week.
The Navy Department is in the middle of a new force-structure review, which could change the number and types of ships the sea services say they'll need to fight future conflicts. But instead of trying to project what they will need three decades out, which has been the case in past assessments, acting Navy Secretary Thomas Modly said the services will take a shorter view.
"I don't know what the threat's going to be 30 years from now, but if we're building a force structure for 30 years from now, I would suggest we're probably not building the right one," he said Friday at a National Defense Industrial Association event.
The Navy completed its last force-structure assessment in 2016. That 30-year plan called for a 355-ship fleet.
January 26, 2020 at 05:05 AM
news
Newport News Police Chief Steve Drew becomes emotional while speaking about officer Katie Thyne during a press conference Friday morning Jan. 24, 2020 in Newport News, Va. Officer Thyne died Thursday night after being dragged during a traffic stop. (Daily Press/Jonathon Gruenke via Tribune News Service)
NEWPORT NEWS, Va. — The police officer killed during a traffic stop in Newport News on Thursday night was a well-liked young officer who just graduated from the police academy seven months ago, Police Chief Steve Drew said at a somber news conference Friday.