Get Task & Purpose in your inbox
Meet the Ripsaw M5, the unmanned battlewagon that can launch drones and sneak up on enemies
October 14, 2019 at 12:28 PM
popular
WASHINGTON, DC — Textron Systems, its subsidiary Howe & Howe, and FLIR Systems, Inc. unveiled their bid for a new Army robotic combat vehicle Monday — the Ripsaw M5, a well-armed tracked vehicle equipped with high-end sensors that can deploy unmanned air and ground assets like a drone mothership.
This robotic combat vehicle design was on display Monday at the Association of the United States Army conference in Washington, DC.
---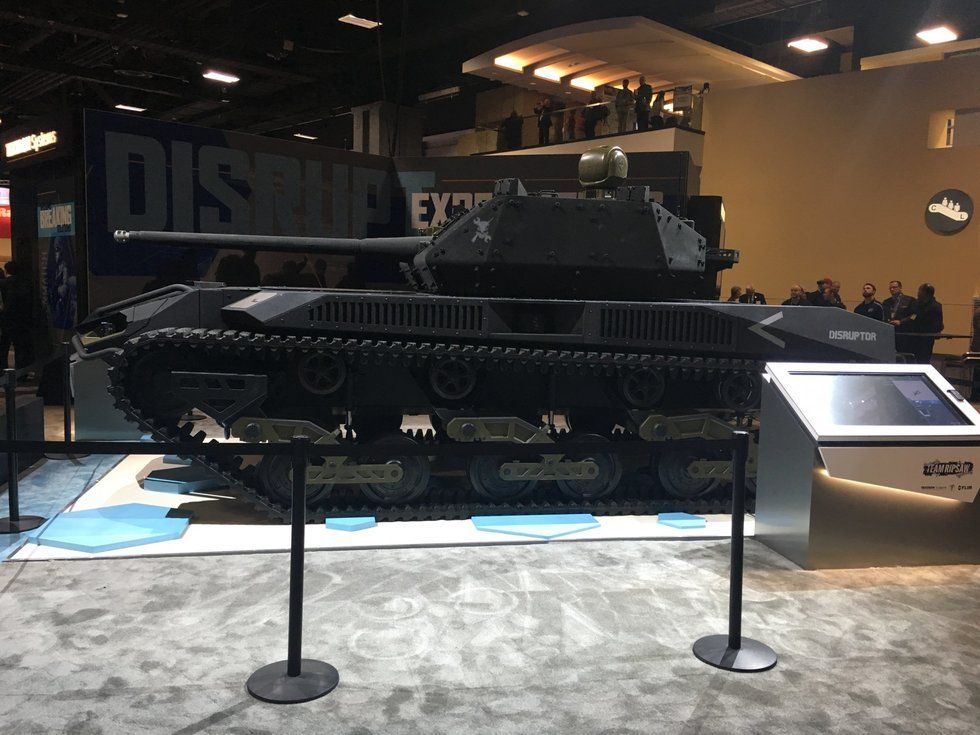 The Ripsaw M5 on the floor of the 2019 Association of the U.S. Army expo in Washington, D.C. on Oct. 14, 2019.(Business Insider/Ryan Pickrell)
The vehicle is modular, meaning that the top turret can be reconfigured for different mission sets, and scalable, which is to say that it can be pitched as a solution for the light and medium robotic combat vehicle programs. The Army has yet to put out an request for proposal, so this is seen as a conversation starter.

The Ripsaw M5 is a multi-mission combat platform equipped with 360-degree sensing capabilities. While this vehicle has a top speed of about 40 mph, it has the ability to approach targets silently.
The Ripsaw M5(Textron Systems)
One of the most interesting features of the Ripsaw M5 is its ability to deploy other drones, namely the tethered FLIR R80D SkyRaider drone and the ground-based FLIR SUGV.

"Incorporating our world-class intelligent sensors and unmanned assets on the Ripsaw M5 will provide a leap-ahead technology solution for the Army," David Ray, president of FLIR Systems' Government and Defense business unit, said in a press statement.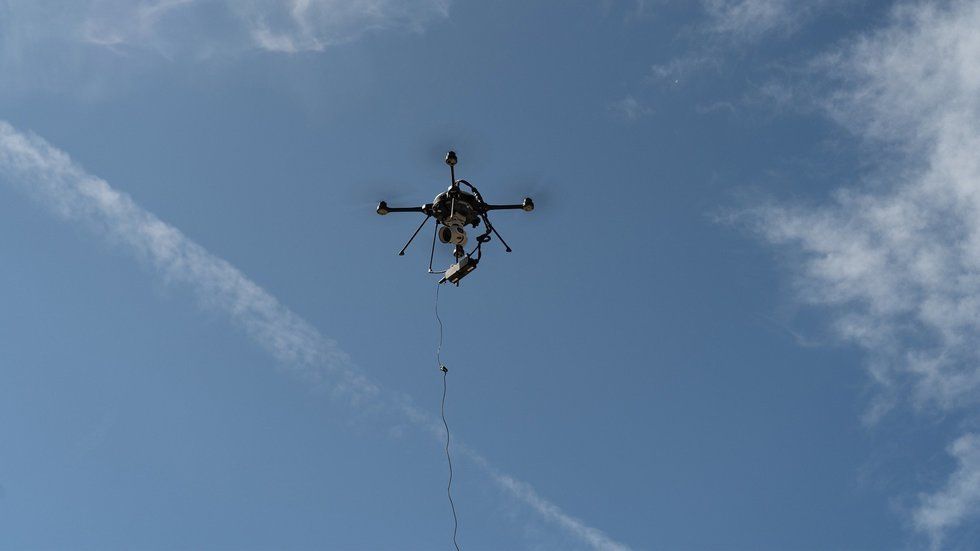 A tethered FLIR R80D SkyRaider drone deployed from a Ripsaw M5(Textron Systems)
"From cameras delivering 360-degree situational awareness to surveillance gimbals, tethered drones and ground robots, we'll give our troops a tactical edge by keeping them on technology's edge."
Of the drones the M5 can carry, the SkyRaider is a tethered quadcopter drone with the ability to provide high-quality video and images of the battlespace any time day or night, offering valuable beyond line-of-sight reconnaissance and target recognition capabilities and increased situational awareness.
The SUGV is a small, portable unmanned vehicle that can climb stairs and manipulate objects, as well as offer imaging services for EOD, surveillance, and remote inspection missions.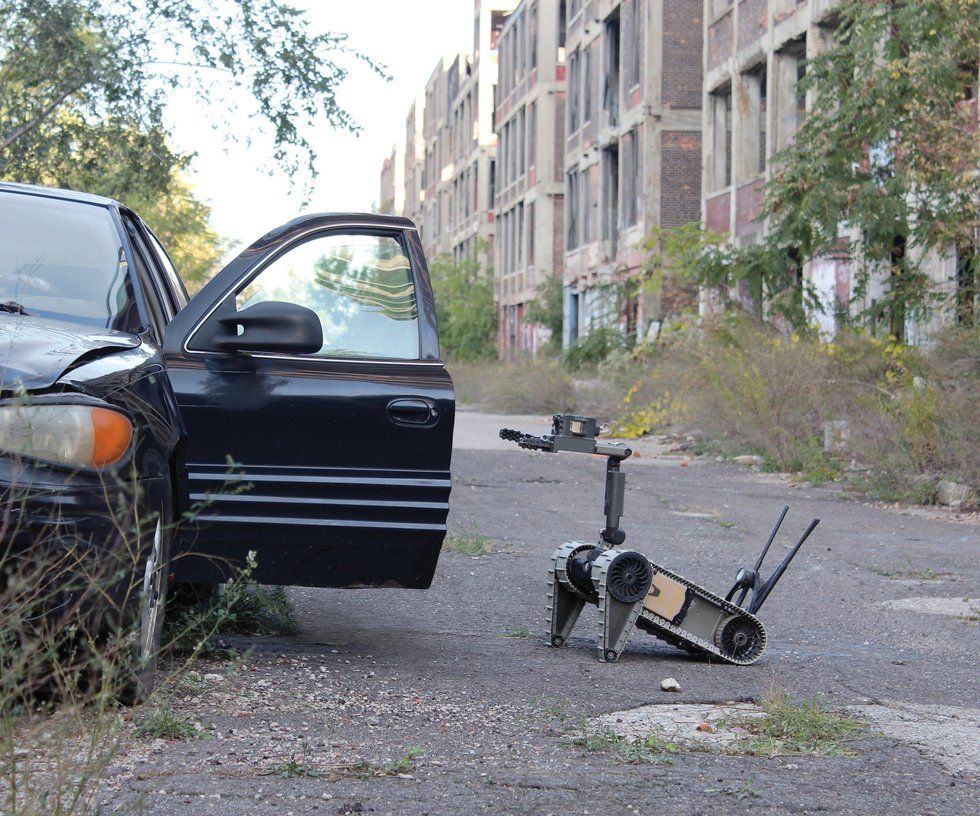 The ground-based FLIR SUGV(Textron Systems)
"The battlefield is filled with really awful places where humans do tasks today they shouldn't have to," Brig. Gen. Ross Coffman, director of the Army Next Generation Combat Vehicle Cross-Functional Team (NGCV-CFT), explained recently.
"But today," he continued, "with the way our technology has advanced, our robotic vehicles can move forward of a manned force to see what's out there, detect chemicals, put direct fire on the enemy, determine whether or not there's an obstacle, and then team with humans to determine the best course of action."
The Army is currently interested in acquiring three classes of Robotic Combat Vehicles (light, medium, and heavy). The service requested $160 million in Research, Development, Test and Evaluation funding for the RCV in its Fiscal year 2020 budget request.
The expectation is that these vehicles will serve as scouts for follow-on forces and escorts for accompanying units, among other potential missions.
Read more from Business Insider:
November 16, 2019 at 02:22 PM
popular
It didn't take long for a central theme to emerge at the funeral of U.S. Marine Pfc. Joseph Livermore, an event attended by hundreds of area residents Friday at Union Cemetery in Bakersfield.
It's a theme that stems from a widespread local belief that the men and women who have served in the nation's armed forces are held in particularly high esteem here in the southern valley.
"In Bakersfield and Kern County, we celebrate our veterans like no place else on Earth," Bakersfield Chief of Police Lyle Martin told the gathering of mourners.
November 16, 2019 at 10:32 AM
popular
An Air Force Special Tactics combat controller that "delivered thousands of pounds of munition" during a close-range 2007 firefight in Afghanistan was awarded the Silver Star on Friday.
November 16, 2019 at 09:30 AM
popular
ROCKFORD — Delta Force sniper Sgt. First Class James P. McMahon's face was so badly battered and cut, "he looked like he was wearing a fright mask" as he stood atop a downed Black Hawk helicopter and pulled free the body of a fellow soldier from the wreckage.
That's the first description of McMahon in the book by journalist Mark Bowden called "Black Hawk Down: A Story of Modern War." It is a detailed account of the horrific Battle of the Black Sea fought in the streets of Mogadishu, Somalia, in October 1993. It claimed the lives of 18 elite American soldiers.
November 16, 2019 at 08:54 AM
popular
The July arrests of 16 Camp Pendleton Marines in front of their 800-person battalion was unlawful and a violation of their rights, a Marine Corps judge ruled Friday.
November 15, 2019 at 07:00 PM
popular
Navy SEAL Eddie Gallagher will retire as a chief petty officer now that President Donald Trump has restored his rank.
"Before the prosecution of Special Warfare Operator First Class Edward Gallagher, he had been selected for promotion to Senior Chief, awarded a Bronze Star with a "V" for valor, and assigned to an important position in the Navy as an instructor," a White House statement said.
"Though ultimately acquitted on all of the most serious charges, he was stripped of these honors as he awaited his trial and its outcome. Given his service to our Nation, a promotion back to the rank and pay grade of Chief Petty Officer is justified."
The announcement that Gallagher is once again an E-7 effectively nullifies the Navy's entire effort to prosecute Gallagher for allegedly committing war crimes. It is also the culmination of Trump's support for the SEAL throughout the legal process.
On July 2, military jurors found Gallagher not guilty of premeditated murder and attempted murder for allegedly stabbing a wounded ISIS fighter to death and opening fire at an old man and a young girl on separate occasions during his 2017 deployment to Iraq.