Russia tried to send its most advanced air defense system to China last year. Then a storm got in the way
February 28, 2019 at 12:53 PM
Military Tech
Russian S-400 Triumph surface-to-air missile systems in the Victory Day parade for the 71st anniversary of the victory over Germany in World War II, in Moscow's Red Square, May 9, 2016. (Sergei Karpukhin/Reuters)
China became the first foreign buyer of Russia's S-400 in 2014, but the delivery of the air-defense system, considered one of the most advanced the world, was marred when a ship carrying it encountered a storm in early 2018.
According to the CEO of Russian defense firm Rostec, the components damaged were more important than first known.
---
At the IDEX defense conference in the United Arab Emirates this month, Sergey Chemezov said that the gear damaged in the storm included the 40N6E, which is the export version of S-400's 40N6 missile, according to Stephen Trimble, defense editor at Aviation Week.
The 40N6 is the longest-range interceptor of the S-400's three missiles. The export version of the missile can reach just under 400 kilometers, or roughly 250 miles. The system also comes with a command-and-control system, a radar system, and a launcher.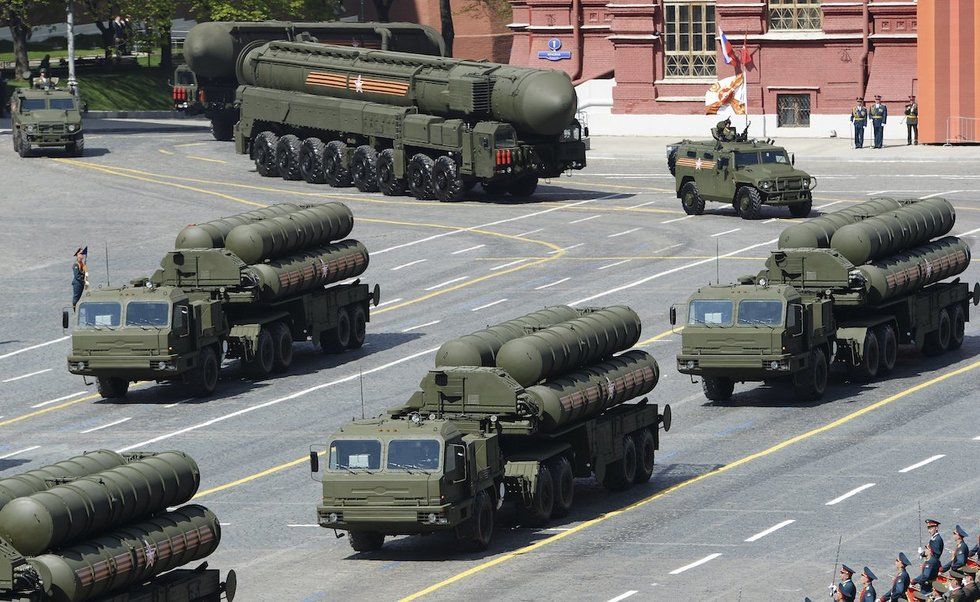 Russian S-400 surface-to-air missile systems in the Victory Day parade at Red Square in Moscow, May 9, 2015.(Reuters photo0
While the delivery of the S-400 to China had previously been confirmed, whether the 40N6E was included was not known for sure, which led Trimble to ask Chemezov about it, expecting to get a standard "no comment," he said on the most recent episode of Aviation Week's Check 6 podcast.
"He not only confirmed it. He also told us this sort of bizarre story about the fate that befell [the missile] on its way ... to China," Trimble said.
Chemezov made clear that the missiles "were on a ship, and the ship got hit by a bad storm, and ... ultimately all the missiles were lost. He didn't explain exactly how they were lost, but he said that they all have to be replaced and that they are now building the replacements for the missile, because of either damage sustained in the storm, or they were just destroyed in the storm somehow."
Reports of the damage emerged not long after the delivery started in early January 2018.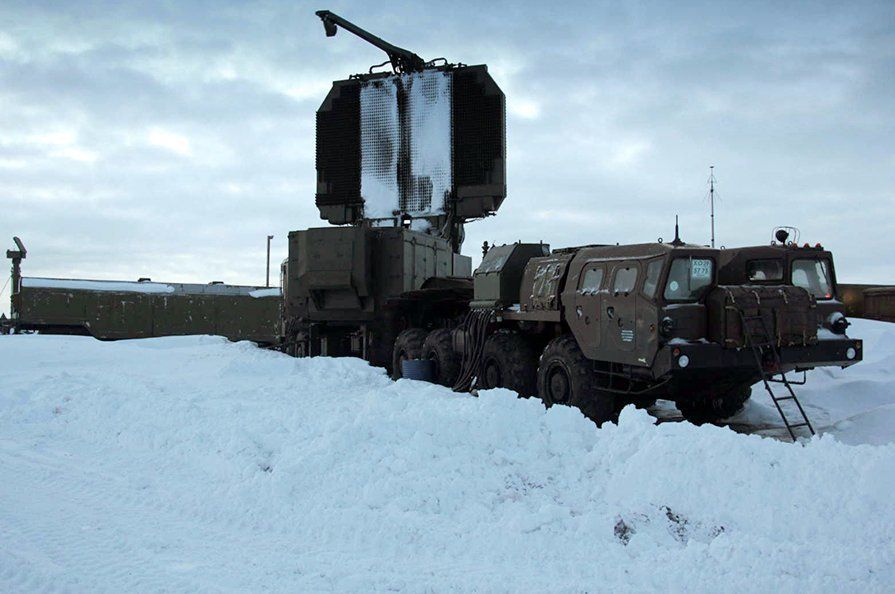 An S-400 radar unit.(Russian Ministry of Defense)
Maritime trackers monitoring ships' automatic identification systems did notice a vessel that left St. Petersburg with an AIS code indicating it had explosives aboard, Trimble said. That ship hit a storm in the English Channel and returned to port.
Russian state media outlet Tass said in January 2019 that "part of the equipment included in the first shipment" to China had been "damaged by a storm and returned to Russia."
Around the same time, Russian news agency RIA quoted the spokeswoman for Russia's military and technical cooperation service as saying parts of the S-400 systems on their way to China were damaged in a storm at sea. The spokeswoman described the components as "secondary" without giving any details.
But the S-400's missiles are an essential component — the 40N6 even more so.
The revelation "was a very surprising development in this story of this export and completely unexpected," Trimble said. "I can't really think of something like this ever happening before, because it's not just any missile. This is probably one of the most important, strategically, weapon systems in the world right now, and this is the most powerful effector, or missile, within that system."
"Those missiles now may be at the bottom of the English Channel, which is just an incredible twist in the whole story," Trimble added.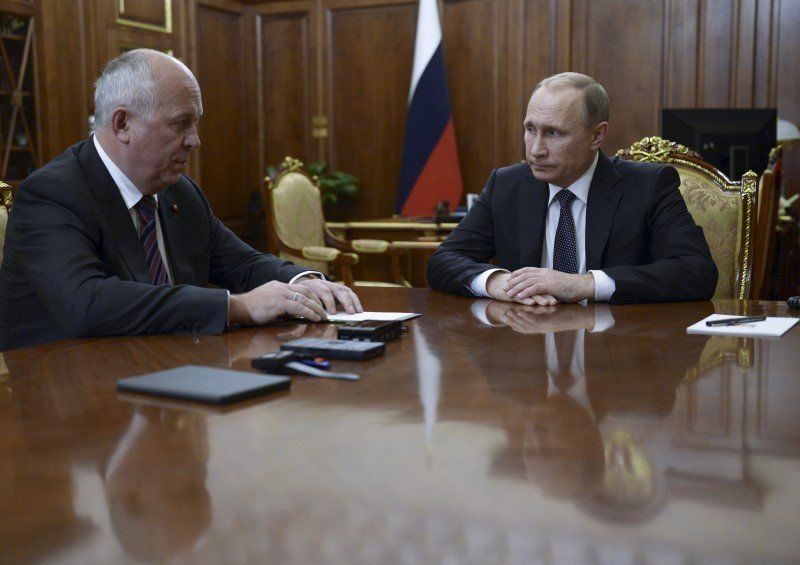 Russian President Putin with Sergey Chemezov, CEO of Rostec, in Moscow. (Reuters photo)
In May 2018, China received its first regimental set of the S-400 when the third and final ship arrived with "the equipment not damaged during a December storm in the English Channel and the damaged equipment after repairs," a diplomatic source told Tass at the time.
An S-400 regiment consists of two battalions. Each battalion has two batteries. A standard battery has four transporter erector launchers, each with four launch tubes, as well as fire-control radar systems and a command module. Reports vary about how many regimental sets China was to get, from two to six.
Read more: The Navy's top officer in Europe says the US' new strategy has already duped the Russians
The South China Morning Post said in the final days of December that the People's Liberation Army Rocket Force tested the S-400 in November, shooting down a "simulated ballistic target" moving at the supersonic speed of nearly 2 miles a second at a range of nearly 150 miles.
The S-400 and Russia's efforts to sell it aboard have become a point of contention with the US.
In September, the U.S. hit China with sanctions under the Countering America's Adversaries Through Sanctions Act, or CAATSA, which is meant to punish Russia over its interventions abroad and interference in the 2016 U.S. election.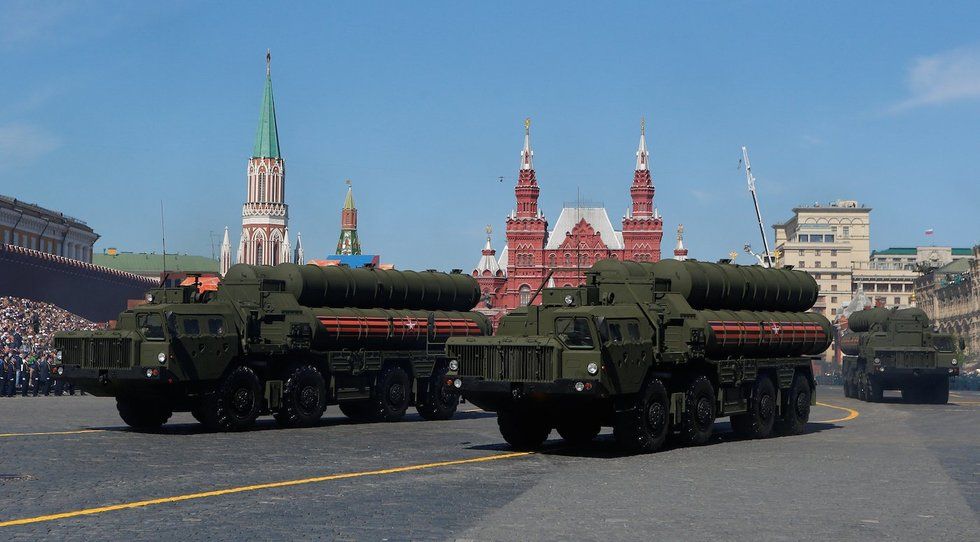 Russian servicemen drive S-400 air-defense missile systems through Red Square during the Victory Day parade, marking the 73rd anniversary of the victory over Germany in World War II, May 9, 2018(Reuters/Sergei Karpukhin)
But other U.S. allies have expressed interest in the S-400, complicating matters for Washington. Despite warnings that the U.S. would rescind F-35 deliveries and that the system wouldn't work with NATO weapons, Turkey has forged ahead with an S-400 buy, saying this week that the purchase was a done deal.
India has also agreed to buy the S-400, though Chemezov said New Delhi has yet to make an advance payment, which "was a bit of a surprise," Trimble said. Buying the S-400 could open India to US sanctions, though there is a wavier process in the CAATSA legislation that could be applied to Delhi.
And despite the Trump administration's wooing of Saudi Arabia — which includes White House senior adviser Jared Kushner personally negotiating a discount with the Lockheed Martin CEO for the firm's Terminal High Altitude Air Defense system — the Kingdom is reportedly still interested in the S-400.
"Chemezov refused to talk about the S-400 and Saudi Arabia, and he was very blunt about why," Trimble said. "He said that if we talk about these kinds of deals, that gets our potential customers in a lot of trouble with the U.S. government, so what we're doing is negotiating silently, which isn't a very silent way of negotiating, but that was how he put it."
Read more from Business Insider:
WATCH NEXT: The US Needs Better Logistics To Compete With Russia And China
January 22, 2020 at 02:26 PM
news
Photo illustration by Paul Szoldra
Navy Lt. Jonny Kim went viral last week when NASA announced that he and 10 other candidates (including six other service members) became the newest members of the agency's hallowed astronaut corps. A decorated Navy SEAL and graduate of Harvard Medical School, Kim in particular seems to have a penchant for achieving people's childhood dreams.
However, Kim shared with Task & Purpose that his motivation for living life the way he has stems not so much from starry-eyed ambition, but from the pain and loss he suffered both on the battlefields of Iraq and from childhood instability while growing up in Los Angeles. Kim tells his story in the following Q&A, which was lightly edited for length and clarity:
January 22, 2020 at 06:47 PM
popular
You can almost smell the gunpowder in the scene captured by a Marine photographer over the weekend, showing a Marine grunt firing a shotgun during non-lethal weapons training.
January 22, 2020 at 04:30 PM
news
A Marine grunt stationed in Camp Lejeune, North Carolina is being considered for an award after he saved the lives of three people earlier this month from a fiery car crash.
Cpl. Scott McDonell, an infantry assaultman with 1st Battalion, 2nd Marine Regiment, was driving down Market Street in Wilmington in the early morning hours of Jan. 11 when he saw a car on fire after it had crashed into a tree. Inside were three victims aged 17, 20, and 20.
"It was a pretty mangled wreck," McDonell told ABC 15. "The passenger was hanging out of the window."
Todd Robinson's upcoming Vietnam War drama, The Last Full Measure, is a story of two battles: One takes place during an ambush in the jungles of Vietnam in 1966, while the other unfolds more than three decades later as the survivors fight to see one pararescueman's valor posthumously recognized.
January 22, 2020 at 01:56 PM
news
Protesters and militia fighters gather to condemn air strikes on bases belonging to Hashd al-Shaabi (paramilitary forces), outside the main gate of the U.S. Embassy in Baghdad, Iraq December 31, 2019. (Reuters/Thaier al-Sudani)
With ISIS trying to reorganize itself into an insurgency, most attacks on U.S. and allied forces in Iraq are being carried out by Shiite militias, said Air Force Maj. Gen. Alex Grynkewich, the deputy commander for operations and intelligence for U.S. troops in Iraq and Syria.
"In the time that I have been in Iraq, we've taken a couple of casualties from ISIS fighting on the ground, but most of the attacks have come from those Shia militia groups, who are launching rockets at our bases and frankly just trying to kill someone to make a point," Grynkewich said Wednesday at an event hosted by the Air Force Association's Mitchell Institute for Aerospace Studies.