Putin's much-hyped nuclear-powered cruise missile is an expensive mess Russia can't even afford
March 25, 2019 at 10:28 AM
Military Tech
The launch of what President Vladimir Putin said is Russia's new nuclear-powered intercontinental cruise missile. (RU-RTR Russian Television/Associated Press)
Russia can't afford its Burevestnik nuclear-powered cruise missile, which still doesn't work right and may not be combat ready for another decade, CNBC reports, citing U.S. intelligence assessments.
---
Russian President Vladimir Putin proudly boasted last year that the weapon could skirt enemy defenses and fly indefinitely, giving it unlimited range, but the farthest this missile has ever flown in testing is 22 miles.
The most recent test took place in late January, The Diplomat reported in early February, noting that Russia had decided to restart testing after a pause last summer.
The test was apparently only "partially successful," The Diplomat explained, indicating that the weapon still doesn't function as intended. No country has ever fielded a nuclear-powered cruise missile, although the US briefly flirted with the idea many years ago.
U.S. intelligence currently assesses it might be another decade before the Burevestnik cruise missile is ready for combat, but even then, Russia is expected to only produce a few of these potentially powerful missiles because they are too expensive for the country to develop, CNBC reports.
This certainly isn't the first superweapon Russia has hyped up that turned out to be unobtainable due to budget limitations.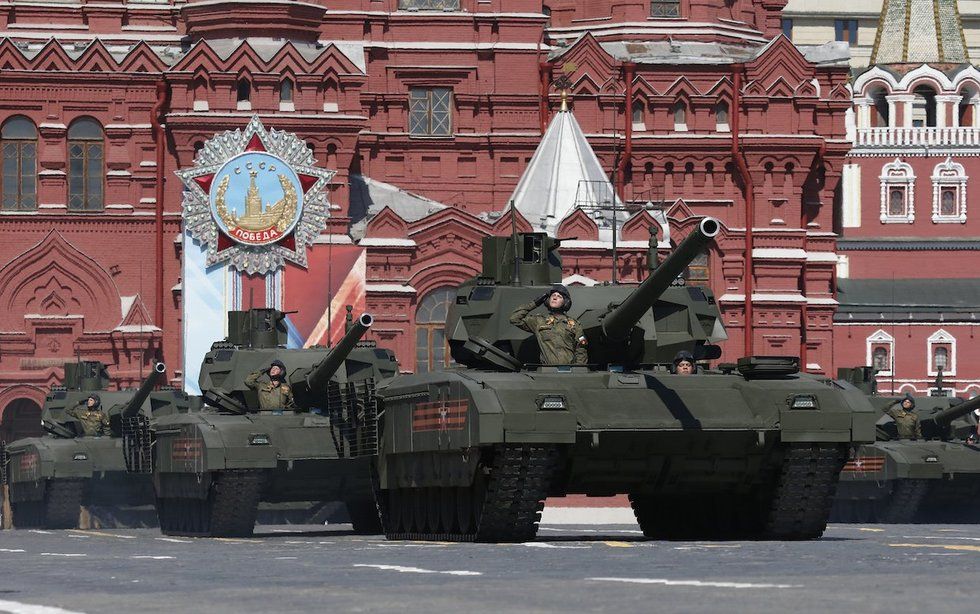 Russian T-14 tanks with the Armata Universal Combat Platform drive during the Victory Day parade, marking the 71st anniversary of the victory over Nazi Germany in World War Two, at Red Square in Moscow, Russia, May 9, 2016(Reuters photo)
Russia unveiled its hard-hitting T-14 Armata tank at the 2015 Moscow Victory Day Parade, where one embarrassingly broke down and had to be towed away during rehearsal.
Russia had initially planned to mass produce and field as many as 2,300 Armatas by 2025, but that number was reduced to 100, as the cost of this state-of-the-art tank, which includes an unmanned turret and other expensive features, was way over budget.
Instead of buying more Armatas, Russia opted to upgrade and improve its older T-72, T-80, and T-90 tanks, capable armor units but definitely nothing like what Russia promised for the Armatas.
The country decided to do the same with its fifth-generation Su-57 stealth fighter.
Rather than mass produce the aircraft, which was built to take down the U.S. F-35s, Russia instead chose to purchase only a limited number and focus on improving its fourth-generation fighters.
Read more from Business Insider
WATCH NEXT: That Time Russia Lost A Nuclear-Powered Missile
November 12, 2019 at 05:29 PM
popular
Editor's Note: This article originally appeared on Business Insider

If you're in the market for a bunker in the southwest, you're in luck. A decommissioned missile complex is now on sale outside of Tucson for nearly $400,000. The complex was home to an armed Titan II missile for 24 years, before it was decommissioned in the 1980s.
The structure is listed with Grant Hampton at Realty Executives. Now, the home is back on the market, and these photos show what lies underground in Arizona.
November 12, 2019 at 05:20 PM
popular
Connecting with the youths is all fun and games until Congress starts worrying you could accidentally expose the U.S. military to Chinese data collection, am I right?
November 12, 2019 at 04:48 PM
news
A Florida Navy Reserve officer rescued a woman who was trapped in a sinking car, according to a report by CBS 47.
November 12, 2019 at 03:02 PM
news
The Marine Corps will investigate whether another Marine has ties to a white supremacist group after he allegedly made racist comments on neo Nazi message boards that have since been taken down, according to a Marine Corps official.
Vice News reporters Tess Owen and Tim Hume first reported on Nov. 8 that at least three people who posted on the new defunct Iron March message boards were service members, but their story did not include any of the troops' names.
Newsweek reporters James LaPorta and Asher Stockler were able to independently confirm the identity of one of those service members as an active-duty Marine: Lance Corporal Liam J. Collins, an 0311 Rifleman assigned to 1st Battalion, 2nd Marines at Camp Lejeune, North Carolina.
November 12, 2019 at 02:37 PM
popular
WASHINGTON (Reuters) - President Donald Trump said on Tuesday the United States knows the location of the third in command to Islamic State leader Abu Bakr al-Baghdadi, who killed himself last month during a U.S.-led raid.
"We have our eye on his third," Trump said during the question-and-answer session following a speech at the Economic Club of New York. "His third has got a lot of problems because we know where he is too."