Russia just tested an ICBM near the site of its deadly nuclear missile accident
November 01, 2019 at 10:56 AM
news
Editor's Note: This article originally appeared on Business Insider.
The Russian military successfully launched an intercontinental ballistic missile from its new Borei A-class submarine, the nuclear-powered Knyaz Vladimir, or Prince Vladimir, according to TASS, Russia's state-run news agency.

---
The missile, the RSM-56 Bulava, has a range of between 8,000 and 9,000 km (more than 5,000 miles), can carry between six and 10 150-kiloton nuclear warheads, and has a yield of 1,150 kg.
While its speed is unknown, Michael Duitsman, a research associate specializing in Russian missile technology at the James Martin Center for Nonproliferation Studies at Middlebury College, estimates it's in the Mach 16-20 range.
The Bulava has been in operational use since 2013, and was fired for the first time from the nuclear-powered submarine on Oct. 29.
The Prince Vladimir is the first of the Borei-A class submarine, which has better noise reduction and improved communication equipment over the Borei class, Duitsman told Insider via email.
According to the Moscow Times, the missile was launched from the Arkhangelsk region and traveled thousands of miles to the Kamchatka peninsula in Russia's Far East — across the entire country of Russia.
Once it enters service — anticipated to be in December — the Borei A-class strategic submarine will carry up to 16 of the Bulava missiles with four to six nuclear warheads each, according to the Moscow Times.
The missile was launched from a submerged position in the White Sea — the same place a devastating nuclear accident occurred in August.
In that instance, Russian engineers were attempting to recover a so-called "Skyfall" missile from the bed of the White Sea when the weapon's nuclear reactor exploded, causing the death of at least seven Russians.
Russia's handling of the incident has been referred to as a cover-up by a senior official at the State Department's Bureau of Arms Control, Verification, and Compliance.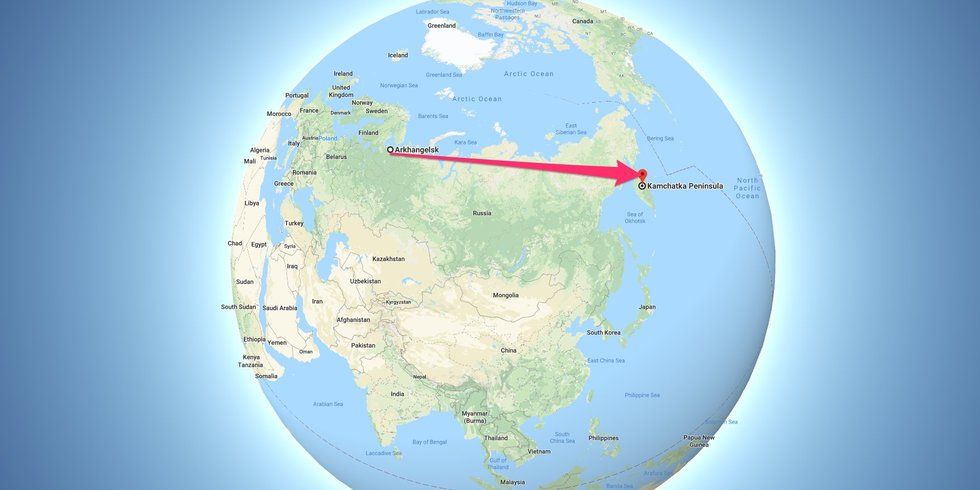 On Tuesday, Russia claimed it fired an intercontinental ballistic missile across its entire country. (Google Maps / Business Insider)
The Bulava itself is understood to have a devastating payload — 50 to 60 times more powerful than the bomb the U.S. dropped on Hiroshima.
But just because it's powerful, that doesn't mean the Russian Navy is using the missile to menace its adversaries — in fact, it's a defensive weapon.

The Bulava "forms part of Russia's strategic deterrent force; the missiles are not for use in normal combat," Duitsman told Insider. "Submarine-launched ballistic missiles, and ballistic missile submarines, deter an enemy from attacking you with nuclear weapons, because it is very difficult to find and destroy all of the submarines."
The U.S. counterparts to the Borei and Bulava — the Ohio-class submarines and Trident II missiles — are more powerful in combination than the Russian offerings.
The Ohio-class can carry 24 Trident II missiles, which have a longer range at 12,000 km, a speed of Mach 24, and a payload of 2800 kg. But, as Duitsman notes, the Ohio-class is 20 years old, and its replacement, the Columbia-class, isn't scheduled to be in service till 2031.
Read more from Business Insider:
February 18, 2020 at 09:46 AM
news
An F-16 Fighting Falcon assigned to the 18th Aggressor Squadron taxis down the runway during Sentry Aloha 20-1 at Joint Base Pearl Harbor-Hickam, Hawaii, Jan. 15, 2020. (U.S. Air Force/Senior Airman Beaux Hebert)
A 26-year-old man died after he failed to surface from waters off Molokai while participating in a scuba diving tour over the weekend.
He has been identified as Duane Harold Parsley II and was stationed at Hickam Air Force Base, according to the Maui Police Department.
February 18, 2020 at 09:01 AM
news
Manzanar, the first of ten such concentration camps established by Executive Order No. 9066 on February 19, 1942. (Dorothea Lange for the War Relocation Authority)
LOS ANGELES — For decades, Japanese American activists have marked Feb. 19 as a day to reflect on one of the darkest chapters in this nation's history.
On that date in 1942, during World War II, President Franklin Delano Roosevelt authorized the forced removal of over 120,000 Americans of Japanese descent from their homes and businesses.
On Thursday, the California Assembly will do more than just remember.
February 17, 2020 at 07:27 PM
news
(Air Force photo / Tech Sgt. Oneika Banks)
Kirtland Air Force Base isn't much different from the world beyond its gates when it comes to dealing with mental illnesses, a base clinical psychologist says.
Maj. Benjamin Carter told the Journal the most frequent diagnosis on the base is an anxiety disorder.
"It's not a surprise, but I anticipate about anytime in the population in America, about 20% of the population has some form of diagnosable anxiety disorder, and it's no different in the military," he said.
Leading the way among the anxiety disorders, he said, were post-traumatic stress disorder "or something like panic disorder or generalized anxiety disorder."
February 17, 2020 at 06:23 PM
news
(National Archives / Marine Corps Photo / WO Obie Newcomb, Jr., November 1943)
The DNA of a niece and nephew, who never met their uncle, has helped identify the remains of the Kansas Marine who died in WWII.
The Defense POW/MIA Accounting Agency announced that 21-year-old U.S. Marine Corps Reserve Pfc. Raymond Warren was identified using DNA and circumstantial evidence. Warren had been buried in a cemetery in the Gilbert Islands, where he was killed when U.S. forces tried to take secure one of the islands from the Japanese.
The Battle of Tarawa lasted from Nov. 20 to Nov. 23, 1943, and claimed the lives of 1,021 U.S. marines and sailors, more than 3,000 Japanese soldiers and an estimated 1,000 Korean laborers before the U.S. troops seized control, the agency said.
February 17, 2020 at 05:50 PM
news
(U.S. Air Force photo by Staff. Sgt. Daniel Snider)
Arizona lawmakers are vowing to fight a plan by the Air Force to start retiring some of the nation's fleet of A-10 Thunderbolt II ground-attack jets — a major operation at Davis-Monthan Air Force Base — as part of a plan to drop some older, legacy weapon systems to help pay for new programs.
U.S. Sen. Martha McSally, R-Ariz., a former A-10 pilot, and U.S. Rep. Ann Kirkpatrick, D-Ariz., both vowed to fight the move to retire 44 of the oldest A-10s starting this year.
During a press briefing last week, Air Force officials unveiled plans to start mothballing several older platforms, including retiring some A-10s even as it refits others with new wings.