Russia is planning to build its first nuclear-powered aircraft carrier after breaking its only existing garbage flattop
May 08, 2019 at 03:23 PM
Military Tech
Russia's conventionally-powered Admiral Kuznetsov aircraft carrier (Associated Press)
Russia wants to build its first nuclear-powered aircraft carrier, Russian state media reported Tuesday, citing unnamed sources in the shipbuilding industry.

The carrier, a source told TASS, "will have a nuclear energy unit and displacement of about 70,000 [metric tons]," which would make it smaller than U.S. carriers but still larger than Russia's sole aircraft carrier, the steam-powered Admiral Kuznetsov, which suffered a devastating accident last fall.
---
Last summer, Russian media reported that the Russian navy had begun developing a nuclear propulsion system for a next-generation aircraft carrier. Development on the new carrier is expected to begin in 2023, and the ship could be delivered to the fleet by the late 2030s.
In the final years of the Cold War, the Soviet Union began work on a nuclear-powered carrier known as the Ulyanovsk, but the fall of the Soviet Union led the Russians to suspend development. The project was scrapped, and the ship's partial hull was disassembled.
The U.S. has 11 nuclear-powered aircraft carriers in its arsenal. China, a rising great power, has two conventional carriers resembling the Kuznetsov, but the country is working on a third carrier that could be the country's first modern flattop.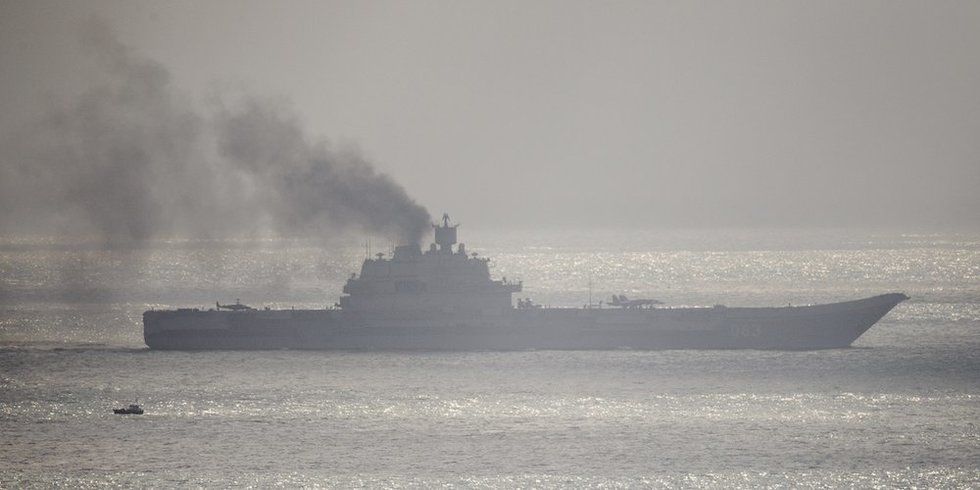 Russia's only aircraft carrier, the Admiral Kuznetsov, passes through the English channel en route to the Mediterranean belching black smoke. The carrier has never gone to sea without an oceangoing tug, which experts say is a 'cautionary tale' for the rest of the world(Getty Images/Leon Neal)
Russia, however, only has one carrier, and it's a bit of a disappointment.
The ship is rarely seen at sea. From 1991 to 2015, the Kuznetsov, sometimes described as one of the worst carriers in the world, set sail on patrol only six times. When it sets sail, the ship is accompanied by tugboats, preparation for problems.
Last fall, the carrier was severely damaged when the massive Swedish-built PD-50 dry dock at the 82nd Repair Shipyard in Roslyakovo sank with the carrier on board. A heavy crane fell on the vessel, punching a large gash in the hull and deck.
Russia's ability to repair the damage appears to be limited due to the damage to the shipyard, and there has been talk of scrapping the flagship rather than investing in costly attempts to repair a tired ship that brings only limited capabilities to the Russian Navy. On a 2016 mission in Syria, the carrier saw the loss of two onboard fighter jets in just three weeks due to failures of the ship's arresting wires.

A new nuclear-powered aircraft carrier would certainly provide a capabilities boost, but it's a tall order, especially as the Russian military has struggled to find funding for other big defense projects.
Short on funds, Russia had to cut production for the T-14 Armata main battle tanks and fifth-generation Su-47 stealth fighters. Russia reportedly also can't afford its devastating new nuclear-powered cruise missiles that still don't work right.
Read more from Business Insider:
WATCH NEXT: Watch A Russian Warship Ram A Ukrainian Tugboat
November 15, 2019 at 04:15 PM
news
The amphibious assault ship USS Iwo Jima (LHD 7) departs Naval Station Mayport in preparation of Hurricane Matthew's arrival onto Florida's eastern coast. (U.S. Navy/Petty Officer 2nd Class Mark Andrew Hays)
Editor's Note: This article by Gina Harkins originally appeared on Military.com, a leading source of news for the military and veteran community.
A fire broke out on a Navy amphibious assault ship Thursday night, leaving 11 sailors with minor injuries.
Sailors aboard the amphibious assault ship Iwo Jima reported smoke in the cargo hold at 11:45 p.m. The ship was pierside at Naval Station Mayport, Florida, where it's undergoing maintenance.
November 15, 2019 at 03:16 PM
news
The Supreme Court in Washington, D.C (Wikimedia Commons)
WASHINGTON (Reuters) - The U.S. Supreme Court on Friday agreed to consider whether military personnel can be prosecuted for rape long after the crime occurred in an appeal by President Donald Trump's administration of a lower court ruling that overturned the rape conviction of an Air Force captain.
November 15, 2019 at 11:08 AM
popular
Little girls everywhere will soon have the chance to play with a set of classic little green Army soldiers that actually reflect the presence of women in the armed forces.
"As I learned while researching a book about John, the SEAL ground commander, Cmdr. Tim Szymanski, had stupidly and with great hubris insisted on insertion being that night."
November 14, 2019 at 11:07 AM
Opinion
Editor's Note: The following is an op-ed. The opinions expressed are those of the author, and do not necessarily reflect the views of Task & Purpose.
Air Force Master Sgt. John "Chappy" Chapman is my brother. As one of an elite group, Air Force Combat Control — the deadliest and most badass band of brothers to walk a battlefield — John gave his life on March 4, 2002 for brothers he never knew.
They were the brave men who comprised a Quick Reaction Force (QRF) that had been called in to rescue the SEAL Team 6 team (Mako-30) with whom he had been embedded, which left him behind on Takur Ghar, a desolate mountain in Afghanistan that topped out at over 10,000 feet.
As I learned while researching a book about John, the SEAL ground commander, Cmdr. Tim Szymanski, had stupidly and with great hubris insisted on insertion being that night. After many delays, the mission should and could have been pushed one day, but Szymanski ordered the team to proceed as planned, and Britt "Slab" Slabinski, John's team leader, fell into step after another SEAL team refused the mission.
But the "plan" went even more south when they made the rookie move to insert directly atop the mountain — right into the hands of the bad guys they knew were there.
November 15, 2019 at 02:08 PM
news
The leader of a Chicago-area street gang has been arrested and charged with attempting to aid the ISIS terrorist group, the Department of Justice said Friday.
Jason Brown, also known as "Abdul Ja'Me," allegedly gave $500 on three separate occasions in 2019 to a confidential informant Brown believed would then wire it to an ISIS fighter engaged in combat in Syria. The purported ISIS fighter was actually an undercover law enforcement officer, according to a DoJ news release.