Russia Claims It's Arming Warships With A New Weapon That Makes Enemies Want To Vomit
February 05, 2019 at 08:57 AM
Military Tech
(Russian Ministry of Defense)
The Russian navy is apparently outfitting its warships with a new naval weapon designed to blind and confuse enemies and, sometimes, make them want to hurl, Russian media said this weekend.
---
Filin 5P-42, a non-lethal visual-optical inference device, has been deployed aboard Russian navy frigates Admiral Gorshkov and Admiral Kasatonov, state-run RIA Novosti reported, citing a press statement from Ruselectronics, the company that built the device.
Each frigate, both part of Russia's Northern Sea Fleet, has been outfitted with two Filin stations. Two additional frigates currently under construction are expected to also carry the blinding weapon.
The new device is a dazzler-type weapon that works like a strobe light, emitting an oscillating beam of high-intensity light that negatively affects an enemy's ability to aim at night.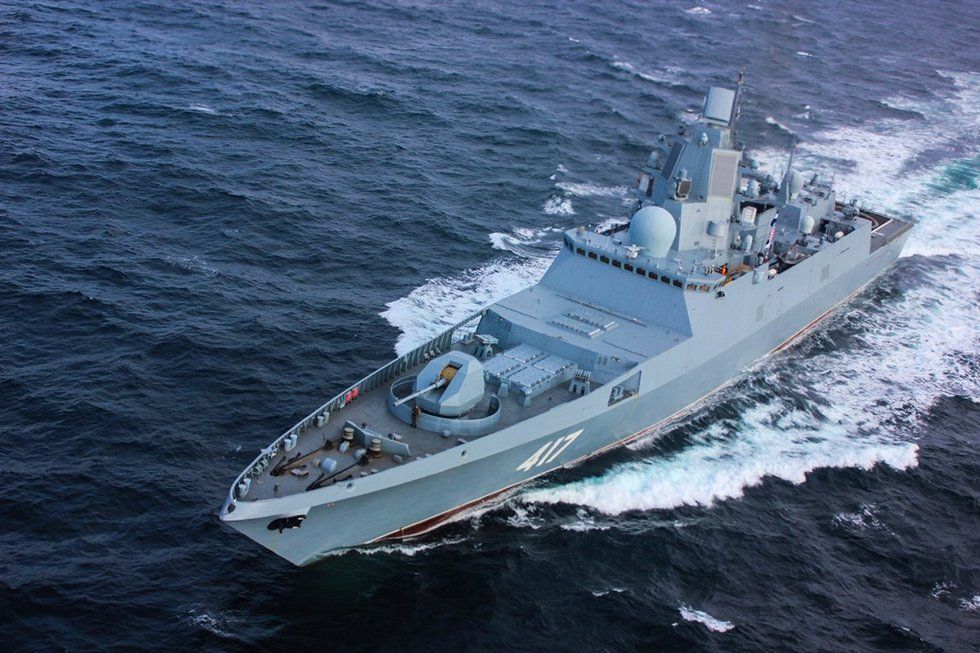 A Russian Admiral Gorshkov-class frigate. (Russian Defense Ministry)
Russia claims that the new naval weapon is capable of "effectively suppressing" sensors and night-vision technology, as well as range finders for anti-tank missiles, Russian media said.
The dazzling weapon was tested against volunteers firing assault weapons, sniper rifles, and machine guns at targets protected by Filin from two kilometers away. All of the participants experienced difficulties aiming, and 45% had complaints of dizziness, nausea, and disorientation. Twenty percent of volunteers experienced what Russian media has characterized as hallucinations. Participants described seeing floating balls of light.
The concept behind "dazzling" weapons has been around for decades in one form or another.
Blinding weapons, particularly lasers, that cause permanent blindness are prohibited by the Protocol on Blinding Laser Weapons. As Russia's weapon reportedly only causes temporary blindness, there would be no legislative restrictions on its use, not that legal issues may be of any real concern.
U.S.-Russian relations sank to a new low Friday, when the Trump administration announced U.S. withdrawal from the Intermediate-range Nuclear Forces (INF) Treaty, a Cold War-era nuclear arms pact, citing Russian violations of the agreement.
Read more from Business Insider:
WATCH NEXT: Russian Warship Rams Ukrainian Tugboat
October 14, 2019 at 06:23 PM
news
Photo: Twitter
For an organization that is constantly shining a light on things that would rather be kept out of the public eye, the moderators of U.S. Army WTF! Moments have done a remarkably impressive job at staying anonymous.
That is, until Monday.
For U.S. service members who have fought alongside the Kurds, President Donald Trump's decision to approve repositioning U.S. forces in Syria ahead of Turkey's invasion is a naked betrayal of valued allies.
"I am ashamed for the first time in my career," one unnamed special operator told Fox News Jennifer Griffin.
In a Twitter thread that went viral, Griffin wrote the soldier told her the Kurds were continuing to support the United States by guarding tens of thousands of ISIS prisoners even though Turkey had nullified an arrangement under which U.S. and Turkish troops were conducting joint patrols in northeastern Syria to allow the Kurdish People's Protection Units, or YPG, to withdraw.
"The Kurds are sticking by us," the soldier told Griffin. "No other partner I have ever dealt with would stand by us."
October 14, 2019 at 05:47 PM
news
Defense Secretary Mark Esper has confirmed that a nightmare scenario has come to pass: Captured ISIS fighters are escaping as a result of Turkey's invasion of Kurdish-held northeast Syria.
Turkey's incursion has led to "the release of many dangerous ISIS detainees," Esper said in a statement on Monday.
October 14, 2019 at 03:06 PM
news
ABC News anchor Tom Llamas just before his network airs grossly inaccurate footage
Video footage of a purported "bombing of Kurd civilians" by Turkish military forces shown on ABC News appeared to be a nighttime firing of tracer rounds at a Kentucky gun range.
October 14, 2019 at 02:58 PM
news
The U.S. military's seemingly never-ending mission supporting civil authorities along the southwestern border will last at least another year.
On Sept. 3, Defense Secretary Mark Esper approved a request from the Department of Homeland Security to provide a total of up to 5,500 troops along the border until Sept. 30, 2020, Lt. Gen. Laura Richardson, commander of U.S. Army North, said on Monday.