Russia Claims It's Arming Warships With A New Weapon That Makes Enemies Want To Vomit
February 05, 2019 at 08:57 AM
Military Tech
(Russian Ministry of Defense)
The Russian navy is apparently outfitting its warships with a new naval weapon designed to blind and confuse enemies and, sometimes, make them want to hurl, Russian media said this weekend.
---
Filin 5P-42, a non-lethal visual-optical inference device, has been deployed aboard Russian navy frigates Admiral Gorshkov and Admiral Kasatonov, state-run RIA Novosti reported, citing a press statement from Ruselectronics, the company that built the device.
Each frigate, both part of Russia's Northern Sea Fleet, has been outfitted with two Filin stations. Two additional frigates currently under construction are expected to also carry the blinding weapon.
The new device is a dazzler-type weapon that works like a strobe light, emitting an oscillating beam of high-intensity light that negatively affects an enemy's ability to aim at night.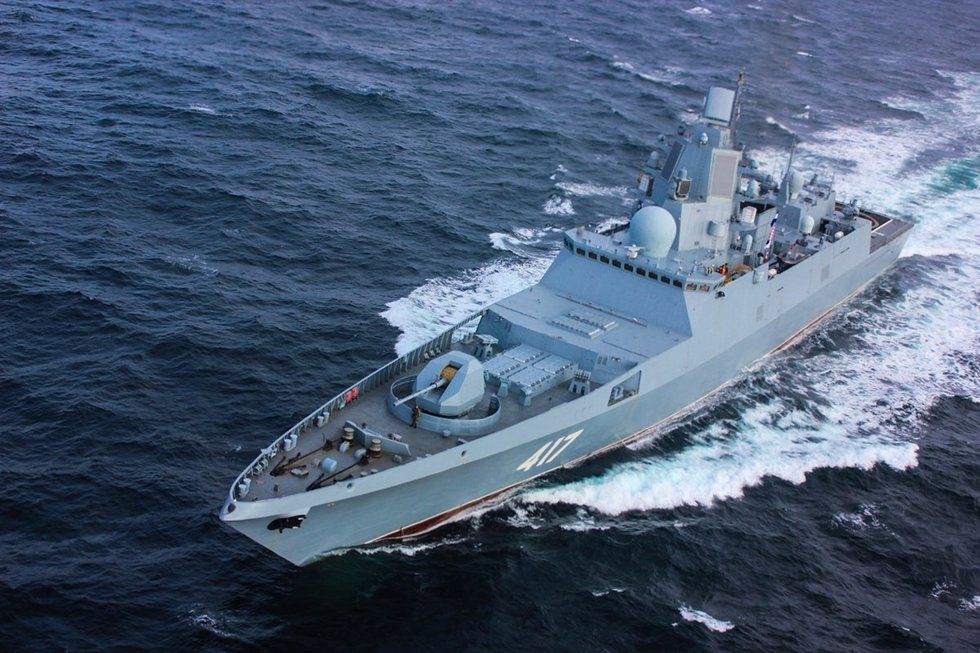 A Russian Admiral Gorshkov-class frigate. (Russian Defense Ministry)
Russia claims that the new naval weapon is capable of "effectively suppressing" sensors and night-vision technology, as well as range finders for anti-tank missiles, Russian media said.
The dazzling weapon was tested against volunteers firing assault weapons, sniper rifles, and machine guns at targets protected by Filin from two kilometers away. All of the participants experienced difficulties aiming, and 45% had complaints of dizziness, nausea, and disorientation. Twenty percent of volunteers experienced what Russian media has characterized as hallucinations. Participants described seeing floating balls of light.
The concept behind "dazzling" weapons has been around for decades in one form or another.
Blinding weapons, particularly lasers, that cause permanent blindness are prohibited by the Protocol on Blinding Laser Weapons. As Russia's weapon reportedly only causes temporary blindness, there would be no legislative restrictions on its use, not that legal issues may be of any real concern.
U.S.-Russian relations sank to a new low Friday, when the Trump administration announced U.S. withdrawal from the Intermediate-range Nuclear Forces (INF) Treaty, a Cold War-era nuclear arms pact, citing Russian violations of the agreement.
Read more from Business Insider:
WATCH NEXT: Russian Warship Rams Ukrainian Tugboat
(U.S. Navy/Mass Communication Specialist 2nd Class Stephane Belcher)
The 2020 National Defense Authorization Act would allow service members to seek compensation when military doctors make mistakes that harm them, but they would still be unable to file medical malpractice lawsuits against the federal government.
On Monday night, Congress announced that it had finalized the NDAA, which must be passed by the House and Senate before going to President Donald Trump. If the president signs the NDAA into law, it would mark the first time in nearly seven decades that U.S. military personnel have had legal recourse to seek payment from the military in cases of medical malpractice.
December 09, 2019 at 05:53 PM
news
Maj. Jason Michael Musgrove (Lincoln County Sheriff's Office)
A major serving at U.S. Army Cyber Command has been charged with distributing child pornography, according to the Justice Department.
Maj. Jason Michael Musgrove, who is based at Fort Gordon, Georgia, has been remanded to the U.S. Marshals service, a news release from the U.S. Attorney's Office for the Southern District of Georgia says.
December 09, 2019 at 03:10 PM
Gear
Sailors from USS George Washington (CVN 73) wear-test the I-Boot 5 at Naval Station Norfolk. (U.S. Navy photo by Courtney Williams)
Navy senior leaders could decide whether or not to approve the new I-Boot 5 early in 2020, said Rob Carroll, director of the uniform matters office at the Chief of Naval Personnel's office.
"The I-Boot 5 is currently wrapping up its actual wear test, its evaluation," Carroll told Task & Purpose on Monday. "We're hoping that within the first quarter of calendar year 2020 that we'll be able to present leadership with the information that they need to make an informed decision."
December 09, 2019 at 11:51 AM
popular
Senator Jim Inhofe speaks with local reporters at a press conference held at the 138th Fighter Wing August 2, 2018. (U.S. National Guard/Staff Sgt. Rebecca R. Imwalle)
U.S. Sen. Jim Inhofe and U.S. Rep. Kendra Horn leveled harsh criticism last week at the contractor accused of negligence and fraudulent activity while operating private housing at Tinker Air Force Base and other military installations.
Inhofe, chairman of the Senate Armed Services Committee, referred to Balfour Beatty Communities as "notorious." Horn, a member of the House Armed Services Committee, told a company executive she was "incredibly disappointed you have failed to live up to your responsibility for taking care of the people that are living in these houses."
December 09, 2019 at 11:09 AM
news
U.S. Senator Rick Scott speaks during a press conference at Tyndall Air Force Base, Florida, April 29, 2019. (U.S. Air Force/Airman 1st Class Monica Roybal)
The Saudi national who killed three students on a U.S. Naval Air station in Pensacola was in the United States on a training exchange program.
On Sunday, Sen. Rick Scott said the United States should suspend that program, which brings foreign nationals to America for military training, pending a "full review."