This squid-like drone is an underwater bomb designed to attack warships, either alone on in a swarm
September 10, 2019 at 10:56 AM
Military Tech
The "Shard" bomb-drone on show at DSEI 2019. (Business Insider/Bill Bostock)
An underwater drone which moves like a squid and can explode on command was one of the stranger weapons on display at a massive arms fair in London this week.
---
The device, named the Sea Hunting Autonomous Reconnaissance Drone (SHARD), is being marketed by the Australian arms manufacturer DefendTex.
It was one of many exhibits at the Defence & Security Equipment International (DSEI) show, which is running this week in east London's Docklands.
One was on display bobbing up and down in a tank, moving with its tentacle-like legs. Here is a video:
DefendTex staff told Business Insider that the drones are meant to float unassumingly in the sea, and are purposefully designed to look like squid as a type of camouflage.

The drones are meant to attach themselves to passing enemy vessels. They can then be detonated remotely by their operators. Each one can act by itself or as a swarm with others.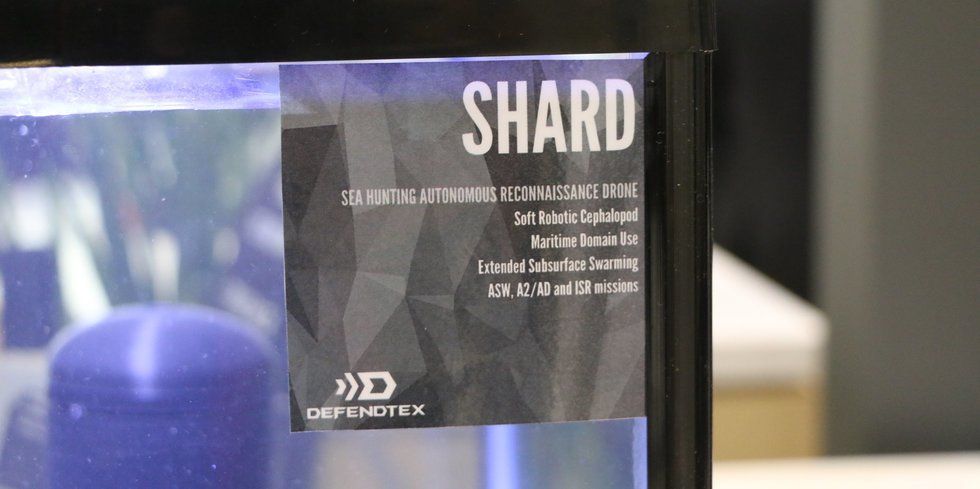 (Business Insider/Bill Bostock)
DefendTex said the drones swim using a motor, and can recharge by sinking to the ocean floor, attaching themselves to rocks, and allowing ocean currents to rotate and internal motor which charges the battery.
The drones are meant to be used in Anti-Submarine Warfare missions or Intelligence, Surveillance and Reconnaissance missions, according to DefendTex.
The project is still in development, and is not yet on sale.
DSEI is the UK's largest arms fair, attracting representatives from the world's 50 largest militaries, who come to view the latest defense and intelligence technology.
Over 1,600 manufacturers attend the event, which in 2019 is at London's ExCel center.
Read more from Business Insider:
December 11, 2019 at 05:26 PM
news
(Department of Defense)
Actor Mark Wahlberg will be visiting troops overseas to plug Wahlburgers, a fast-casual restaurant chain owned by the actor and his two brothers, Donnie Wahlberg, and chef Paul Wahlberg.
December 11, 2019 at 03:58 PM
news
From left to right: Naval SEAL Chief Eddie Gallagher, Army 1st Lt. Clint Lorance, and Army Special Forces Maj. Matthew Golsteyn (DoD photos)
December 11, 2019 at 12:53 PM
news
Taliban fighters attempted to fight their way into Bagram Airfield on Wednesday by invading a medical facility just outside of the base's perimeter, a spokesman for Operation Resolute Support said Wednesday.
J.P. Lawrence of Stars and Stripes and Jim LaPorta of Newsweek first reported that the battle lasted for several hours after using car bombs to attack the hospital, which is near the base's northern corner. Helicopter and fixed-wing aircraft were reportedly used to drop ordnance on the hospital.
December 11, 2019 at 11:10 AM
news
The welcome sign at Naval Air Station Corpus Christi (Facebook photo)
An armed suspect was taken into custody at Naval Air Station Corpus Christi on Wednesday morning after a brief lockdown period, according to the Texas base's Facebook account.
Though the exact nature of the incident is unclear, base officials wrote that no shots were fired and no injuries were reported.
December 11, 2019 at 01:48 PM
popular
(DoD photo)
Among the dozens of requirements outlined in the latest version of the National Defense Authorization Act is the requirement for the Secretary of Defense to create a public database for privatized housing complaints.

So, that will be... a lot.