This squid-like drone is an underwater bomb designed to attack warships, either alone on in a swarm
September 10, 2019 at 10:56 AM
Military Tech
The "Shard" bomb-drone on show at DSEI 2019. (Business Insider/Bill Bostock)
An underwater drone which moves like a squid and can explode on command was one of the stranger weapons on display at a massive arms fair in London this week.
---
The device, named the Sea Hunting Autonomous Reconnaissance Drone (SHARD), is being marketed by the Australian arms manufacturer DefendTex.
It was one of many exhibits at the Defence & Security Equipment International (DSEI) show, which is running this week in east London's Docklands.
One was on display bobbing up and down in a tank, moving with its tentacle-like legs. Here is a video:
DefendTex staff told Business Insider that the drones are meant to float unassumingly in the sea, and are purposefully designed to look like squid as a type of camouflage.

The drones are meant to attach themselves to passing enemy vessels. They can then be detonated remotely by their operators. Each one can act by itself or as a swarm with others.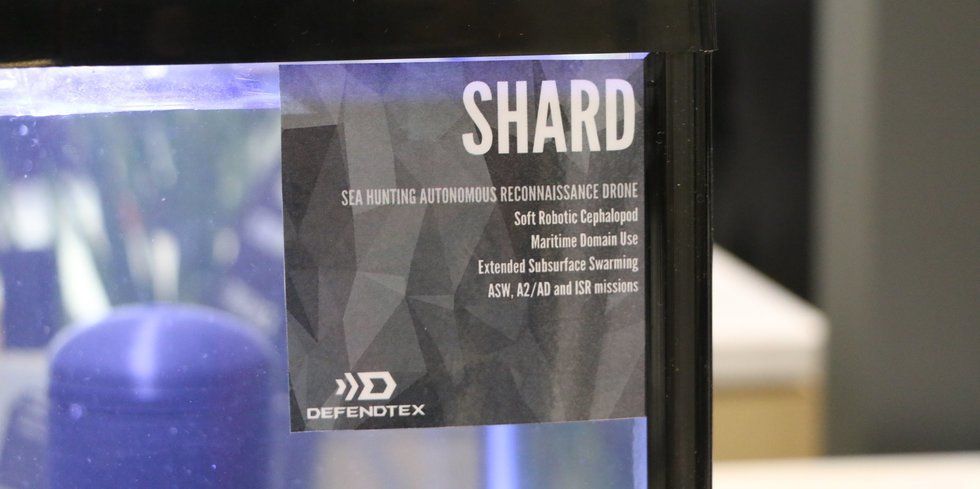 (Business Insider/Bill Bostock)
DefendTex said the drones swim using a motor, and can recharge by sinking to the ocean floor, attaching themselves to rocks, and allowing ocean currents to rotate and internal motor which charges the battery.
The drones are meant to be used in Anti-Submarine Warfare missions or Intelligence, Surveillance and Reconnaissance missions, according to DefendTex.
The project is still in development, and is not yet on sale.
DSEI is the UK's largest arms fair, attracting representatives from the world's 50 largest militaries, who come to view the latest defense and intelligence technology.
Over 1,600 manufacturers attend the event, which in 2019 is at London's ExCel center.
Read more from Business Insider:
October 13, 2019 at 03:54 PM
popular
Seven of the twelve Soldiers participating in the Army National Guard Military Funeral Honors Level 2 course at Fort Indiantown Gap practice folding the flag April 25. (U.S. Army National Guard photo by Staff Sgt. Zane Craig)
Retired Army Master Sgt. Mark Allen has died 10 years after he was shot in the head while searching for deserter Pvt. Bowe Bergdahl in Afghanistan.
Allen died on Saturday at the age of 46, according to funeral information posted online.
For U.S. service members who have fought alongside the Kurds, President Donald Trump's decision to approve repositioning U.S. forces in Syria ahead of Turkey's invasion is a naked betrayal of valued allies.
"I am ashamed for the first time in my career," one unnamed special operator told Fox News Jennifer Griffin.
In a Twitter thread that went viral, Griffin wrote the soldier told her the Kurds were continuing to support the United States by guarding tens of thousands of ISIS prisoners even though Turkey had nullified an arrangement under which U.S. and Turkish troops were conducting joint patrols in northeastern Syria to allow the Kurdish People's Protection Units, or YPG, to withdraw.
"The Kurds are sticking by us," the soldier told Griffin. "No other partner I have ever dealt with would stand by us."
October 13, 2019 at 06:37 PM
news
Defense Secretary Mark Esper (Associated Press photo)
Defense Secretary Mark Esper said Sunday he and the Pentagon will comply with House Democrats' impeachment inquiry subpoena, but it'll be on their own schedule.
"We will do everything we can to cooperate with the Congress," Esper said on CBS' "Face the Nation." "Just in the last week or two, my general counsel sent out a note — as we typically do in these situations — to ensure documents are retained."
October 13, 2019 at 09:47 AM
news
Most of the U.S. troops in Syria are being moved out of the country as Turkish forces and their Arab allies push further into Kurdish territory than originally expected, Task & Purpose has learned.
Roughly 1,000 U.S. troops are withdrawing from Syria, leaving a residual force of between 100 and 150 service members at the Al Tanf garrison, a U.S. official said.
"I spoke with the president last night after discussions with the rest of the national security team and he directed that we begin a deliberate withdrawal of forces from northern Syria," Defense Secretary Mark Esper said on Sunday's edition of CBS News' "Face the Nation."'
October 13, 2019 at 09:03 AM
news
BEIRUT/ISTANBUL (Reuters) - Women affiliated with Islamic State and their children fled en masse from a camp where they were being held in northern Syria on Sunday after shelling by Turkish forces in a five-day-old offensive, the region's Kurdish-led administration said.
Turkey's cross-border attack in northern Syria against Kurdish forces widened to target the town of Suluk which was hit by Ankara's Syrian rebel allies. There were conflicting accounts on the outcome of the fighting.
Turkey is facing threats of possible sanctions from the United States unless it calls off the incursion. Two of its NATO allies, Germany and France, have said they are halting weapons exports to Turkey. The Arab League has denounced the operation.