This squid-like drone is an underwater bomb designed to attack warships, either alone on in a swarm
September 10, 2019 at 10:56 AM
Military Tech
The "Shard" bomb-drone on show at DSEI 2019. (Business Insider/Bill Bostock)
An underwater drone which moves like a squid and can explode on command was one of the stranger weapons on display at a massive arms fair in London this week.
---
The device, named the Sea Hunting Autonomous Reconnaissance Drone (SHARD), is being marketed by the Australian arms manufacturer DefendTex.
It was one of many exhibits at the Defence & Security Equipment International (DSEI) show, which is running this week in east London's Docklands.
One was on display bobbing up and down in a tank, moving with its tentacle-like legs. Here is a video:
DefendTex staff told Business Insider that the drones are meant to float unassumingly in the sea, and are purposefully designed to look like squid as a type of camouflage.

The drones are meant to attach themselves to passing enemy vessels. They can then be detonated remotely by their operators. Each one can act by itself or as a swarm with others.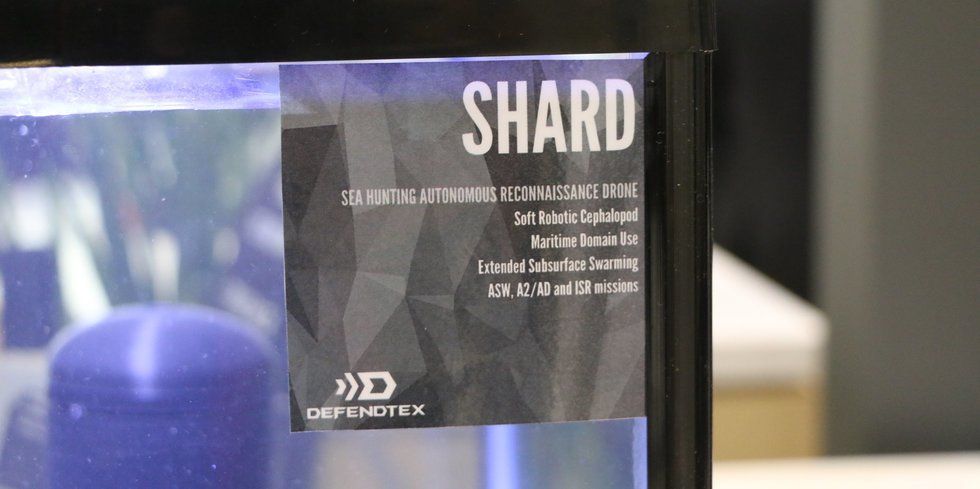 (Business Insider/Bill Bostock)
DefendTex said the drones swim using a motor, and can recharge by sinking to the ocean floor, attaching themselves to rocks, and allowing ocean currents to rotate and internal motor which charges the battery.
The drones are meant to be used in Anti-Submarine Warfare missions or Intelligence, Surveillance and Reconnaissance missions, according to DefendTex.
The project is still in development, and is not yet on sale.
DSEI is the UK's largest arms fair, attracting representatives from the world's 50 largest militaries, who come to view the latest defense and intelligence technology.
Over 1,600 manufacturers attend the event, which in 2019 is at London's ExCel center.
Read more from Business Insider:
January 24, 2020 at 11:51 AM
news
Editor's Note: This article originally appeared on Radio Free Europe/Radio Free Liberty.
A trial for a German-Afghan national suspected of spying for Iranian intelligence is set to commence on January 20 in the city of Koblenz in Germany.

Identified as Abdul Hamid S. according to Germany privacy laws, the 51-year-old former interpreter and adviser for the German armed forces, or Bundeswehr, was arrested a year ago in the Rhineland region of western Germany and accused of providing information to Iranian intelligence for many years.
January 24, 2020 at 11:33 AM
news
Supporters of Iraqi Shi'ite cleric Moqtada al-Sadr carry placards depicting U.S. President Donald Trump at a protest against what they say is U.S. presence and violations in Iraq, duri in Baghdad, Iraq January 24, 2020. (REUTERS/Alaa al-Marjani)
BAGHDAD (Reuters) - Tens of thousands of Iraqis rallied in central Baghdad on Friday calling for the expulsion of U.S. troops, but the protest mostly dissipated after a few hours despite fears of violence following a cleric's call for a "million strong" turnout.
Populist cleric Moqtada al-Sadr convened the march after the U.S. killing of an Iranian general and an Iraqi paramilitary chief in Baghdad this month. His eventual decision to hold it away from a separate anti-government protest camp, and away from the U.S. embassy, looked pivotal in keeping the march peaceful.
World War II veteran and Purple Heart recipient Maj. Bill White, who at 104 is believed to be the oldest living Marine, has received a remarkable outpouring of cards and support from around the world after asking the public for Valentine's Day cards. "It hit me like a ton of bricks. I still can't get over it," he said. (CLIFFORD OTO/THE RECORD)
STOCKTON — Diane Wright opened the door of an apartment at The Oaks at Inglewood, the assisted care facility in Stockton where she is the executive director. Inside, three people busily went through postal trays crammed with envelopes near a table heaped with handmade gifts, military memorabilia, blankets, quilts, candy and the like.
Operation Valentine has generated a remarkable outpouring of support from around the world for retired United States Marine, Maj. Bill White. Earlier this month, a resident at The Oaks, Tony Walker, posted a request on social media to send Valentine's Day cards to the 104-year-old World War II veteran and recipient of the Purple Heart.
Walker believed Maj. White would enjoy adding the cards to his collection of memorabilia. The response has been greater than anyone ever thought possible.
January 24, 2020 at 10:30 AM
news
Editor's Note: This article originally appeared on Radio Free Europe/Radio Free Liberty.
A spokesman for the Taliban has told a Pakistani newspaper that the militant group is hoping to reach an Afghan peace deal with U.S negotiators by the end of January.
The comments by Suhail Shaheen on January 18 to the Dawn newspaper come after negotiators from the Taliban and the United States met for two days of talks in Qatar.
January 24, 2020 at 09:53 AM
news
The three Americans killed in a C-130 crash in Australia on Thursday were all veterans (left to right) Ian H. McBeth, of the Wyoming and Montana Air National Guard; Paul Clyde Hudson, of the Marine Corps; and Rick A. DeMorgan Jr., of the Air Force. (Coulson Aviation courtesy photo)
The three Americans killed in a C-130 air tanker crash while fighting Australian bushfires on Thursday were all identified as military veterans, according to a statement released by their employer, Coulson Aviation.
The oldest of the three fallen veterans was Ian H. McBeth, a 44-year-old pilot who served with the Wyoming Air National Guard and was an active member of the Montana Air National Guard. McBeth "spent his entire career flying C-130s and was a qualified Instructor and Evaluator pilot," said Coulson Aviation. He's survived by his wife Bowdie and three children Abigail, Calvin and Ella.