US special operations forces are getting a first-of-its-kind training facility that can simulate hurricanes
February 22, 2019 at 03:30 PM
Military Tech
MAPLE, N.C. -- A maritime center with a pool big enough to hold a small ship and simulate hurricane conditions is set to open in Currituck County, North Carolina, in two years. It will serve to train groups such as special forces, law enforcement and offshore wind crews.
It could be the first of its kind in the world.
---
The facility costing more than $25 million would be built on 25 acres at the county's industrial complex next to the airport off U.S. 158 in Maple. It is expected to open in 2021 attracting more than 6,000 trainees the first year, said Scott Chierepko, cofounder of BEI Maritime.
The indoor pool would simulate stormy ocean conditions with big waves, wind and hard rain. Components include a three-story-tall cargo ship 110 feet long and an outdoor structure built to simulate fighting fires on a ship.
Crews could practice drills on a model wind turbine standing 30 feet above the water and escaping submerged helicopters and sinking boats. Military special forces could learn to scale ships from the water in both friendly and hostile situations, including hitting targets with live rounds.
One of the most dangerous actions and most difficult to train for is climbing up the side of a ship in bad weather or at night, Chierepko said.
"We will provide a harsh maritime training environment in a controlled indoor facility," Chierepko said
.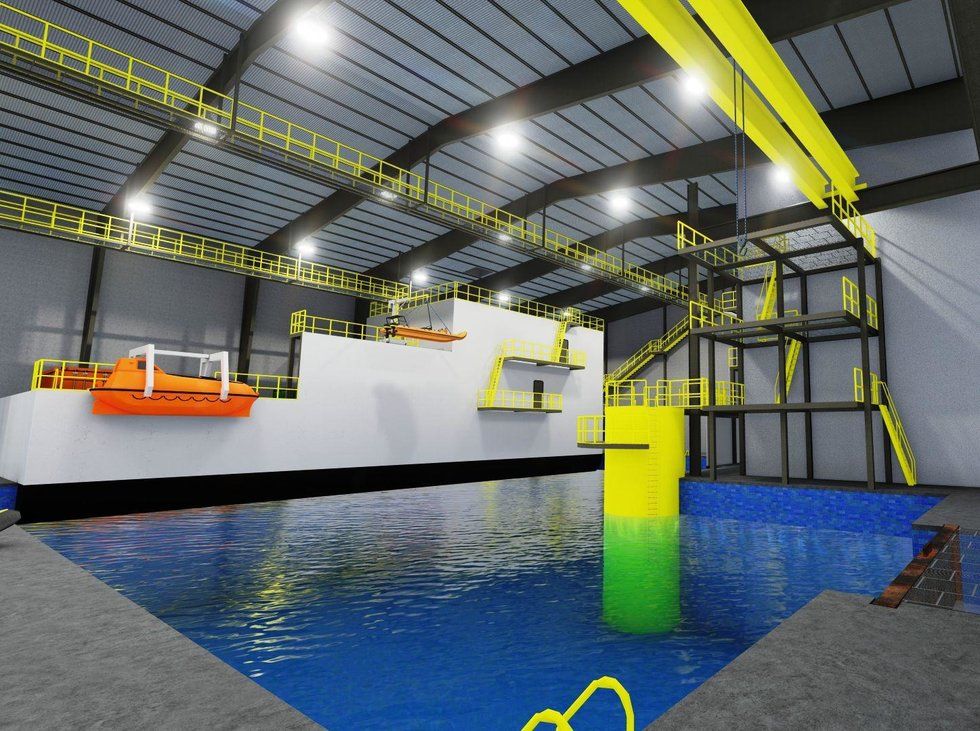 A rendering of the BEI Maritime training facility shows a 1.4 million gallon pool, a mock wind tower and cargo ship structure. (BEI Maritime via The Virginian-Pilot)
The site will have an 80-room hotel and an 80-seat dining center. It is expected to create about 30 jobs initially, he said.

The facility will meet training and certification standards for the Coast Guard, the Global Wind Organization and the Offshore Petroleum Industry Training Organization.
Chierepko said he knows of no other like it in the world.
He spent 23 years in the Navy trained as a SEAL until retiring in 2011. After working in private industry, he and partner decided to fill a niche for unique training in perilous ocean conditions.
"This is the first one like this I have heard of," said Evan Vaughan, spokesman for the American Wind Energy Association.
Offshore wind projects are in the works off the coasts of Virginia and North Carolina. The nation's first offshore wind farm went up off Rhode Island in 2016. Chierepko expects to attract clients from international wind energy companies. Several offshore wind farms operate off the coasts of European nations.
Currituck County is becoming a hub for training in dangerous professions. The county plans to build a public safety training center for firefighters and search and rescue, said Paul Beaumont, a member of the Board of Commissioners.
About 15 miles from the airport is Academi, a military and law enforcement training center on 4,000 acres that includes shooting ranges, airfields, ship-boarding simulators, explosive training ranges and obstacle courses.
———
©2019 The Virginian-Pilot (Norfolk, Va.). Distributed by Tribune Content Agency, LLC.
WATCH NEXT: Deadpool Was A Terrible Special Forces Soldier
October 13, 2019 at 03:54 PM
popular
Seven of the twelve Soldiers participating in the Army National Guard Military Funeral Honors Level 2 course at Fort Indiantown Gap practice folding the flag April 25. (U.S. Army National Guard photo by Staff Sgt. Zane Craig)
Retired Army Master Sgt. Mark Allen has died 10 years after he was shot in the head while searching for deserter Pvt. Bowe Bergdahl in Afghanistan.
Allen died on Saturday at the age of 46, according to funeral information posted online.
For U.S. service members who have fought alongside the Kurds, President Donald Trump's decision to approve repositioning U.S. forces in Syria ahead of Turkey's invasion is a naked betrayal of valued allies.
"I am ashamed for the first time in my career," one unnamed special operator told Fox News Jennifer Griffin.
In a Twitter thread that went viral, Griffin wrote the soldier told her the Kurds were continuing to support the United States by guarding tens of thousands of ISIS prisoners even though Turkey had nullified an arrangement under which U.S. and Turkish troops were conducting joint patrols in northeastern Syria to allow the Kurdish People's Protection Units, or YPG, to withdraw.
"The Kurds are sticking by us," the soldier told Griffin. "No other partner I have ever dealt with would stand by us."
October 13, 2019 at 06:37 PM
news
Defense Secretary Mark Esper (Associated Press photo)
Defense Secretary Mark Esper said Sunday he and the Pentagon will comply with House Democrats' impeachment inquiry subpoena, but it'll be on their own schedule.
"We will do everything we can to cooperate with the Congress," Esper said on CBS' "Face the Nation." "Just in the last week or two, my general counsel sent out a note — as we typically do in these situations — to ensure documents are retained."
October 13, 2019 at 09:47 AM
news
Most of the U.S. troops in Syria are being moved out of the country as Turkish forces and their Arab allies push further into Kurdish territory than originally expected, Task & Purpose has learned.
Roughly 1,000 U.S. troops are withdrawing from Syria, leaving a residual force of between 100 and 150 service members at the Al Tanf garrison, a U.S. official said.
"I spoke with the president last night after discussions with the rest of the national security team and he directed that we begin a deliberate withdrawal of forces from northern Syria," Defense Secretary Mark Esper said on Sunday's edition of CBS News' "Face the Nation."'
October 13, 2019 at 09:03 AM
news
BEIRUT/ISTANBUL (Reuters) - Women affiliated with Islamic State and their children fled en masse from a camp where they were being held in northern Syria on Sunday after shelling by Turkish forces in a five-day-old offensive, the region's Kurdish-led administration said.
Turkey's cross-border attack in northern Syria against Kurdish forces widened to target the town of Suluk which was hit by Ankara's Syrian rebel allies. There were conflicting accounts on the outcome of the fighting.
Turkey is facing threats of possible sanctions from the United States unless it calls off the incursion. Two of its NATO allies, Germany and France, have said they are halting weapons exports to Turkey. The Arab League has denounced the operation.