State Department: the ISIS bride begging to return to the US is not a citizen and isn't coming back
February 20, 2019 at 03:01 PM
news
A photo shared by Hoda Muthana on her now-closed @ZumarulJannaTwitter account. (Twitter/ZumarulJannah)
The State Department announced Wednesday that notorious ISIS bride Hoda Muthana, a U.S.-born woman who left Alabama to join ISIS but began begging to return to the U.S. after recently deserting the terror group, is not a U.S. citizen and will not be allowed to return home.

---
Secretary of State Mike Pompeo said in a written statement that "she does not have any legal basis, no valid US passport, no right to a passport, nor any visa to travel to the United States." The decision to bar Muthana from the country was directed by President Donald Trump.
Her lawyer argues that she was born in the U.S., specifically New Jersey in 1994; her citizenship status prior to leaving to join ISIS remains unclear.

"Go on drive bys, and spill all of their blood, or rent a big truck and drive all over them," she tweeted four years ago, when ISIS was still a force to be reckoned with. "Veterans, Patriots, Memorial, etc day … Kill them."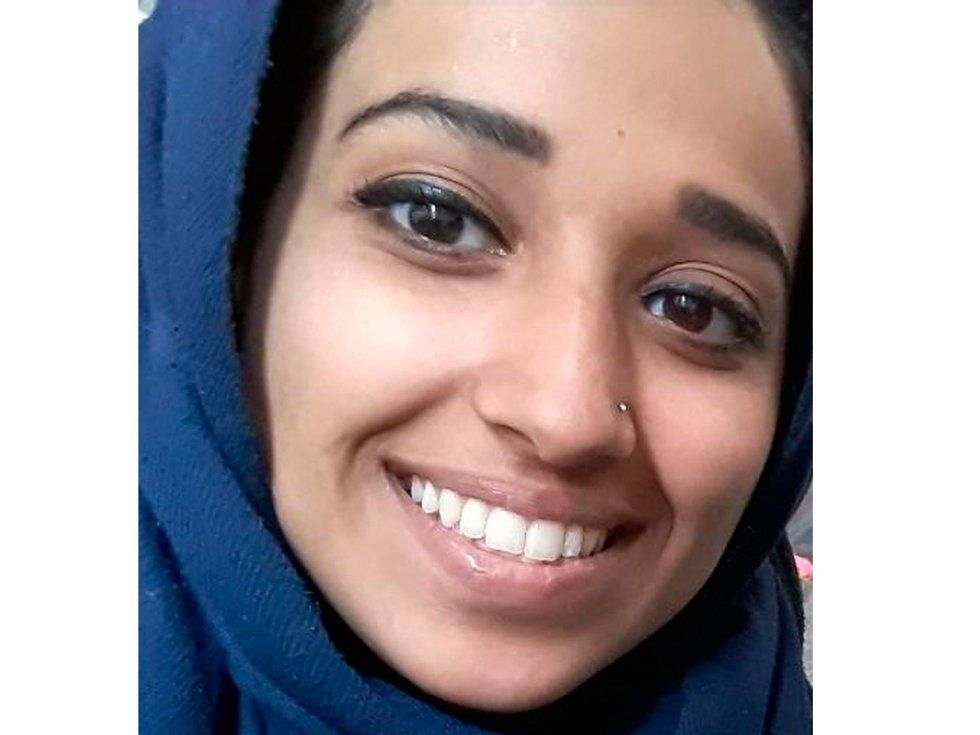 An undated image of Hoda Muthana provided by her attorney, Hassan Shibly.(Associated Press)
She deserted the terror group, now on its last legs in Syria, six weeks ago. All three of her previous husbands, all of whom were ISIS militants, were killed. She was picked up by Kurdish forces, and since then she has been begging for forgiveness and permission to return to the U.S.

She told newspapers that she was "brainswashed," explaining that life with ISIS was not as she had envisioned. "I'm really traumatized by my experience. We starved and we literally ate grass."
"Please forgive me for being so ignorant," she recently told the Guardian, a British newspaper. "I believe that America gives second chances. I want to return and I'll never come back to the Middle East."
But the State Department stated that she is not a citizen and, therefore, has no right to return to the United States.
The UK decided on Tuesday to strip another ISIS bride, Shamima Begum, of her citizenship. The woman left her London home in 2015 to join ISIS in Syria.
Read more from Business Insider:
WATCH NEXT: The Moron Who Sent His Resume To ISIS
September 23, 2019 at 09:26 AM
news
(U.S. Air Force photo illustration/Airman 1st Class Corey Hook)
Editor's Note: This article by Richard Sisk originally appeared on Military.com, a leading source of news for the military and veteran community.
The Department of Veterans Affairs released an alarming report Friday showing that at least 60,000 veterans died by suicide between 2008 and 2017, with little sign that the crisis is abating despite suicide prevention being the VA's top priority.
Although the total population of veterans declined by 18% during that span of years, more than 6,000 veterans died by suicide annually, according to the VA's 2019 National Veteran Suicide Prevention Annual Report.
September 23, 2019 at 09:01 AM
news
President Donald Trump speaks during an event with Australian Prime Minister Scott Morrison at Pratt Industries, Sunday, Sept 22, 2019, in Wapakoneta, Ohio. (Associated Press/Evan Vucci)
WASHINGTON (Reuters) - President Donald Trump said on Sunday that he discussed Democratic presidential hopeful Joe Biden and his son in a call with Ukraine's president.
Trump's statement to reporters about his July 25 call with Ukrainian President Volodymyr Zelensky came as the Democratic leader of a key congressional panel said the pursuit of Trump's impeachment may be the "only remedy" to the situation.
"It's kind of like the equivalent of dropping a soda can into canyon and putting on a blindfold and going and finding it, because you can't just look down and see it," diver Jeff Goodreau said of finding the wreck.
The USS Eagle 56 was only five miles off the coast of Maine when it exploded.

The World War I-era patrol boat split in half, then slipped beneath the surface of the North Atlantic. The Eagle 56 had been carrying a crew of 62. Rescuers pulled 13 survivors from the water that day. It was April 23, 1945, just two weeks before the surrender of Nazi Germany.
The U.S. Navy classified the disaster as an accident, attributing the sinking to a blast in the boiler room. In 2001, that ruling was changed to reflect the sinking as a deliberate act of war, perpetuated by German submarine U-853, a u-boat belonging to Nazi Germany's Kriegsmarine.
Still, despite the Navy's effort to clarify the circumstances surrounding the sinking, the Eagle 56 lingered as a mystery. The ship had sunk relatively close to shore, but efforts to locate the wreck were futile for decades. No one could find the Eagle 56, a small patrol ship that had come so close to making it back home.
Then, a group of friends and amateur divers decided to try to find the wreck in 2014. After years of fruitless dives and intensive research, New England-based Nomad Exploration Team successfully located the Eagle 56 in June 2018.
Business Insider spoke to two crew members — meat truck driver Jeff Goodreau and Massachusetts Department of Corrections officer Donald Ferrara — about their discovery.
(CIA photo)
Before the 5th Special Forces Group's Operational Detachment Alpha 595, before 160th Special Operations Aviation Regiment's MH-47E Chinooks, and before the Air Force combat controllers, there were a handful of CIA officers and a buttload of cash.
The last time the world saw Marine veteran Austin Tice, he had been taken prisoner by armed men. It was unclear whether his captors were jihadists or allies of Syrian dictator Bashar al Assad who were disguised as Islamic radicals.
Blindfolded and nearly out of breath, Tice spoke in Arabic before breaking into English:"Oh Jesus. Oh Jesus."
That was from a video posted on YouTube on Sept. 26, 2012, several weeks after Tice went missing near Damascus, Syria, while working as a freelance journalist for McClatchy and the Washington Post.
Now that Tice has been held in captivity for more than seven years, reporters who have regular access to President Donald Trump need to start asking him how he is going to bring Tice home.