State Department: the ISIS bride begging to return to the US is not a citizen and isn't coming back
February 20, 2019 at 03:01 PM
news
A photo shared by Hoda Muthana on her now-closed @ZumarulJannaTwitter account. (Twitter/ZumarulJannah)
The State Department announced Wednesday that notorious ISIS bride Hoda Muthana, a U.S.-born woman who left Alabama to join ISIS but began begging to return to the U.S. after recently deserting the terror group, is not a U.S. citizen and will not be allowed to return home.

---
Secretary of State Mike Pompeo said in a written statement that "she does not have any legal basis, no valid US passport, no right to a passport, nor any visa to travel to the United States." The decision to bar Muthana from the country was directed by President Donald Trump.
Her lawyer argues that she was born in the U.S., specifically New Jersey in 1994; her citizenship status prior to leaving to join ISIS remains unclear.

"Go on drive bys, and spill all of their blood, or rent a big truck and drive all over them," she tweeted four years ago, when ISIS was still a force to be reckoned with. "Veterans, Patriots, Memorial, etc day … Kill them."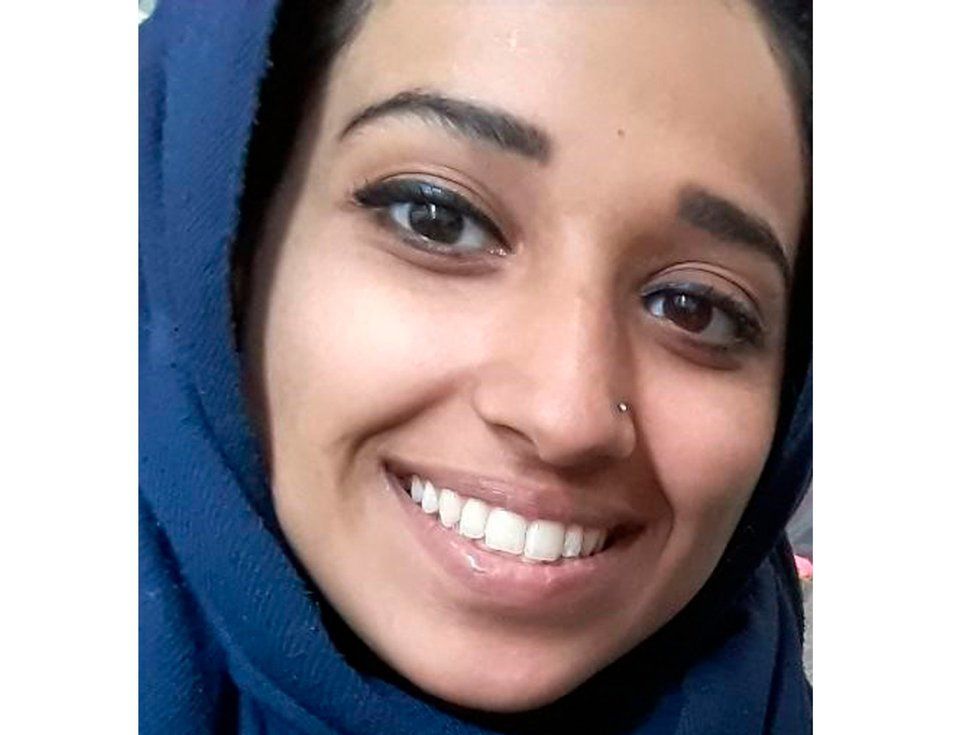 An undated image of Hoda Muthana provided by her attorney, Hassan Shibly.(Associated Press)
She deserted the terror group, now on its last legs in Syria, six weeks ago. All three of her previous husbands, all of whom were ISIS militants, were killed. She was picked up by Kurdish forces, and since then she has been begging for forgiveness and permission to return to the U.S.

She told newspapers that she was "brainswashed," explaining that life with ISIS was not as she had envisioned. "I'm really traumatized by my experience. We starved and we literally ate grass."
"Please forgive me for being so ignorant," she recently told the Guardian, a British newspaper. "I believe that America gives second chances. I want to return and I'll never come back to the Middle East."
But the State Department stated that she is not a citizen and, therefore, has no right to return to the United States.
The UK decided on Tuesday to strip another ISIS bride, Shamima Begum, of her citizenship. The woman left her London home in 2015 to join ISIS in Syria.
Read more from Business Insider:
WATCH NEXT: The Moron Who Sent His Resume To ISIS
December 12, 2019 at 04:30 AM
news
Editor's Note: This article by Dorothy Mills-Gregg originally appeared on Military.com, a leading source of news for the military and veteran community.
At least 15 Department of Veterans Affairs employees and vendors in Florida were engaged in an "elaborate" fraud scheme that cost the government "millions" since 2009, two government agencies announced in a joint press conference Wednesday.
December 11, 2019 at 05:26 PM
news
(Department of Defense)
Actor Mark Wahlberg will be visiting troops overseas to plug Wahlburgers, a fast-casual restaurant chain owned by the actor and his two brothers, Donnie Wahlberg, and chef Paul Wahlberg.
December 11, 2019 at 03:58 PM
news
From left to right: Naval SEAL Chief Eddie Gallagher, Army 1st Lt. Clint Lorance, and Army Special Forces Maj. Matthew Golsteyn (DoD photos)
December 11, 2019 at 12:53 PM
news
Taliban fighters attempted to fight their way into Bagram Airfield on Wednesday by invading a medical facility just outside of the base's perimeter, a spokesman for Operation Resolute Support said Wednesday.
J.P. Lawrence of Stars and Stripes and Jim LaPorta of Newsweek first reported that the battle lasted for several hours after using car bombs to attack the hospital, which is near the base's northern corner. Helicopter and fixed-wing aircraft were reportedly used to drop ordnance on the hospital.
December 11, 2019 at 11:10 AM
news
The welcome sign at Naval Air Station Corpus Christi (Facebook photo)
An armed suspect was taken into custody at Naval Air Station Corpus Christi on Wednesday morning after a brief lockdown period, according to the Texas base's Facebook account.
Though the exact nature of the incident is unclear, base officials wrote that no shots were fired and no injuries were reported.