The Navy Is Flying Its First Ever All-Female Missing Man Formation To Honor A Trailblazing Aviator
February 02, 2019 at 05:30 AM
Unsung Heroes
VIRGINIA BEACH -- Navy Cmdr. Stacy "Stigs" Uttecht was 15 years old in April 1993 when the military said it would allow women to fly combat aircraft.
Until this week, Uttecht, commanding officer of Strike Fighter Squadron 32, the Naval Air Station Oceana-based "Fighting Swordsmen," hadn't given much thought to yesterday's policies or women like Capt. Rosemary Mariner who fought for her ability to be there.
"I did not know who was behind it," Uttecht said. "I didn't know what women had been fighting for that."
Mariner, 65, died Jan. 24. A sort of unintentional pioneer whose many firsts helped lay a foundation for thousands of military women, she will be honored with the Navy's first all-female Missing Man flyover during a memorial service Saturday afternoon outside Maynardville, Tenn.
---
Uttecht is among nine Oceana aviators and naval flight officers traveling to Tennessee for the four-jet formation, an aerial salute in which one aircraft flies off to signify the passing of an aviator. The formation includes a combination of single and dual-seat F/A 18 E and F Super Hornets and it is being supported by more than two dozen female sailors, also from Oceana, who work on the aircraft.
"She was a true pioneer and hero," Lt. Cmdr. Danielle "Purple" Thiriot, of VFA-106, the "Gladiators," said.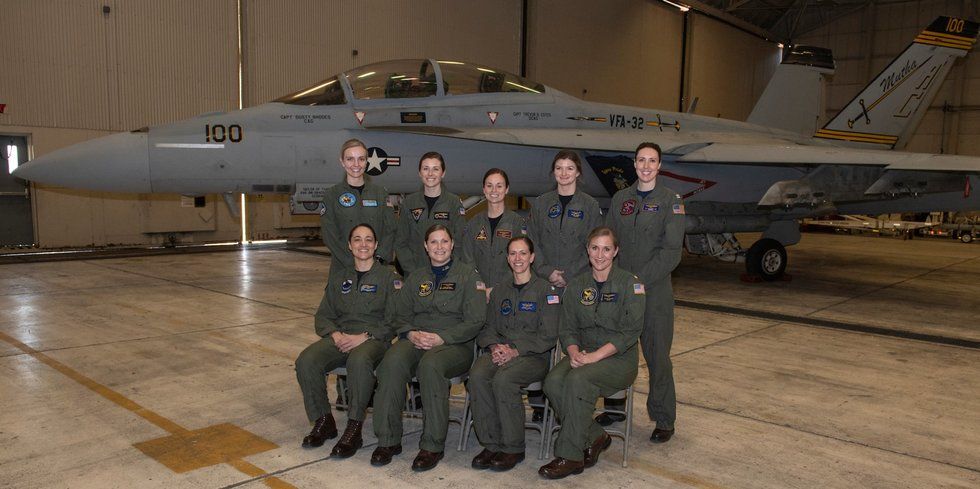 The back row from left to right, Lt. Christy Talisse, Lt. Emily Rixey, Lt. Cmdr. Jennifer Hesling, Lt. Kelly Harris, Lt. Amanda Lee. The front row from left to right, Lt. Cmdr. Danielle Thiriot, Cmdr. Stacy Uttecht, Cmdr. Leslie Mintz, and Lt. Cmdr. Paige Blok.(U.S. Navy/Mass Communication Specialist 3rd Class Raymond Maddocks)
Mariner was born in Texas but grew up in the shadow of Naval Air Station Miramar in California. Her father, an Air Force pilot, was killed in a crash when she was 3 years old, and her mother was a Navy nurse, according to her obituary. Mariner began flying at 15 and soloed at 17, the same year she entered Purdue University, where she was the first woman to graduate, at age 19, with a degree in aeronautics.

A newspaper story about Chief of Naval Operations Adm. Elmo Zumwalt's decision to open pilot training to women shifted Mariner's thinking from commercial airlines, which had also been traditionally closed off to female pilots, to the military.
Mariner was among eight women picked by the Navy to train as pilots and in 1974, earned her wings of gold. Retired Navy Capt. Mary Louise Griffin attended officer candidacy school with Mariner and was chosen as an alternate to that first group of women. Mariner had a knack for finding people within the Navy and civilian worlds to advise her along her path, Griffin said.
"She wasn't doing anything for her personal glory," Griffin said. "Somebody had to be first."
In 1974, Mariner became the first female pilot to check in to Naval Air Station Oceana's Composite Squadron 2. She first flew a propeller-driven S-2 Tracker before moving up to the A-4 Skyhawk jet a year later.
A Virginian-Pilot story in 1976 noted the then-22-year-old's knack for firsts. Mariner seemed to brush them aside.
"I'd rather be recognized on my merits," she told a reporter.
Mariner later became one of the first women to serve aboard the USS Lexington, a training aircraft carrier, and completed 17 "traps" or arrested landings. During the Gulf War, Mariner again notched another first, this time becoming the first woman to command a naval aviation squadron.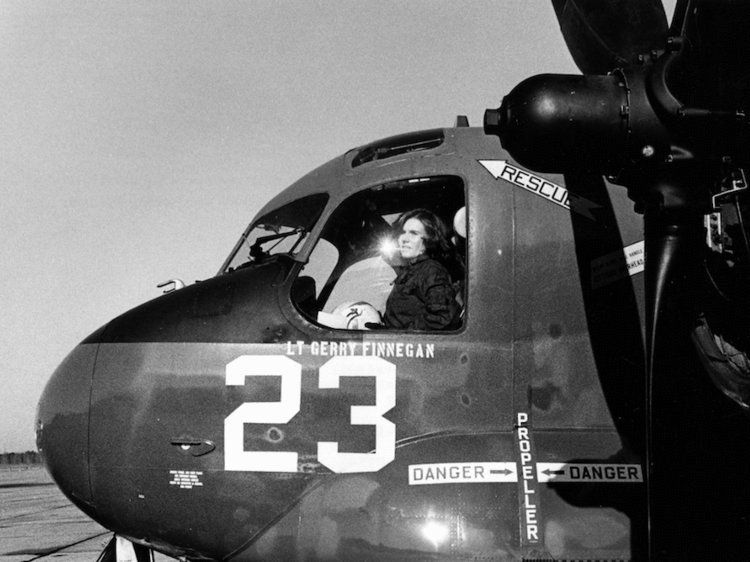 Ens. Rosemary Conaster (later Mariner) in the cockpit of a fleet composite Squadron Two, VC-2, S-2 tracker antisubmarine aircraft.(National Archives & Records Administration)
By the early 1990s, Mariner and other female pilots began to organize to end rules keeping women from combat roles, and she helped lobby Congressional members, according to her obituary. But the change came too late for her. She retired in 1997 and went on to teach U.S. military history at the University of Tennessee from 2002 until 2016.

Women still account for slim percentages among Navy pilots. According to Navy Personnel Command, there are 556 female pilots, or about 8 percent, out of a total 6,940 across all naval airframes. Among jet pilots, females account for 36 out of a total 1583, or just a little more than 2.2 percent. That number does not include naval flight officers, who operate advance systems aboard an aircraft.
Mariner's naval career in Hampton Roads may have been brief — after Oct. 1976, her career was spent between duty stations in Florida, Texas and California, according to a Navy biography — but the legacy she left has been mighty.
Because of her, today's generations may worry less about what's not possible, some of the women noted. After all, Lt. Christy "Buzz" Talisse, of VFA-211, the "Fighting Checkmates," said, a fighter jet doesn't know the difference between a man or woman.
"Because of Captain Mariner all of us are fortunate enough to stand here in these uniforms," Lt. Kelly "Ston'er" Harris, of VFA 213, the "Blacklions," said. "She was able to blaze the trail for us and so today and for years to come, decades to come, her history and her legacy will live on in us and for future naval aviators."
As for what Mariner might think of the flyover in her honor and what she might say to the pilots?
"You're living the dream, baby," Griffin said. "You're living our dream. Enjoy it and respect it and love it."
Mariner is survived by her husband, Tommy, a retired Navy commander, and a daughter, Emmalee.
———
©2019 The Virginian-Pilot (Norfolk, Va.). Distributed by Tribune Content Agency, LLC.
Capt. Rosemary Mariner died Jan. 24, 2018. (Courtesy of Mariner family)
(DoD/U.S. Army Sgt. Amber I. Smith)
Patrick Shanahan has a message for the next generation of naval officers: what doesn't kill you only makes you stronger.
(U.S. Air Force/Airman 1st Class Alexandria Crawford)
A new survey of thousands of military families released on Wednesday paints a negative picture of privatized military housing, to say the least.
The Military Family Advisory Network surveyed 15,901 adults at 160 locations around the country who are either currently living in privatized military housing, or had lived in privatized housing within the last three years. One of the report's primary takeaways can be summarized in two lines: "Most responses, 93 percent, came from residents living in housing managed by six companies. None of them had average satisfaction rates at or above neutral."
Those six companies are Lincoln Military Housing, Balfour Beatty, Hunt, Lendlease/Winn, Corvias, and Michaels.

What's behind these responses? MFAN points to the "culture of resilience" found in the military community for why military families may be downplaying the severity of their situations, or putting up with subpar conditions.
"[Military] families will try to manage grim living conditions without complaint," MFAN says in its report. "The norm of managing through challenges, no matter their severity, is deeply established in military family life."
(Waynesville Police Department)
Hailed as a hero for knocking a shooter off his feet in a UNC Charlotte classroom, Riley Howell was posthumously awarded two of the military's highest honors in his hometown of Waynesville, North Carolina this week.
Howell, 21, and classmate Ellis "Reed" Parlier, 19, died when a gunman opened fire in their classroom in the Kennedy building on April 30.
(Islamic State Group/Al Furqan Media Network/Reuters)
CAIRO (Reuters) - After losing territory, ISIS fighters are turning to guerrilla war — and the group's newspaper is telling them exactly how to do it.
In recent weeks, IS's al-Naba online newspaper has encouraged followers to adopt guerrilla tactics and published detailed instructions on how to carry out hit-and-run operations.
The group is using such tactics in places where it aims to expand beyond Iraq and Syria. While IS has tried this approach before, the guidelines make clear the group is adopting it as standard operating procedure.
(Department of Veterans Affairs photo)
A Department of Veterans affairs employee allegedly placing cameras in the women's restroom of a VA office in Washington, D.C., NBC News reported on Thursday.