The US Has Reportedly Started Pulling Out Of Syria After A Week Of Confusion
January 11, 2019 at 10:39 AM
news
The U..S has started withdrawing troops from Syria on Friday, The New York Times reported, despite the Trump administration saying as recently as this week that they planned to handle it totally differently.

---
The U.S.-led, 79-nation coalition against ISIS has now begun "our deliberate withdrawal from Syria," The Times cited Col. Sean Ryan, the spokesman for the alliance, as saying.
He did not provide any more information about "specific timelines, locations or troop movements," The Times said. Business Insider has contacted the Department of Defense and the State Department for comment.
The news comes after weeks of chaotic mixed messages, which began when President Donald Trump announced his plan to pull the 2,000 U.S. troops out of Syria on December 19.
He said, inaccurately, that it was because ISIS had been "defeated."
Read more: Trump just radically upended US Syria policy despite repeated warnings that doing so could be disastrous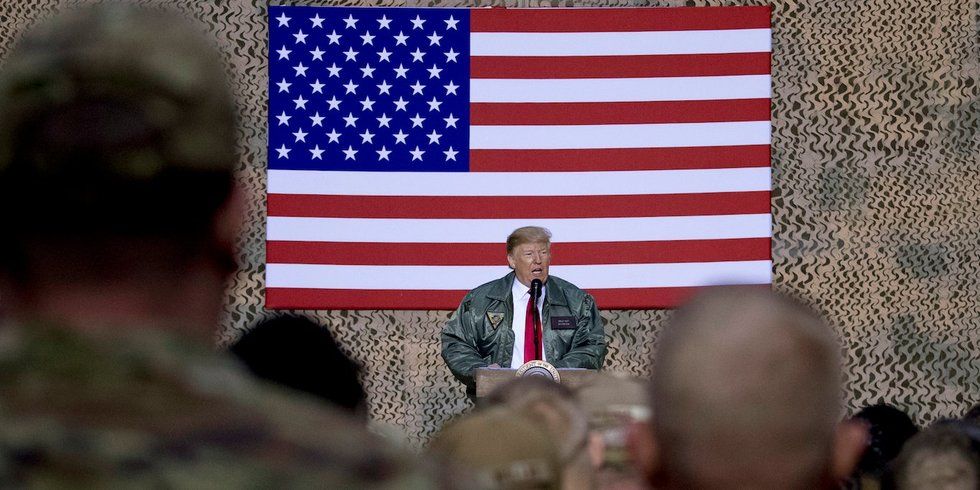 President Donald Trump, seen during a trip to Iraq last month, announced his plan to pull the 2,000 troops out of Syria on December 19(Associated Press/Andrew Harnik)
The president said he wanted the troops out in 30 days, but later rowed back his comments. His administration later lengthened the timeline for withdrawal.
The U.S. was hoping that Turkey would remain in Syria to fight the remnants of ISIS, which is not totally defeated, either in Syria or elsewhere.
That plan hit a snag earlier this week when Turkish President Recep Tayyip Erdogan publicly insulted US National Security Advisor John Bolton, and said he would not play ball with the US plan.
Washington wanted assurances that Turkey would not attack Kurdish militants — alongside whom the US had been fighting, but whom Turkey considers terrorists — after the U.S. leaves.
Secretary of State Mike Pompeo said on Thursday that the U.S. would carry out with its withdrawal plans despite Erdogan and Bolton's disagreement, Reuters reported.
Unnamed defense officials also told The Wall Street Journal on Thursday: "Nothing has changed. We don't take orders from Bolton."
The decision to withdraw from Syria has been controversial even within the U.S. government.
Jim Mattis, the former US defense secretary, and Brett McGurk, the top U.S. official leading the coalition against ISIS, both resigned over it.
Read more from Business Insider:
WATCH NEXT: This Guy Reportedly Sent His Resume To ISIS
(U.S. Navy/Mass Communication Specialist 2nd Class Stephane Belcher)
The 2020 National Defense Authorization Act would allow service members to seek compensation when military doctors make mistakes that harm them, but they would still be unable to file medical malpractice lawsuits against the federal government.
On Monday night, Congress announced that it had finalized the NDAA, which must be passed by the House and Senate before going to President Donald Trump. If the president signs the NDAA into law, it would mark the first time in nearly seven decades that U.S. military personnel have had legal recourse to seek payment from the military in cases of medical malpractice.
December 09, 2019 at 05:53 PM
news
Maj. Jason Michael Musgrove (Lincoln County Sheriff's Office)
A major serving at U.S. Army Cyber Command has been charged with distributing child pornography, according to the Justice Department.
Maj. Jason Michael Musgrove, who is based at Fort Gordon, Georgia, has been remanded to the U.S. Marshals service, a news release from the U.S. Attorney's Office for the Southern District of Georgia says.
December 09, 2019 at 03:10 PM
Gear
Sailors from USS George Washington (CVN 73) wear-test the I-Boot 5 at Naval Station Norfolk. (U.S. Navy photo by Courtney Williams)
Navy senior leaders could decide whether or not to approve the new I-Boot 5 early in 2020, said Rob Carroll, director of the uniform matters office at the Chief of Naval Personnel's office.
"The I-Boot 5 is currently wrapping up its actual wear test, its evaluation," Carroll told Task & Purpose on Monday. "We're hoping that within the first quarter of calendar year 2020 that we'll be able to present leadership with the information that they need to make an informed decision."
December 09, 2019 at 11:51 AM
popular
Senator Jim Inhofe speaks with local reporters at a press conference held at the 138th Fighter Wing August 2, 2018. (U.S. National Guard/Staff Sgt. Rebecca R. Imwalle)
U.S. Sen. Jim Inhofe and U.S. Rep. Kendra Horn leveled harsh criticism last week at the contractor accused of negligence and fraudulent activity while operating private housing at Tinker Air Force Base and other military installations.
Inhofe, chairman of the Senate Armed Services Committee, referred to Balfour Beatty Communities as "notorious." Horn, a member of the House Armed Services Committee, told a company executive she was "incredibly disappointed you have failed to live up to your responsibility for taking care of the people that are living in these houses."
December 09, 2019 at 11:09 AM
news
U.S. Senator Rick Scott speaks during a press conference at Tyndall Air Force Base, Florida, April 29, 2019. (U.S. Air Force/Airman 1st Class Monica Roybal)
The Saudi national who killed three students on a U.S. Naval Air station in Pensacola was in the United States on a training exchange program.
On Sunday, Sen. Rick Scott said the United States should suspend that program, which brings foreign nationals to America for military training, pending a "full review."