US And British Warships Join Forces In The South China Sea For The First Time In A Clear Message To China
January 16, 2019 at 11:50 AM
news
U.S. and British warships have sailed together in the disputed South China Sea for the first time, in exercises likely to stoke anger in Beijing.
---
The guided-missile destroyer USS McCampbell and Royal Navy frigate HMS Argyll conducted the operations in the strategic waterway over a period of six days from Friday through Wednesday, the The U.S. Navy's 7th Fleet said in a statement.
The statement said the warships "conducted communication drills, division tactics, and a personnel exchange designed to address common maritime security priorities, enhance interoperability, and develop relationships that will benefit both navies for many years to come."
The joint exercises in the waters — the first since China built military bases there — come as the British Navy seeks to play a bigger role in the region and has dispatched the Argyll on a tour of Asia.
A U.S. Navy spokesman said there was "no record in recent history of operations together, specifically in the South China Sea," Reuters reported.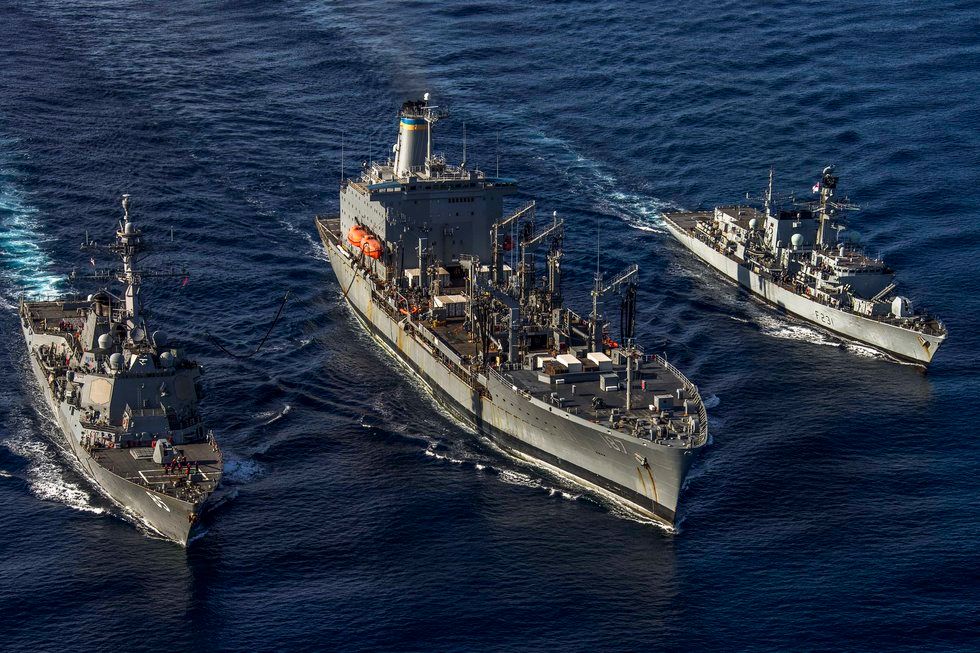 The Arleigh Burke-class guided-missile destroyer USS McCampbell (DDG 85), the Military Sealift Command fleet replenishment oiler USNS Henry J. Kaiser (T-AO 187), and the Royal Navy Type 23 'Duke' Class guided-missile frigate HMS Argyll (F231) transit during a replenishment-at-sea. (U.S. Navy photo)
Beijing has constructed a series of military outposts throughout the waterway, which includes vital sea lanes through which about $3 trillion in global trade passes each year. The Philippines, Vietnam, Malaysia, Taiwan and Brunei have overlapping claims in the waters, where the U.S., Chinese, Japanese and some Southeast Asian navies also routinely operate.

China says its facilities in the waters are for defensive purposes, but some experts say this is part of a concerted bid to cement de facto control of the waters.
Cmdr. Toby Shaughnessy, the Argyll's commanding officer, touted the operation as "contributing to promoting regional security and prosperity." Meanwhile, the Yokosuka, Kanagawa Prefecture-based McCampbell's commanding officer, Cmdr. Allison Christy, praised the joint exercises as "a rare opportunity" to work with the Royal Navy.
"Professional engagement with our British counterparts allows us the opportunity to build upon our existing strong relationships and learn from each other," she said.
The move comes on the heels of a trilateral anti-submarine warfare exercise between the U.S. Navy, Royal Navy and the Maritime Self Defense Force on Dec. 21-22 and after another British warship, the HMS Albion amphibious assault ship, conducted a so-called freedom of navigation operation near the contested Paracel island chain claimed by China in the South China Sea last August.
Beijing blasted London over that operation — the first in which Britain had directly confronted China over its claims in the waters, accusing it of engaging in "provocation."
Washington — which has led the charge in challenging what it says are excessive maritime claims in the waters — has long urged boosted participation in such operations.
Earlier this month, the McCampbell passed within 12 nautical miles (22 km) of the same island chain in the U.S. Navy's latest FONOP. Just a day after that operation, Chinese state-run media announced that Beijing's so-called carrier killer anti-ship missile had been deployed to the country's northwest. While the actual deployment date of the DF-26 ballistic missile, which reportedly has a range of 3,000-4,000 km, was not mentioned, the report alluded to the U.S. operation, quoting an unidentified expert as noting that it served as "a good reminder that China is capable of safeguarding its territory."
"Even when launched from deeper inland areas of China, the DF-26 has a range far-reaching enough to cover the South China Sea," the expert added.
———
©2019 the Japan Times (Tokyo). Distributed by Tribune Content Agency, LLC.
WATCH NEXT: FONOPS Are Not Fun Ops
The Arleigh Burke-class guided-missile destroyer USS McCampbell (DDG 85), the Military Sealift Command fleet replenishment oiler USNS Henry J. Kaiser (T-AO 187), and the Royal Navy Type 23 'Duke' Class guided-missile frigate HMS Argyll (F231) transit during a replenishment-at-sea. (U.S. Navy photo)
(U.S. Army photo by Spc. Keion Jackson).
The U.S. military will build 'facilities' to house at least 7,500 adult migrants, the Pentagon announced on Wednesday.
Acting Defense Secretary Patrick Shanahan has approved a request from the Department of Homeland Security to construct the facilities, said Pentagon spokesman Army Maj. Chris Mitchell.
(U.S. Navy photo by Mass Communication Specialist 1st Class Brian M. Wilbur.)
Defense officials will brief President Donald Trump's national security team on a plan that involves sending 5,000 more troops to the Middle East to deter Iran, Task & Purpose has learned.
So far, no decisions have been made about whether to send the reinforcements to the region, unnamed U.S. officials told CNN's Barbara Starr.
"The military capabilities being discussed include sending additional ballistic missile defense systems, Tomahawk cruise missiles on submarines, and surface ships with land attack capabilities for striking at a long range," CNN reports. "Specific weapons systems and units have not been identified."

The thousands of sailors, Coasties and Marines who descend on New York City every year for Fleet Week are an awesome sight to behold on their own, but this year's confab of U.S. service members includes a uniquely powerful homecoming as well.
When an Air Force major called J.J. completed a solo flight in the U-2 in late August 2016 — 60 years after the high-flying aircraft was introduced — he became the 1,000th pilot to do so.

J.J., whose name was withheld by the U.S. Air Force for security reasons, earned his solo patch a few days after pilots No. 998 and No. 999. Those three pilots are in distinguished company, two fellow pilots said this month.
"We have a pretty small, elite team of folks. We're between about 60 and 70 active-duty pilots at any given time," Maj. Matt "Top" Nauman said during an Air Force event at the Intrepid Sea, Air, and Space Museum in New York City.

"We're about 1,050 [pilots] right now. So to put that in context, there are more people with Super Bowl rings than there are people with U-2 patches," Nauman added. "It's a pretty small group of people that we've hired over the last 60 to 65 years."
(DoD/Sgt. Amber I. Smith)
In what appear to be his first public remarks on U.S. national security since his resignation as Secretary of Defense, retired Marine Gen. James Mattis offered a word of caution to President Donald Trump amid escalating tensions with Iran on Tuesday.
"The United States should buy time to keep peace and stability and allow diplomats to work diplomacy on how to keep peace for one more hour, one more day, one more week, a month or a year," Mattis said during remarks in the United Arab Emirates.
"Iran's behavior must change," Mattis added, "[but] the military must work to buy time for diplomats to work their magic."