US And British Warships Join Forces In The South China Sea For The First Time In A Clear Message To China
January 16, 2019 at 11:50 AM
news
The Arleigh Burke-class guided-missile destroyer USS McCampbell (DDG 85), the Military Sealift Command fleet replenishment oiler USNS Henry J. Kaiser (T-AO 187), and the Royal Navy Type 23 'Duke' Class guided-missile frigate HMS Argyll (F231) transit during a replenishment-at-sea. (U.S. Navy photo)
U.S. and British warships have sailed together in the disputed South China Sea for the first time, in exercises likely to stoke anger in Beijing.
---
The guided-missile destroyer USS McCampbell and Royal Navy frigate HMS Argyll conducted the operations in the strategic waterway over a period of six days from Friday through Wednesday, the The U.S. Navy's 7th Fleet said in a statement.
The statement said the warships "conducted communication drills, division tactics, and a personnel exchange designed to address common maritime security priorities, enhance interoperability, and develop relationships that will benefit both navies for many years to come."
The joint exercises in the waters — the first since China built military bases there — come as the British Navy seeks to play a bigger role in the region and has dispatched the Argyll on a tour of Asia.
A U.S. Navy spokesman said there was "no record in recent history of operations together, specifically in the South China Sea," Reuters reported.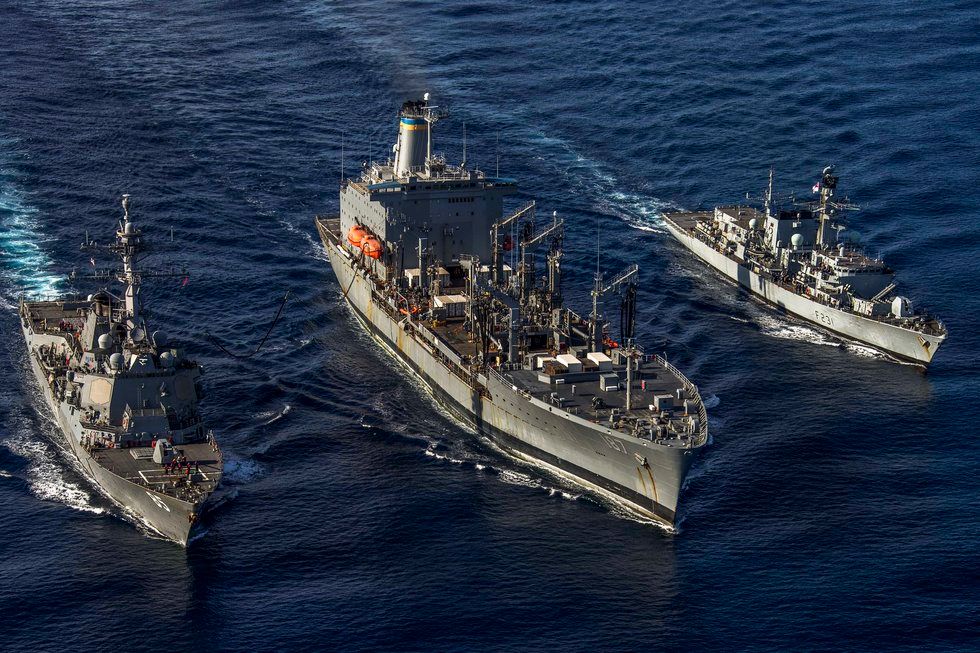 The Arleigh Burke-class guided-missile destroyer USS McCampbell (DDG 85), the Military Sealift Command fleet replenishment oiler USNS Henry J. Kaiser (T-AO 187), and the Royal Navy Type 23 'Duke' Class guided-missile frigate HMS Argyll (F231) transit during a replenishment-at-sea. (U.S. Navy photo)
Beijing has constructed a series of military outposts throughout the waterway, which includes vital sea lanes through which about $3 trillion in global trade passes each year. The Philippines, Vietnam, Malaysia, Taiwan and Brunei have overlapping claims in the waters, where the U.S., Chinese, Japanese and some Southeast Asian navies also routinely operate.

China says its facilities in the waters are for defensive purposes, but some experts say this is part of a concerted bid to cement de facto control of the waters.
Cmdr. Toby Shaughnessy, the Argyll's commanding officer, touted the operation as "contributing to promoting regional security and prosperity." Meanwhile, the Yokosuka, Kanagawa Prefecture-based McCampbell's commanding officer, Cmdr. Allison Christy, praised the joint exercises as "a rare opportunity" to work with the Royal Navy.
"Professional engagement with our British counterparts allows us the opportunity to build upon our existing strong relationships and learn from each other," she said.
The move comes on the heels of a trilateral anti-submarine warfare exercise between the U.S. Navy, Royal Navy and the Maritime Self Defense Force on Dec. 21-22 and after another British warship, the HMS Albion amphibious assault ship, conducted a so-called freedom of navigation operation near the contested Paracel island chain claimed by China in the South China Sea last August.
Beijing blasted London over that operation — the first in which Britain had directly confronted China over its claims in the waters, accusing it of engaging in "provocation."
Washington — which has led the charge in challenging what it says are excessive maritime claims in the waters — has long urged boosted participation in such operations.
Earlier this month, the McCampbell passed within 12 nautical miles (22 km) of the same island chain in the U.S. Navy's latest FONOP. Just a day after that operation, Chinese state-run media announced that Beijing's so-called carrier killer anti-ship missile had been deployed to the country's northwest. While the actual deployment date of the DF-26 ballistic missile, which reportedly has a range of 3,000-4,000 km, was not mentioned, the report alluded to the U.S. operation, quoting an unidentified expert as noting that it served as "a good reminder that China is capable of safeguarding its territory."
"Even when launched from deeper inland areas of China, the DF-26 has a range far-reaching enough to cover the South China Sea," the expert added.
———
©2019 the Japan Times (Tokyo). Distributed by Tribune Content Agency, LLC.
WATCH NEXT: FONOPS Are Not Fun Ops
January 20, 2020 at 03:11 PM
news
U.S. Air Force Master Sgt. Aliah Reyes, a Defense POW/MIA Accounting Agency (DPAA) recovery team recovery noncommissioned officer, sifts through dirt during a recovery mission in Lang Son Province, Vietnam, Oct. 29, 2019. (Air Force photo/Staff Sgt. Rusty Frank)
The 80-minute ride each day to the site in Lang Son Province, Vietnam, through mostly unspoiled forestland and fields, reminded Air Force Master Sgt. Aliah Reyes a little of her hometown back in Maine.
The Eliot native recently returned from a 45-day mission to the Southeast Asian country, where she was part of a team conducting a search for a Vietnam War service member who went missing more than 45 years ago and is presumed dead.
Reyes, 38, enlisted in the Air Force out of high school and has spent more than half her life in military service. But she had never been a part of anything like this.
January 20, 2020 at 01:47 PM
news
A smoking U.S. Army Stryker Infantry Carrier Vehicle in Poland on January 18, 2020 (Facebook/Orzysz 998)
A U.S. Army Stryker armored vehicle burst into flames on the side of a Polish roadway on Saturday, the Army confirmed on Monday.
January 20, 2020 at 12:10 PM
news
A U.S. Soldier assigned to 10th Special Forces Group (Airborne) runs for cover during a live fire exercise at the 7th Army Training Command, Grafenwoehr Training Area, Germany. (U.S. Army/Gertrud Zach)
A memo circulating over the weekend warning of a "possible imminent attack" against U.S. soldiers in Germany was investigated by Army officials, who found there to not be a serious threat after all.
January 18, 2020 at 12:18 PM
news
The U.S. Navy will name its fourth Ford-class aircraft carrier after Doris Miller, an iconic World War II sailor recognized for his heroism during the Pearl Harbor attack, according to reports in The Honolulu Star-Advertiser and U.S. Naval Institute News.
Acting Navy Secretary Thomas Modly is expected to announce the naming of CVN-81 during a ceremony on Monday in Pearl Harbor, Hawaii, according to USNI. Two of Miller's nieces are expected to be there, according to the Star-Advertiser.
January 20, 2020 at 11:43 AM
popular
Comedian and activist Jon Stewart meets with members of Toxic Exposures in the American Military (TEAM), a coalition of veteran and military service organizations, Jan. 17 on Capitol Hill. (Courtesy of TEAM)
Comedian Jon Stewart has joined forces with veterans groups to make sure service members who have been sickened by toxins from burn pits get the medical care they need, according to the Military Officers Association of America.
"Quite frankly, this is not just about burn pits — it's about the way we go to war as a country," Stewart said during his Jan. 17 visit to Washington, D.C. "We always have money to make war. We need to always have money to take care of what happens to people who are selfless enough, patriotic enough, to wage those wars on our behalf."