US And British Warships Join Forces In The South China Sea For The First Time In A Clear Message To China
January 16, 2019 at 11:50 AM
news
The Arleigh Burke-class guided-missile destroyer USS McCampbell (DDG 85), the Military Sealift Command fleet replenishment oiler USNS Henry J. Kaiser (T-AO 187), and the Royal Navy Type 23 'Duke' Class guided-missile frigate HMS Argyll (F231) transit during a replenishment-at-sea. (U.S. Navy photo)
U.S. and British warships have sailed together in the disputed South China Sea for the first time, in exercises likely to stoke anger in Beijing.
---
The guided-missile destroyer USS McCampbell and Royal Navy frigate HMS Argyll conducted the operations in the strategic waterway over a period of six days from Friday through Wednesday, the The U.S. Navy's 7th Fleet said in a statement.
The statement said the warships "conducted communication drills, division tactics, and a personnel exchange designed to address common maritime security priorities, enhance interoperability, and develop relationships that will benefit both navies for many years to come."
The joint exercises in the waters — the first since China built military bases there — come as the British Navy seeks to play a bigger role in the region and has dispatched the Argyll on a tour of Asia.
A U.S. Navy spokesman said there was "no record in recent history of operations together, specifically in the South China Sea," Reuters reported.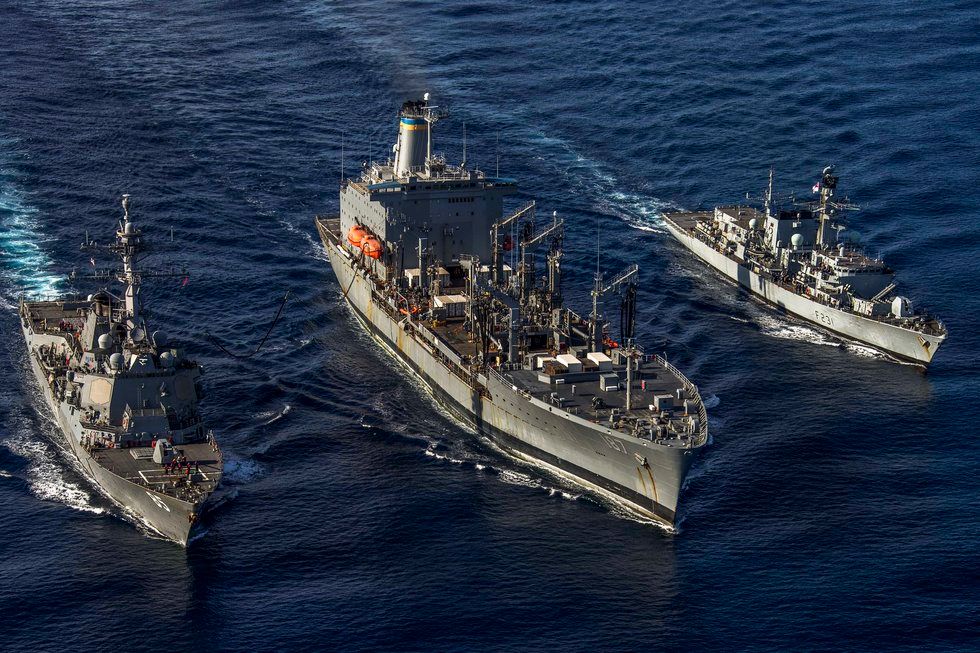 The Arleigh Burke-class guided-missile destroyer USS McCampbell (DDG 85), the Military Sealift Command fleet replenishment oiler USNS Henry J. Kaiser (T-AO 187), and the Royal Navy Type 23 'Duke' Class guided-missile frigate HMS Argyll (F231) transit during a replenishment-at-sea. (U.S. Navy photo)
Beijing has constructed a series of military outposts throughout the waterway, which includes vital sea lanes through which about $3 trillion in global trade passes each year. The Philippines, Vietnam, Malaysia, Taiwan and Brunei have overlapping claims in the waters, where the U.S., Chinese, Japanese and some Southeast Asian navies also routinely operate.

China says its facilities in the waters are for defensive purposes, but some experts say this is part of a concerted bid to cement de facto control of the waters.
Cmdr. Toby Shaughnessy, the Argyll's commanding officer, touted the operation as "contributing to promoting regional security and prosperity." Meanwhile, the Yokosuka, Kanagawa Prefecture-based McCampbell's commanding officer, Cmdr. Allison Christy, praised the joint exercises as "a rare opportunity" to work with the Royal Navy.
"Professional engagement with our British counterparts allows us the opportunity to build upon our existing strong relationships and learn from each other," she said.
The move comes on the heels of a trilateral anti-submarine warfare exercise between the U.S. Navy, Royal Navy and the Maritime Self Defense Force on Dec. 21-22 and after another British warship, the HMS Albion amphibious assault ship, conducted a so-called freedom of navigation operation near the contested Paracel island chain claimed by China in the South China Sea last August.
Beijing blasted London over that operation — the first in which Britain had directly confronted China over its claims in the waters, accusing it of engaging in "provocation."
Washington — which has led the charge in challenging what it says are excessive maritime claims in the waters — has long urged boosted participation in such operations.
Earlier this month, the McCampbell passed within 12 nautical miles (22 km) of the same island chain in the U.S. Navy's latest FONOP. Just a day after that operation, Chinese state-run media announced that Beijing's so-called carrier killer anti-ship missile had been deployed to the country's northwest. While the actual deployment date of the DF-26 ballistic missile, which reportedly has a range of 3,000-4,000 km, was not mentioned, the report alluded to the U.S. operation, quoting an unidentified expert as noting that it served as "a good reminder that China is capable of safeguarding its territory."
"Even when launched from deeper inland areas of China, the DF-26 has a range far-reaching enough to cover the South China Sea," the expert added.
———
©2019 the Japan Times (Tokyo). Distributed by Tribune Content Agency, LLC.
WATCH NEXT: FONOPS Are Not Fun Ops
December 10, 2019 at 06:51 PM
news
(Associated Press/Tom Williams)
Ronny Jackson, the former White House physician and retired Navy rear admiral who had a short run as the nominee for the Department of Veterans Affairs in 2018, now plans to run for a seat in Congress.
December 10, 2019 at 06:26 PM
news
The Pentagon will implement an "operational pause" on the training of foreign students inside the United States as the military undergoes a review of screening procedures, according to senior defense officials.
December 10, 2019 at 06:25 PM
news
In this Nov 24, 2009, file photo, a University of Phoenix billboard is shown in Chandler, Ariz. The University of Phoenix for-profit college and its parent company will pay $50 million and cancel $141 million in student debt to settle allegations of deceptive advertisement brought by the Federal Trade Commission. (AP Photo/Matt York)
WASHINGTON (Reuters) - The University of Phoenix, which is owned by Apollo Education Group, has agreed to pay $191 million to settle charges that it falsely advertised close ties with major U.S. companies that could lead to jobs for students, the Federal Trade Commission said on Tuesday.
The University of Phoenix will pay $50 million to the FTC to return to consumers and cancel $141 million in student debt.
Some of the advertisements targeted military and Hispanic students, the FTC said.
Shane Reynolds, UCF Research Associate demonstrates an AR/VR system to train soldiers and Marines on how to improve their ability to detect improvised explosive devices. (Orlando Sentinel/Ricardo Ramirez Buxeda)
As UCF research associate Shane Reynolds guides his avatar over a virtual minefield using his iPad, small beeps and whistles reveal the location of the scourge of the modern war zone: Improvised Explosive Devices, or IEDs. He must take his time to sweep every last inch of the playing field to make sure his character doesn't miss any of the often-deadly bombs.
Despite his slow pace, Reynolds makes a small misstep and with a kaboom! a bomb blows up his player, graphically scattering body parts.
December 10, 2019 at 05:21 PM
news
US Navy
The Navy has posthumously awarded aviator and aircrewman wings to three sailors killed in last week's shooting at Naval Air Station Pensacola.
"The selfless acts of heroism displayed by these young Sailors the morning of Dec. 6 are nothing short of incredible," Chief of Naval Air Training Rear Adm. Daniel Dwyer said in a statement.