US and Philippine troops are training to repel an island invasion amid South China Sea tensions
April 11, 2019 at 05:41 PM
news
U.S. Marine rifleman Lance Cpl. Hunter Bell during a live-fire range at Colonel Ernesto Ravina Air Base in the Philippines, April 6, 2019. (U.S. Marine Corps/Lance Cpl. Isaiah Campbell)
U.S. and Philippine troops have reportedly been training for a potential island invasion scenario, which is a real possibility as tensions rise in the disputed South China Sea.
---
On Wednesday, U.S. and Filipino forces conducted a joint airfield seizure exercise on a Lubang Island, located adjacent to the sea, in what was a first for the allies, Channel News Asia reported Thursday.
The drill was practice for a real-world situation in which a foreign power has seized control of an island in the Philippines, taking over the its airfield, GMA News reported.
"If they [the Filipinos] were to have any small islands taken over by a foreign military, this is definitely a dress rehearsal that can be used in the future," Maj. Christopher Bolz, a US Army Special Forces company commander involved in planning the exercises, told CNA.
"I think the scenario is very realistic, especially for an island nation such as the Philippines," Bolz added.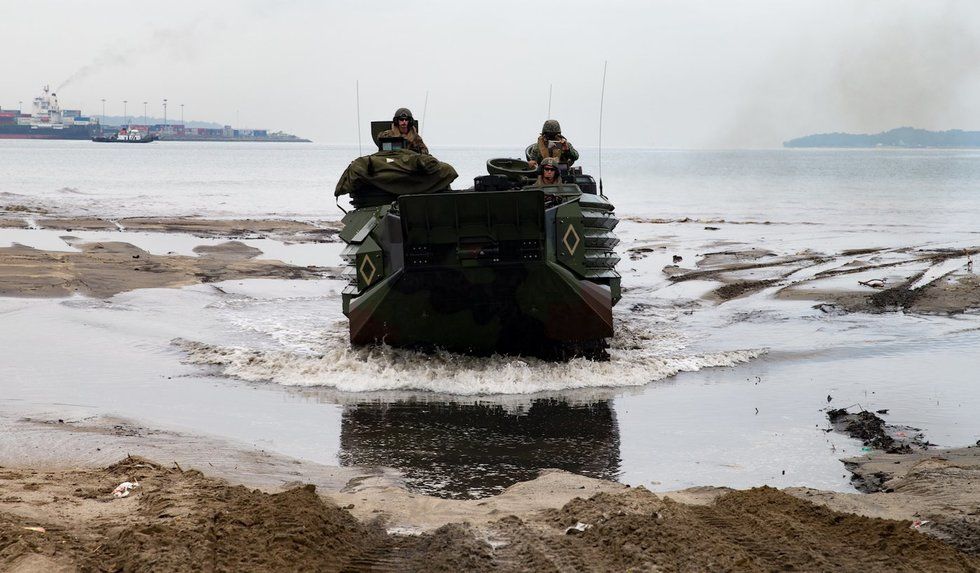 U.S. Marines and Philippine marines land on the beach in assault amphibious vehicles during an exercise in Subic Bay, Philippines, October 3, 2018(U.S. Marine Corps/Lance Cpl. Christine Phelps)
The Philippines requested this type of training last year. "The Armed Forces of the Philippines (AFP) must be ready to any eventualities," Lt. Col. Jonathan Pondanera, commander of the exercise control group with the AFP-SOCOM, explained.
Balikatan exercises are focused primarily on "maintaining a high level of readiness and responsiveness, and enhancing combined military-to-military relations and capabilities," the Marine Corps said in a recent statement. Balikatan means "shoulder to shoulder" in Tagalog.
Both the U.S. military and the Marines have stressed that the ongoing exercises are not aimed at China, although some of the activities, such as the counter-invasion drills, seem to suggest otherwise.
Thitu Island, known as Pagasa in the Philippines, is the only Philippine-controlled island in the contested South China Sea with an airfield, and the current drills come as Manila has accused China of sending paramilitary forces to "swarm" this particular territory.
"Let us be friends, but do not touch Pagasa Island and the rest," Philippine President Rodrigo Duterte said in a recent message to China. "If you make moves there, that's a different story. I will tell my soldiers, 'Prepare for suicide mission.'"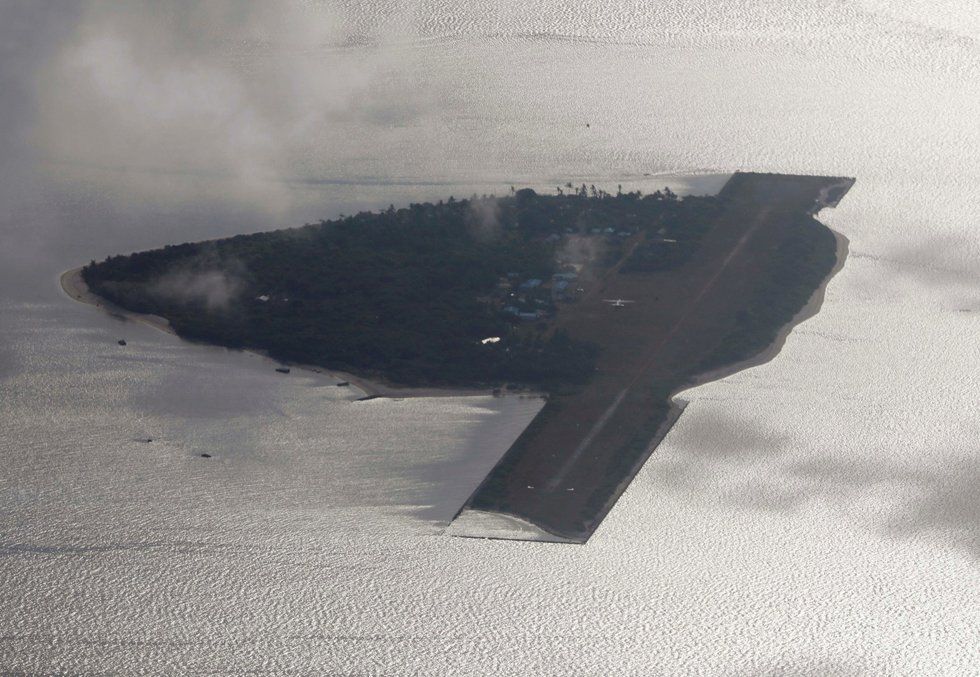 The Philippine-occupied Thitu island, known as Pagasa, in the South China Sea, April 21, 2017(Reuters)
The Philippines lacks the firepower to stand up to China, but it is protected under a Mutual Defense Treaty with the United States.
In March, Secretary of State Mike Pompeo reaffirmed U.S. commitment to defend the Philippines, stating that "any armed attack on Philippine forces, aircraft, or public vessels in the South China Sea will trigger mutual defense obligations."
For the 35th iteration of the Balikatan exercises, the U.S. sent the amphibious assault ship USS Wasp with 10 F-35s — an unusually heavy configuration of the stealth fighter. This marks the first time the F-35 has participated in these exercises.
Recently, the Wasp was spotted running flight operations in the vicinity of the disputed Scarborough Shoal, territory China seized from the Philippines by force roughly seven years ago.
The Philippines took the dispute before an international arbitration tribunal in 2016 and won. Beijing, however, rejected the ruling, as well as the tribunal's authority.
Read more from Business Insider:
WATCH NEXT: An F-35 Lands On The USS Wasp In The South China Sea
April 24, 2019 at 08:57 PM
news
Spc. Michael T. Osorio (U.S. Army photo)
A third U.S. service member within a week has died in a non-combat related incident, the Pentagon announced on Wednesday.
Army Spc. Michael T. Osorio, 20, died on April 23 in Taji, Iraq, a Defense Department release says.
No information was immediately available on how Osorio died. The incident is under investigation.
April 24, 2019 at 08:09 PM
news
Iran's Foreign Minister Mohammad Javad Zarif sits for an interview with Reuters in New York, New York, U.S. April 24, 2019. (Reuters/Carlo Allegri)
NEW YORK (Reuters) - Iranian Foreign Minister Mohammad Javad Zarif does not believe U.S. President Donald Trump wants war with Iran, but he told Reuters on Wednesday that Trump could be lured into a conflict.
"I don't think he wants war," Zarif said in an interview at the Iranian mission to the United Nations in New York. "But that doesn't exclude him being basically lured into one."
The White House did not immediately respond to a request for comment on Zarif's remarks.
April 24, 2019 at 06:13 PM
news
Ben Affleck is gearing up to direct and star in Ghost Army, a new World War II movie about a secret U.S. Army unit made up of artists, actors, advertising agents, and engineers who had one mission: to dupe Hitler.
And that's exactly what they did.
April 24, 2019 at 04:45 PM
news
Capt. Paul Sikkema. Photo: Arapahoe Sheriff's Department
An Air Force Academy ethics instructor was arrested on Wednesday and charged with internet luring of a child.