US and Philippine troops are training to repel an island invasion amid South China Sea tensions
April 11, 2019 at 05:41 PM
news
U.S. Marine rifleman Lance Cpl. Hunter Bell during a live-fire range at Colonel Ernesto Ravina Air Base in the Philippines, April 6, 2019. (U.S. Marine Corps/Lance Cpl. Isaiah Campbell)
U.S. and Philippine troops have reportedly been training for a potential island invasion scenario, which is a real possibility as tensions rise in the disputed South China Sea.
---
On Wednesday, U.S. and Filipino forces conducted a joint airfield seizure exercise on a Lubang Island, located adjacent to the sea, in what was a first for the allies, Channel News Asia reported Thursday.
The drill was practice for a real-world situation in which a foreign power has seized control of an island in the Philippines, taking over the its airfield, GMA News reported.
"If they [the Filipinos] were to have any small islands taken over by a foreign military, this is definitely a dress rehearsal that can be used in the future," Maj. Christopher Bolz, a US Army Special Forces company commander involved in planning the exercises, told CNA.
"I think the scenario is very realistic, especially for an island nation such as the Philippines," Bolz added.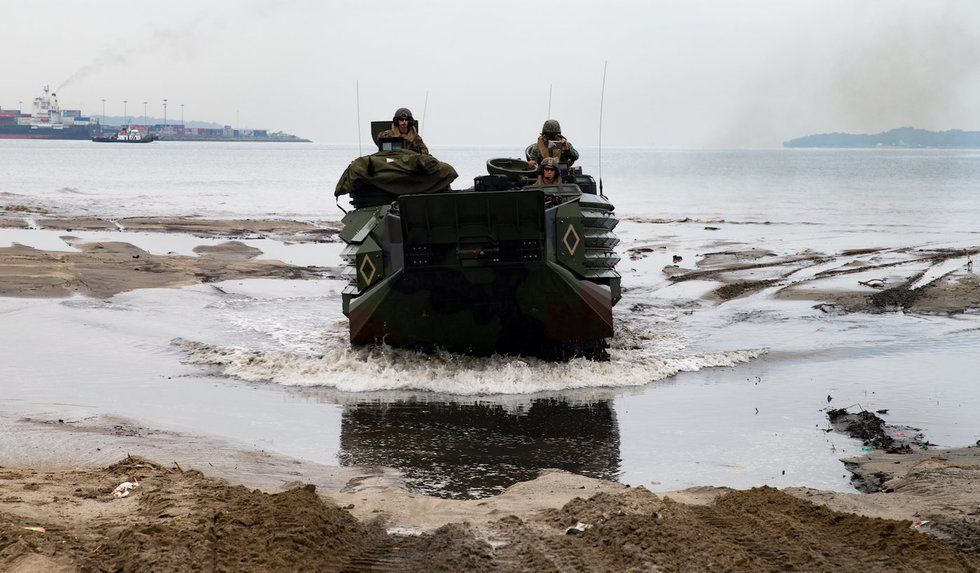 U.S. Marines and Philippine marines land on the beach in assault amphibious vehicles during an exercise in Subic Bay, Philippines, October 3, 2018(U.S. Marine Corps/Lance Cpl. Christine Phelps)
The Philippines requested this type of training last year. "The Armed Forces of the Philippines (AFP) must be ready to any eventualities," Lt. Col. Jonathan Pondanera, commander of the exercise control group with the AFP-SOCOM, explained.
Balikatan exercises are focused primarily on "maintaining a high level of readiness and responsiveness, and enhancing combined military-to-military relations and capabilities," the Marine Corps said in a recent statement. Balikatan means "shoulder to shoulder" in Tagalog.
Both the U.S. military and the Marines have stressed that the ongoing exercises are not aimed at China, although some of the activities, such as the counter-invasion drills, seem to suggest otherwise.
Thitu Island, known as Pagasa in the Philippines, is the only Philippine-controlled island in the contested South China Sea with an airfield, and the current drills come as Manila has accused China of sending paramilitary forces to "swarm" this particular territory.
"Let us be friends, but do not touch Pagasa Island and the rest," Philippine President Rodrigo Duterte said in a recent message to China. "If you make moves there, that's a different story. I will tell my soldiers, 'Prepare for suicide mission.'"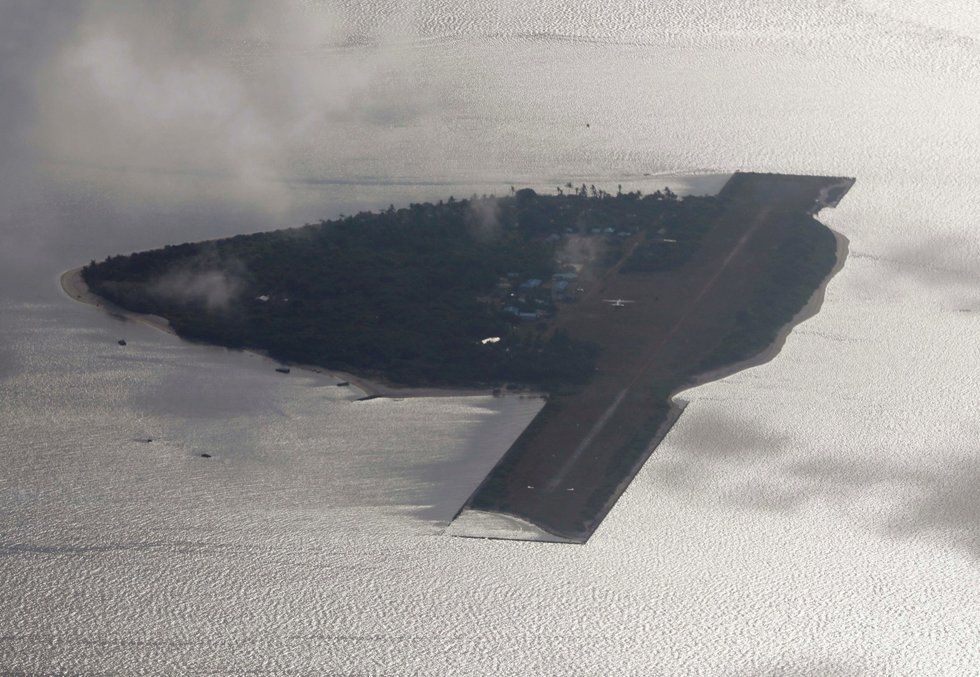 The Philippine-occupied Thitu island, known as Pagasa, in the South China Sea, April 21, 2017(Reuters)
The Philippines lacks the firepower to stand up to China, but it is protected under a Mutual Defense Treaty with the United States.
In March, Secretary of State Mike Pompeo reaffirmed U.S. commitment to defend the Philippines, stating that "any armed attack on Philippine forces, aircraft, or public vessels in the South China Sea will trigger mutual defense obligations."
For the 35th iteration of the Balikatan exercises, the U.S. sent the amphibious assault ship USS Wasp with 10 F-35s — an unusually heavy configuration of the stealth fighter. This marks the first time the F-35 has participated in these exercises.
Recently, the Wasp was spotted running flight operations in the vicinity of the disputed Scarborough Shoal, territory China seized from the Philippines by force roughly seven years ago.
The Philippines took the dispute before an international arbitration tribunal in 2016 and won. Beijing, however, rejected the ruling, as well as the tribunal's authority.
Read more from Business Insider:
WATCH NEXT: An F-35 Lands On The USS Wasp In The South China Sea
September 16, 2019 at 07:20 PM
news
US Marine Corps
The Marine lieutenant colonel who was removed from command of 1st Reconnaissance Battalion in May is accused of lying to investigators looking into allegations of misconduct, according to a copy of his charge sheet provided to Task & Purpose on Monday.
September 16, 2019 at 05:50 PM
news
President Donald Trump just can't stop telling stories about former Defense Secretary James Mattis. This time, the president claims Mattis said U.S. troops were so perilously low on ammunition that it would be better to hold off launching a military operation.
"You know, when I came here, three years ago almost, Gen. Mattis told me, 'Sir, we're very low on ammunition,'" Trump recalled on Monday at the White House. "I said, 'That's a horrible thing to say.' I'm not blaming him. I'm not blaming anybody. But that's what he told me because we were in a position with a certain country, I won't say which one; we may have had conflict. And he said to me: 'Sir, if you could, delay it because we're very low on ammunition.'
"And I said: You know what, general, I never want to hear that again from another general," Trump continued. "No president should ever, ever hear that statement: 'We're low on ammunition.'"
At least one Air Force base is waging a slow battle against feral hogs — and way, way more than 30-50 of them.
A Texas trapper announced on Monday that his company had removed roughly 1,200 feral hogs from Joint Base San Antonio property at the behest of the service since 2016.
September 16, 2019 at 04:31 PM
news
In a move that could see President Donald Trump set foot on North Korean soil again, Kim Jong Un has invited the U.S. leader to Pyongyang, a South Korean newspaper reported Monday, as the North's Foreign Ministry said it expected stalled nuclear talks to resume "in a few weeks."
A letter from Kim, the second Trump received from the North Korean leader last month, was passed to the U.S. president during the third week of August and came ahead of the North's launch of short-range projectiles on Sept. 10, the South's Joongang Ilbo newspaper reported, citing multiple people familiar with the matter.
In the letter, Kim expressed his willingness to meet the U.S. leader for another summit — a stance that echoed Trump's own remarks just days earlier.
Editor's Note: This article by Oriana Pawlyk originally appeared on Military.com, a leading source of news for the military and veteran community.
On April 14, 2018, two B-1B Lancer bombers fired off payloads of Joint Air-to-Surface Standoff Missiles against weapons storage plants in western Syria, part of a shock-and-awe response to Syrian President Bashar al-Assad's use of chemical weapons against his citizens that also included strikes from Navy destroyers and submarines.
In all, the two bombers fired 19 JASSMs, successfully eliminating their targets. But the moment would ultimately be one of the last — and certainly most publicized — strategic strikes for the aircraft before operations began to wind down for the entire fleet.
A few months after the Syria strike, Air Force Global Strike Command commander Gen. Tim Ray called the bombers back home. Ray had crunched the data, and determined the non-nuclear B-1 was pushing its capabilities limit. Between 2006 and 2016, the B-1 was the sole bomber tasked continuously in the Middle East. The assignment was spread over three Lancer squadrons that spent one year at home, then six month deployed — back and forth for a decade.
The constant deployments broke the B-1 fleet. It's no longer a question of if, but when the Air Force and Congress will send the aircraft to the Boneyard. But Air Force officials are still arguing the B-1 has value to offer, especially since it's all the service really has until newer bombers hit the flight line in the mid-2020s.